'Tis the season for Chinese companies and newsrooms to try and outdo each other in crafting the most authoritative top 10 lists of neologisms, slang expressions, search terms, memes, and themes from the past year.
A language research institute under the Ministry of Education leads the way, having already been in the trending topics game for 14 years. Each November the institute's Hanyu Pandian, or Inventory of Chinese, platform solicits suggestions from experts and the online masses to determine its lexical finalists in a number of categories including Chinese Character of the Year, Local Words of the Year, and International Words of the Year, and unveils them throughout the month of December.
Here are a few of the platform's top words and phrases, freshly plucked from the Chinese internet and published earlier this month.
Lemon Nymph (柠檬精)
The humble lemon has insinuated itself into some curious turns of phrase. In the United States, you might be told to go suck one; in the United Kingdom, you might be told you are one.
This year in China, meanwhile, lemons became a way of expressing that one is "sour" with jealousy at someone else's looks, possessions, talent, or even love life.
In Chinese, you might say "I'm lemon nymphing," "I'm lemoning," or simply "I'm souring" to express pent-up jealousy. And should words fail, there's always the option of sending a meme, such as this one of Jerry the cartoon mouse contentedly licking a lemon.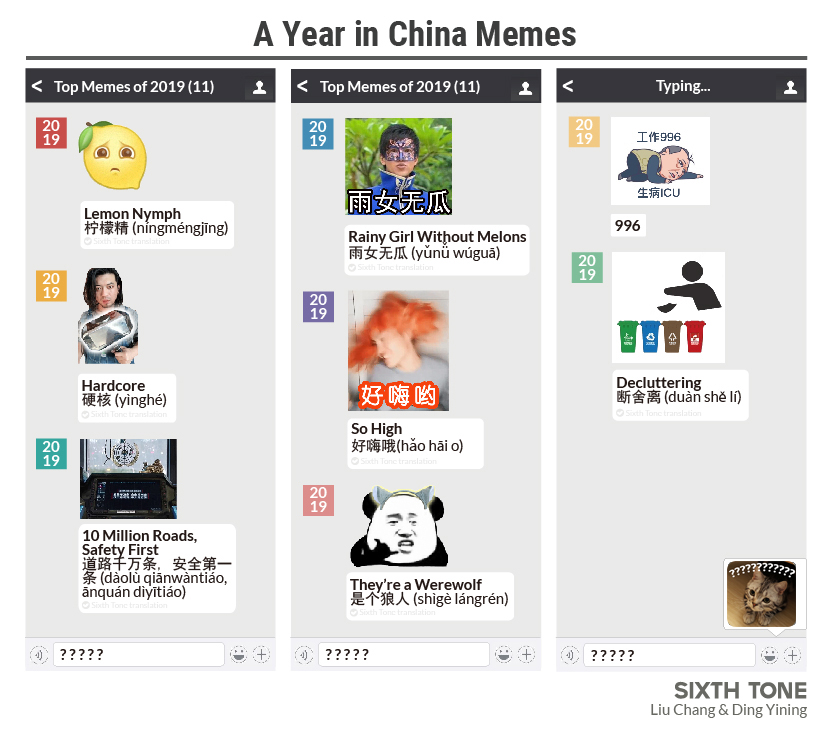 They're a Werewolf (是个狼人)
Ever found yourself searching for the word to describe someone who achieves success in an unconventional way, such as a shirtless, ample-bellied man cleanly pulling a tablecloth out from under three full wine glasses stacked on two Jenga towers using only his nipples? If so, you're in luck.
This term is a deviation from the internet slang phrase shi ge henren, meaning "they're ruthless" or, by some interpretations, "What a badass."
According to Baidu's online encyclopedia, the evolved expression using the word for werewolf came about when a user on microblogging platform Weibo joked that adding a single stroke to the Chinese character hen in shi ge henren would make it "a dash more ruthless than ruthless," turning henren ("a ruthless person") into langren ("a werewolf").
Rainy Girl Without Melons (雨女无瓜)
In English, referring to a fruitless, umbrella-less girl might draw blank stares at a dinner party. But in China, the phrase can sound something like "It ain't got nothing to do with you" when spoken in a comically exaggerated countryside accent.
In other words, it's the perfect rustic rebuttal to any nosy netizens you might encounter in an online forum or team-based video game.
So High (好嗨哦)
An earworm can get stuck in your head for days, so it's no surprise that one of the year's top terms came from a catchy tune.
On the Chinese short-video app Douyin, also known as TikTok, the song "Hao Hai O," or "So High," by web-celeb singer Chen Doudou became a viral hit, inspiring countless covers, dances, and parodies.
The English term "high" has been a common fixture in Chinese slang for years, especially to describe a wild night out.
Hardcore (硬核)
In the past, this directly translated term was mainly used to describe music, or perhaps a particularly challenging video game. Lately, however, its usage has expanded to mean "tough," "rough," "cool," or "awesome."
In "Where's Peppa?" — a massively viral video released before the annual Spring Festival — a kindly country grandpa made what netizens have described as a "hardcore Peppa Pig" sculpture out of scrap metal.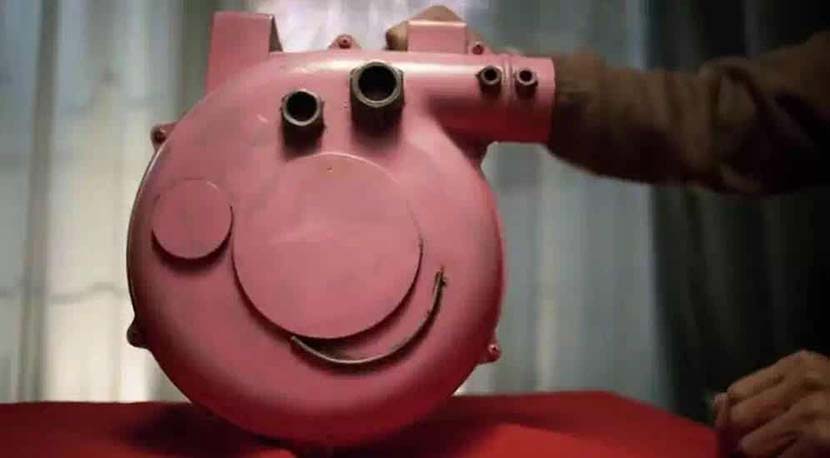 10 Million Roads, Safety First (道路千万条, 安全第一条)
This traffic slogan sounds like an automated safety message you'd hear at any subway station in China, but it actually comes from a scene in the sci-fi blockbuster "The Wandering Earth" in which a futuristic spaceship prepares to blast off.
The film was released during the Lunar New Year in February — a weeklong holiday that coincides with the world's largest human migration — and was quickly adopted by actual traffic police in China, who have been known to dabble in shenanigans.
Starting in the eastern city of Suzhou, the phrase was soon appearing on digital signboards along China's highways, encouraging motorists to drive safely. Netizens have riffed off the pattern to produce more practical variations, such as "10 million ways to stay healthy, but sleep comes first."
Decluttering (断舍离)
As if preparing for spring cleaning ahead of the new decade, Chinese netizens have recently fallen in love with danshari, the Japanese philosophy centered around minimalism and decluttering, popularized by author and lifestyle consultant Marie Kondo.
Though introduced to China years ago, danshari has had a resurgence among the country's netizens this year, with media outlets and influencers advocating their own approaches to eliminating the nonessential, from decluttering living spaces to purging not-so-casual acquaintances from WeChat contact lists.
996 (九九六)
While some tech companies like Microsoft are experimenting with four-day work weeks in certain markets, a brutal but all-too-common schedule in China was widely discussed online earlier this year, with overworked staff complaining about unreasonable demands and untenable hours.
The term "996" refers to working from 9 a.m. to 9 p.m., six days a week. While China's labor law prohibits employers from enforcing such hours, they're still tacitly expected in some sectors, especially among startups and tech companies.
Editor: David Paulk.
(Header image: Shi Yangkun/Sixth Tone)