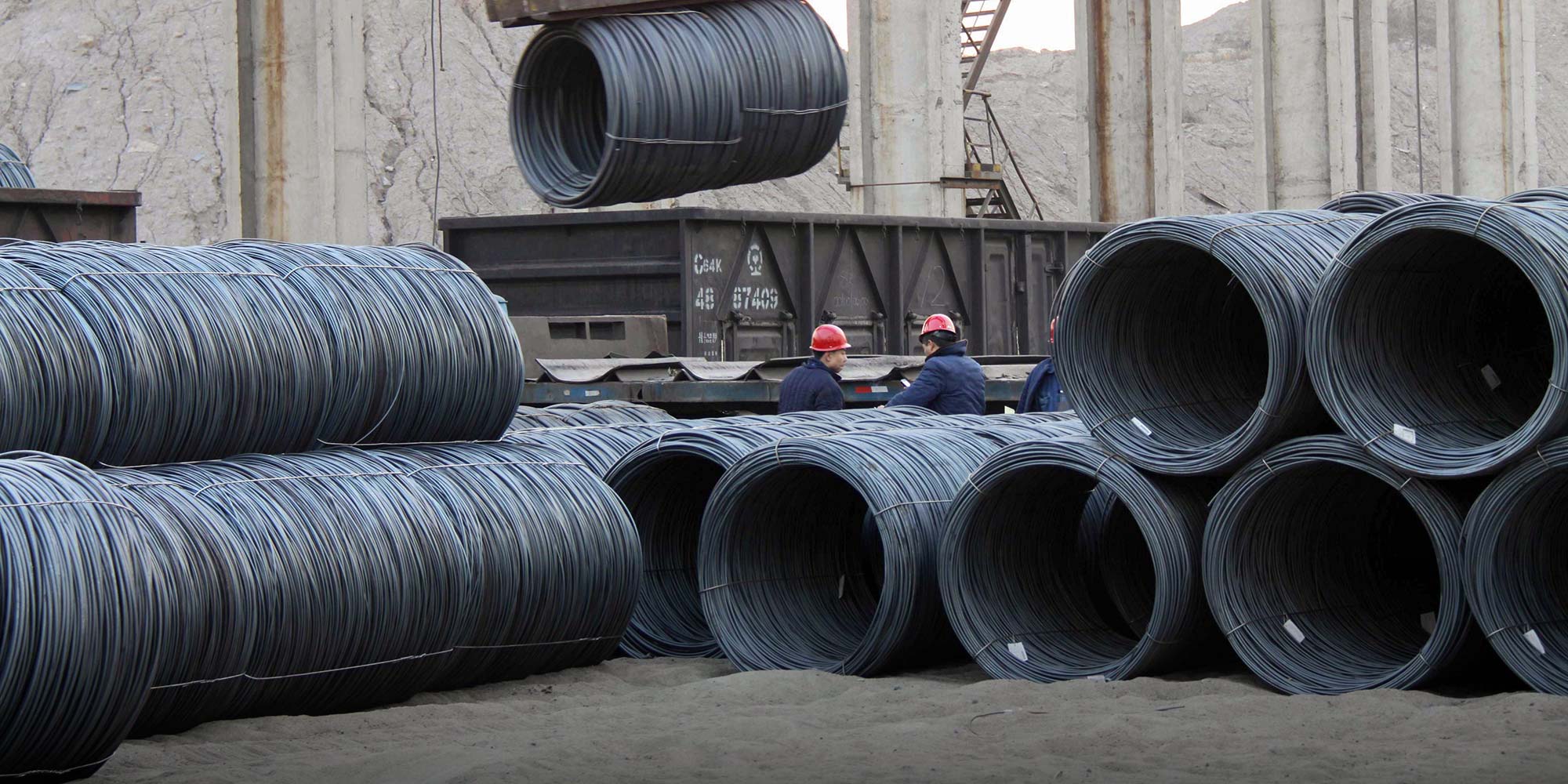 FEATURES
Cities' Steel Mill Squabble Reveals Smog Struggles
As China puts pressure on cities to reduce pollution, officials are trying to offload factories onto their neighbors.
HEBEI, North China — A quiet patch of land beside a highway in the northern province of Hebei lies at the center of a furious spat about how the industrial region's cities deal with their crippling pollution.
Sandy, wind-whipped, and partly covered in green dustproof netting, the site has been earmarked for the relocation of a huge local steel mill by the government of the nearby 1.3 million-strong city of Xingtai.
Under pressure from provincial authorities to clean up Xingtai's smog-choked air, municipal officials aim to move the vast factory and others like it out of built-up areas by 2020 in an effort to improve public health and develop suburban and rural economies.
But there's a problem: Although the new site lies within Xingtai's jurisdiction, it borders Hengshui, a city of more than 4 million people that has its own environmental issues. Officials there claim the move will push the mill's emissions closer to Hengshui and threaten the fragile ecology of a nearby protected lake. The result: deadlock.
Four decades of rapid industrial development have left much of China's air, water, and soil in a sorry state. To combat pollution, the state has set strict environmental standards and pushed local governments to shutter or relocate polluting enterprises, no matter how large. As the country prepared to host the 2008 Summer Olympics, for example, the state commanded Shougang Group — one of China's oldest and largest steel producers — to move from its original home in western Beijing to a coastal area in Hebei, 250 kilometers to the east.
But communities in China's industrial north are often loath to completely boot out firms that are key sources of employment and tax revenue. Instead, many local governments choose to move polluters into far-flung rural areas, according to Lei Guangchun, head of the School of Ecology and Nature Conservation at Beijing Forestry University. "When (officials) draw up these plans, they'll put polluting enterprises out in border areas," he said.
That's what's happening in Xingtai. The mill, which is owned and operated by Xingtai Iron & Steel Co. Ltd., has operated in the city for decades and employs thousands of people. But pressure from Hebei's increasingly environment-conscious provincial government makes staying put impossible.
But relocating is also problematic. Recent high-profile incidences of cross-border pollution in China — including the case of a paper mill in the western region of Ningxia that leaked toxic waste into neighboring Inner Mongolia — have forced officials to reckon with the fact that environmental pollution doesn't respect administrative boundaries.
In Xingtai and Hengshui, that's contributing to an ongoing breakdown in relations between the two cities.
Ringed by Smog
Xingtai's haze-filled air often draws the ire of authorities. Since 2013, it has ranked among the worst places for airborne PM 2.5 pollution — tiny particulates known to cause a number of adverse health effects — on a national watch list of 169 key cities.
Despite its lowly position, Xingtai has made genuine progress with air pollution, slashing its average daily concentration of PM 2.5 from 160 micrograms per cubic meter in 2013 to 69 micrograms in 2018. The city's problem is that it remains heavily reliant on highly polluting, energy-intensive industries, with few prospects of diversifying into cleaner sectors.
Xingtai's economy is dominated by mining, coking, steelmaking, and glassmaking. Some 130 such companies lie within a 25-kilometer radius of the city center and burn a combined 18 million tons of coal per year, around 70% of Xingtai's overall total. The companies encircle the city center, so residents are almost always breathing air that breaches pollution targets, no matter the season or wind direction.
A Xingtai government source familiar with the matter told financial news outlet Caixin that "higher officials" have told the city to break up its ring of factories by 2020 in a bid to rid built-up areas of smoggy air. The city's solution is to relocate them to suburban lots like the one by the highway to Hengshui, allowing Xingtai to ease its pollution issues without facing the fiscal and employment problems that would arise if the factories left town.
That's also the plan with Xingtai Iron & Steel, whose factory employs some 5,000 people and produces 3 million tons of steel and 1 million tons of coke annually. The decades-old company is one of its namesake city's major employers, as well as one of its biggest culprits when it comes to air pollution. Currently, it's proving harder to move than anticipated.
Noisy Neighbors
During a press conference in November last year, Si Guoliang, then chief of Xingtai's environmental bureau, said that construction would begin on the steel plant's new site in early 2019. The government plans to merge the mill with Kingboard Hebei Chemical Co. Ltd. — a local coke producer — and house the new company in a not-yet-built economic zone in Xinhe, an impoverished rural county under Xingtai's jurisdiction, on the outskirts of the city.
But Si seemingly hadn't reckoned with officials in Hengshui, who have bristled at the proposed new site. Besides concerns that the mill's emissions may fog up their city's air, they claim that wastewater from the mill will threaten Hengshui Lake, a fragile and protected ecosystem comprised of wetlands, marshes, and woods that are an important seasonal stopover for migratory birds.
Officials responsible for the steel mill's relocation declined requests for interview. But conversations with several government officials in Hengshui — who wished to remain anonymous due to the sensitivity of the case — revealed deep-seated mistrust of Xingtai's intentions.
In 2017, Hengshui blocked the construction of an industrial zone near the lake to protect its ecology, a source in its district-level government said. A separate source in the municipal government said that city officials only became aware of the steel mill's planned move to Xinhe County when the provincial government published a notice on the relocation plan in June this year.
The same month, Xingtai's completed environmental assessment report was presented to governors in Hengshui as a fait accompli. Officials in the latter city were furious. "It's not that we've not been kept well-informed: It's that they should have told us about (the plan) in the first place," the municipal government source said.
Relations between the two cities slipped further when a delegation from Xingtai visited Hengshui later in the summer. Hengshui officials implored the city to reconsider the proposed mill site, but Xingtai's deputy mayor remained unmoved. "They gave us no data and spoke in extremely vague terms," the source said. "After that, they never communicated with us again. It was as if they were avoiding us."
As summer turned into autumn, the conflict turned increasingly bizarre. In September, the provincial government invited officials from both cities as well as a group of experts to inspect the site. According to a source with knowledge of the event, both Xingtai and Hengshui agreed in principle to the relocation. But later that month, Hengshui hosted its own panel of experts, who concluded that the lake played an extremely important ecological role and urged a reconsideration of the move, thereby prolonging the impasse.
The relationship between the neighboring cities is now so tense that Hengshui claims Xingtai's environmental assessment — which concludes that the mill's construction will not significantly impact the lake — "was designed to push back against the notion that (the plant) will have any effect on Hengshui."
As the debate rages on, the site continues to go unused.
Arrested Development
For people in Xinhe, the saga of the steel mill is delaying what would be a much-needed economic boom.
Average annual incomes per capita in the largely agricultural county stood at 7,662 yuan ($1,200) for rural residents last year, according to a government work report. In the Xingtai city center, the figure was 26,179 yuan. Perhaps unsurprisingly, Xinhe has been the target of substantial government-sponsored poverty relief work as part of a national drive to eliminate penury by 2020.
In Xinhe's villages, young adults who normally migrate to other parts of China for work now wait with bated breath for steady jobs promised by the mill's arrival. "When (the company) moves here, it'll bring employment to Xinhe," a young resident surnamed Wang said.
Like many people interviewed in the county, he is unconcerned about the potential ecological consequences. "Although there'll be pollution, I assume they'll also have the newest environmental protection equipment," he said.
This is an original article written by Zhou Tailai, Zhan Kun, and Matthew Walsh of Caixin Global and has been republished with permission. The article can be found on Caixin's website here.
(Header image: A steel wire storage site at the Xingtai Iron & Steel plant in Xingtai, Hebei province, 2010.)