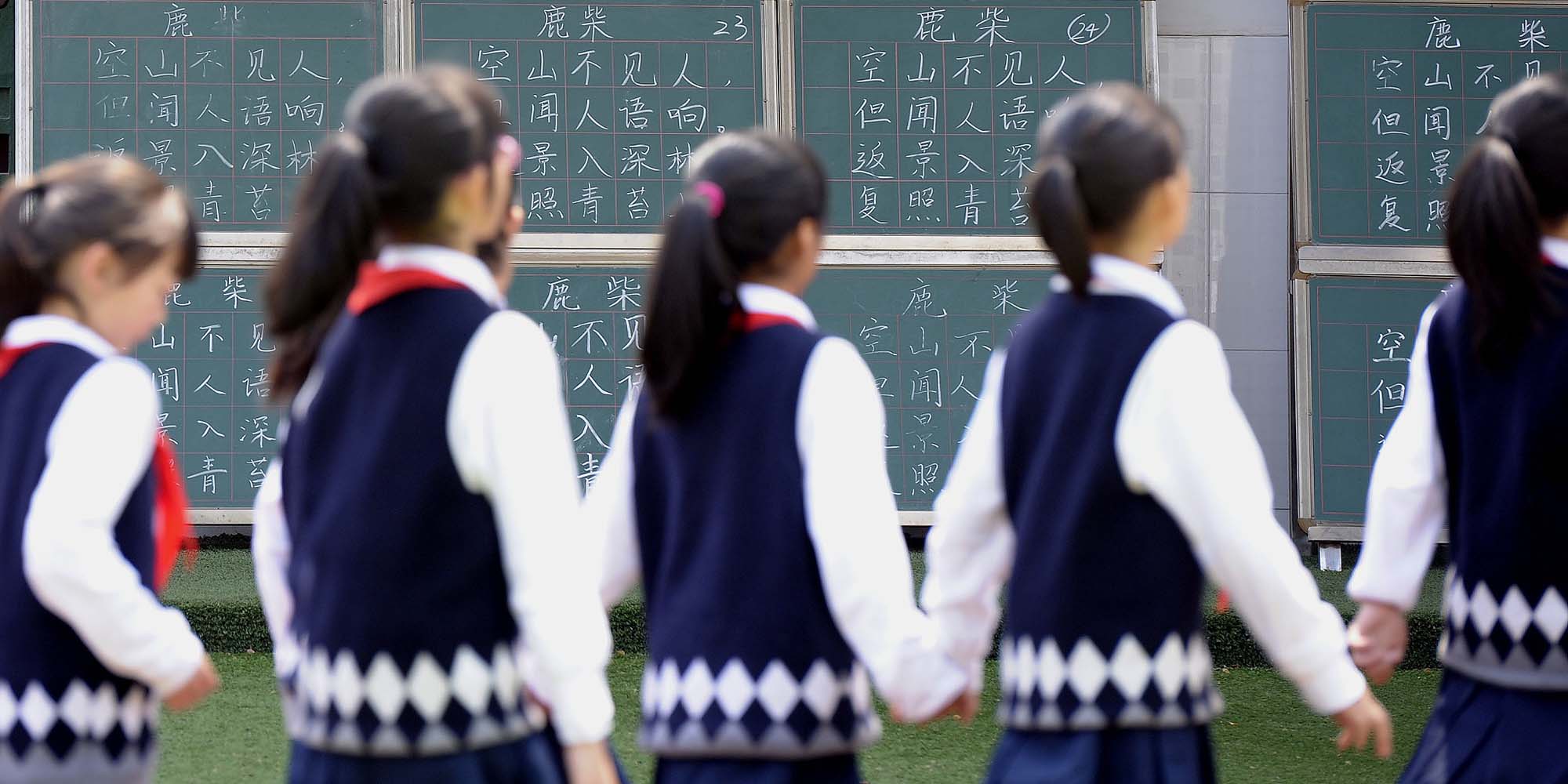 NEWS
Authorities Recall Sexist Health Manual From Shenzhen Schools
Introduced this summer as an optional teaching aid, the manual warns adolescent girls that 'tough women' and 'strong feminists' are undesirable to men.
Education authorities in the southern Chinese city of Shenzhen are recalling a health manual after an internet user exposed that it was rife with sexist content and outdated interpretations of gender norms, according to a report Thursday by the Beijing Youth Daily newspaper. 
In a chapter on social skills for teenagers, the teaching aid — which describes itself as a "psychological and physical health manual for adolescents" — lists a number of qualities that supposedly attract the opposite sex.
Girls like boys who are "rich" and full of "masculine charm," according to a photo included in the report. Boys, meanwhile, prefer girls who are "pretty" and "tender," and are put off by "tough women," "strong feminists," and "money worshippers."
In a statement Thursday — two days after the netizen's complaint — the education bureau of Shenzhen's Longhua District blamed the problematic manual on "lax control" and "inadequate review," and said the responsible persons within the bureau would be dealt with "seriously."
The health manual was introduced in June as an optional teaching tool for grades four through nine, according to the bureau, whose statement added that its use is being discontinued following an investigation into the claims voiced online.
"Equality between men and women, and establishing a correct sense of gender equality for children, has always been our basic principle," the bureau said.
Users on China's Twitter-like microblogging site, Weibo, appear divided on the manual and its content. "Why can't we face the reality that women do want rich men?" one user commented below a related media post. "The book speaks truths that we're not supposed to say out loud," wrote another.
Many others on Weibo expressed anger and concern over what they viewed as blatant sexism. "It's wrong to implant gender stereotypes on young children, as everyone is their own person, with the right to express their own characteristics," one user commented below the same post. "We shouldn't use 'gender' to constrain anyone, as there is no one objective guideline for girls or boys to follow."
In China, traditional, long-ingrained views of gender have been slow to change. Recent years have seen several instances of summer camps espousing "feminine virtues" — virtuous women swallow insults, submit to their husbands, eschew careers that would take them out of the home, and don't tempt would-be rapists with revealing clothing — being closed amid public backlash.
Boys, meanwhile, are occasionally targeted by initiatives promising to make them more manly, from a Shanghai schoolteacher's self-authored textbook aimed at eliminating the country's "masculinity crisis" to a Beijing boot camp for boys who might otherwise fall under the pernicious influence of K-pop culture and its slender, fair-skinned idols.
Editor: David Paulk.
(Header image: Female students leaving the classroom of a school in Nanjing, Jiangsu province, April 2, 2014. VCG)