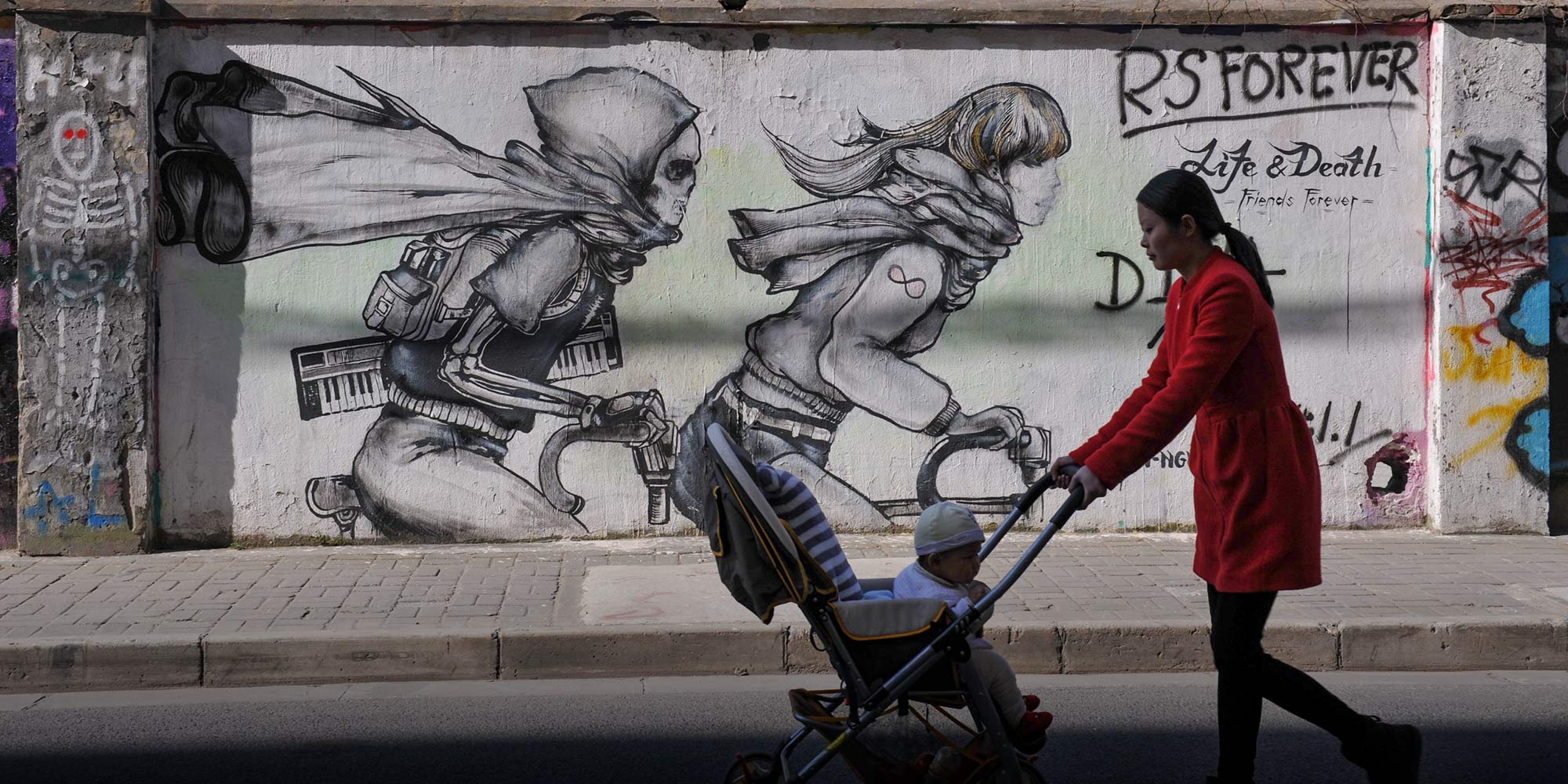 FEATURES
Shanghai's Fading Graffiti Scene Writes One Final Chapter
For over a decade, Moganshan Road was a haven for Shanghai's budding graffiti movement. Now, artists are bidding it farewell.
SHANGHAI — In early November, 33 artists descended on a quiet backstreet in central Putuo District to cover a plastic construction fence with street art.
For the organizers, the event was a chance to add a splash of color and hype to the 1,000 Trees complex — a futuristic, flora-covered building set to open in 2020. But for the artists, the gathering represented something else entirely: a final chance to paint on their beloved street, Moganshan Road.
For over a decade, the dusty lane running along the southern bank of the Suzhou Creek was the center of Shanghai's street art scene, famed for its long, serpentine "graffiti wall." But last year, the wall finally came down, and with it went the city's only remaining haven for graffiti writers.
From Nov. 9-15, Moganshan Road flowered one final time with colorful creations, from traditional graffiti lettering to murals of dragons, flowers, and a zombified Michael Jackson. One piece, however, did not survive long.
Within a week, a shadowy image of a woman wearing a gas mask while covering her eye with two fingers to make a loaded gun gesture, with "Moganshan 2006-2019" written in the corner, was covered over.
According to the event organizers, the mural had not received prior approval, was potentially sensitive, and didn't fit the positive tone of the event. For Jin Ye, a local artist who painted on Moganshan Road from 2006 under the pseudonym Hali, the removal was a laughably petty act that encapsulated how the area has become commercialized and controlled.
"For so many years, no one cared what you drew there, then suddenly they do this event and are restricting people from drawing things," says Jin. "Moganshan Road is no longer the real Moganshan Road: It's become plastic. They want graffiti, but also don't want it."
In its heyday, Moganshan Road's long wall drew tourists, introduced locals to street art, and provided a safe stomping ground for budding graffiti artists. But its destruction and an increasingly rigid atmosphere in Shanghai are resulting in a declining street art scene, with artists struggling to find places to paint.
Jin was among the first artists to begin spraying at the wall in the mid-2000s. He first discovered graffiti as a college freshman while watching BMX videos on YouTube, and soon he and his friends were sneaking off campus at night to paint on nearby building ruins with cheap car paint.
"To be honest, no one cared about that place at all, but we pretended like we were really cool," he says.
Before long, Jin and his friends — now known as the graffiti crew Oops — discovered Moganshan Road. The area proved to be the perfect location for graffiti: a post-industrial dead zone on the border of three separate districts — Zhabei, Jing'an and Putuo — that was rarely frequented by police. Even better, one side of the street was lined by a huge, bare concrete wall, built to fence off some wasteland awaiting development.
"It was a gray area that several local governments didn't manage — quite a troubled place," says Jin. "But it was precisely these conditions that made it the perfect soil for street art to develop."
The cheap rent in the area had also attracted a group of artists to set up studios in the abandoned factories around 50 Moganshan Road — a cluster that would come to be known as M50 Creative Park. M50 provided extra cover for the graffiti writers, as locals often assumed the tags were somehow associated with the art zone across the street, according to Jin.
Others believe M50 may have played an even more direct role in sheltering Moganshan Road's graffiti writers. Paul Dezio, a French street artist who began frequenting the area in 2007, remembers police officers often threatening to arrest him in the early days. Then, one day, a director from M50 passed by while Dezio and a few other artists were painting and told them how much he appreciated their work.
Handing over his business card, the director told the artists to show it to the police next time they hassled them, Dezio recalls. They did, and the graffiti writers were never prevented from painting at Moganshan Road ever again. "The wall got 'legalized' at that point," says Dezio.
Over the next five years, Moganshan Road grew famous for its graffiti, attracting flocks of tourists and big-name artists including German writer Cantwo and British street artist Roid. This was especially the case after the wall was slated for demolition in 2010. Jin recalls his surprise at discovering that art schools were bussing their students to Shanghai to study his work.
"Graffiti went from being this thing that us kids were playing around with, to something popular that people would go see and discuss," says Jin. "It suddenly went up a level."
The wall became evermore colorful as artists from a variety of backgrounds tried their hand at painting or "wheatpasting" — sticking up paper wall art using a wheat flour and water solution —  on its concrete canvas. Brands including JD.com, Nike, and even the video game League of Legends also started flocking there, doing fashion shoots, filming music videos, and creating their own art. At the height of its popularity, the paintings along Moganshan Road were changing nearly every week, according to Dezio, who was in his own crew called CLW, or "China's Least Wanted." 
"It was really like a great boom — the whole wall kept getting painted, repainted, repainted," says Dezio. "You could go like three or four times a week, and there was always something happening."
A graffiti artist for 25 years, who started painting in Paris at the age of 14, Dezio was particularly moved by the reactions of local people in Shanghai to his work. Despite the attitude of the city's police, he feels there isn't as strong a perceived link between graffiti and criminality among the wider public in China.
Whereas Parisian kids would sometimes shout "vandal" at him, Dezio recalls once turning around as he was painting on Moganshan Road to find three children sitting on the floor, watching his artwork evolve. Two 14-year-old girls from the local neighborhood were even inspired to try out graffiti themselves, occasionally painting alongside him. For many Shanghainese, the most surprising thing was that Dezio was creating his art for free and even paying for his own paint, he says.
After 2015, however, Shanghai's graffiti scene began to fade, even though the wall on Moganshan Road was still standing, according to Dezio. Fewer places in the city had space available for graffiti displays, while many street artists either moved on to other, freer cities in China, or busied themselves with more lucrative pursuits, such as graphic design or tattoo art.
Last May, the graffiti wall was finally torn down and replaced with temporary plastic fencing. Dezio says the 1,000 Trees developer has been respectful of the graffiti legacy it is disrupting — it invited artists to decorate large panels on the back of its building, sponsored the November event, and has promised to set aside what Dezio describes as a "small wall" for free painting — but there is now nowhere left in the city for artists to create large-scale, over-the-top artwork.
"There was no other place like that in Shanghai," says Dezio. "I fear that, with the fall of Moganshan Road, (the graffiti scene) is really going to disappear. There are so few places where people can paint."
Resident artists and galleries in M50 — which will be seamlessly integrated into 1,000 Trees — are also concerned about the future, according to a July report by Art Market Journal. Gallery owners fear the large commercial development will keep driving up already high rental costs and make it more appealing to trinket-shopping tourists than serious art collectors, damaging the area's bohemian ambiance.
"We truly don't know if M50 is going to survive another decade," Darryl, co-founder of Art Square, told Art Market Journal.
Another reason for the decline of Shanghai's graffiti scene might be its independence from other subcultures that could provide it newcomers, according to Dezio. Beijing's urban art movement, by contrast, has a strong German influence, with events often combining music, dance, and graffiti. Southwestern Chengdu's graffiti writers, meanwhile, have close links to the city's underground trap music scene.
"There are 30 million people (in Shanghai) and fewer than 10 graffiti artists," says Dezio. "It's weird for a city that's so big."
The city's artists also have to deal with an increasingly controlling environment. When new galleries open, the venues often want graffiti writers to come work their magic — but only if they first get approval for their designs. 
When French artist Julien Malland, also known as Seth, painted a series of murals of an innocent child playing on some Shanghai ruins in 2017, the dash of art was initially welcomed. But after a viral article interpreted the paintings in a political light, many were painted over. Donghua University had a free wall for several years, but it was also painted over in white earlier this year.
But while traditional graffiti art suffers, Dezio has noticed a massive uptick in commercial street art projects commissioned by local governments, real estate developers, and other businesses — part of a drive to beautify China's often-monotonous urban environment. "The government wants to get a lot more art into the community," says Dezio. In October, the Frenchman painted a huge flower design over 220 square meters of bare wall, even enlisting the help of local retirees to fill in the colors.
The concept of creating urban art for profit used to be anathema to Dezio — a betrayal of the free spirit of graffiti — but he has mellowed over the years. He often takes on projects as long as he can paint in his own style and has even set up an agency for graffiti artists called Urban Art United. It was this organization that ran the recent event at 1,000 Trees.
"I'm no longer a 20-year-old rebel or punk," says Dezio. "As long as I can be myself, I'll do a commercial project. But I'll do my style, my thing."
Jin, meanwhile, says that the rise of hip-hop culture in China is providing him with ample business opportunities, due to the high demand for graffiti-style designs. He recently received a commission from the NBA to create urban-looking T-shirt designs featuring U.S. star Stephen Curry.
The Chinese artist says he has mixed feelings about the demise of the Moganshan wall. He was devastated when he first heard the wall was slated to come down, but over the years he became resigned to its destruction. Jin's art studio is in distant Songjiang District — a one-hour drive from downtown — where he's found new walls on which he can paint.
Though fewer people will see these murals in person, thanks to social media platforms like Instagram, his street art reaches a greater audience than ever.
"If we're just talking about the reach of graffiti art, right now it doesn't matter too much that we don't have Moganshan Road," says Jin. "If you have a good hashtag, a good social network or marketing thing, you can broadcast much farther."
Jin says he still feels grateful to Moganshan Road: Because of it, the former engineering student found his passion and made a career in art. From graffiti, he has moved on to tattoos, graphic design, and canvas painting.
"From the moment I first encountered graffiti, my life was never the same again," says Jin.
Editor: Dominic Morgan.
(Header image: A woman walks her child on Moganshan Road in Shanghai, March 21, 2014. Wang Gang/IC)
Correction: An earlier version of this article stated that 17 artists attended the street art event at 1,000 Trees. The actual number was 33.