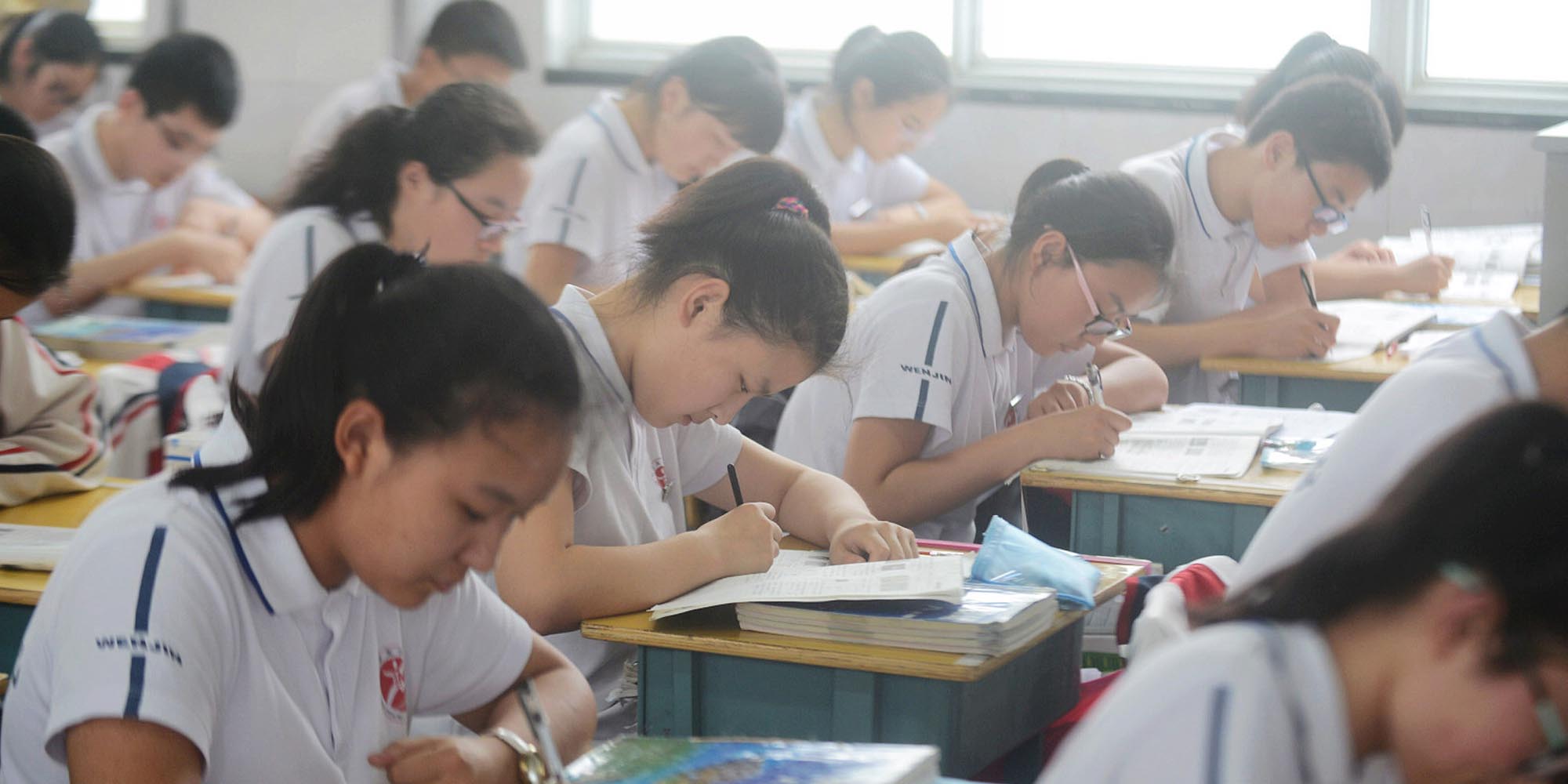 NEWS
World's Top Students Found in (Parts of) China
Test-takers from four affluent coastal provinces ranked first among their peers from 79 countries and regions on a triennial international assessment, but critics question the test's representativeness.
An international survey has concluded that the world's best and brightest students are found in China — or at least in the country's most affluent areas.
High schoolers from the Chinese mainland ranked first in the most recent Programme for International Student Assessment (PISA) survey, according to a report Tuesday from the Organisation for Economic Co-operation and Development (OECD).
The results of the PISA survey, conducted last year, show that 15-year-old students from four coastal regions of China — the municipalities of Beijing and Shanghai plus the eastern provinces of Jiangsu and Zhejiang — ranked first among their international peers in mathematics, science, and reading.
Last year, some 600,000 students from 79 countries and regions took PISA's two-hour exam. In China, meanwhile, 12,058 students from 361 schools in the four provincial-level regions were randomly selected by OECD to take the test.
"These four provinces in eastern China are far from representing China as a whole, but the size of each compares to that of a typical OECD country, and their combined populations amount to over 180 million," the report said. "What makes their achievement even more remarkable is that the level of income of these four Chinese regions is well below the OECD average."
According to the report, Singapore — which topped the last PISA survey in 2015 — ranked second in 2018, with Macao, Hong Kong, and Estonia rounding out the top five.
Since 2000, the OECD has administered the PISA survey every three years to evaluate students' academic abilities worldwide. In 2009 and 2012, China ranked first after only teenagers in Shanghai took the test. In the 2015 survey, when the field of Chinese test-takers expanded to included high schoolers in Beijing, Jiangsu, and Guangdong, the country fell to 10th overall.
Domestic media reports on the most recent rankings have been met with mixed reactions on Chinese social media. Some people have cheered what they view as a national achievement, while others have argued that results from the country's most affluent regions are hardly representative, and may only mask the pervasive problem of education inequality.
In August, the artist known as Nut Brother exhibited a large-scale performance piece criticizing a local government in southern China for supposedly failing to provide inclusive education for all local children, including those of migrant workers. The inequality problem is more pressing still when such workers are forced to leave their children with their grandparents or other relatives in their rural hometowns, where education resources are spread especially thin.
Rather than effusively praise China for its top ranking, the OECD's report highlights the Chinese education system's relatively low learning efficiency, as well as the overall dissatisfaction of its students compared with their international peers.
China has tried to move away from a standardized test-dependent system toward a "happy education" model with less homework, albeit with mixed success. In June, the State Council, the country's Cabinet, issued new guidelines on secondary education reform in what education officials characterized as a pivot from the exam-oriented status quo to a more holistic model with more electives and more opportunities for students to pursue their interests.
Editor: David Paulk.
(Header image: Students complete a classroom assignment at a school in Yangzhou, Jiangsu province, June 13, 2016. VCG)