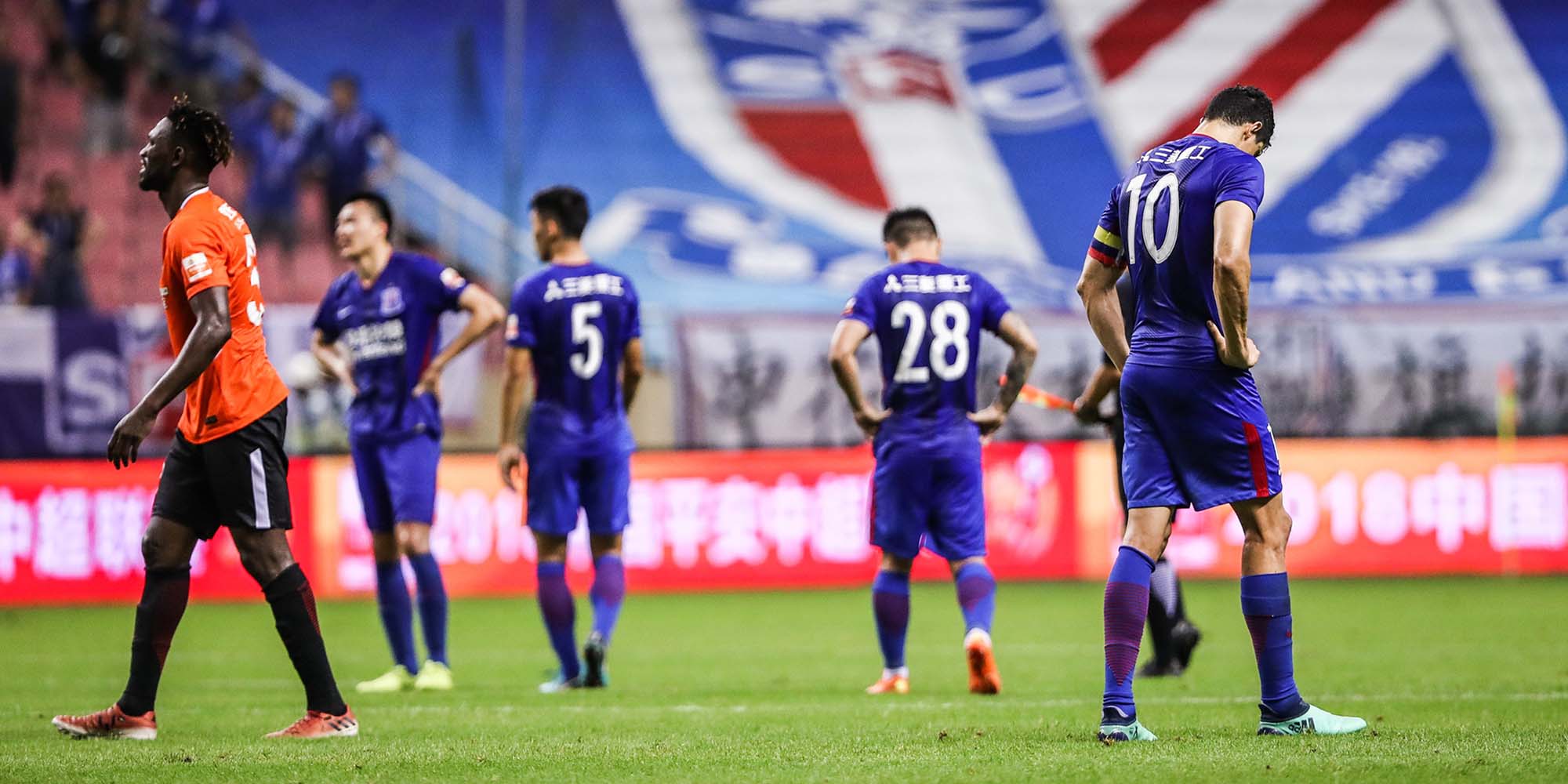 NEWS
China's Soccer Association Imposes Salary Caps for Local Players
As players in lower leagues protest unpaid wages, authorities hope the new rules will help teams regain control of their finances.
The Chinese Football Association (CFA) on Wednesday suspended all player contract signings until new rules for salary caps come into effect in early December.
A CFA spokesperson told state news agency Xinhua that the salary caps — which only apply to Chinese players — should reduce the financial burden on domestic clubs and encourage local talents to consider going abroad. The spokesperson added that updated regulations pertaining to foreign players, naturalized players, and player transfers are also in the works.
Hours after the CFA's announcement, party-backed newspaper People's Daily unveiled the actual caps: 10 million yuan ($1.4 million) for Super League players, 5 million yuan for players in the second-tier league, and 3 million yuan for those in the third league.
The new rules build on a blanket 10 million yuan salary cap for all domestic players introduced late last year. The previous regulation also limited a team's payroll to no more than 65% of its total expenses.
People's Daily's post Wednesday on microblogging platform Weibo also said that teams caught using so-called yin-yang contracts — a term referring to a dual contract system whereby one contract with a modest salary is used for tax purposes while a second, secret contract with a higher salary is tacked on under the table — would have the equivalent of one win deducted from their point total in the league standings.
The salary limits should be seen as an attempt to tackle unhealthy competition in the market, where a paucity of talent has sent wages into the stratosphere, and help bail out teams that are struggling financially, according to Yan Qiang, the founder of Score Sports, which describes itself as "a leading sports brokerage company in China."
"All professional football clubs in China are, in strict financial terms, losing money. That's the hard reality," Yan told Sixth Tone. "They are handing out enormous salaries to below-average players."
The measures might also be an attempt to rehabilitate the poor public image of Chinese soccer, especially following the national team's embarrassing recent loss to Syria in a World Cup qualifier, Yan said.
Earlier this year, British ticketing platform VoucherCloud reported that Chinese Super League players earn an average of $1 million a year, or 160 times more the "national average salary" figure from the World Bank, accounting for the largest player-to-fan wage gap in the world. Meanwhile, foreign players in China are among the highest-paid globally.
But while some soccer players in China can afford to splurge on private jets, others are struggling just to provide for their families.
This year, players in China's third-tier league organized several public protests over alleged unpaid wages. In September, players from Jilin Baijia F.C., after winning a game and leaving the field, returned with a banner demanding back pay and promised bonuses. Another third-tier team, Dalian Chanjoy F.C., was suspected of having less than 50 yuan in its bank accounts while owing its players some 7 million yuan.
At a protest in January over alleged unpaid wages, a player on Hainan Boying F.C. compared himself and his peers to migrant workers cheated out of their salaries before the lunar new year holiday, left desperate, penniless, and without recourse.
In an interview Thursday, Wang Xiao of third-tier team Ningxia Fiery Phoenix told Sixth Tone that his family is currently subsisting off of savings and his wife's income. The forward said he has only been paid just under two months' salary so far this year because the local sports administration and the team's sponsor aren't paying up. Wang received his first earnings of the year — a half-month's pay — in July, he said.
Wang spends his days playing soccer, exercising at the gym, and hoping his agent can manage to negotiate his transfer to a better team, ideally in the second league.
"We've already played all our games for the year, so we're off now, at home with no money," he said. "Life is very tough right now."
Despite playing for a small-market team, Wang isn't buying into the salary caps and would rather the market be left alone, with player salaries working themselves out naturally: "Whether it's a product, a house, a car — you'll determine its price based on how good or bad it is, right?"
Yan, the sports business entrepreneur, says the phenomenon of lower-tier teams struggling to pay players is at least partially due to underdeveloped fan bases and the high cost of running a team. The season registration fee in China's third-tier league is a hefty 1 million yuan, he said, and many teams rely on government support to survive.
"It's not a real market, in a sense," Yan said. "A lot of (Chinese) football fans aren't spending their money or time on clubs like they would in England or Germany."
In February, Inner Mongolia Caoshangfei F.C. put out an emergency call for investors after the third-tier league announced it would double the previous year's registration fee of 500,000 yuan. "SOS! This little club can't go on, in need of immediate rescue!" the team posted on its official Weibo account.
Despite the challenges facing the domestic soccer market, Ningxia player Wang says he's determined to keep playing — he's only 27, after all, and claims to have his wife's steadfast support.
"We're all professional soccer players. We've already set off down this road, so we have to keep playing," he said. "We have a contract with them (the club) after all, right? So we just have to do our part well."
Editor: David Paulk.
(Header image: Shanghai Greenland Shenhua F.C. players stand on the field, dejected, after a home loss to Beijing Renhe F.C., Aug. 26, 2018. IC)