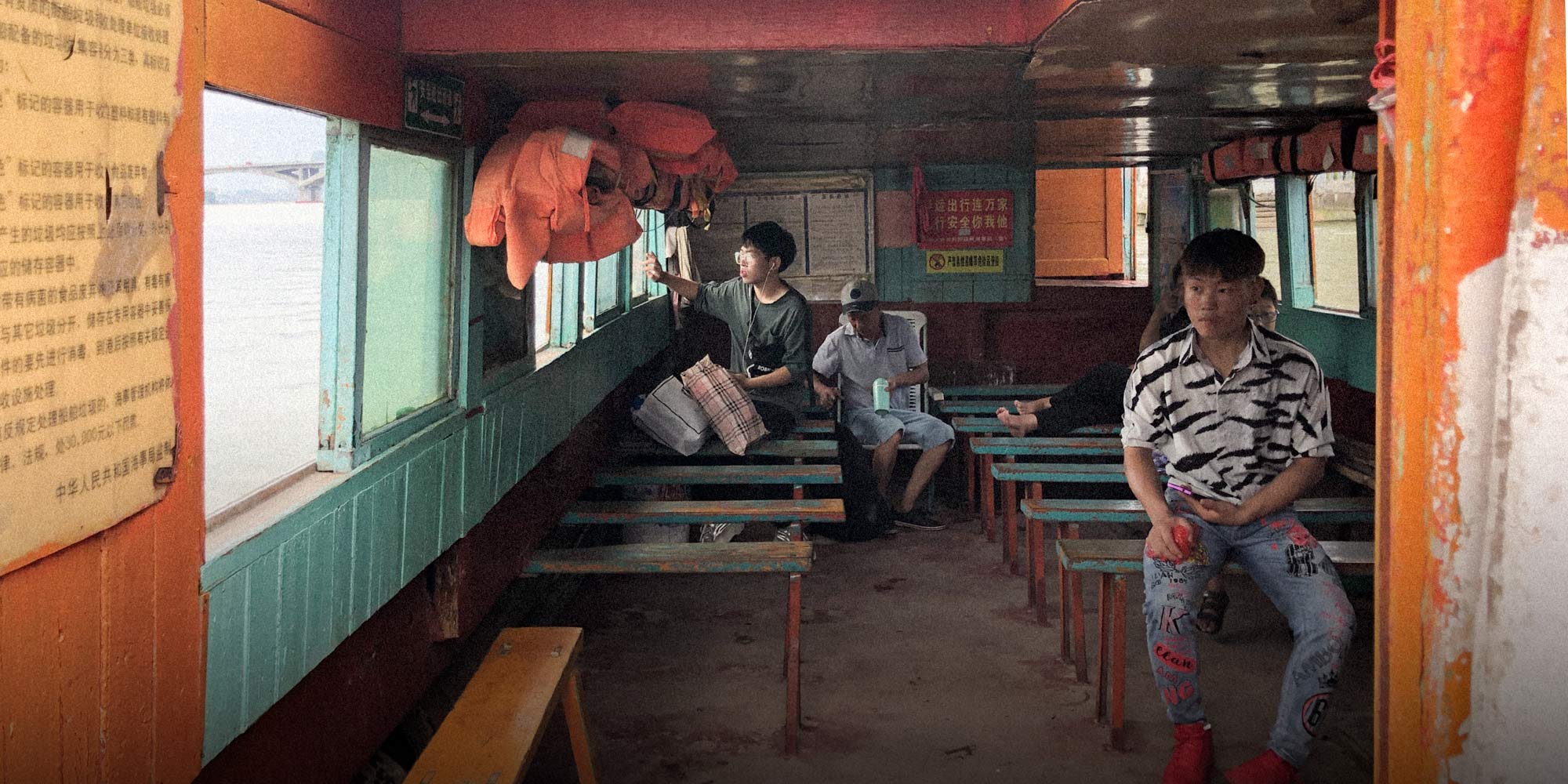 MULTIMEDIA
An Anchor in Time: Documenting a Disappearing Chinese Port
Visual artist Chen Min discusses her efforts to preserve the proud history of a former Chinese naval base.
ZHEJIANG, East China — Chen Min has an eye for the ways in which time can undermine even the proudest monuments. The artist points to a photo of Tingjiang Fort, a stone structure that has stood guard over the eastern coastal city of Fuzhou for more than a century.
"The fort was used in the Battle of the Pagoda Anchorage," says Chen Min, referring to the 1884 naval clash between Chinese and French forces. "Now, its cannons are targeting an oil depot across the river."
Chen Min, a native of Fuzhou, Fujian province, feels an urgent need to preserve the history of this corner of her hometown. Mawei, the district surrounding the fort, was the center of China's naval and shipping industries for much of the previous two centuries, but the once-proud port has fallen on hard times in recent years.
Mawei Shipyard — founded by Zuo Zongtang, the Qing dynasty military leader commonly known as General Tso, in the 1860s — relocated to nearby Culu Island in 2016. A year later, developers began demolishing large sections of the neighborhoods surrounding the former industrial area to make way for new shopping malls and apartment blocks.
Determined to salvage as many memories of Old Mawei as possible before the bulldozers cleared them away, Chen Min began capturing the area's recent history in any way she could: delving into the town's archives, recording oral histories from local residents, and snapping photographs. Though she normally favors film photography, Chen Min often found herself taking shots with a digital camera, or even her phone, in order to save time.
"Artists in China have this feeling of being overtaken by reality, as we can't keep up with the pace of change," Chen Min tells Sixth Tone. "We have to use a sketchy, fast visual language to record life."
The result is the multimedia exhibition "The Disappearing Harbor: Between Time, Space, and Memory," a collaborative effort between Chen Min and several other local artists, which is currently on show at the China Port Museum in Ningbo, Zhejiang province.
Chen Min's work highlights the tremendous changes that have buffeted Mawei in recent decades. In one panoramic shot, Luoxing Pagoda — the famous tower that was often the first Chinese structure Western traders saw as they approached the port — overlooks a hodgepodge of buildings in the foreground. Decaying factories, modern high-rises, chemical plants, coal piles, and Western-style mansions all battle for attention.
"It was shot from a coffee shop on Maxian Mountain," says Chen Min. "It includes all the essential elements of Mawei."
Her street-level shots, meanwhile, capture aspects of local life that could soon disappear. Paper banners decorated with poetic couplets cover the doorway of an old red-brick house; a train passes by Mawei's old public baths, now used to house the few remaining migrants who used to work at the shipyard.
"As the area gradually urbanizes, it'll lose this feeling of being a small town," says Chen Min.
Like many post-industrial regions, Mawei's economy is undergoing an awkward, sometimes painful transition. Chen Ping — a former shipyard worker who is not related to Chen Min — narrates Mawei's decline and gradual recovery in his oral history.
According to Chen Ping, Mawei's shipping industry has been declining since 2014, as Chinese demand for smaller cargo vessels started to slow, and competition from larger shipping facilities increased. 
At first, the local government tried to stimulate economic growth by investing heavily in new retail and real estate projects, but the strategy failed to solve Mawei's population drain and persistently high unemployment. Now, the district is trying a new approach to regenerate based on tourism and new industries, Chen Ping says. Parts of the former industrial zone have been preserved, and a shipping museum and technology park opened in an effort to create jobs.
Despite these dizzying changes, Mawei residents' pride in the area's heritage remains undimmed. Zhang Huagu, a former head of the Foochow Shipping Institution, passionately describes Mawei's central role in modern Chinese history in his contribution to the exhibition.
"It was essential for us to build warships, train naval experts, and establish our own independent navy," says Zhang, referring to China's reform drive following its defeat in the Second Opium War in 1860. "The military modernization of China started before the Meiji Restoration in Japan."
For Chen Min, the artist, the question is how Mawei can channel this local pride into a force for positive transformation. She sees her project as a small step in this direction. 
"I don't want to be nostalgic," says Chen Min. "It's about how we can resurrect this historic site and turn it into industrial heritage." 
Editor: Dominic Morgan.
(Header image: Passengers sit in a ferry in Fuzhou, Fujian province, August 2019. Courtesy of Chen Min)