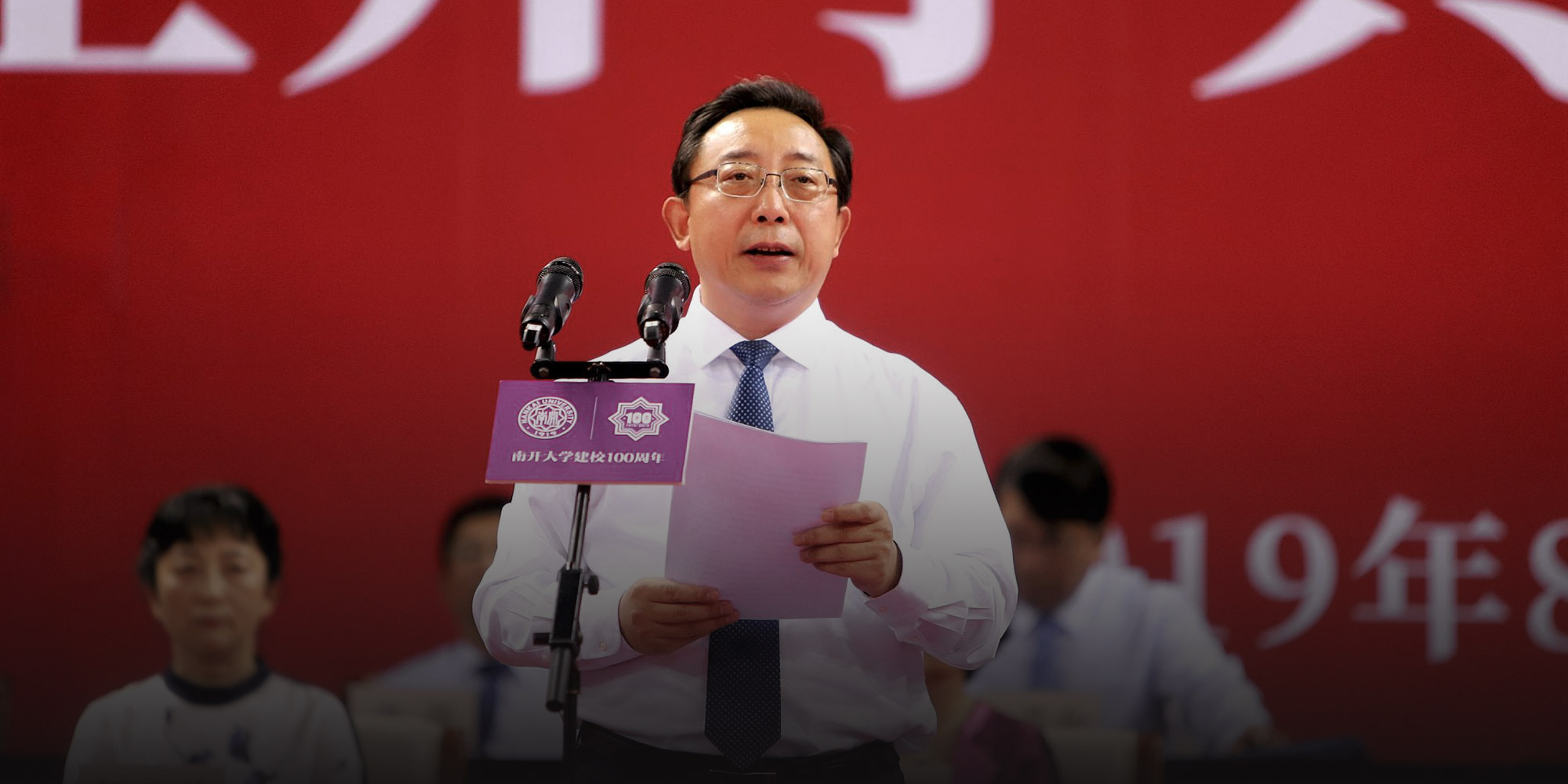 NEWS
Doubts Over High-Profile Chinese Academic's Work Surface Online
The president of Nankai University says he is 'confident' about his published papers and has 'carefully examined' them following concerns voiced online.
The president of one of China's most prestigious universities said he stands by the academic papers published in his name and apologized for a lack of oversight following questions regarding their credibility, according to posts in an online forum for discussing and reviewing scientific research.
Cao Xuetao, the president of Nankai University in the northern city of Tianjin, said he remains "confident about the validity and strength of the scientific conclusions made in those publications" in a response posted on PubPeer. The immunology professor added that he, along with his team and collaborators, had "carefully re-examined" the manuscripts, raw data, and lab records used in the papers to check for any inaccuracies.
The response came four days after U.S.-based independent researcher Elisabeth Bik raised doubts over "possible image duplications" in academic papers written by Cao and his team, which had been published in reputable journals including Science and the Journal of Immunology. Cao is the corresponding author for most of the papers, which date from 2003.
Bik told Sixth Tone via email Saturday that 20 of the 100 papers co-authored by Cao that she had reviewed contained possible duplicated photos or plots, which according to the science consultant means "duplicated within the same paper, or duplications within the same photo."
Bik, who has a doctoral degree in microbiology and work experience ranging from the Dutch National Institute for Health to Stanford University's School of Medicine, said that since 2015 she has screened a set of 20,000 biomedical papers containing photos and found that about 4% of them contained duplicates.
"It is hard to know why photos or plots are duplicated instead of performing the actual experiment," Bik said in her email. "It might be that the researchers did not want to include the appropriate controls or did not want to run an extra experiment, or maybe the results did not match the hypothesis."
Cao has worked as a professor and the founding director of the National Key Laboratory of Medical Immunology since 2006. The year prior, he was elected to the Chinese Academy of Engineering. He was also elected as a member of the German Academy of Sciences in 2013 and the U.S. National Academy of Medicine in 2017.
Cao had not responded to Sixth Tone's request for comment by time of publication Monday.
Doubts over scientific research involving such a well-known name have once again shaken China's academic community, in which many researchers and doctoral students face immense pressure to publish their work in reputed journals if they hope to further their careers. This professional imperative has given way to a lucrative black market in "publications for sale" in international journals.
In recent years, fraudulent acts have also resulted in the fall of the country's rising stars, with some allegedly fabricating their research for more desirable results.
Bik raised the possible image duplication involving the Chinese academician's work on Twitter last week. The same day, she also commented under Cao's 2009 paper published by the Journal of Immunology, saying that several groups of flow cytometry events — a popular analytical cell biology technique — "appear to look unexpectedly similar to each other."
On Monday, the science consultant wrote on Twitter that she was not "accusing anyone of misconduct" and "many of these duplications might just be honest errors."
A biology researcher at Stanford University's School of Medicine who requested anonymity since she was unfamiliar with Cao's research told Sixth Tone that, based on her familiarity with the technique of flow cytometry, the images Bik posted on Twitter "looked very bad" and "would definitely require an explanation from the team."
"The raw data files would be sufficient for anyone skilled in the technique to verify if the plots were manipulated as they appear to be," the researcher wrote via email.
By Monday afternoon, Cao's team had replied to several questions raised on PubPeer. In one of the responses, they admitted that a duplicated image had been inserted into the figure by accident, while in others they provided detailed explanations and raw data.
Wang Yuedan, a professor of immunology at Peking University, told Sixth Tone that although Cao was obliged to respond to Bik's questions as a corresponding author, he said it would be "improper" to jump to any conclusions in the absence of more solid evidence.
"There is the possibility of similar plot distributions, because the data was collected by machines during the flow cytometry experiments," said Wang, who claims to have seen the images posted by Bik. "Before the academic journals make any conclusions or decisions to retract, it would be unreasonable to require an investigation by the author's organization, because that would be a presumption of guilt for scientific professionals and disrespectful of scientific research."
Editor: Bibek Bhandari.
(Header image: Cao Xuetao gives a speech during a ceremony marking the start of the new semester at Nankai University in Tianjin, Aug. 25, 2019. Zhang Daozheng/VCG)