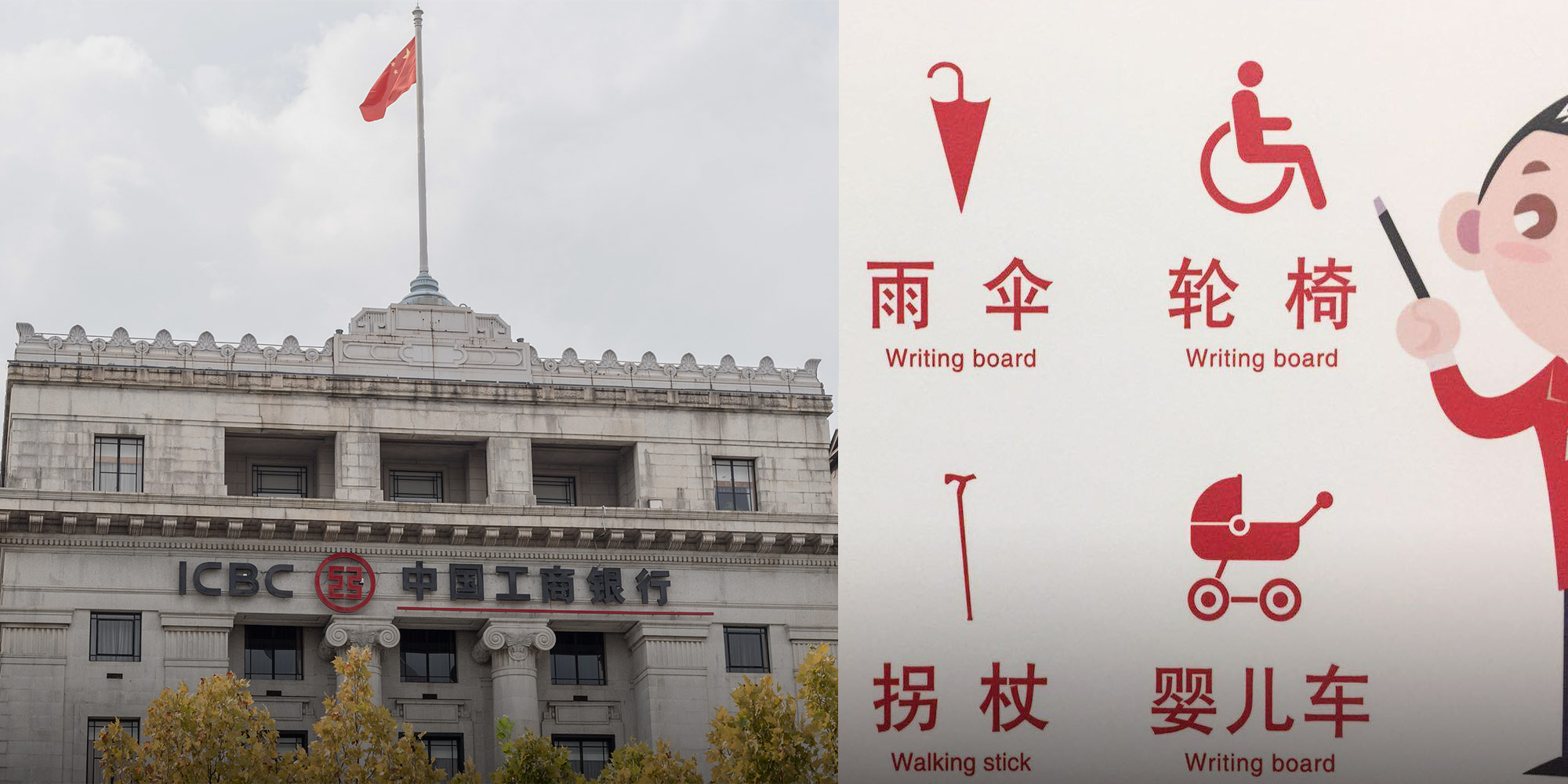 NEWS
Chinese Professor Claims Bank Harassed Him Over 'Incomplete Map'
He shared a photo from an ICBC poster to highlight translation errors. The bank saw a map of China with a geographical gaffe.
When Jason Chu posted a photo on social media involving an informational poster at an Industrial and Commercial Bank of China (ICBC) branch in Shanghai, he just wanted to highlight the English translation errors.
However, what bank officials saw rattled them — it had an "incomplete map" of China. The map didn't include Taiwan or the "nine-dash line" that demarcates China's territorial claims in the South China Sea.
What followed next, according to the assistant professor at Fudan University, was a series of measures taken by the bank to have him delete the postshared on microblogging platform Weibo on Tuesday. The photo in the post listed the products available at the bank's "convenient service area" but was riddled with several errors — referring to an umbrella, wheelchair, and baby carriage as a "writing board."
"It's absolutely unacceptable," he told Sixth Tone Friday. "It is not only about the harassment but also an invasion of a citizen's privacy, which is under the protection of the law."
The bank hadn't responded to Sixth Tone's request for comment by time of publication Friday. A bank employee however said Thursday that they were unaware of such an incident.
The panic over China's "problematic map" stems from the country's strict guidelines that come with legal ramifications for displaying politically incorrect geography, including hefty fines. In August, the Ministry of Natural Resources fined hit television drama "Go Go Squid!" 100,000 yuan ($14,160) for airing a questionable map, while eight companies were reprimanded for using maps that didn't entirely reflect China's territories last year.

Several high-profile international brands have also come under fire in the past year for their geographical gaffes. Luxury fashion brands like Versace and Coach, clothing retailers Zara and H&M, as well as hotel and airlines including Marriott International and Delta Air Lines have all apologized for misrepresenting China's territorial sovereignty.
Chu said the bank was upset after noticing the "incomplete map," and he accused ICBC of badgering him to delete the post, according to a separate post he published on social platform WeChat on Wednesday. He also claimed that the bank had violated his privacy by making his personal information available to its staff.
"They only freaked out when they noticed the wrong map but not the wrong English translation?" he wrote. "The poster was there for so long and they didn't care, but as soon as I posted it on Weibo, they suddenly cared?"
According to the professor, employees from ICBC's Waitan branch contacted several of his current and former colleagues to try and convince him to delete the social media post in question. Chu also said that four ICBC staff members were waiting outside his apartment Tuesday at 10:20 p.m. to ask him to delete the post.
The staff however claimed they were there to "report the progress of the rectification" and get him to "guide their work," according to Chu's post Wednesday.
The post also included another photo from a friend showing that ICBC had changed the questionable poster. China's map had been replaced with a map of Shanghai, but Chu said it was still incorrect.
"I can tell that the location of the Changxing and Hengsha islands in the Yangtze River may not be right, and the portrayal of the eastern side of Chongming Island is also problematic," Chu wrote.
Editor: Bibek Bhandari.
(Header image: Left: An exterior view of a Shanghai branch of ICBC in Shanghai, Oct. 13, 2019. Zhang Yan/VCG; right: Incorrect translations on a board at a Shanghai branch of ICBC in Shanghai, October 2019. From @文冤阁大学士 on Weibo)