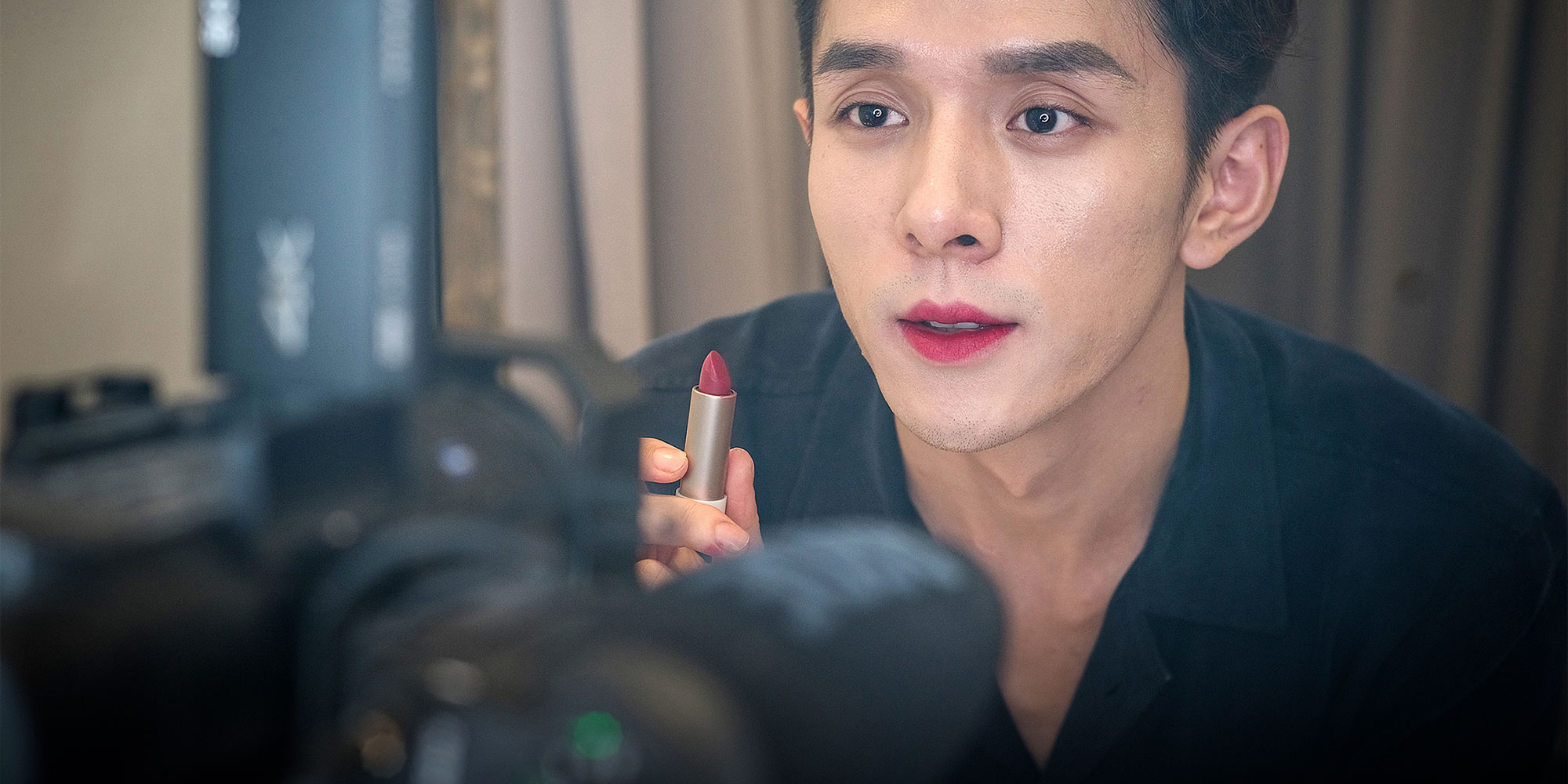 FEATURES
Lips Don't Lie? China's Livestreamers Provoke Sales, Scrutiny
Online influencers were the winners of this year's Singles' Day. But the livestreaming boom is also generating controversy.
SHANGHAI — Li Jiaqi knows how to get an audience's attention. "All you girls! All you girls!" the 27-year-old shouts during his marathon livestreaming show the Sunday evening ahead of the start of Singles' Day, China's annual online shopping extravaganza.
Over the next six hours, Li presents an eclectic mix of products to his viewers, ranging from facial essences to velvet-stuffed pillows. Each time, he briefly introduces the new item and then follows up with a disarmingly direct sales pitch. "Buy it — just buy it!" Li exclaims as he holds up a tube of lipstick. "It looks super, super, super good."
Li's broadcast appears simple and low-budget compared with Taylor Swift's headline show at e-commerce firm Alibaba's Singles' Day launch party, which also took place on Sunday night in Shanghai. But the livestreamer arguably had a greater impact on this year's festival than the U.S. pop star.
More than 36 million people tuned in to watch Li sell his wares that evening. Zhong Tianhua, Alibaba's senior vice president, estimated that Li's shows drove over 1 billion yuan ($142 million) of the sales on Alibaba's platforms in the month leading up to Singles' Day.
Companies have been using online influencers to promote products on Chinese e-commerce platforms for a few years, but the popularity of commercial livestreaming has surged over the past 12 months. For many brands, livestreaming has become their No. 1 marketing channel, rather than an optional extra.
Leading up to this year's Singles' Day, nearly half the merchants on Tmall — Alibaba's platform connecting brands directly with consumers — promoted their products using Taobao Live, the e-commerce firm's livestreaming channel, Alibaba said in a statement. In 2018, Taobao Live generated turnover of over 100 billion yuan, a 400% increase over the previous year.
The rise of Taobao Live, which Alibaba launched in 2016, as well as rivals such as Tencent's WeChat, is partly based on convenience. The livestreaming services are more directly linked to the companies' wider e-commerce ecosystems than Western equivalents, meaning that users can buy any product mentioned during a broadcast with just a couple of taps and swipes.
Another factor is the emergence of superstar hosts like Li, who have become celebrities in their own right. Many in China first became aware of Li during last year's Singles' Day, when he appeared with Alibaba founder Jack Ma in a live lipstick-selling contest. The event became a media sensation, with the influencer eventually prevailing after selling 15,000 tubes in five minutes. 
Li has pulled off similar feats of salesmanship multiple times in recent months. During another Alibaba shopping festival in June, he sold an estimated 6 million yuan of Shiseido facial essence in three minutes.
The influencer, who hails from central China's Hunan province, follows a similar script in each show. Over several hours, he shows his audience a range of products, tries them out on film, answers questions, and, of course, commands his fans to buy them.
Brands are willing to pay Li large sums for a slot on one of his livestreams. He reportedly charges 100,000 yuan to plug a lipstick product on Taobao Live for 10 minutes, while the fee for other cosmetics products is around 60,000 yuan. 
According to Zhang Yi, senior analyst at online consulting firm iiMedia, the growth of commercial livestreaming is linked to what he calls the "videoization" of marketing in China, in which merchants use video content to introduce their products to users.
"A person — a host or online influencer — introducing products will become the standard on e-commerce platforms," says Zhang Yi.
Livestreaming appeals mainly to consumers who think carefully and rely on others' advice before making a purchase, Zhang Yi says. Livestreamers' recommendations often seem more reliable to consumers than conventional advertising and ultimately promote brand loyalty, he adds.
Zhang Xi, a 28-year-old advertising executive from Shanghai with no relation to Zhang Yi, often watches livestreams to check out new products she hasn't previously bought. Li's shows are the most convincing, she says.
"The atmosphere of his livestreams makes me feel the urgency (to buy)," Zhang Xi tells Sixth Tone. She describes Li's style as "domineering" and different from most other livestream hosts, who often look "a bit stiff."
In China, influencers' ability to steer consumers like Zhang Xi toward certain products is often referred to as zhongcao, or "planting seeds." For smaller brands, zhongcao offers the chance of levelling the playing field against the top firms, since a product with comparatively little brand recognition can break through to a new audience through just a couple of endorsements from top stars. Many mid-level and niche Chinese brands spend 40% or more of their marketing budget on livestreaming, according to Zhang Yi, of iiMedia.
"Those brands cannot compete with more renowned brands using promotions in shopping malls or TV commercials," says Zhang Yi. "They see livestreaming promotions as their only chance to compete."
The strategy has already paid off for a few domestic companies. In late October, the cosmetic brand Huaxizi, or Florasis, officially partnered with Li. The brand's Tmall store now has nearly 4 million followers — not far off the 6.6 million who follow Armani on the platform.
For some consumers like Wan Fei, a 35-year-old user experience researcher from Shanghai, buying from smaller brands based on the recommendations of online influencers has become a conscious choice. 
"Big brands usually spend a lot on packaging and promotions, but the ingredients they use in their products are often similar (to those used by smaller players)," says Wan, adding that she recently bought facial essence from a brand she had never heard of before after watching a livestream by Li. "It's just like how Li described — it makes my face glow," she says.
As livestreaming becomes evermore commercialized, however, scrutiny of online influencers is growing. Experts caution that internet regulators, who until now have taken a hands-off approach, could soon tighten supervision over the booming industry. 
Several scandals have emerged in recent months in which netizens have accused livestreamers of misleading consumers by promoting faulty or mediocre products. Li himself was involved in an embarrassing incident last month when he attempted to fry an egg on a "nonstick pan" during a broadcast, only for the egg to get glued to the bottom of the saucepan.
For now, there is ambiguity over how livestreamers should be held accountable for their broadcasts, according to Zhang Yi. "It's not clear whether livestreamers are legally defined as salespeople or brand spokespeople," says the analyst. 
Under Article 56 of China's advertising law, brand spokespeople bear legal liability along with merchants in cases when false advertising has infringed on a customer's rights. As a result, if the courts began treating commercial livestreaming as advertisements, livestreamers would potentially face much greater legal risks.
There are signs that the recent controversies have prompted the Chinese government to pay more attention. In early November, China's top media regulator warned livestreamers to make sure they were advertising quality products and that their content "guides viewers toward correct values" during the Singles' Day period. 
According to Chen Yinjiang, deputy secretary-general of the China Consumer Protection Law Society, a government-affiliated institution based in Beijing, commercial livestreamers are likely to be regulated under the advertising law in the future.
"If an online celebrity promotes products or services using their own name, they are considered the spokesperson of the advertisement according to Article 2 of the advertising law," says Chen. "In cases of false advertising that cause damage to customers, the advertising spokesperson shall bear liability along with the merchant if he or she is aware of the situation."
Livestreamers found to have knowingly misled consumers could face official warnings, the suspension or shutdown of their livestreaming account, as well as potential civil liability, Chen adds.
Yet an increase in regulation may not force top influencers to dramatically change their practices. Li, for example, already goes to great lengths to inoculate himself against accusations that he is willing to shill any product for cash. The star claims to have a staff of 100 people helping him test and select products for promotion, which he says ensures his viewers only see top-quality brands.
Chen Tao, an e-commerce industry analyst at consultancy Analysys, remains upbeat about the prospects for commercial livestreaming.
"User personalization will increase in the future — some may prefer livestreaming, while some may prefer to do their own searches, and others may like graphics and text," says Chen. "Platforms are likely to offer diverse options for users."
Zhang Xi, the Shanghai-based shopper, says Li's rapid rise to fame has made her more cautious about his recommendations. But she doesn't plan to stop watching his shows: She likes his style, and the discounts he offers are simply too good, she says.
"I'll check his recommendations and also do my own research — I won't make the purchase straightaway," says Zhang Xi.
Editor: Dominic Morgan.
(Header image: Li Jiaqi promotes lipstick in Shanghai, Oct. 26, 2018. Ning Jing/VCG)