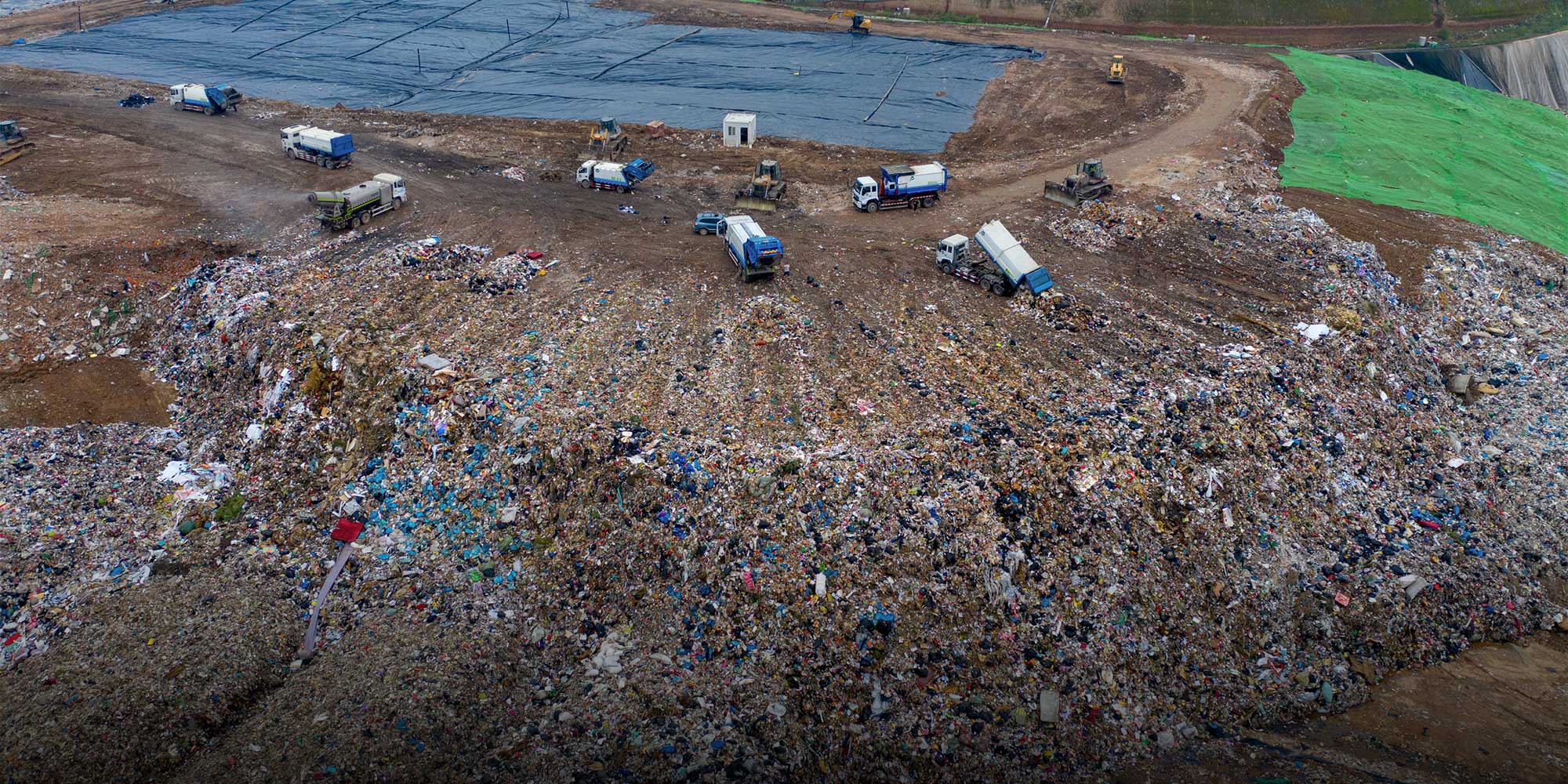 NEWS
China's Largest Dump Fills Up 20 Years Ahead of Schedule
With the Xi'an landfill gradually shutting down, the city will rely on three waste incinerators opening this month.
China's largest landfill is full, the country's state broadcaster reported Tuesday. The Jiangcungou waste dump, located in the northwestern city of Xi'an, is closing down 20 years earlier than anticipated.
"We have been gradually shutting down the site since October and will do so completely after the waste is commissioned to incineration facilities," Shen Chaofeng, deputy head of the solid waste management department under the Xi'an Urban Management and Law Enforcement Bureau, told Sixth Tone.
Opened in 1994, the Jiangcungou Landfill in Shaanxi province takes in 10,000 tons of waste per day. The site has the largest storage capacity of any dump in the country, occupying an area of 1,000 mu, or around 100 soccer fields. Trash at the site is piled 50 stories high , according to CCTV.
"Waste (delivered to the landfill) has increased nearly tenfold in the past 25 years, from 1,200 tons per day to around 10,000 tons per day," said Shen, whose department is in charge of the dump.
The Jiangcungou Landfill is massively overburdened, handling four times as much trash daily as was originally intended. Xi'an, the city it serves, generates over 9,000 tons of household waste each day, 10 times more than it produced 25 years ago. As a result, the dump's projected life span of 50 years has been cut in half.
Xi'an was one of the few remaining cities in China relying on a landfill to dispose of household waste before the area's first waste-to-energy incinerator opened earlier this month, with a treatment capacity of 2,000 tons of waste per day. Two additional incinerators are expected to begin operating within weeks with a combined waste treatment capacity of 5,000 tons per day, according to CCTV.
All three incinerators operating at full capacity will leave 3,000 tons of the 10,000 Jiangcungou was taking in daily unaccounted for. By the end of next year, however, the city plans to have five waste treatment facilities in use with a total capacity of 12,750 tons per day, according to CCTV's report.
The transition from landfills to incinerators is part of a five-year national plan released in 2017 that urges urban centers to reduce their use of dumps and lean on incineration in a bid to reduce waste-disposal costs in areas with little available land and relatively expensive transport. But not everyone is enthusiastic about the pivot to waste incineration, with NIMBY protesters mobilizing when waste incinerator projects have been announced in their communities.
China produced 215 million tons of urban household waste in 2017, the most recent year for which data is available. This figure places a great burden on the country's waste-disposal system, with landfills filling up in cities like Beijing, Guangzhou, and Jinan. The country has taken steps to address the strain by banning the import of almost all categories of waste in 2018 and introducing compulsory waste-sorting in several major cities.
The Jiangcungou Landfill will be eventually be converted into an ecological park, Shen said. But this process will take years, as well as hundreds of millions of yuan to clean up the groundwater and soil. "We've added the plan to our agenda, but the details still need to be hammered out," the official said.
Editor: David Paulk.

(Header image: An aerial view of the Jiangcungou Landfill in Xi'an, Shaanxi province, Aug. 21, 2019. Tian Ye/IC)