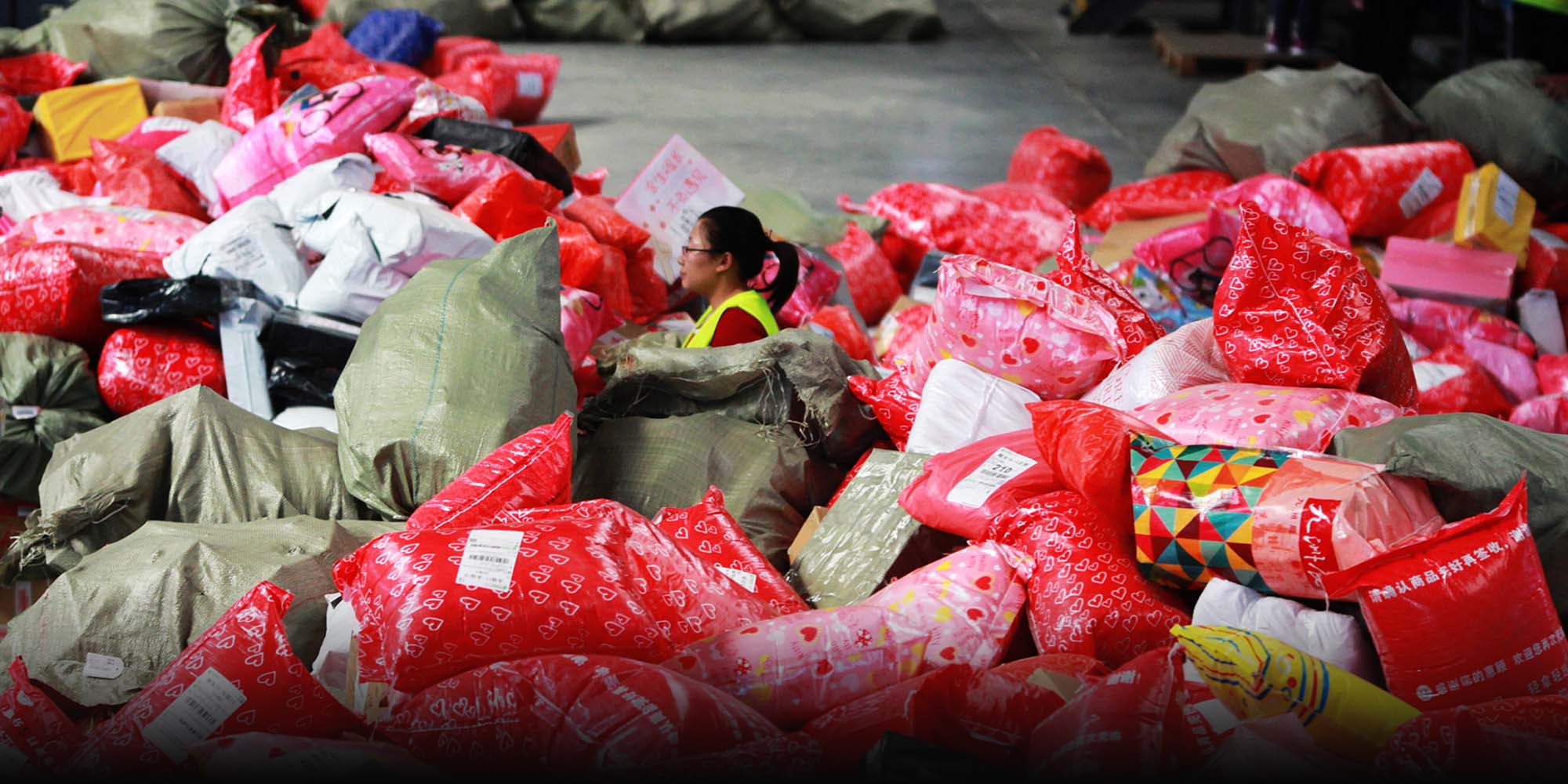 NEWS
Singles' Day 2019: Records, Rivalries, Red Carpets, Recession
Alibaba's annual 11.11 shopping bonanza shattered last year's sales record in just 16 hours, but annual growth was down 7% from 2017-2018.
It's that time of year again, when Chinese consumers splurge on millions of heavily discounted products sold through e-commerce platforms. During the online shopping bonanza known as 11.11, or Singles' Day, e-commerce giant Alibaba will set a record high for the 11th consecutive year.
From smashed sales targets to spats between Alibaba and its competitors, Sixth Tone takes a look at how the 11th 11.11 has become more heated than ever.
Another Year, Another Record
Orders on Alibaba-owned e-commerce site Tmall reached 10 billion yuan ($1.4 billion) less than two minutes after the world's largest shopping bonanza kicked off at midnight Monday, half a minute faster than last year's record. Sixteen hours later, sales had rocketed past last year's 213.5 billion yuan overall record with several hours still to go.
With more than 200,000 companies participating in this year's 11.11 shopping festival, including 22,000 international brands, Alibaba is expected to generate a record-high of $37 billion in gross merchandise volume, according to American market research firm Forrester. Since 2013, Singles' Day sales have consistently outpaced those of Black Friday and Cyber Monday combined.
After debuting new goods including cars last year, the e-commerce giant has upped the ante by adding prime properties to its extensive range of product promotions in this year's event. Over 10,000 properties are listed on Alibaba's judicial auction platform, garnering over 30 million views in the past year.
A Price-Slashing Bloodbath
Singles' Day began as a Tmall promotion in 2009, but in the decade since, competitors like JD.com and Pinduoduo have been increasingly vying for their own slices of the pie — and sales records show they're succeeding.
Tencent-backed JD.com, China's No. 2 e-commerce site, raked in 159.8 billion yuan during its last Singles' Day campaign running Nov. 1-11, compared with Tmall's 213.5 billion yuan earned in 24 hours. Meanwhile, Pinduoduo, China's third-largest e-commerce platform specializing in big discounts through group buying, accounted for 3% of Singles' Day sales last year.
To keep its paws on the lion's share of sales this 11.11, Alibaba allegedly required merchants to sign exclusive contracts preventing them from selling on competing platforms. In October, JD.com — later joined by Pinduoduo and another e-commerce platform — reacted to the allegations by suing Alibaba, which defended its policies as "normal market behavior." The high-profile tiff prompted China's top market regulator to call a meeting ahead of this year's Nov. 11 with 20 of the country's leading e-commerce platforms and urge them to refrain from such practices in the future.
A Star-Studded Gala To Celebrate… Shopping?
Part of the allure of Singles' Day lies in the accompanying TV event featuring big-name stars that runs right up to midnight.
Celebrities including pop singer Jackson Yee and American megastar Taylor Swift performed during the four-hour gala held this year in Shanghai. Swift ended her set by singing "You Need to Calm Down" — a message some believe was aimed at China's frenzied shoppers.
The flashy concert also included a bizarre segment during which 41 celebrities, including Yee, promoted produce from China's rural regions. Several stars then appeared on Taobao Live — the livestreaming arm of Alibaba's other large e-commerce platform — along with village leaders to advertise the agricultural products.
The livestream attracted some 51 million viewers, according to The Beijing News. Just days before 11.11, China's top media regulator had called on the shopping festival to be an "important channel" for drawing attention to rural communities and lifting them out of poverty.
Livestreaming, the Future of E-Commerce
With the enormous popularity of livestreamers like Li "the lipstick prince" Jiaqi — who once sold 15,000 of the cosmetic items in just 15 minutes — Alibaba is hoping to capitalize on the power of commercial livestreaming by training 2,000 web personalities to build an "influencer ecosystem."
Though once merely an option for brands looking to engage with Chinese consumers, livestreaming is now "so integral" to the online shopping experience, Alvin Liu, Tmall's general manager in charge of import and exports, said last week during an event to announce the livestreamer-training initiative. In 2018, Taobao Live generated 100 billion yuan in sales, up 400% from the previous year.
This 11.11, even foreign celebrities have jumped on the livestreaming bandwagon to push their products on the Chinese market. American reality TV star Kim Kardashian held a joint broadcast with local livestreamer Viya Huang on Wednesday, attracting 13 million viewers and selling 15,000 bottles of Kardashian's KKW perfume in minutes, according to Alibaba's public relations platform, Alizila.
Slowing Economy Impacts Sales
Despite expectations that this year's 11.11 will once again shatter sales records, early forecasts predict 20% growth from last year's sales — 7% less than from 2017 to 2018, and far lower than the double-digit growth rates recorded in previous years.
"This is likely due to the slowdown of the overall economy (in China)," said Jennifer Ye, consumer markets leader for PwC China, according to the South China Morning Post. Since last year, China has been mired in a trade war with the United States, and 78% of Chinese consumers are reconsidering purchasing American products during this year's 11.11, according to a survey by U.S. consulting firm AlixPartners.
At 1 a.m. Monday, however, the U.S. ranked second behind Japan in terms of gross merchandise volume sold to Chinese consumers.
The lower annual growth rate may not be a cause for concern either. "When a market matures, you cannot continue to grow at a high double digit every time," Wang Xiaofeng, a senior analyst at Forrester, said in an interview with CNBC.
"Just like the Chinese economy used to be a double digit growth, it's just single digit now," Wang said. "It is natural, it is still growing, it's still a big market, that is a positive."
Editor: David Paulk.
(Header image: A worker walks through a packed warehouse on Singles' Day in Yangzhou, Jiangsu province, Nov. 11, 2019. Meng Delong/VCG)