SHANGHAI — Reports on trade shows can be a turnoff for many consumers. But one group is closely following events at the China International Import Expo (CIIE) in Shanghai this week: Chinese patients living with rare diseases and chronic health conditions.
Last year's inaugural edition of the import fair received massive coverage from Chinese media as the country looked to reaffirm its status as an attractive market for foreign investors. Though the media blitz fell on deaf ears in some corners, it did alert many people in China to the availability of potentially life-changing new drugs that had recently received regulatory approval from Chinese health authorities.
Duoduo, a 26-year-old from Wenzhou, Zhejiang province, is one of around 30,000 people in China living with multiple sclerosis (MS), a serious condition in which the immune system attacks the tissue surrounding the body's nervous system. She discovered through reading online news about last year's CIIE that teriflunomide — an oral MS medication produced by French pharmaceutical group Sanofi under the brand name Aubagio — had been approved for sale in China in July 2018.
For Duoduo, who preferred to give only her first name for privacy reasons, the new drug promised to significantly improve her quality of life. Since her diagnosis in 2014, she had been receiving injections of interferon beta-1b — or Betaferon, a drug produced by the German conglomerate Bayer and the only MS treatment available in China at the time. The injections, however, came with debilitating side effects.
"I'd suffer from syncope during injections — I'd often pass out after receiving these essential injections every other day," says Duoduo. "I'd been looking forward to accessing oral medications, which had been available abroad for a while."
After hearing about teriflunomide, Duoduo started searching for where she could purchase the medicine, and after consulting her doctor she was finally able to find a local drugstore that sold it. "The expo made both patients and doctors more aware of new treatments," she says.
Pharmaceuticals is again a main focus of this year's CIIE, as the Chinese government continues its drive to speed up approvals of foreign-made drugs, especially treatments for rare diseases and cancers. Chinese regulators used to take six years or more to authorize new drugs that were already available in Western markets, but since 2017 the number of approvals has increased significantly. In 2018, China greenlighted 61 imported drugs, compared with just 13 in 2016, according to online health care data provider Menet.
Sanofi, the maker of Aubagio, is among 60 pharma companies exhibiting at the 2019 expo. Pius Hornstein, head of Sanofi China, says the French company is confident it will be able to bring its latest innovations to China more quickly than before.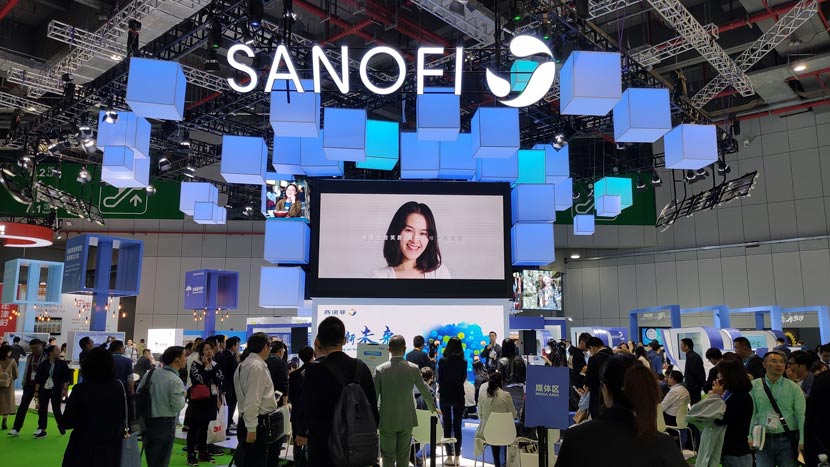 Sanofi's booth during the second China International Import Expo in Shanghai, Nov. 5, 2019. VCG
"By 2025, we will launch more than 30 new medicines and vaccines, especially in the fields of chronic diseases, rare diseases, and vaccines," says Hornstein. "This is triple the number of products commercialized in the past decade."
One of the drugs that Sanofi is promoting heavily at the expo is dupilumab, which the company claims is the world's first targeted drug for patients with moderate to severe atopic dermatitis — a form of eczema affecting more than 100 million people in China, according Zhang Jianzhong, a senior dermatologist at the Peking University People's Hospital in Beijing.
Severe atopic dermatitis can cause patients to develop asthma and rhinitis, among other symptoms, making it difficult to lead a normal life. In China, the disease is currently treated using immunosuppressors, but the medication can cause liver problems and high blood pressure, requiring doctors to closely monitor patients.
Xu Chenglin, a 29-year-old patient at Huashan Hospital in Shanghai, says she is anxious to find an alternative treatment for her atopic dermatitis. "The symptoms have been affecting me since puberty," says Xu, referring to her itchy skin and asthma, which often prevent her from sleeping. "The disease and the constant insomnia have seriously impacted my life. Also, given the side effects from hormone therapies, I've had to delay my plans to have children for years."
Dupilumab, which Sanofi is selling under the brand name Dupixent, has the potential to bring relief to Chinese patients like Xu. The drug received approval for use on adults from European and U.S. health authorities in 2017 and is now approved for use on adolescents in both markets. In China, dupilumab is in its third phase of clinical trials, according to Zhang.
"We've received lots of applications from patients wanting to test the new drug," says Zhang. "Hopefully, the trials can be completed by 2020."
For many Chinese patients trying to gain access to newly approved drugs, however, the high prices charged by pharmaceutical companies can be prohibitive. Duoduo says her teriflunomide pills are swallowing up most of her income.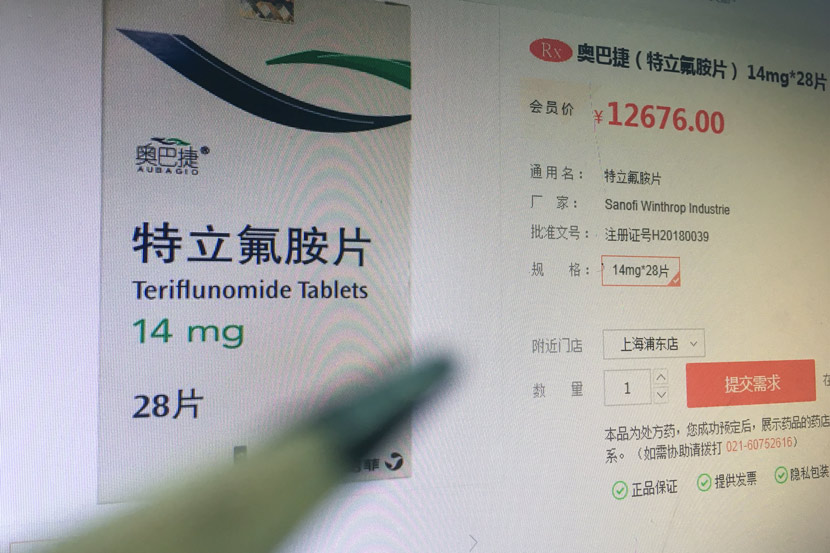 A page displaying the high price of teriflunomide tablets, Nov. 7, 2019. Sixth Tone
"The cost of the tablets is nearly 90,000 yuan ($12,900) per year, and I have to pay every penny out of my own pocket, as it's not covered by the national health insurance scheme," says Duoduo. "My husband has to work overtime on weekends to earn more money to support the family."
Felix Gutsche, CEO of Boehringer Ingelheim China, says pricing new treatments is a constant dilemma for the pharmaceutical industry. "It's an endless debate and discussion regarding affordability and how much revenue we need to generate to allow for research," says Gutsche. "We need to work on it."
The German company is exhibiting at the CIIE for the first time this year, highlighting its research in stroke treatments and integrated health management, as well as its collaborations with Chinese universities. Boehringer Ingelheim is optimistic about its prospects in China, according to Gutsche, who cites the recent acceleration in drug approvals and rising investment in research and development in the pharmaceutical sector.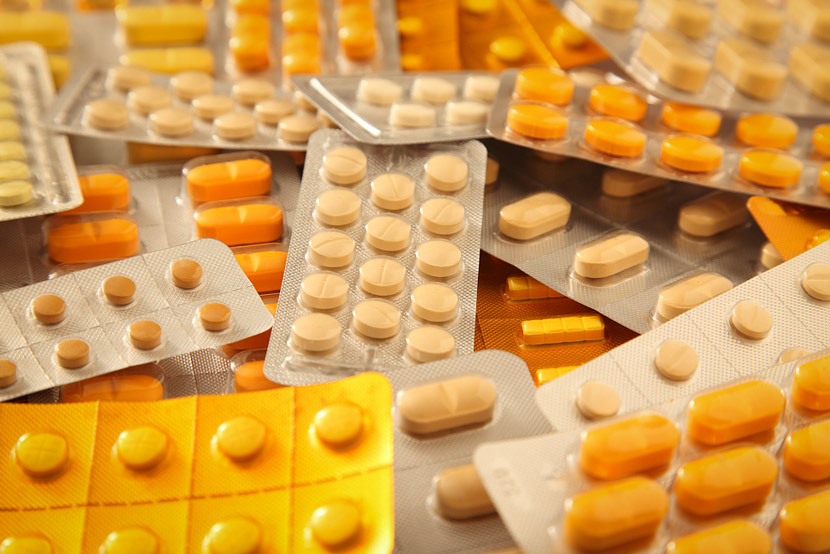 E+/VCG
"We need to bring in innovation and modern medicine to the population of China," says Gutsche. "CIIE helps us better understand how important innovation is to Chinese patients."
This sentiment is echoed by Ulrich Stefer, chief financial officer of Bayer Group Greater China. Among the drugs the company is promoting at CIIE is larotrectinib, a cancer treatment drug, which became the first TRK inhibitor to receive approval in the U.S. last year. 
"We view China as the most important market in the area of cancer, especially based on the indications we have on lung cancer," says Stefer. "We've observed immense need for progressive medications."
For Duoduo and many others, each new announcement brings renewed hope that drugmakers may one day find a cure for her condition. "Innovations are constantly happening in the pharmaceutical field," says Duoduo. "One day, I might get cured by just one or two injections."
Editor: Dominic Morgan.
(Header image: People visit the exhibition area for medical equipment and medicine during the second China International Import Expo in Shanghai, Nov. 5, 2019. VCG)