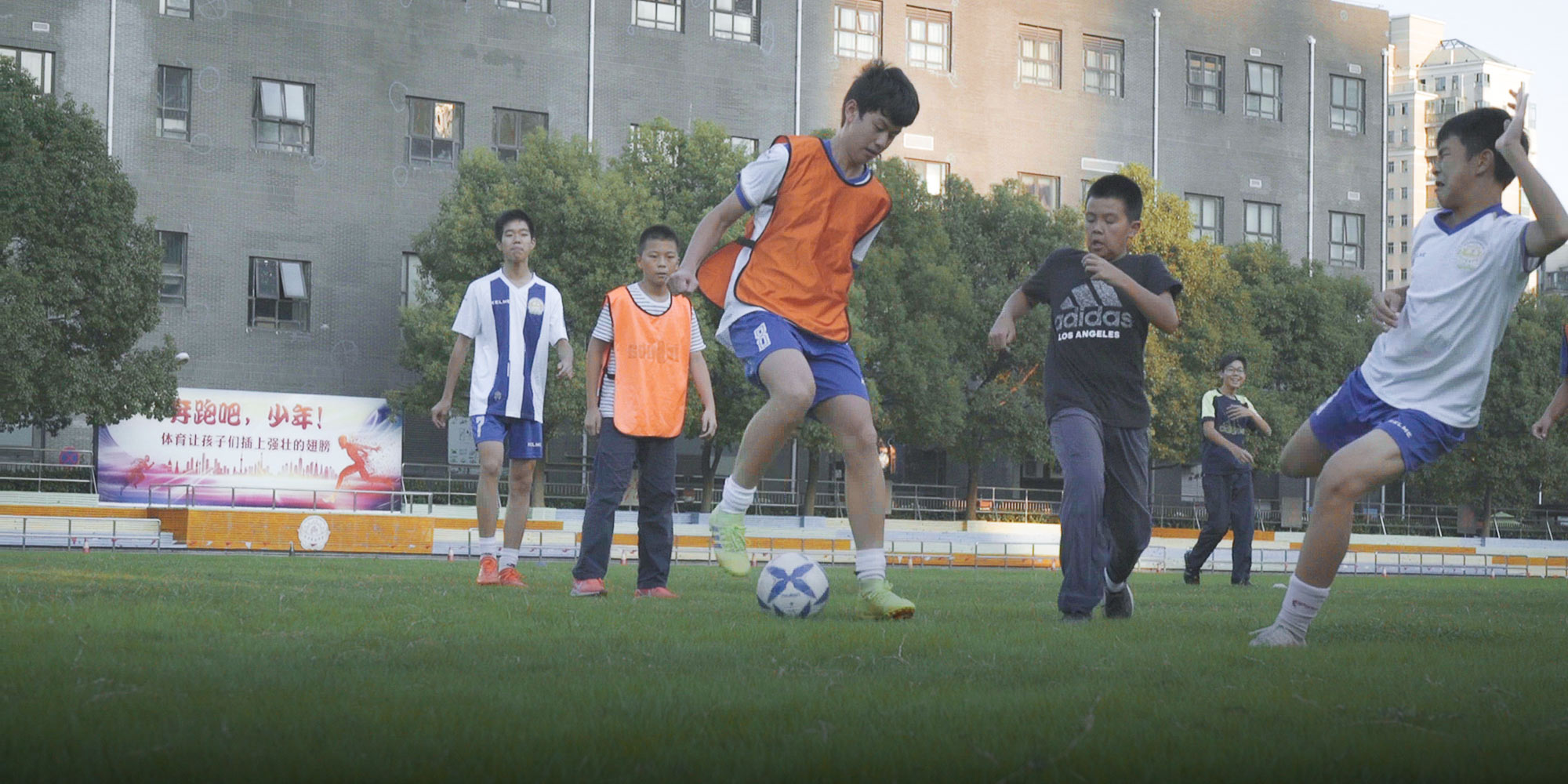 FEATURES
Chinese Soccer Turns to Video Games to Train Future Stars
Teams are using a soccer simulator that claims to improve players' tactical awareness and decision-making skills.
SHANGHAI — For the students gathered in the computer room at Shanghai Jincai Experimental Junior Middle School, the assignment feels almost too good to be true: They have been asked to test a soccer video game.
The sports simulator the children will be trying out this late October afternoon is no ordinary game. Designed by an Israeli technology startup, "The Soccer IntelliGym" claims to teach soccer players to outthink their opponents using cognitive training techniques first tested on U.S. fighter pilots.
Juss Intellisports — a subsidiary of the state-owned conglomerate Shanghai Jiushi Group promoting the technology in China — believes the system could give China's young players a vital edge as the country struggles to develop a team capable of competing for the World Cup.
"Will this game help improve your footwork? No. Will it make you physically stronger? No. But it'll make you a smarter player," Wang Fa, a representative of Juss Intellisports, tells the assembled students.
For the next 30 minutes, the room is quiet as the schoolchildren concentrate on their screens. "IntelliGym" lacks the lifelike graphics of popular soccer games such as "FIFA" or "Pro Evolution Soccer"; instead, its simple interface allows the user to view the entire pitch. The idea is to teach players positional awareness and decision-making skills by simulating specific in-game scenarios.
"It's been shown that training specific cognitive skills in a low-fidelity environment yields an improvement in performance," says Danny Dankner, CEO of Applied Cognitive Engineering Ltd., the Israeli firm that developed the product.
Ten European teams are already experimenting with "IntelliGym" — including Dutch Eredivisie sides PSV Eindhoven and AZ Alkmaar — as elite soccer becomes evermore fast-paced and tactically sophisticated. The game's promoters aim to find even more demand in China, which launched an ambitious national soccer development plan in 2015.
In Shanghai, Juss Intellisports has already convinced Chinese Super League (CSL) club Shanghai SIPG to test the system with its youth teams, as well as four local schools, including Jincai. It plans to pitch the system to more Chinese teams at the China International Import Expo, which takes place in Shanghai from Nov. 5-10.
Backers of "IntelliGym" argue that China needs to embrace new technology to become more competitive on the soccer field. The men's national team has been a continual source of embarrassment in recent years: It hasn't qualified for a World Cup since 2002 and currently sits joint 69th in the FIFA world ranking.
"Sports technology is at a very early stage (of development) in China — there's huge potential for applying it in soccer training," says Ma Di, general manager of esports and smart training at Juss Intellisports. "Many criticize Chinese soccer players for being dumb and inflexible, but few people have tried to fix the problem."
For Huang Xiaodong, a ninth grader at Jincai and a promising forward with aspirations of playing soccer professionally, training while sitting in front of a computer is a new concept, but something he is willing to try to get ahead.
"I had no idea that a video game could improve a soccer player's performance," says Huang. "In the past, coaches paired me up with defenders to do tactical drills on the field."
Huang's coach, 29-year-old Xie Zhiyi, is also cautiously optimistic about the potential for using new tools like "IntelliGym." "We shouldn't reject things we're unfamiliar with, especially if it's a proven, effective method," says Xie. "You don't just play soccer with your feet, but also with your brain."
Both Huang and Xie acknowledge that there remains a significant gap between the European soccer powerhouses and China in terms of youth development. Until recently, training at Chinese schools — even specialist institutions like Shanghai Jincai, which has one of the best soccer programs in the city — normally focused on teaching individual ball skills rather than teamwork, according to Xie.
"But now we keep our eyes more open to what other countries' players are doing to improve their performance," he says.
Huang sees tactical awareness as key to his own game. The student recalls playing against several Italian youth teams during a European tour as an 11-year-old — bruising encounters that left him with a broken collarbone and a sense that he would only ever be able to win by outplaying, rather than outmuscling, the opposition. He says his hero is Wu Lei, the Chinese forward who left Shanghai SIPG in January to play for the Spanish side Espanyol.
"I want to become a player just like him — to gain experience abroad and bring it back to benefit the development of Chinese soccer," says Huang.
In the long term, however, Chinese soccer may need to focus less on sending players abroad and more on giving children at home the chance to play the game. Though the CSL attracts average attendances of over 24,000 — the highest of any league in Asia — grassroots participation is surprisingly low: In 2012, Beijing, which has a population of more than 20 million, only had around 80 regulation soccer fields.
Xie, who started coaching young players the same year, says the lack of access to soccer facilities has held back the development of the sport in China for years. "There was a lack of policy support," he says. "We have a huge population, but the number of people who actually play soccer is very small."
But things have changed dramatically since 2015, when the government set aggressive targets to promote soccer in schools and raise the number of institutions offering soccer training from 5,000 to 50,000 by 2025. According to Xie, the policy has already had a visible impact in Shanghai.
"In the past, one district had just one or two soccer clubs; now, there could be as many as 30," he says. "More young soccer players means a promising future for Chinese soccer."
Importantly, more schools like Shanghai Jincai are providing students with both an academic education and high-quality sports training. As a result, children with sports ambitions like Huang no longer have to enroll at a specialist sports school, where students often receive little formal education, in order to pursue their goals.
"In the old days, all potential professional soccer players gave up their academic studies at a very young age," says Xie.
Chinese parents were often reluctant to let their kids sign up for sports schools, meaning many talented players never reached their potentials. Xie, who attended a sports school as a child, understands this attitude: Youngsters who didn't make the cut as professional players were often left with few prospects.
"We didn't learn much — we were training most of the time," says Xie. "It's very hard to turn your life around without a decent diploma. I'm lucky to have ended up as a coach."
Today, however, new preferential policies allow talented young soccer players to study at China's top middle schools, high schools, and universities. Huang gained admission to Shanghai Jincai through this system, though academically he is also one of the top students in his class.
"I'd like to go to a leading high school with a soccer program and then a university that's also strong in soccer," says Huang. "I can begin playing soccer professionally while I'm at university if I can get selected."
Huang's mother, Li Hong, tells Sixth Tone that she's now fully on board with this plan, though she used to worry about how her son's training might impact his studies. "I believe he can reasonably divide his time between learning and playing," she says. 
Like all aspiring sportspeople, Huang faces a tough battle to break into the professional leagues. Despite all the recent progress, Xie admits that the vast majority of CSL players still come from sports schools, where students focus exclusively on soccer from as young as 10 years old.
But Xie thinks that of the hundreds of children he has coached at Jincai, Huang stands the best chance of playing for a side like Shanghai SIPG. What may set the young forward apart is his soccer intelligence — precisely the skill "IntelliGym" promises to hone.
"His running is much more effective than the others'," says Xie. "He's aware of the other players' movements and knows whether to pass to a teammate or break through on his own."
Editor: Dominic Morgan.
(Header image: Young players train for soccer in Shanghai, October 2019. Sixth Tone)(Header image: Young players train for soccer in Shanghai, October 2019. Sixth Tone)