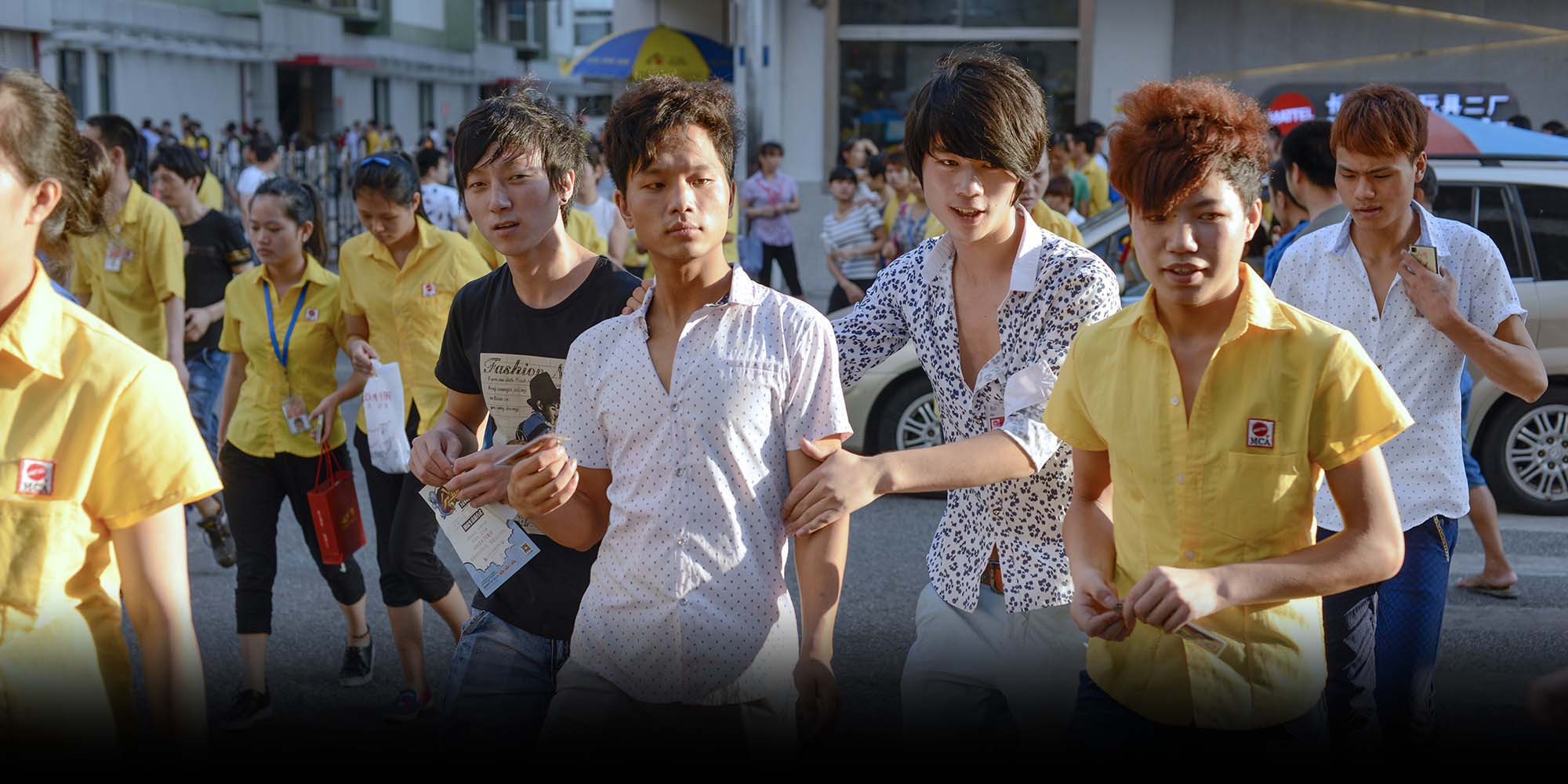 MULTIMEDIA
The World's Factory, On Film
Zhan Youbing worked for years as a migrant laborer in the heart of China's export machine. Then, one day, he picked up a camera.
GUANGDONG, South China — The first night Zhan Youbing spent in a factory dormitory was the happiest of his life. Surrounded by 100 snoring colleagues, Zhan lay back and listened to the patter of water dripping from the wet clothes hanging between the bunk beds. Quietly, he said to himself: "I don't need to be afraid of being sent back to the countryside anymore."
The year was 1995, and Zhan had just been hired as a security guard at a manufacturing facility in Dongguan, the southern Chinese city that was rapidly emerging as one of the world's leading export hubs. He had beaten hundreds of other migrants to get the job — outlasting all of them in a strength test by doing 102 pushups in succession outside the factory gates. In the process, he had also won himself safety from the local police, which often rounded up unemployed migrants and sent them back to their home provinces.
For the then-22-year-old, that night marked the end of a long struggle to escape from his former life as an agricultural laborer in Miaotan, a poor mountain village in central Hubei province. In hindsight, it was also the start of a new journey that would see Zhan become one of the country's most celebrated photographers, after spending over a decade recording the lives of China's migrant workers.
On the surface, Zhan appears an unlikely candidate for artistic fame: His background couldn't be more different from peers trained in Beijing's academies. His main memories of growing up in Miaotan are of constant hunger and the discomfort of his patched-up clothes, he tells Sixth Tone. Failure was another persistent theme. Zhan hoped to change his life by getting a college degree, but flunked the entrance exam. Later, he tried the army, but that didn't work out, either. After he went back home, he realized he was a hopeless farmer and had no chance of supporting himself.
For Zhan and millions of other young Chinese in the 1990s, the best route to a bright future appeared to lay to the south. Over the previous two decades, the Chinese government had gradually liberalized the economy, and the cluster of cities around the Pearl River Delta were gaining fame as "the world's factory." Tens of thousands of production facilities had opened up in Dongguan, Guangzhou, and Shenzhen, churning out everything from herbicides to high-end handbags for export. The choice to leave home in search of a job in the new factories seemed like a no-brainer, recalls Zhan.
"If I'd stayed in my village as a farmer, I could only have earned around 300 yuan (then $36) per month, while my little sister working in Guangdong province was making 550 yuan every month," Zhan says. "There didn't seem to be much need for consideration."
Zhan arrived in Dongguan at the height of what some Chinese now refer to as the migration "tidal wave," which saw the city's population swell from 1.75 million in 1990 to 6.45 million a decade later. During his first five years in the southern metropolis, Zhan lived the life of a typical migrant laborer, working long hours and sleeping in crowded dorms. His introduction to photography happened purely by chance, he says.
In 2000, his factory boss asked him to help take some promotional photos for the company's newsletter. Zhan says he enjoyed this first day of shooting, and from then on he often asked his boss if he could borrow the camera and take more photos of the factory.
"It was a chance to show my friends and family back home what living and working in Dongguan was like, instead of just describing it," says Zhan.
For several years, however, photography was little more than a hobby for Zhan: He had no idea that anyone else would be interested in his work. "I was a total layman in photography, until one day I met some professionals," says Zhan. "They told me what I was doing was a big deal."
After that encounter, Zhan started submitting a few shots to photography competitions, and he soon began to win awards. Around 2006, he decided to take photography more seriously, he says, and even bought his own digital Nikon D70s camera. Over the next few years, he would amass nearly 400,000 shots of migrant workers on his hard drive. The photos would become the raw material for his 2014 book, "I Am a Migrant Worker."
Much of Zhan's photography highlights the tough conditions in which Dongguan's migrant workers often work. For most of its recent history, the city has specialized in export processing — a low-value form of work in which global companies contract local factories to produce finished products using raw materials and samples provided by the company. The work is generally low-skilled, sometimes dangerous, and the migrants filling the factories were usually young and had little education. Zhan says he felt compelled to capture the workers' lives because he identified with them.
"I'm documenting my own existence by documenting theirs," says Zhan. "Although my job is different, our backgrounds, experiences, and aspirations are all similar."
One of Zhan's most famous photos shows a group of workers resting during a shift at an electronics facility in 2011. A woman stares at the camera, while her colleagues take a nap in their overalls. The subjects were on one of the two 10-minute breaks they were allowed during a day shift, which ran from 7 a.m. to 8 p.m., Zhan explains. If the factory had a lot of orders, many of them would return after a one-hour break to work the night shift, too.
Perhaps surprisingly, most migrants were keen to work as much overtime as possible, according to Zhan. "When you think that thousands of miles away your salary is supporting your family — your child's education fees, your elderly relatives' urgent medical bills — you'll be willing to do this," says Zhan.
Life in the factories was strict and inflexible, according to Zhan. Apart from the two short breaks, workers only had one hour off during shifts to eat lunch. Anyone who wasn't back on the assembly line when the bell rang would be fined. Once the shift started, silence descended: Any errors that delayed production would be punished by fines or dismissal. Toilet breaks were not allowed.
If migrants worked hard for several years, they might be able to become a factory manager, Zhan says. But life in Dongguan had a way of freezing their personal lives. Though most of the workers were in their 20s, the long hours and strict working conditions made it difficult to form relationships. Couples were not allowed to sleep together in the dorms, meaning they had to sacrifice a significant chunk of their salaries to rent a room.
"Very few people can stay to get married and have children here," says Zhan. "A lot of people who came to Guangdong at the same time as me have already gone back home."
Others left for different reasons: Some were laid off by their factories, while others found their health had been worn down by years of hard work. Those who stayed encountered new problems as they got older: Migrants did not have access to public services in Dongguan, such as health care, public schools, and state pensions. "What's more, no matter how hard you try, you can't keep up with the speed of change," says Zhan.
Change is a recurring theme of Zhan's work, his camera recording the ways that rapid economic development has transformed both the city and its inhabitants. In 20 short years, Dongguan grew from a backwater to an international trade center, but the change didn't stop there. Over the past decade, the factory town has had to reinvent itself, as the flood of cheap migrant labor dried up and pollution took a toll on the local environment.
"The next tidal wave has gathered and is swallowing up the first," says Zhan. "The period of history I experienced and captured has come to an end."
According to Zhan, the turning point came in 2006. There had been reports of factories struggling to hire workers for a while, but in that year the lack of migrants led factories to introduce dramatic changes. Bosses used to find crowds of job seekers waiting outside the factory gates and could pick out the best qualified, most obedient, and cheapest workers. Then, however, factories were forced to raise wages, offer special dorms for married couples, and even award cars to model employees in an effort to attract new staff.
"Some HR officers began to complain about the younger generation to me, saying employees have no loyalty and won't work overtime these days," says Zhan. "But I don't agree with this. In fact, the employees haven't changed, it's society that's changed. Young people don't need to work in the factory anymore. It's no longer their only choice."
A 2012 photo by Zhan neatly captures the change in power dynamic between Dongguan's factories and workers. The female migrant looks tired as she works at her sewing machine, but little details draw the eye: the bare arms and slip dress, the dyed brown hair, the tattoo on her right wrist.
"This would have been unimaginable in the past," says Zhan, referring to the worker's expressions of individuality. "In the '90s, the employees were required to dress neatly or in uniforms."
Today's Dongguan is increasingly home to high-tech businesses, while low-end processing hubs struggle to attract workers. These days, young people from rural areas often prefer to work in the services sector where the pressure is less intense, or in factories closer to home. (Many businesses now choose to set up shop in inland provinces such as Henan or Sichuan, where wages are lower, rather than wealthy Guangdong).
Many of Dongguan's old factories have been converted into stores, hotels, or kindergartens. Shopping malls and apartment blocks, not manufacturing plants, dominate the city's landscape. Zhan's gaze, however, hasn't wavered. He can still be found at Dongguan's bus and train stations every Lunar New Year, snapping the migrant workers heading home for the holiday.
"Maybe it's the end of an era, but that's the one thing that hasn't changed," says Zhan. "You'll still see lots of migrants in their 20s (at the stations). They may have dyed their hair and have tattoos on their arms, but they still have the same dreams. They step into the city from the countryside, believing they can change their lives."
Correction: A previous version of this story misspelled Zhan's given name. It is Youbing, not Youbin.
Editors: Dominic Morgan and Qi Ya
(Header image: Workers head to dinner after work in Dongguan, Guangdong province, June 30, 2015. Zhan Youbing for Sixth Tone.)