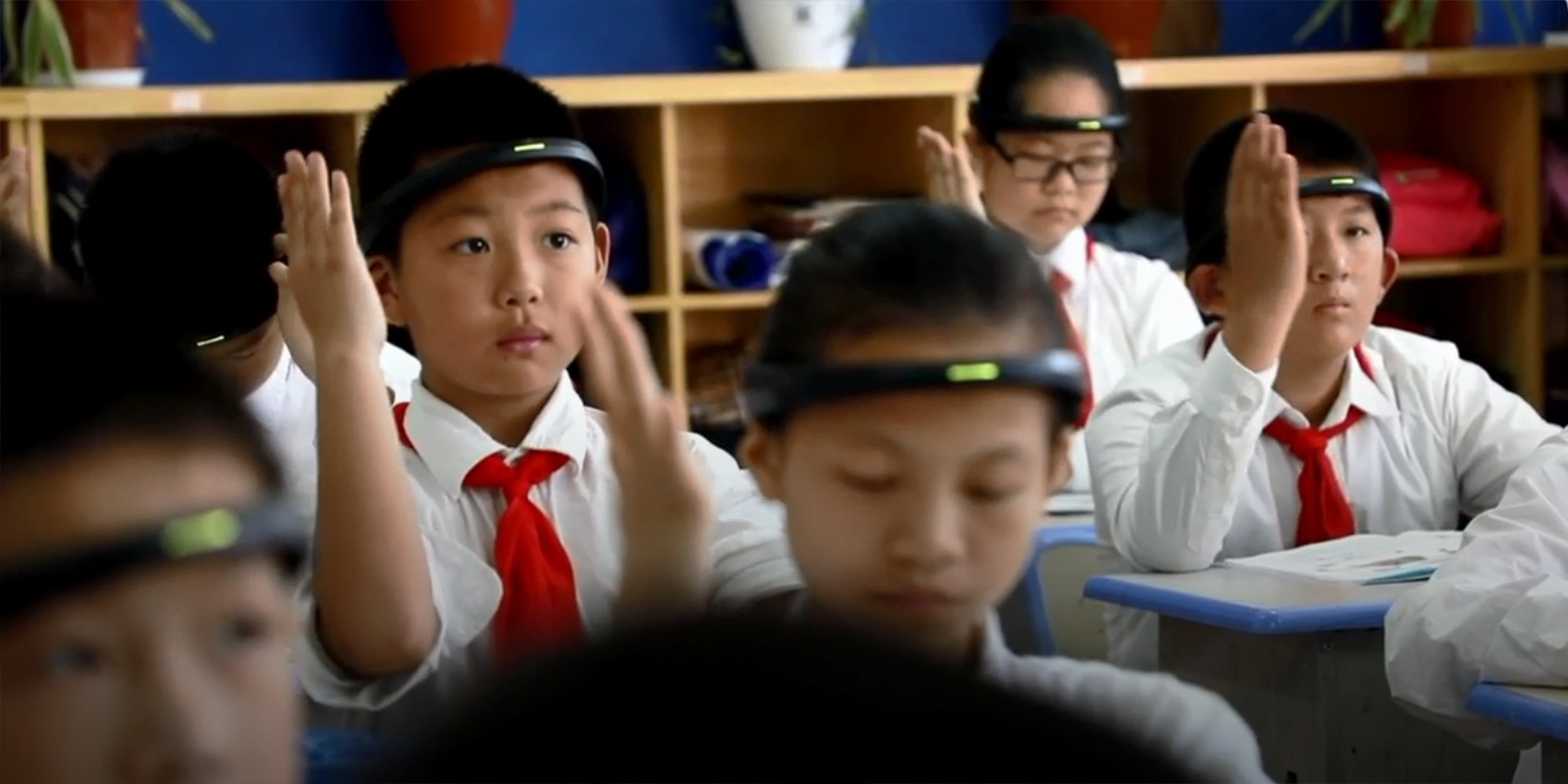 NEWS
School Ordered To Ax Brainwave-Detecting Headgear for Students
The Zhejiang primary school has been slammed for embracing a dystopian technology that some say violates students' privacy rights.
Amid a public backlash, education officials in the eastern Zhejiang province have ordered a local primary school to stop using futuristic-looking headgear that purportedly improves student engagement, The Beijing News reported Thursday.
Xiaoshun Central Primary School in the city of Jinhua started using the brainwave-detecting devices on students in September, according to the report. The halo-shaped wireless devices — dubbed FocusEDU — improve the classroom environment through "real-time student engagement feedback," according to their developer, cognitive technology company BrainCo. The FocusEDU devices were donated to the school by an alumnus who is also an investor in the company.
Many online have condemned the school's use of such devices, saying they may violate students' privacy rights. A related hashtag on microblogging site Weibo had been viewed over 220 million times by Friday evening.
"Schools are not farms," one Weibo user commented under a related media post. "There are many ways to train the mind," another wrote under a separate post. "Using the device may be more methodical, but are there other consequences? It's a good thing for technology to be used in education, but I hope this trend doesn't go down the wrong path."
Local education authorities said Thursday that, while the students had "willingly" used the devices with their parents' consent, the school would suspend their use because of the concerns voiced online, reportedSixth Tone's sister publication, The Paper.
BrainCo, which has offices in both China and the United States, addressed the backlash by telling The Beijing News that the devices weren't monitoring students' attentiveness but rather "training and improving students' concentration" through exercises including meditation and "neural feedback" games.
"Students don't have to wear it every day," a BrainCo spokesperson told The Beijing News. "Instead, they train with it once or twice per week, with each session lasting a maximum of half an hour. During lessons, teachers can only see the average concentration levels of the class and not the data of individual students, and this serves as feedback on how well the class is absorbing the content."
While Xiaoshun Central Primary School has yet to comment publicly, Zhang Yiwei, one of the teachers at the school, told The Wall Street Journal that students who wore the headgear were "louder than usual" when answering questions. Following a visit from the Journal's reporters in May, the school said in a statement the following month that the headbands had "successfully improved efficiency during lessons and improved students' concentration."
As for the students themselves, their opinions about FocusEDU vary. While some told the Journal the devices had helped them achieve "near perfect scores," others complained that they were distracting and uncomfortable.
"When we first wore the headbands, it felt like they were controlling us," one student was quoted as saying.
Editor: Bibek Bhandari.
(Header image: Students wear brain-monitoring FocusEDU devices during class at a primary school in Jinhua, Zhejiang province. From @紧急呼叫 on Weibo)