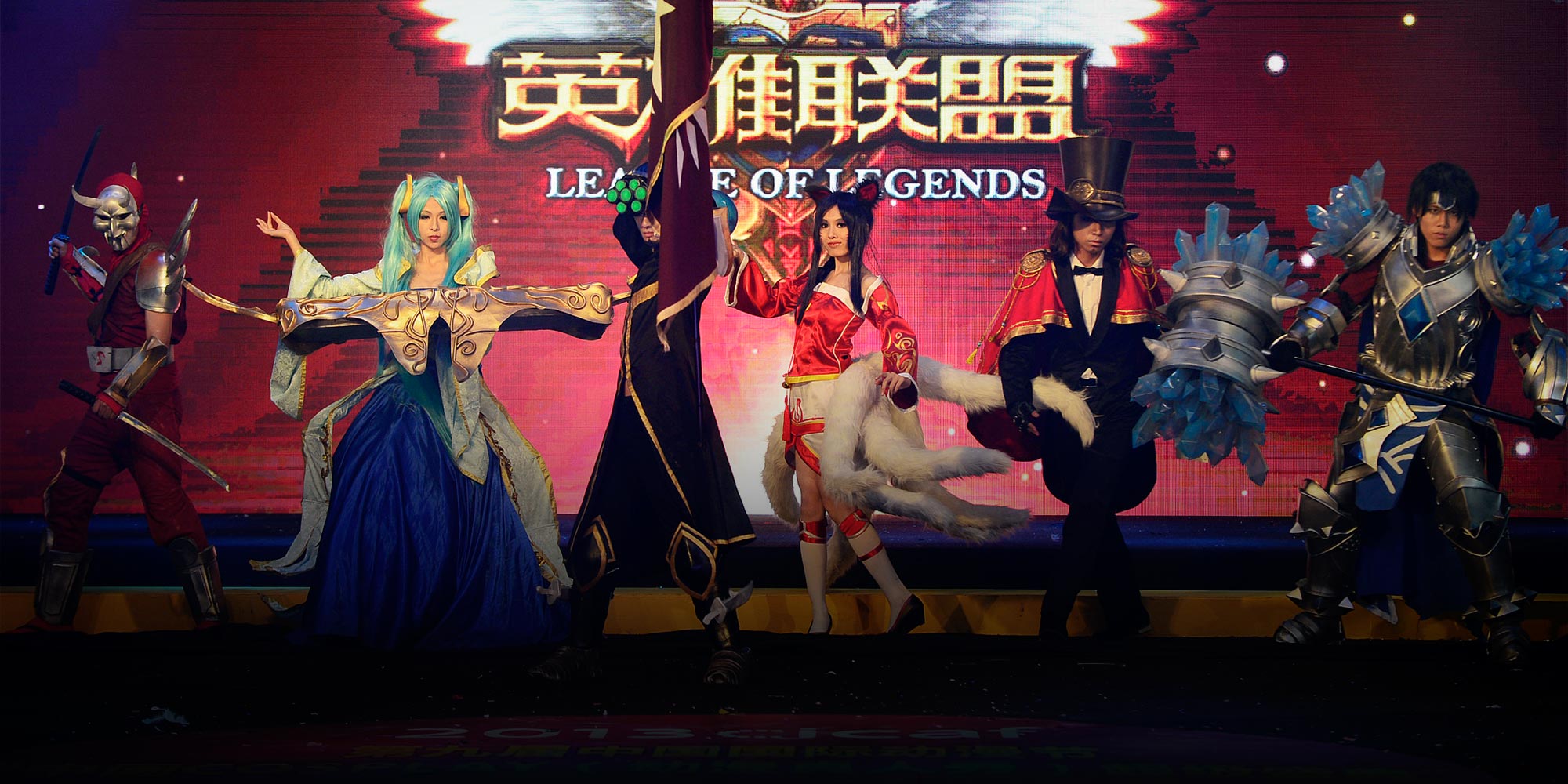 FEATURES
League of Its Own: The Video Game That Shaped a Generation
A decade on from its release, 'League of Legends' has become a cultural touchstone for many Chinese millennials.
SHANGHAI — The first world title win of Chinese esports team Royal Never Give Up was a moment Liu Yinfeng will never forget. Watching the closing moments of the final from his dorm room at the Beijing Institute of Technology in May of last year, the 20-year-old and his peers roared with the intensity of spectators at a live basketball or soccer match.
"Literally everyone in the whole building was screaming," says Liu. "Feelings we'd held in for so long just burst out."
The competitors in the match were playing "League of Legends" ("LoL"), a free-to-play online video game which sees teams of fantasy heroes battling to destroy each other's bases. Developed by Riot Games, a U.S.-based gaming company now owned by the Chinese tech giant Tencent, "LoL" celebrated its 10-year anniversary last Sunday.
"LoL" has been a huge success globally over the past decade, forming an international subculture between fans. But in China, the game is in another league altogether for its popularity and influence on mainstream culture.
"'League of Legends' could be described as the overlord of PC games in China," Jin Yibo, co-CEO of TJ Sports, an esports joint venture founded by Tencent and Riot Games, tells Sixth Tone. "Our (esports) competitions are watched just like the World Cup."
"LoL" — colloquially referred to as lu-a-lu in Chinese — has been China's most popular PC title nearly every year since its official 2011 launch in the country, with an estimated 111 million Chinese playing the game in 2017. The game's player base is so massive, the game is supported by 29 China-based servers, compared with just one in North America.
"LoL" has even broken beyond hardcore gamer circles into China's wider cultural consciousness. A-list celebrities from pop star Kris Wu to actress Angelababy have openly professed their love for the game.
When China hosted the League of Legends World Championship in 2017, the esports contest's final match took place at the 80,000-capacity Beijing National Stadium, also known as the Bird's Nest. Victories by Chinese "LoL" teams at the World Championship and Asian Games last year sparked huge celebrations and even supportive coverage from Chinese state media.
Chinese TV companies have run several "LoL"-themed shows in recent years, including a reality competition in January that pitted 101 gamers against each other to form esports dream teams. The game has also spawned a colorful pantheon of stars — from esports professional Uzi to the comedic gaming livestreamer PDD, who has more than 6 million followers on microblogging platform Weibo.
"'LoL' has already become more than a game," says Chen Hongda, a 31-year-old advertising professional from the southeastern city of Fuzhou. "It could even count as having its own little industry outside of the game."
For many millennials like Chen, the game is more than a hobby: It's a cultural touchstone. Much of the slang popular among today's young Chinese originated from or was popularized by "LoL," such as "666" — or liu, liu, liu, which means "awesome" — and c-wei, a reference to the central position onstage or in a photo.
According to Wang Zili, a Shanghai-based game designer, people born in the '90s often refer to elements from the game, such as the kingdom of Demacia, in the same way young Americans might casually allude to fictional locations like Hogwarts or King's Landing. Wearing a green hat and goggles in the street would clearly be understood as a tribute to the rodent-like "LoL" hero Teemo, Wang explains. Whenever a sword-wielding knight appears on online TV programs, viewers of a certain age would likely write comments that reference Demacia, as they are reminded of Garen, an "LoL" character who hails from the kingdom, he adds.
"'League of Legends' has become the gaming culture the younger generation is most familiar with," says Wang. "Even people who don't play games at all will know it."
Gamers cite many reasons why "League of Legends" has enjoyed such an extraordinary level of popularity in China. Gaming consoles were largely banned in the country between 2000 and 2015, meaning PC games like "LoL" had no competition from PlayStation and Xbox titles. The game also benefitted from the promotional heft of its Chinese partner and later owner, Tencent, which controls the country's two most popular messaging apps, QQ and WeChat.
But for many early "LoL" adopters, who were often low-income students, the main attraction was that the game was fun and free to play. Chen says he played obsessively throughout his time at university, at local internet cafés or in his dorm.
Nine years on, Chen sees the game as a medium through which he's made many friends. Though his group of college pals are now scattered across the country, they all still make a pilgrimage to a local web bar one afternoon every Lunar New Year holiday so they can play "LoL" together, he says.
Chen now plays less than he used to because he has a family and a business to look after, but he continues to follow "LoL" esports. Like many others, he says he was deeply moved by Chinese team Invictus Gaming's victory in the World Championship last year. "I didn't cry, but I was as emotional as you can get," says Chen.
Jin, of TJ Sports, says esport events are another reason why "LoL" has maintained its dominance over such a long period. "A lot of people right now actually don't play games, but they watch competitions," he says. "It can give them a feeling of national pride."
At the same time, the success of "League of Legends" — which was originally conceived with competitive video gaming in mind — has helped China's esports scene grow and professionalize. The new industry is predicted to be worth $1.5 billion by 2020 and now operates fully fledged leagues. Chinese "LoL" teams play home and away fixtures, with cities prepared to invest millions on esports facilities to attract high-profile franchises.
As mobile games have become more popular, however, cellphone-based titles like Tencent's "Honor of Kings" and "Game for Peace" have emerged to rival "League of Legends" in the popularity stakes. The country's millennials — many of them now tied down by work and family commitments — often don't have time for a half-hour game of "LoL" these days, says game designer Wang.
But the game's influence still looms large. "Honor of Kings," which has more than 70 million monthly active users, follows the multiplayer online battle formula popularized by its PC-based predecessor.
Riot Games, meanwhile, plans to revamp the franchise as it celebrates the game's 10th anniversary. Last week, the company announced a slew of upcoming products set in the "LoL" universe, including — finally — a mobile version of the game, as well as a team tactical shooter game, a themed online card game, and even an anime series.
Liu, the Beijing student, says he's not sure how long "League of Legends" can stay relevant. Lots of the 20-year-old's classmates still play the original PC game, but trends quickly come and go in the fast-food culture of the Chinese internet, he says. The student has a lot riding on the game's fortunes.
"If I have the chance, I'd still like to find a job related to 'League of Legends' after graduating," says Liu.
Editor: Dominic Morgan.
(Header image: Cosplayers in costumes from the game "League of Legends" perform in Hangzhou, Zhejiang province, April 29, 2013. Li Zhong/VCG)