China is currently the world's largest outbound travel market. In 2018 alone, Chinese tourists made 150 million trips overseas, an increase of 14.7% over the previous year, and accounted for approximately one-fifth of global international tourism expenditures, with $277 billion. And because only 10% of Chinese citizens have traveled internationally, analysts see plenty of room for future growth.
Cruise liners have been some of the biggest beneficiaries of this growing appetite for international travel. Although cruises are a relatively new concept in China — Italy's Costa line became the first company to offer passage from China in July 2006 — business boomed over the ensuing decade. Chinese passenger counts grew by an average of almost 80% per year between 2012 and 2016; that year, the country overtook Germany to become the second-largest source of cruise ship passengers worldwide, after the United States.
But there are signs the industry has begun to flounder. In 2017, cruise operators reported a notable slowdown in consumer demand. Last year, even as the government unveiled an ambitious plan to nearly triple the number of cruise passengers embarking in China's ports from under 5 million to 14 million by 2035, the country's cruise market actually shrank by 1.1%. With the industry entering a period of consolidation, a number of international liners have either scuttled joint ventures with Chinese companies or reconsidered their expansion plans, including Royal Caribbean International and Norwegian Cruise Line.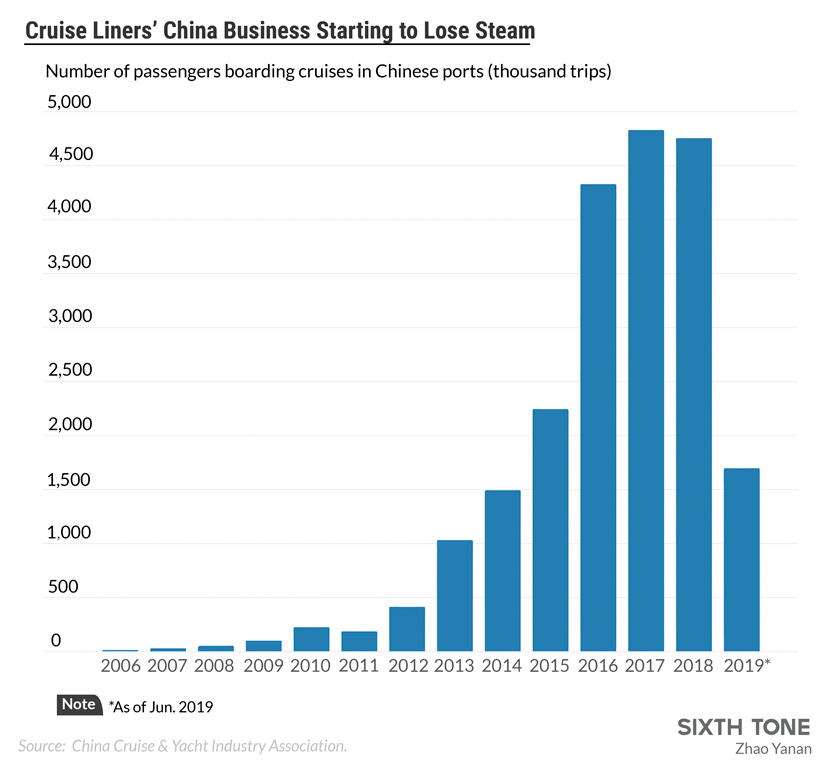 Part of the problem is that international cruise lines have little latitude when operating in China. Currently, Chinese law requires prospective passengers on international cruises — as well as those sailing to Hong Kong, Macao, and Taiwan — to book tickets through domestic agencies, leaving cruise lines dependent on third-party agents and platforms.
At first, this arrangement actually had a stimulating effect, goosing sales and giving cruise ship operators a guaranteed stream of income. Beginning in 2012, travel agencies and online travel sites started buying up cruise berths and reselling them, typically booking entire ships at a time. By 2017, third parties accounted for more than 90% of cruise ticket sales.
Encouraged, cruise lines began shifting ships and resources to meet the rising demand — but local agents couldn't keep up. As the number of berths rose, prices — control over which liners had functionally ceded to the agencies — entered a downward spiral.
Unable to regain control of the situation, or even to accurately gauge sales numbers prior to weighing anchor, many liners have winnowed their China businesses down over the past two years.
Compounding the issue is consumer dissatisfaction. The dominance of third-party vendors separates cruise liners from their core clientele. The result is a bland experience out of step with the changing tastes of Chinese tourists.
In particular, passengers complain of a lack of variety. Cruise liners operating out of China have few options for stops along the country's coastline. Indeed, international liners are prohibited from operating between two Chinese ports without permission from the central government. As a result, the vast majority of China-based cruises consist of trips to Japan or South Korea. They are also short, generally between four and six days, to accommodate the average Chinese traveler's lack of vacation time.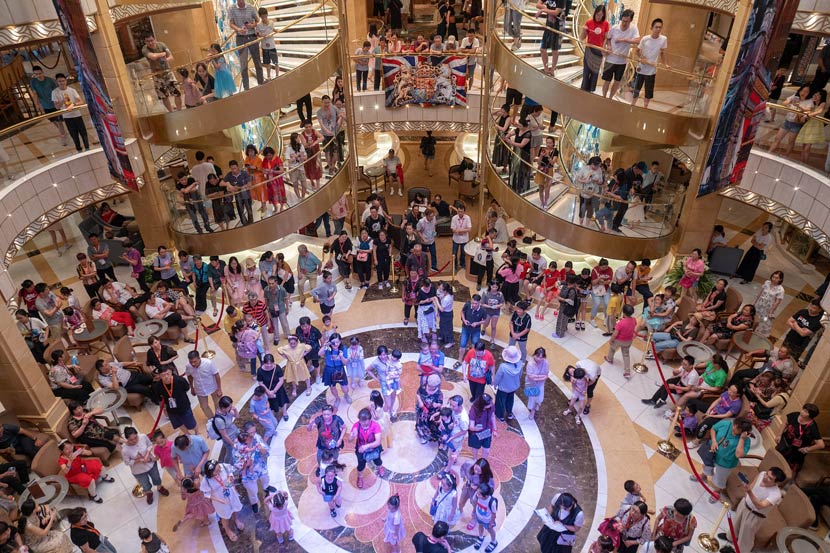 Passengers explore a cruise ship running between Shanghai and Nagasaki, July 21, 2019. Wang Gang/VCG
Such journeys have a difficult time competing with Mediterranean or Caribbean cruises, and today's increasingly adventurous tourists complain about poor service and insipid itineraries — both partly attributable to the above-mentioned cutthroat competition over price. Passengers have little chance to truly experience the destinations that are the ostensible point of their journey. Instead, onshore activities typically amount to little more than glorified shopping junkets. Needless to say, there are few repeat customers.
If China-based operators want to win back consumers, they need to start offering more choices. They can start with tailored options, like longer "Maritime Silk Road" cruises marketed to wealthier clients with the time and money to see more of the world, or less expensive itineraries targeting students, families, and early-career professionals.
They can also improve the onboard experience with themed cruises catering to passengers' increasingly diverse tastes. Some international cruise lines have already seized this opportunity, making waves in China by marketing Alaskan cruises or vacations with the star of "Detective Pikachu."
The industry would also benefit from prying open the domestic market with cruises designed to take advantage of the tourism resources of China's three most important coastal regions — the Pearl River Delta in the south, the Yangtze Delta in the east, and the Bohai Sea in the north. These could act as a less expensive gateway into the world of cruises, building customer loyalty and raising awareness of cruises as an option.
Take the Yangtze Delta, for example. Shanghai is China's largest port of embarkation for cruises. Most ships head east to Japan, or north to South Korea, but there is plenty of space for routes through the northern port cities of Qingdao, Dalian, or Tianjin. Companies could also offer cruises up the Yangtze itself, taking passengers west to Nanjing, Wuhan, and Chongqing. And instead of shopping, operators should offer more unique and authentic onshore activities.
Unfortunately, international liners find it next to impossible to get the necessary permits to operate domestic cruises, and China's own industry lags too far behind to offer a viable alternative. Although Shanghai has announced plans to "explore" a relaxation of this policy, effective change does not appear to be on the horizon.
China's tourism industry isn't just growing, it's qualitatively changing. If the country is serious about cultivating long-term demand for cruises, it might be time to chart a new course.
Translator: Kilian O'Donnell; editors: Lu Hua and Kilian O'Donnell.
(Header image: A Costa cruise liner docks in Qingdao, Shandong province, March 25, 2019. Yan Jun/VCG)