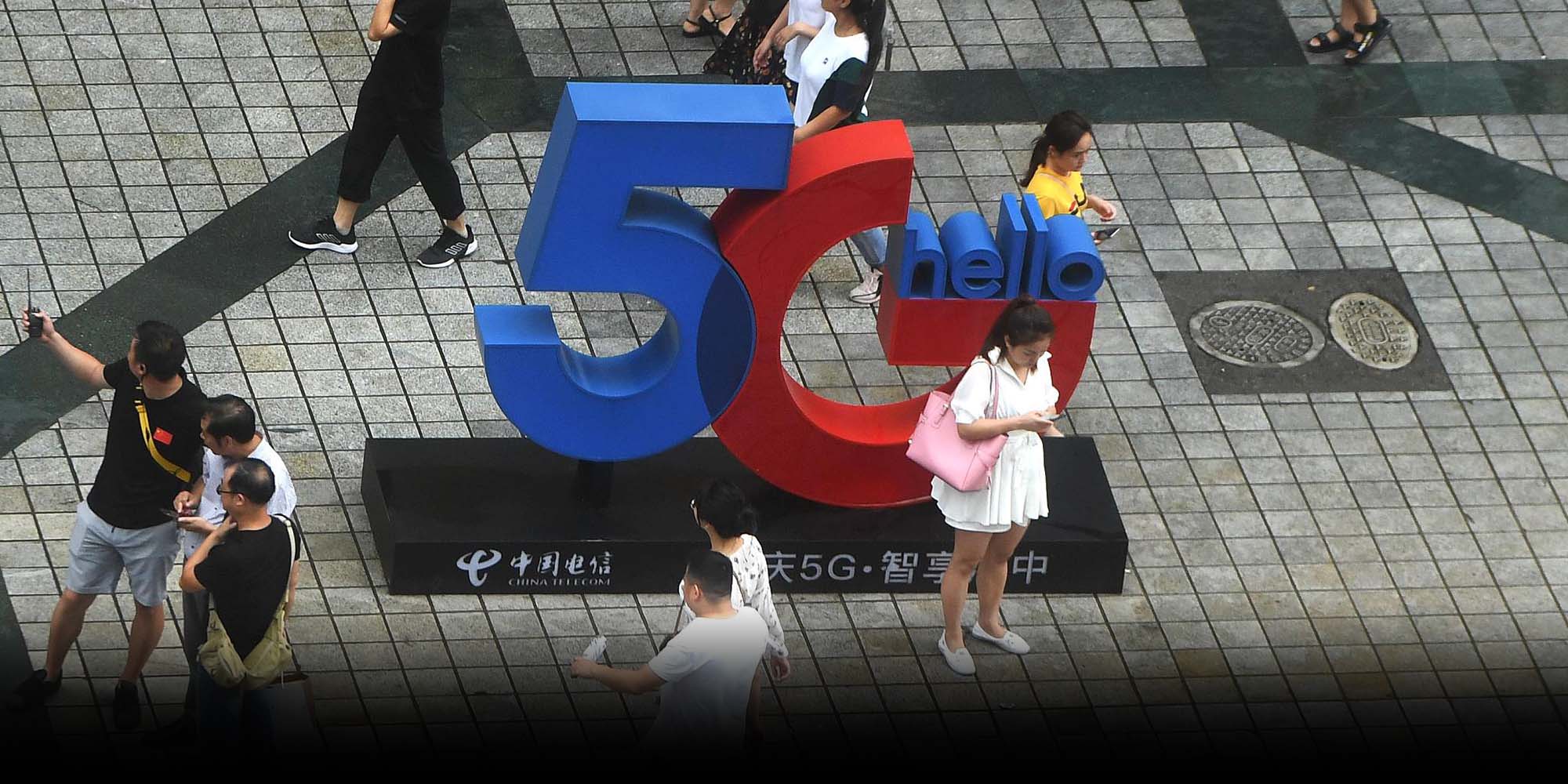 NEWS
China's Commercial 5G Rollout, Explained
There's a good chance the highly anticipated next-generation mobile network will be as life-changing as advertised — just not right away.
SHANGHAI — Five months after the central government issued its first commercial 5G licenses to the country's major telecom providers, the next-generation mobile network is finally available to the Chinese public.
At a launch ceremony Thursday in Beijing, the Ministry of Industry and Information Technology (MIIT) and the country's "big three" telecom providers — China Mobile, China Unicom, and China Telecom — unveiled 5G data plans starting at 128 yuan ($18) per month.
China's November 5G rollout is two months ahead of schedule, as authorities had originally planned to debut the new network in 2020. On June 6, the MIIT issued 5G licenses to the big three, as well as China Broadcasting Network. Then in late September, the big three began taking preorders for 5G handsets.
According to Ma Jihua, a Beijing-based telecommunications analyst, the rapid deployment of 5G reflects China's eagerness to prove its ambition to become a technological superpower. But even with 5G providing previously unimagined opportunities to individuals, businesses, and entire industries, the technology should still expect to experience some growing pains.
By the numbers
The 5G packages offered by China Mobile, China Telecom, and China Unicom range from 128 yuan to 599 yuan per month. The cheapest package for 128 yuan, offered by China Mobile, includes 30 gigabytes of data and 500 minutes of call time. The most expensive packages for 599 yuan, offered by China Unicom and China Telecom, include 300 gigabytes of data and 3,000 minutes of call time, with extra data tacked on at 3 to 5 yuan per gigabyte.
The 5G packages are undoubtedly more expensive than their 4G counterparts currently on offer, the cheapest of which starts at just 10 yuan per month. But Ma said that, compared with 5G plans in South Korea and the United Kingdom, and even domestic 4G plans with comparable data packages, China's first 5G plans are really quite a bargain.
"For consumers who can afford 5G phones, the fees won't be a problem," Ma told Sixth Tone. The analyst said that the kind of consumers who will be interested in 5G plans tend to already have higher-end 4G plans, with only a negligible price difference between the two.
To access and enjoy the 5G network, an individual needs to have both a 5G phone and 5G network coverage where they plan on using the phone. Such networks are now available in certain areas of 50 Chinese cities, including Beijing, Shanghai, Guangzhou, and Shenzhen.
Currently, there are nearly 20 5G-enabled smartphone models available in China from manufacturers like Samsung, Huawei, Vivo, ZTE, and Oppo. China Unicom said last week that 5G phones priced below 2,000 yuan should be available on the domestic market by the second half of 2020.
Are people buying in?
Since telecom providers began accepting preorders for 5G phones in late September, over 10 million people have signed up. But Ma estimates that far fewer consumers will actually end up purchasing 5G data packages. On Nov. 1, a salesperson at a China Mobile store in Shanghai's central Jing'an District told Sixth Tone that not many people had come in to register for or ask about the newly available 5G data plans. The staff member said he for one would discourage customers from buying 5G plans this early, as the 5G network does not currently cover all of Shanghai.
The limited supply of 5G phones could also be a problem. According to mobile market statistics from the China Academy of Information and Communications Technology (CAICT), China shipped 288 million phones in the first three quarters of 2019, a year-on-year decrease of 5.7%. Among these were 11.94 million 2G phones, 58,000 3G phones, 275 million 4G phones, and 787,000 5G phones.
Online, Chinese consumers seem to be more worried about phone prices than plan prices. Even the most basic 5G model now on the market — Vivo's iQOO Pro — costs 3,798 yuan, more than many budget-conscious consumers are willing to fork out.
The first groups to jump to purchase 5G plans could be those working in internet industries or young people with disposable income, according to Ma, who's predicting a huge surge in 5G phone purchases over next year's Spring Festival holiday in late January, when Huawei will be rolling out 5G models for its P series of handsets. After Spring Festival, the next big 5G phone rush should coincide with the 618 shopping festival in June, Ma said.
Who stands to benefit?
China's smartphone makers have been pinning high hopes on the 5G commercial rollout to boost the country's stagnating phone market. In anticipation of the rollout, Chinese firms like Xiaomi and Huawei have unveiled flashy new products, with Xiaomi saying earlier this month that it plans to launch at least 10 5G-ready phones next year.
Telecom providers, too, are hoping 5G will open up new revenue streams apart from charging for data, according to Ma. After South Korea's 5G rollout, for example, the country's telecom providers saw their average revenue per user (ARPU) increase by 75%, the analyst said, and research firm Changjiang Securities projects a 20% ARPU boost to China's telecom providers in the next three years. Ma predicts that in the future, telecom providers will offer a wider range of personalized plans tailored to specific uses for 5G such as livestreaming, gaming, and autonomous driving.
How will 5G impact consumers?
The faster connection speeds made possible by 5G will be used for more than just downloading large files and opening webpages more quickly — they'll also be an unprecedented boon to the development of cutting-edge technologies like cloud computing, artificial intelligence, and the internet of things.
A 2017 report from CAICT estimated that by 2025, the domestic 5G market could be worth 1.1 trillion yuan and contribute 3.2% toward the Chinese mainland's economic growth. The technology could also create 8 million jobs and add 2.9 trillion yuan to China's total economic value by 2030, the report said.
What are the challenges?
The biggest obstacle to 5G in China is network coverage. Telecom providers are still in the early stages of building 5G base stations, and the country will largely rely on its 4G infrastructure for the immediate future. According to CAICT, the big three telecom operators had built a combined 80,000 5G base stations as of the end of September, and the academy estimates that there will be 130,000 base stations nationwide by the end of this year.
Beijing and Shanghai have the greatest 5G network coverage of any Chinese cities. By the end of October, the two megacities had each installed over 13,000 5G base stations, together accounting for around one-quarter of all stations nationwide. But realizing complete 5G coverage will require complicated procedures such as calculating, debugging, and pairing with current 5G devices. "It's understandable for telecom providers to urge customers not to purchase 5G plans so soon, because a poor user experience would ruin the reputation of 5G and the telecom operators," said Ma, who described the November rollout as "a bit rushed."
To domestic smartphone companies, making handsets that can be used on the 5G network as well as on existing 2G, 3G, and 4G networks is also a challenge. Currently, Huawei's Balong 5000 chipset is the only product from a domestic phone company that's capable of supporting both standalone 5G network architecture (SA) and non-standalone 5G architecture (NSA) built on 4G LTE networks.
And then there are customers who are deterred from migrating to the latest network because of a lack of mobile applications capable of capitalizing on 5G speeds, according to Ma.
"5G may bring limitless opportunities, but so far 5G users in China may not notice much of a step up from 4G because there are so few 5G apps that are fully harnessing the capabilities of 5G," the analyst said. "Just being able to open webpages and download movies faster isn't enough to sway most consumers — so smartphone makers and telecom providers need to be thinking about what else they can do to show off 5G's full potential."
Editor: David Paulk.
(Header image: A 5G promotional display is seen in Jiefangbei Square in Chongqing, Oct. 22, 2019. Chen Chao/CNS/VCG)