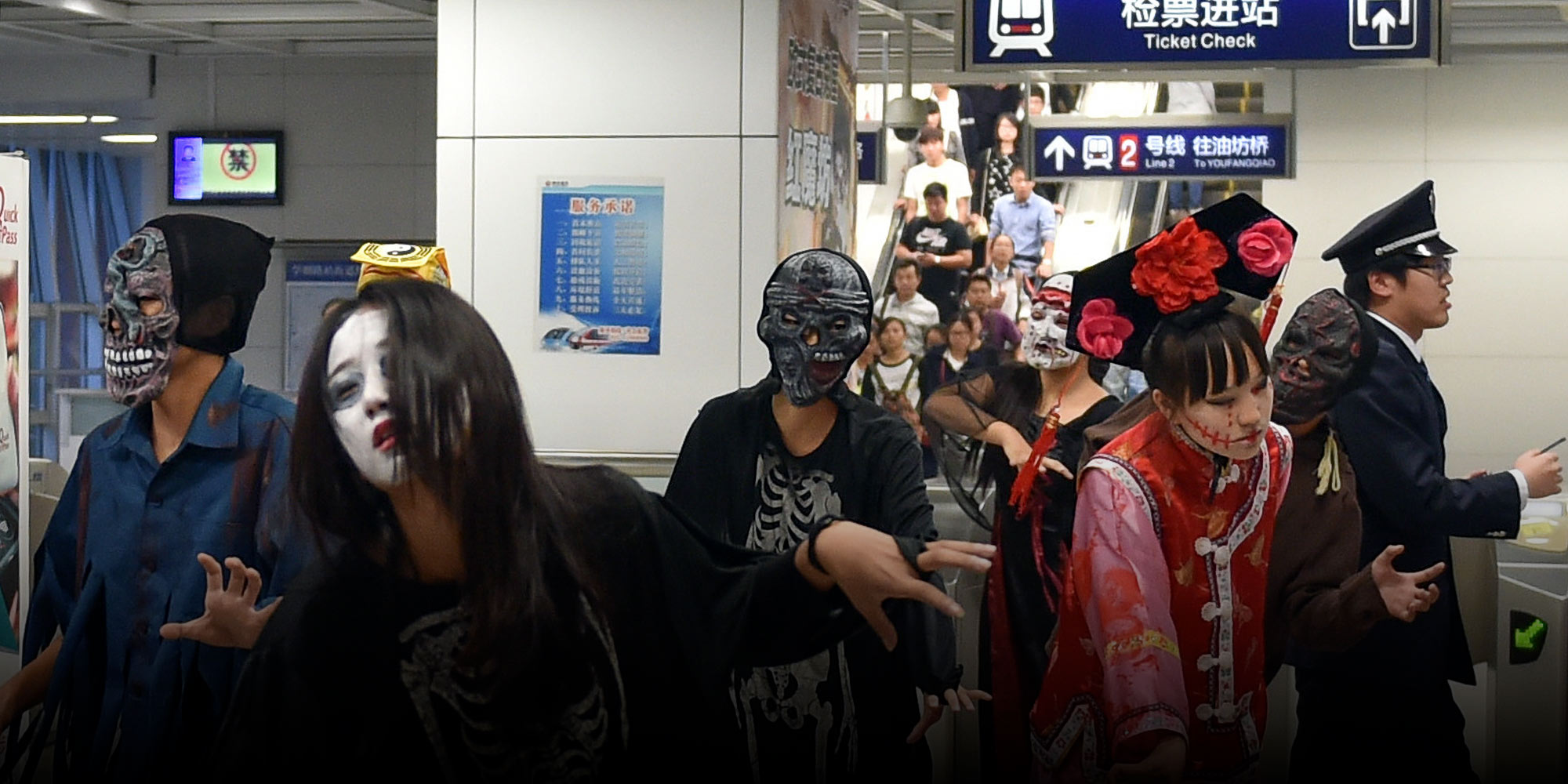 NEWS
Halloween Makeup 'Discouraged' on Guangzhou Subway
The public transport system's fun police are back in the news for at least the second time this year.
Thursday may be Halloween, but authorities in Guangzhou don't seem to be in a festive mood.
Public transport police in the southern Chinese megacity are asking people not to wear scary makeup or costumes on the subway, according to an official statement Wednesday.
To prevent "causing discomfort or panic among other passengers," the police said security staff will "discourage" passengers in Halloween attire from taking the subway and take action against anyone who "disrupts public order." The statement did not explicitly say whether dressed-up passengers would be turned away.
"As the Western festival of Halloween approaches, some businesses and entertainment venues have begun holding various parties," the statement said. "Passengers with strange costumes and makeup gather in subway stations in big cities, including Guangzhou, and sometimes they scare other passengers and disturb public order."
The police policy comes after local media reported earlier this month that subway passengers dressed up for Halloween were stopped at a security checkpoint and asked to remove fake blood and other makeup before passing through.
A customer service representative for Guangzhou Metro Group, the company that operates the city's subway system, told Sixth Tone on Thursday that stations near the Guangzhou Chimelong Tourist Resort — a theme park where many Halloween parties will take place this year — are providing makeup remover to painted passengers.
The subway system's ban and the transport police's announcement have been welcomed by some on Chinese social media. "After all, the subway is such a crowded public place — what if a child or an elderly person was frightened? Let's try to understand each other," read the most upvoted comment under a related media post.
More extreme reactions have called for a boycott of Halloween and an end to the "worship of all things foreign." Still others online have doubted the existence of a law or regulation that bans Halloween costumes and makeup.
A staff member with Guangzhou Metro Group's publicity office told Sixth Tone the company is merely complying with a 2016 public transport regulation. A spokesperson for the city's public transport office said that, while there is no law or regulation specifically banning Halloween makeup or costumes on public transport, behavior that "disrupts public order" may be punished under China's public security administration law.
This is not the Guangzhou subway system's first standoff with cosmetology. In March, a passenger was asked to remove her Goth-style makeup before being allowed through security, prompting Goths across the country to post selfies on social media along with choice words for the city's subway authority.
Editor: David Paulk.
(Header image: Young people dressed up in Halloween costume at a subway station in Nanjing, Jiangsu province, Oct. 22, 2014. IC)