SHANGHAI — Yu Shenjun steps through the iron gate that separates his office from the cell block outside and finally enjoys a moment of peace and quiet. The 35-year-old confesses to feeling stressed, and it is easy to understand why: He is effectively doing two highly demanding jobs at the same time.
For the past three years, Yu has not only been managing a cell of 12 inmates as a prison officer at Shanghai Nanhui Prison, a facility in the city's southeastern suburbs; he has also been serving as one of Shanghai's first correctional counselors, trying to help often-violent criminals turn their lives around.
Prisons in countries around the world have long used in-house counselors to monitor convicts' mental states and try to prevent recidivism. China's central government began encouraging correctional facilities to do the same in 2014 as part of a drive to promote "evidence-based correction work."
Shanghai Nanhui — a cluster of cement blocks adjoining a hospital mainly housing elderly, sick, and disabled criminals — is among the first prisons in the country to experiment with correctional counselors. Most correctional facilities outside the major cities have yet to do so, legal experts tell Sixth Tone.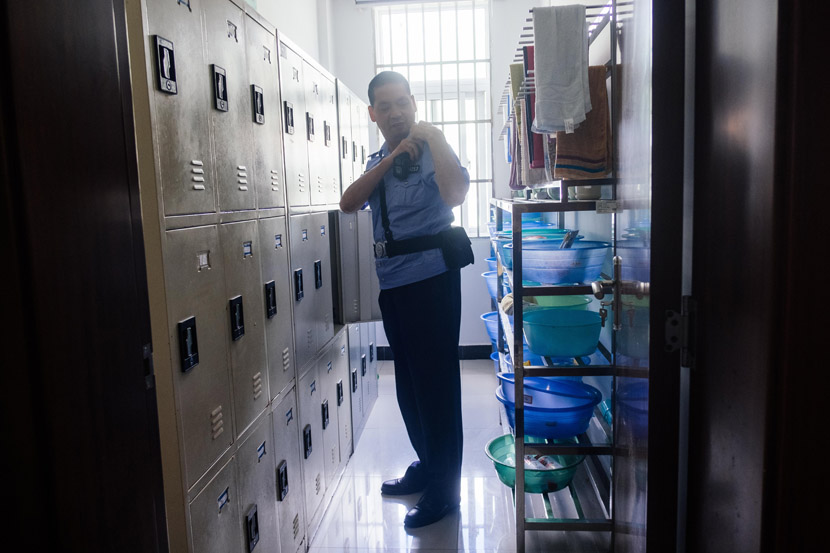 Chen Fulin puts on his gear before patrolling the cells in Shanghai, Sept. 5, 2019. Wu Huiyuan/Sixth Tone
Chen Fulin, a 57-year-old corrections officer at Shanghai Nanhui with three decades' experience, says the prison's approach to managing inmates has changed significantly over the course of his career. Psychological therapists were introduced in Chinese prisons as recently as 2003.
"Complicated cases used to be handled by veteran guards with experience: We weren't backed by professional theories, but we often put ourselves in their (the prisoners') shoes," says Chen. "In the past, educating and managing your prisoners was equally important, but now there is more emphasis placed on education to reform the convicts."
In many countries, correctional counselors are full-time specialists, but Nanhui has taken a different approach by asking experienced corrections officers like Yu — who has worked in prisons for nine years total — to take on extra counseling duties. The prison officers-cum-counselors work alongside psychological therapists, but the focus of their work is different, explains Cai Ting, a vice director at Shanghai Nanhui who also serves as a correctional counselor.
"Therapists at the prison work to get prisoners with mental health issues to share their feelings," says Cai. "Our job is to make them understand their crimes and regret their wrongdoings."
Like peers elsewhere, the Chinese correctional counselors focus their efforts on just a few inmates that are particularly problematic — those who break prison rules, engage in self-harm, or threaten violence against staff or other convicts. Yu typically works with just four to six prisoners each year, he says.
"Most convicts can reflect on their wrongdoings, while a few are career criminals who have been in and out of prison dozens of times," says Yu. "We expend our efforts on helping those who are seemingly troublemakers but have the potential to become law-abiding citizens."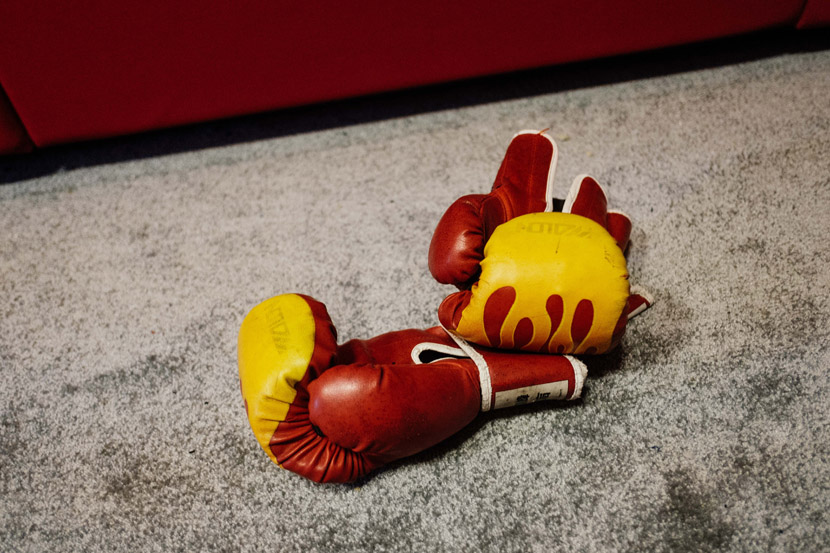 Boxing gloves for inmates who need to vent their anger inside the psychological therapy room in Shanghai, Sept. 5, 2019. Wu Huiyuan/Sixth Tone
The work is often demanding. Some convicts feel they have been imprisoned unfairly, and, lacking legal knowledge, occasionally resort to violence — either against themselves or others — in an effort to force the prison to appeal their case, according to Cai.
"It is their legal right (to appeal), but we must make sure they do so through legal and appropriate channels, not by using whatever violent or extreme methods they wish," says Cai.
Staff at Nanhui have to pass examinations that test their knowledge of psychological therapies before they qualify as correctional counselors, but once they assume their duties they receive little formal support. Yu, who studied business management at university, says the counselors mainly rely on their on-the-job experience when judging how to handle difficult cases.
"Educating and correcting prisoners has long been the job of all prison police officers in the country," says Yu. "We mostly explore and learn essential skills required in our work on our own. We also share our cases with each other, whether they were successful or not, and draw conclusions from them."
In an effort to become more effective as a counselor, Yu has been attending workshops on forensic psychology and holistic education in his spare time. Most of his work with prisoners involves one-on-one conversations that can take place anywhere, from a cell to a canteen or reading room, he says. But the counselors also use psychological sessions and group therapy if they think it will be useful.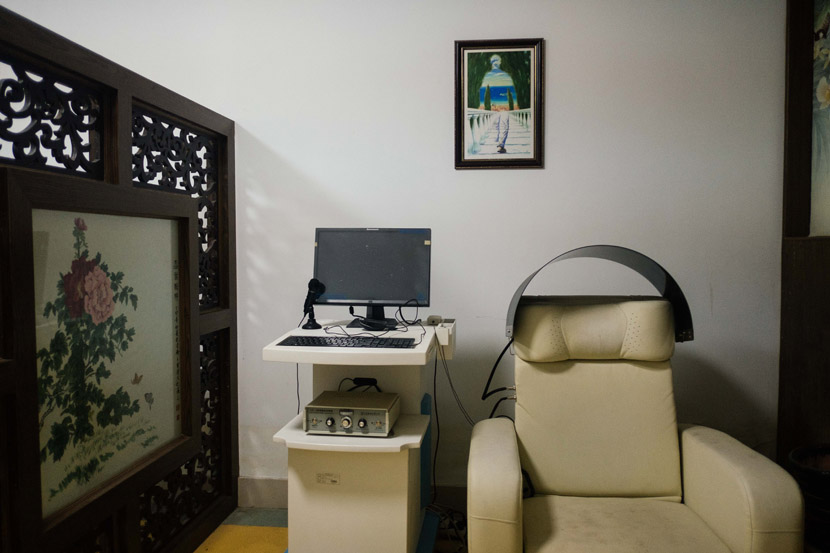 The psychological therapy room inside Nanhui Prison in Shanghai, Sept. 5, 2019. Wu Huiyuan/Sixth Tone
"The CRTS (care, record, thanksgiving, and share) approach to group therapy has turned out to be very effective in correcting violent criminals," says Yu.
There is little evidence at this point to determine how effective the counselors have been in reducing reoffending rates. China's government claims that average national recidivism rates are low by international standards, but comprehensive data is not publicly available. 
Wang Zhiliang, a professor at the Shanghai University of Political Science and Law, who has been studying law and detention policy for more than 30 years, emphasizes that prisons are still working out the best way to fit correctional counselors into their organizations.
"It's very hard to set up an independent category of correctional counselors within the (prison) police force, as it's almost impossible to quantify the workload of correctional counselors or judge their work outcomes," says Wang. "The title is more like a recognition of a prison police officer's performance in reforming criminals. But in general, correcting criminals is a job that should be shouldered by all police officers inside prisons."
Wang has been giving lectures to prison officers on correctional methods used overseas and how best to approach their task of reforming convicts. Counselors at Shanghai Nanhui, for example, currently place less emphasis on working with convicts to develop a plan for reintegrating into society after parole than counterparts in the United States.
The Chinese corrections officers, meanwhile, emphasize that the most important skill a counselor needs is the ability to understand the inmates and gain their trust. 
"Only when a criminal accepts you can you proceed with correctional counseling," says Yu. "We need to spend quality time with them, listening to them and giving them the care they need. The most important thing is your sincerity, making them understand you truly want to help."
A drawer in which inmates keep their personal belongings in Shanghai, Sept. 5, 2019. Wu Huiyuan/Sixth Tone
Connecting with the inmates can be a huge challenge for the counselors at Shanghai Nanhui, where the inmates are often incarcerated for serious crimes and have a deep-rooted mistrust of authority, according to Yu. Over the years, he has developed his own approach to dealing with violent inmates.
"They tend to be self-centered," says Yu. "But as I'm aware of their perceptions of the world, I can avoid getting into conflicts with them. Correcting them subtly is the way I work. I don't lecture them directly, because they never listen."
Of the more than 10 counselors at Shanghai Nanhui, Yu says he is probably the best at handling aggressive convicts. He has never been involved in a physical confrontation with a prisoner, though he admits he has occasionally feared for his safety.
"I seldom lose my temper, no matter how furious a prisoner gets," says Yu. "It is also vital that a counselor understands the prisoner's habits, behavior, and mindset."
For Cai, the counselors' most important task is to help prisoners better understand their crimes and the law, as this is the most effective way to stop them from reoffending after their release.
"It's important that criminals figure out what led to their crimes: Was it your bad habits or your lack of legal awareness?" says Cai. "We pay close attention to such factors and try to eliminate or reduce them."
Cai gives the example of a recent case he handled involving a man from Shanghai who had been convicted of homicide. He had killed one of his neighbors, but he insisted that what he had done was heroic. 
"As some of his neighbors begged for leniency for him during his trial, the old man believed firmly that what he did was an act of justice," says Cai. "Such a perception is completely wrong, and we have to make him aware that he took away a life and destroyed a family."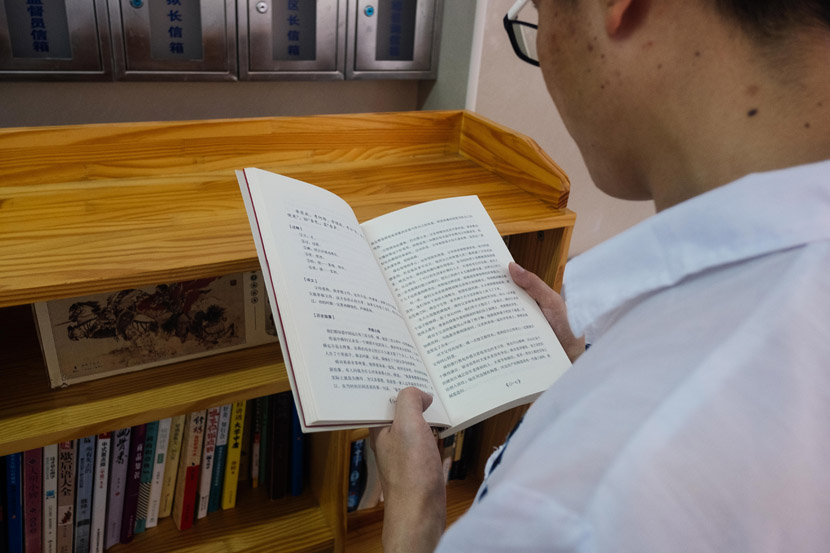 An inmate reads inside a small library at Nanhui Prison in Shanghai, Sept. 5, 2019. Wu Huiyuan/Sixth Tone
Cai says he invested significant time in observing the man in an effort to connect with him. He enjoyed reading, so Cai recommended some books and discussed them with him; he had emotional problems, so Cai arranged sessions with psychological therapists for him to release his anger in an isolated therapy room. The prison officer also encouraged the man's relatives to talk with him and try to change his attitude.
Before the release of an inmate, the correctional counselors help produce a detailed report on the individual in collaboration with the prison's psychological therapists and evaluation office. The report analyzes the convict's physical and mental condition, likely behavior upon release, as well as his or her level of repentance.
For China's network of 2,800 community correction centers, which are responsible for overseeing the rehabilitation of paroled convicts, the reports serve as an important reference document. The counselors, however, will never know the results of their correction work.
"We cut off all contact with ex-convicts," says Yu. "Although I'm not quite clear how they've reintegrated into society, we've been doing what we can to prepare them for normal life."
Editor: Dominic Morgan.
(Header image: An inmate makes a phone call under the supervision of his guard in Shanghai, Sept. 5, 2019. Wu Huiyuan/Sixth Tone)