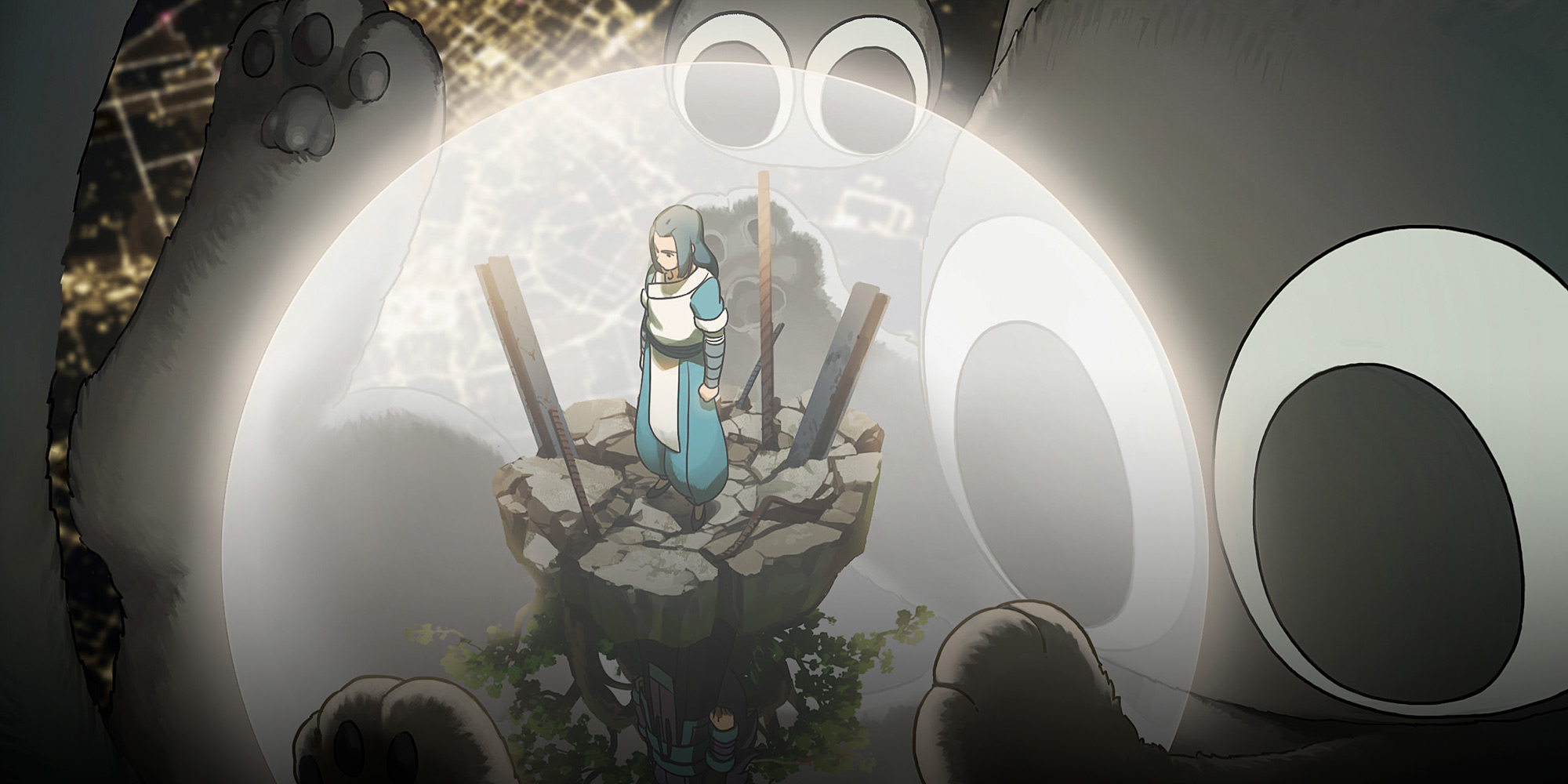 VOICES & OPINION
How '90s Kids Are Redrawing the Boundaries of Chinese Animation
China's millennials are all grown up. The country's animation industry is finally starting to adjust.
When Zhang Ping released the first episode of his flash-animated web series "The Legend of Luo Xiaohei" in 2011, it amounted to a shot in the dark. Zhang, who goes by "MTJJ" online, had moved to Beijing five years prior to take a job at a small animation company. After years spent quietly making and uploading short GIFs online in his spare time, he decided to try his hand at something longer.
It was a fortuitous decision: The clip was a hit, and Zhang soon had hundreds of thousands of fans clamouring for updates. Funding followed not long after, and in 2015, he began work on a feature-length installment of "Luo Xiaohei," called "The Legend of Hei." It took four years to finish, but the resulting film has already earned 313 million yuan ($44.3 million) since hitting theaters this September. Not bad for a cult classic starring a spirited black cat.
"The Legend of Hei" isn't the only Chinese animated film with eye-catching numbers at the 2019 box office. Since opening this July, "Ne Zha" has earned almost 5 billion yuan in theaters — enough to make it the second-highest grossing Chinese film of all time. In the process, the film's tale of growing up and conquering your inner demons has won over everyone from skeptical audiences and critics to the Communist Party. 
The two films' success, combined with other recent animated hits like "Monkey King: Hero is Back," has some optimistic observers dreaming of a Chinese animation renaissance. It is, as the story goes, the result of bold risk-taking on the part of creatives and producers, who poured time — "Monkey King" took eight years to make, "Ne Zha" five, and "The Legend of Hei" four — and millions of yuan into China's moribund animation industry.
There's truth to this, certainly. Without money and talent, none of the above-mentioned films could have been made. But this narrative makes the rise of Chinese animation seem like a happy accident, when in fact it's the result of a long-gestating generational shift: the rise of China's post-'90s kids.
In China, animation, comics, and gaming culture — often abbreviated as "ACG" — is the near-exclusive domain of the generation born after 1990. In 2017, China's Ministry of Industry and Information Technology pegged the number of "core users" of Chinese animation at over 80 million, and the total number of consumers of ACG content at more than 300 million. Of these, more than 97% were born in the past two decades.
The love young Chinese have for animation can be traced to material changes that took place in the country during their childhoods. In 1980, there were fewer than 10 million TV sets nationwide. By 1996, there were 317 million, enough to cover more than 86% of the population. The post-'90s generation is the first in China to grow up in front of a TV — and the first to have their childhoods shaped by access to a wide variety of domestic and international animation.
They also came of age just as the internet, and online video technology in particular, began to take off. The web not only gave young Chinese access to a more diverse range of animation products from overseas, it also taught them to see animation as more than just child's play. Indeed, Japanese anime and manga aimed at teens and young adults, including titles like "Naruto" and "Red River," proved immensely popular in China, as elsewhere, and showed that ACG could both be a way to meet adolescent emotional needs and offer a conduit to different ways of seeing the world.
The post-'90s generation may have spent their whole lives watching animation, but it still took time for ACG culture to go from niche market to mainstream behemoth. Constrained by a lack of purchasing power, young Chinese struggled to shape markets to their preferences, and ACG fandom was for years largely confined to a few small internet forums.
Government policy also proved an obstacle. Beginning in 2000, the National Radio and Television Administration blocked or placed quotas on foreign animation — especially Japanese anime — for "advocating violence" or squeezing out domestic competitors. This incentivized domestic studios to play it safe with kid-friendly content, while a lack of competition reduced the need for innovation. Chinese ACG, popularly known as guoman, thus continued to lag behind its Japanese and Korean counterparts.
It wasn't until 2007 and 2009, which saw the founding of video-streaming sites AcFun and Bilibili, respectively, that ACG culture gradually began to go mainstream. Taking advantage of the comparatively lax regulatory oversight of nontraditional media, online platforms acted as fandom incubators. "Luo Xiaohei" is just one example of a series to benefit from this digital ecosystem. Combined with the post-'90s generation's gradual entrance into the job market and the subsequent increase in their disposable incomes, the two sites helped form the basis of China's now-massive ACG industry.
For a long time, analysts pointed to child-friendly fare like the "Boonie Bears" series as proof that guoman had a box office ceiling of around 400 million yuan. But recent, more sophisticated domestic productions have blown past this figure. In addition to "Ne Zha," 2015's "Monkey King: Hero is Back" earned 960 million yuan at the box office with its more mature take on the classic legend.
And while China's animation techniques remain far from the industry's forefront, domestic production companies have leveraged the size of the Chinese market to forge cooperative agreements with their Japanese counterparts to address some of these deficiencies. In 2016, for example, tech giant Tencent teamed up with Japan's Studio Deen to adapt a popular Chinese martial arts web novel into an animated series. The Chinese side got experience working with top-notch animators and showrunners, while Studio Deen took advantage of the coproduction agreement to sidestep the usual regulatory scrutiny applied to foreign firms.
Fans, too, have gotten in on the act with self-produced animations and comics. Both the creator of "The Legend of Luo Xiaohei," Zhang Ping, and the director of 2017's "Dahufa," Yang Zhigang, are largely self-taught. And at the grassroots level, a whole network of apps and platforms has sprung up around domestic manga and cartoon creators, from Tencent Comic to tech giant Netease's Tumblr equivalent Lofter.
Eventually, a new norm has taken shape: The post-'90s generation told the market what they wanted to see — and went ahead and made it themselves when the market was slow to respond. Far from leading the charge, it was only when producers realized how great the demand for ACG content was that they started taking the industry's potential seriously.
It seems like the craze is here to stay. Animated action film "Master Jiang and The Six Kingdoms" — which shares a production company with "Ne Zha" — is slated for release on the first day of next year's Lunar New Year holiday, making it the first non-family-oriented animated film to secure a release during the annual Spring Festival box office bonanza.

As for the future of the industry, Japan may offer an instructive example. In 2016, the top 10 domestically produced films at the Japanese box office were all ACG or ACG-related. The rise of ACG in Japan didn't take place overnight: It's been a slow but steady march over decades, with each generation pushing the boundaries of the genre.
In his history of Japanese manga, English author Paul Gravett once wrote about how readers' relationships with their favorite characters can last for a lifetime. Perhaps one day his description will be equally applicable to "Luo Xiaohei," "Ne Zha," and the other heroes of contemporary guoman.
Translator: David Ball; editors: Cai Yineng and Kilian O'Donnell; portrait artist: Zhang Zeqin.

(Header image: A promotional still from the animated film "The Legend of Hei." From Douban)