This weekend's 2019 Rugby World Cup quarterfinals will be a bittersweet occasion for Chinese fans of the sport. The host nation, Japan, has been the surprise hit of the tournament, and is set to become the first Asian nation to compete in the knockout stages of the top competition for men's rugby, against former world champions South Africa on Sunday.
Japan's success in a sport traditionally dominated by European and Commonwealth countries is inspiring for China's small but devoted group of rugby followers, but it comes with a sense of frustration.
"Japan plays amazingly well … But watching as a Chinese person, I just feel there's a massive cultural gap in how China and Japan treat the development of sports," says Jin Qiaofan, a real estate marketer and rugby fan from Shanghai. "Chinese soccer is a mess, let alone an extremely tough sport like rugby."
Despite decades of stop-and-go efforts to grow the sport, rugby — known as yingshi ganlanqiu, or "British-style olive ball" in Chinese — remains highly niche in China. The men's team has yet to qualify for a World Cup and languishes at 80th in the global rankings, just below St. Vincent and the Grenadines — a country of about 110,000 people. Only a handful of colleges play the game, while amateur leagues are filled with expat players.
But things could have been very different: Around the turn of the millennium, China appeared to be a rising power in the sport. Grassroots participation was growing fast, especially inside military sports academies that felt rugby's focus on teamwork and intense competitiveness would help train future soldiers.
In Hong Kong rugby tournaments, teams from the People's Liberation Army (PLA) were even starting to rack up victories and turn heads. In a 2000 interview with The Telegraph, Li Gaochao, then head of the Chinese Rugby Football Association (CRFA), declared that China aimed to qualify for a World Cup within a decade.
Yet in the years following Li's bold statement, the performance of China's rugby teams began to markedly deteriorate. Liu Kai, a Shanghai-based lawyer who played for the PLA's crack team in the early 2000s, says that poor decision-making by China's sports authorities was to blame.
Between 1998 and 2001, China held annual national rugby championships that helped raise the standard of competition in the country, according to Liu. In 2002, however, the Olympic Council of Asia decided that only the seven-a-side version of rugby, rugby sevens, rather than the traditional 15-a-side game, rugby union, would be played at future editions of the Asian Games — a decision that convinced the Chinese authorities to halt support for rugby union, according to Liu. "This caused most of China's 15s teams to fade away," says Liu.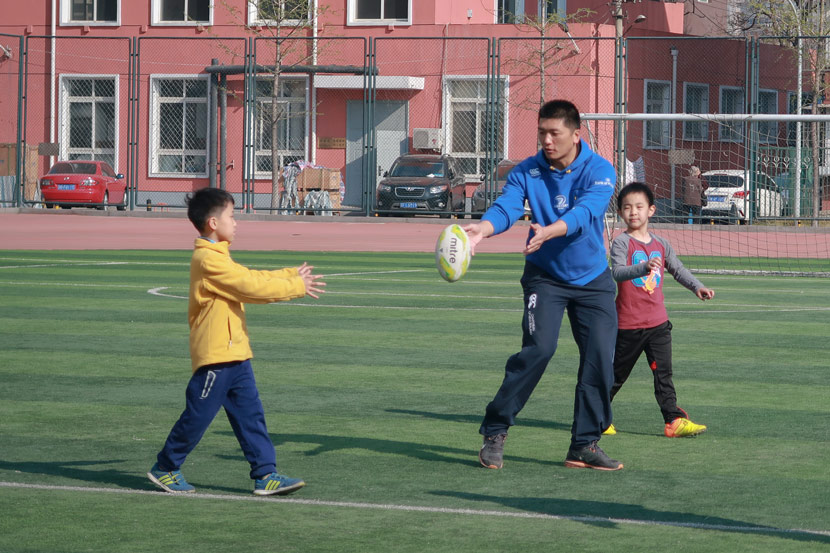 Liu Kai teaches children at the Capital Normal University sports ground in Beijing, April 2017. Courtesy of Liu Kai
In the end, the decision undermined the development of both versions of the sport in China. For Liu, it is no coincidence that China's best rugby sevens performance remains the 2006 Asian Games in Doha, Qatar. The Chinese team — in which Liu played — finished the tournament with a bronze medal.
"All the players in that team had 15-a-side experience," says Liu, who contends that big-sided rugby breeds the best sevens athletes and greatly increases the athlete pool. "If you don't have 15s, the sevens won't do well."
Since 2006, however, China has continued to focus on promoting seven-a-side rugby, especially now that rugby sevens is also an event in the 2020 Summer Olympics. Liu still believes that the 15-a-side game has potential to grow in China, but perceives a lack of ambition at the top of the sport to make it happen.
"The CRFA should have been promoting the sport, but they haven't been," says Liu. "So, us diehard rugby fans have been left to do it ourselves."
Liu is speaking literally: In recent years, the lawyer has become a part-time rugby media mogul, doing everything he can to boost the popularity of the sport. In 2017, he personally brokered a deal for Chinese state broadcaster CCTV to feature matches from Premiership Rugby, England's top rugby union league, on its CCTV5+ channel for the first time. Liu received no payment for agreeing to the deal but hoped it would help attract fans and sponsors, he says.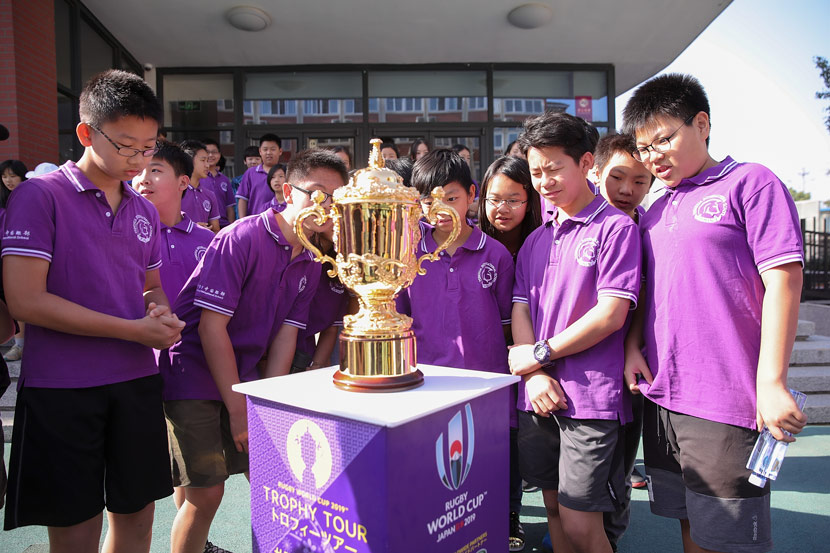 Students from Tsinghua International School look at the Webb Ellis Cup on day two of the Rugby World Cup 2019 Trophy Tour in Beijing, May 31, 2018. Lintao Zhang/World Rugby
Throughout the current World Cup, meanwhile, Liu has filled in as a commentator for matches and shared videos, match updates, and photos from the tournament with his 53,000 followers on Weibo, China's Twitter-like social media platform, nearly every day. He thinks Japan's impressive victories should generate interest in how an East Asian nation went about developing the sport, but sadly Liu finds he loses followers every time he posts about the Japanese team's success.
"Feelings between China and Japan are actually very complicated — the Chinese haven't turned the page on history at all," says Liu. "We should be looking at Japan's success and learning from it."
Liu recognizes that his herculean efforts could prove fruitless unless there is a renewed push by China and World Rugby — rugby union's global governing body — to promote the sport. Though there was a surge of public interest when CCTV broadcast matches from the 2015 Rugby World Cup, the 2019 edition has received little coverage — apart from reports on last weekend's typhoon.
For Liu, the jury is still out on whether the country can put together an effective plan for achieving rugby success. Japan has provided a blueprint for how China could leap from minnows to contenders, but replicating this will require a fundamental reconsideration of how China promotes sports, particularly within the education system, he says.
"The Japanese view sports as very important, so their children have physically become far stronger, says Liu.
China's sports organizations, meanwhile, should be run by people with real experience and knowledge of the games they are promoting, rather than by bureaucrats, according to Liu.
"Most of these officials don't have a professional background," says Liu. "They might have watched rugby, but it's possible they've never even touched a rugby ball."
There are tentative signs that Chinese rugby may be moving in the right direction. In 2016, World Rugby and Alisports — the sporting arm of Chinese tech giant Alibaba — agreed to an ambitious plan to invest $100 million in promoting rugby in China. The plan was to attract 1 million new players within 10 years.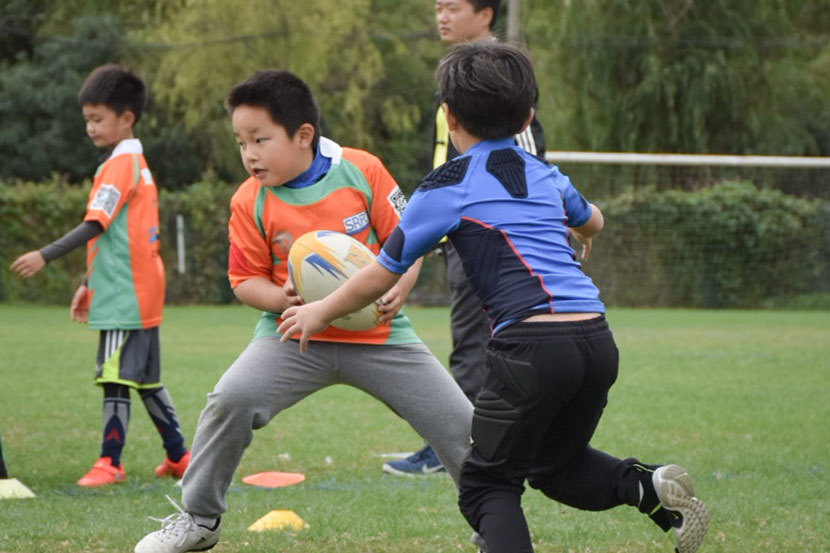 Children play rugby at the Shanghai Rugby Football Club in Shanghai, Oct. 20, 2018. Courtesy of Jin Qiaofan
Though the plans fell through amid sweeping leadership changes inside China's sports management bodies over the past two years, the personnel changes could still inject new energy into China's own development efforts. 
Liu points to the appointment of Chen Yingbiao — a key advocate for rugby inside the PLA in the 1990s — as the new head of the CRFA in April as a positive sign. Chen has made a bold start to life at the CRFA, declaring that he wants both the men's and women's national rugby union teams to qualify for the World Cup within eight years.
Even so, Liu estimates it could still take decades for China to be recognised as a "rugby nation." He'll be updating his followers on the action this Sunday in the hope of bringing that day just a little bit closer.
"I hope that, through our hard work, we can help make rugby really kick off in China," says Liu.
Editor: Dominic Morgan.
(Header image: Liu Kai carries out rugby sevens training at the Happy Valley racecourse in Hong Kong, March 2006. Courtesy of Liu Kai)