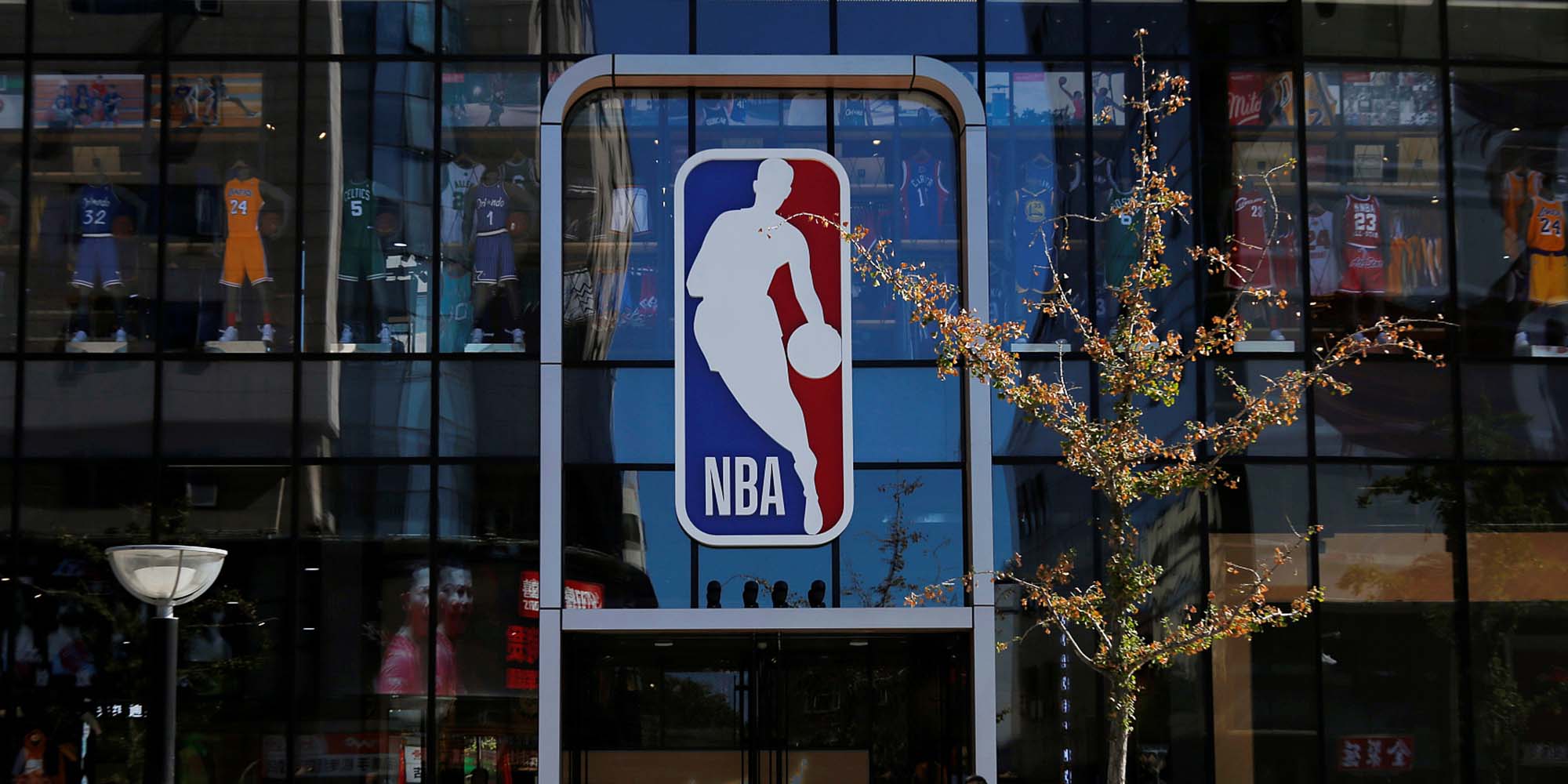 NEWS
China's State TV Network Cancels All NBA Broadcasts
The announcement follows the NBA commissioner's freedom of speech defense of Houston Rockets general manager Daryl Morey, who has been under fire since tweeting his support for the Hong Kong protests last week.
This article has been updated with additional information.
The NBA has been canceled in China until further notice, the country's state broadcaster said Tuesday.
The announcement follows the American basketball league's commissioner, Adam Silver, defending Houston Rockets general manager Daryl Morey's right to free speech after the latter tweeted his support for the ongoing anti-government protests in Hong Kong.
"I have read some of the media suggesting that we are not supporting Daryl Morey, but in fact we have," Silver told Kyodo News on Monday ahead of a promotional event in Japan. "I think as a values-based organization that I want to make it clear … that Daryl Morey is supported in terms of his ability to exercise his freedom of expression."
Silver's remarks did not go unnoticed in China, where they were met with a heavy-handed response.
"We are strongly dissatisfied and opposed to Adam Silver's claim to support Morey's freedom of expression," China Central Television (CCTV) wrote Tuesday on microblogging platform Weibo. "We believe any speech that challenges national sovereignty and social stability is not within the scope of freedom of speech."
The network said that, in light of Silver's comments, it had suspended all broadcasts of NBA games in China, effective immediately. Also on Tuesday, tech giant Tencent — which earlier this year extended its cooperation with the NBA by inking a five-year deal worth $1.5 billion — announced that it had suspended broadcasts of all remaining preseason games. According to Bloomberg, a whopping 800 million people in China watched NBA programming last season, much of which was made available through the league's 30-year partnership with CCTV.
Multiple public relations representatives for NBA China had not responded to Sixth Tone's requests for comment by time of publication. However, Silver himself addressed the broadcast ban Tuesday evening to say that the league prides itself on diversity — of ethnicities, religions, backgrounds, and opinions — and that he stands by his comments.
"For those who question our motivation, this is about far more than growing our business," he said in a press release. "The NBA will not put itself in a position of regulating what players, employees, and team owners say or will not say on these issues. We simply could not operate that way."
On Friday, Morey had tweeted an image with the words "FIGHT FOR FREEDOM STAND WITH HONG KONG" — a mantra for the city's anti-government protests, which have been ongoing since June. Though the tweet was later deleted, CCTV and the Chinese Basketball Association (CBA) jointly announced Monday that they had severed all ties with the team, including broadcasts and promotional events.
The Houston Rockets are by far the most popular NBA team in China, thanks to the Hall of Fame career of the team's Shanghai-born center, Yao Ming. Yao — who has served as the CBA's chairman since 2017 — has not commented publicly about the public relations predicament facing his former team.
On Monday, Rockets merchandise was removed from Alibaba-owned e-commerce website Taobao, with searches for "Rockets," "Rockets jersey," "Houston Rockets," and similar terms no longer returning results. The same day, Communist Party-backed newspaper People's Daily quoted an unnamed Alibaba spokesperson as saying that Morey's post had "seriously hurt the feelings of the Chinese people."
In an open letter Monday, Joe Tsai — the executive vice chairman of Alibaba and owner of the Brooklyn Nets, another NBA franchise — referred to the Hong Kong protests as a "separatist movement," further fanning the flames of a territorial sovereignty-versus-free speech debate sparked by Morey's tweet.
"What is the problem with people freely expressing their opinion?" wrote Tsai, who has rarely spoken out publicly on political affairs. "The one thing that is terribly misunderstood, and often ignored, by the western press and those critical of China is that 1.4 billion Chinese citizens stand united when it comes to the territorial integrity of China and the country's sovereignty over her homeland. This issue is non-negotiable."
Despite Tsai's toeing of the party line, a Brooklyn Nets event scheduled to take place the next day in Shanghai was abruptly canceled by Chinese authorities, according to the South China Morning Post. Shanghai's sports bureau confirmed Wednesday that it had called off the event because of "inappropriate" remarks by Morey and Silver.
Morey apologized for his remarks Monday on social media. The same day, a New York Times reporter tweeted a statement from the NBA calling the backlash over Morey's comments "regrettable" — a sentiment that sparked a backlash of its own from several U.S. public figures, including Democratic Party presidential candidates Julián Castro and Beto O'Rourke.
Contributions: Cai Xuejiao; editor: Bibek Bhandari.
(Header image: An exterior view of an official NBA store, located along the Wangfujing shopping street in Beijing, Oct. 8, 2019. Wang Tingshu/VCG)