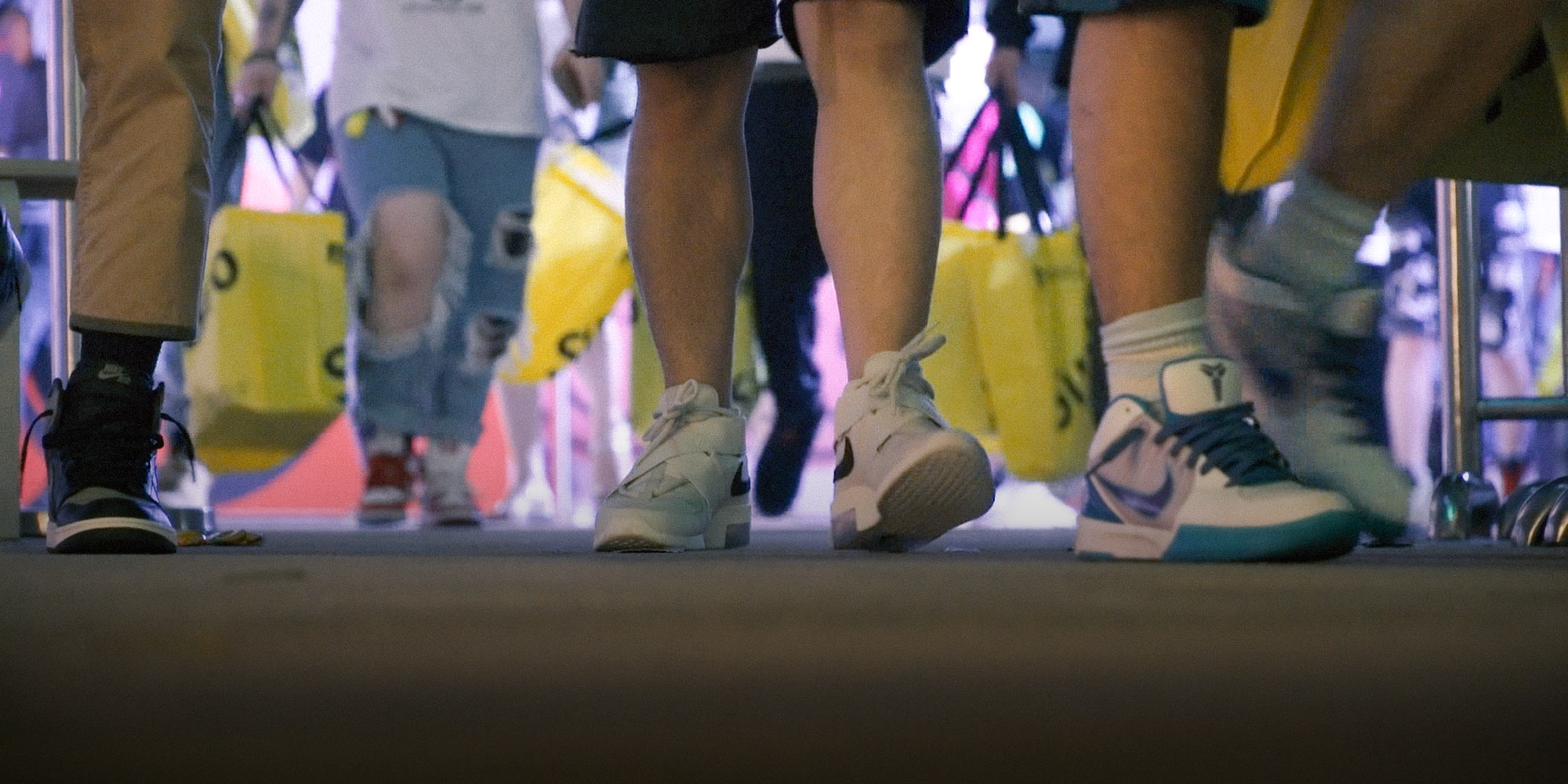 FEATURES
The Chinese Sneakerheads Trading Shoes Like Stocks
All that is solid is melting into Airs, as China's market for rare sneakers threatens to turn into a bubble.
SHANGHAI — In late August, Beijing resident Zhang Dongqi received the exciting news: His new sneakers were ready for him to pick up — in Shanghai.
Few would consider making a five-hour, thousand-kilometer journey just to buy two pairs of shoes, but Zhang headed straight to the train station without a second's thought. The 25-year-old had good reason for thinking the trip would be worthwhile. The limited-edition Undefeated Nike Kobe 4 Protros he was about to purchase were among the most exclusive sneakers in the world, coveted by collectors across China. And, more importantly, they were an excellent investment opportunity.
Zhang had won a lottery organized by Nike's China distributor ahead of the new line's release, making him one of the few people in the country able to buy the Kobes at their retail price of 1,399 yuan ($195). Within days, he would be able to resell them for up to 4,000 yuan, as China's sneakerheads scrambled to get their hands on the ultra-rare purple-and-yellow shoes, created to celebrate basketball legend Kobe Bryant's 41st birthday.
An enormous secondary market for special-edition sneakers is emerging in China, fueled by the growing popularity of street fashion and digital platforms that allow sneakerheads to trade shoes like stock market shares. The market has become so hot that it is even attracting professional investors who previously traded in other speculative assets like bitcoin, raising concerns of a sneaker bubble. 
Though the United States remains the global center of sneaker culture, demand for rare designs by Nike and Adidas is growing even faster in China, where hip-hop and basketball are hugely popular. According to Zhang Qi, chief analyst at online consulting firm iiMedia, China's secondary market for sneakers exceeds $1 billion and has been growing 35% year-on-year on average since 2015.
Much of this growth has been driven by sneaker obsessives like Zhang Dongqi, who has been collecting shoes for nearly four years. "I'm an impulse buyer," he tells Sixth Tone. "Once I set eyes on a pair, I want to buy it right there and then."
Like many sneakerheads, Zhang, who works in finance, subsidizes his hobby by buying up multiple pairs of newly released designs and reselling the extras for large markups. He does this using Poizon, a Chinese trading platform that specializes in sneakers.
The Chinese app provides a similar service to U.S. platforms StockX and Goat, which have yet to gain traction in the mainland market. The platforms have accelerated the boom in sneaker reselling by making shoes nearly as easy to trade as financial assets. Until late September, Nice, the main competitor to Poizon in China, even allowed users to view trend charts tracking the performance of various sneaker ranges.
This is attracting a whole new class of traders to the Chinese sneaker market, who often have little interest in the products in which they are investing. Poizon had an estimated 1.4 million monthly active users this March and is valued at over $1 billion.
Dylan, a 25-year-old financial worker from Shanghai who requested anonymity for privacy reasons, was among the first Chinese investors to take the sneaker market seriously. He first heard about secondary trading when he listened to a TED talk by StockX CEO Josh Luber four years ago, while he was studying finance in the United Kingdom. He started dabbling in the market soon after, and then quickly switched to trading larger volumes.
Dylan's account balance on Poizon testifies to his success: He has earned more than 1 million yuan in the past 10 months. But he warns that the market is becoming increasingly volatile, as media reports regularly exaggerate the profit margins sneaker traders make. 
Though it is sometimes possible to earn 400% returns on a pair of shoes, this only happens in extreme cases, according to Dylan. More often, margins are in the single digits or double digits, he says. He now mostly trades long-term to mitigate against market risk.
Jay, a Shanghai-based digital marketer and part-time sneaker trader who also requested anonymity due to privacy concerns, is also worried about recent changes in the secondary market. He first suspected the market was getting out of control in the summer, after Nike's release of a special series of Air Jordans — the Travis Scott x Air Jordan 1 — in collaboration with American rapper Travis Scott.
"The appreciation for this shoe was beyond my imagination," says Jay, adding that the price of the range rose as much in a few days as he would normally expect to see in six months.
After prices soared more than sevenfold to over 15,000 yuan per pair by mid-August, trading in the Air Jordans fluctuated wildly. On August 15, the price plunged from 15,188 yuan to 9,831 yuan on Nice, before bouncing back to 15,008 yuan the next day. By August 17, the price was back down to 10,883 yuan.
Jay believes the cause of the market turbulence is the entry of new, well-financed players, adding that he knows several people who used to trade bitcoin that have redirected their capital into the secondary sneaker space. This could make trading riskier for small-scale amateur investors, he warns.
"It's like dancing with wolves," says Jay. "They (the new investors) are better at hyping up prices."
Dylan is most concerned about the welfare of young people who have started trading sneakers in the belief that they are guaranteed to make money. He says he knows multiple students who bought up popular sneakers, only to see prices plunge and eventually sell at a loss.
Zhang Yi, the iiMedia analyst, tells Sixth Tone that the market is becoming polarized as increasing numbers of young people and professional speculators jump on the sneaker bandwagon.
"I worry about the youngsters who recently entered the market," says Zhang. "Their financial background is not strong enough."
Poizon and Nice appear to be waking up to the risks posed by the influx of new money. In September, Nice removed the trend charts from its app. Both platforms have placed banners on their home pages saying they oppose price manipulation. In a letter attached to its banner, Nice reminds its members that its hands-off trading policy is "not an excuse for some users to maliciously speculate for short-term gain."
Changing users' behavior, however, may prove to be an uphill battle. When Sixth Tone checks the Nice app in late September, there are still multiple user-generated posts hyping up certain products.
"There's definitely going to be a bubble," says Zhang Yi. "The only question is when it's going to burst."
Editor: Dominic Morgan.
(Header image: Young people wear sneakers in Chengdu, Sichuan province, May 2019. Sun Zhichao for Sixth Tone)