A fugitive in southwestern China managed to evade police for over a decade, but he couldn't dodge a drone.
Seventeen years after the 63-year-old man, surnamed Song, escaped from a prison labor camp, police in Yunnan province finally arrested him last week after a flying drone spied his cliffside hideaway, state-run China News Service reported Friday. Song had been living in a cave just two square meters wide in a mountainous area near his hometown of Daxing.
Song had been jailed for trafficking women and children, though the circumstances of his crime and punishment, including when he was sentenced, are unclear. He escaped from law enforcement in March 2002 while stationed at a labor camp in Sichuan province. (The Chinese government abolished such camps in 2013.)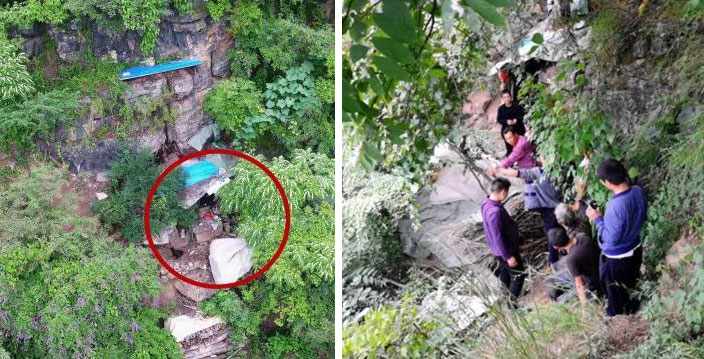 Left: An aerial view of the fugitive Song's cliffside hideaway; right: Song is apprehended by police in Yongshan County, Yunnan province, 2019. China News Service
In part because of China's pronounced gender imbalance, criminal syndicates have been known to traffic women from neighboring countries, with many ending up sold as brides. Southern provinces such as Yunnan — which shares its border with Laos, Myanmar, and Vietnam — have become hotbeds for "bride trafficking."
In June, the Ministry of Public Security announced that 1,147 individuals who were trafficked into China — 1,130 women and 17 children — had been rescued, and 1,332 suspects, including 262 foreigners, had been detained. The ministry also said it is working with law enforcement in Cambodia, Laos, Myanmar, Thailand, and Vietnam to curb human trafficking.
Authorities in Yunnan, specifically, have ramped up anti-human trafficking operations in recent years. In one major crackdown in 2017, police in the province apprehended 75 individuals suspected of abducting 32 Vietnamese women, with the intention of selling them in China. And this year, Yunnan police arrested 69 suspects in three separate operations in January, February, and May, rescuing 37 women trafficked from Vietnam, according to media reports.
In this month's case, police said they had obtained clues about Song's hideaway in September but had not been able to locate the precise location because of the mountainous terrain, according to China News Service. But on Sept. 19, the police drone spotted "traces of human activity," as well as household trash, leading to Song's arrest.
Editor: Bibek Bhandari.
(Header image: Moment/VCG)