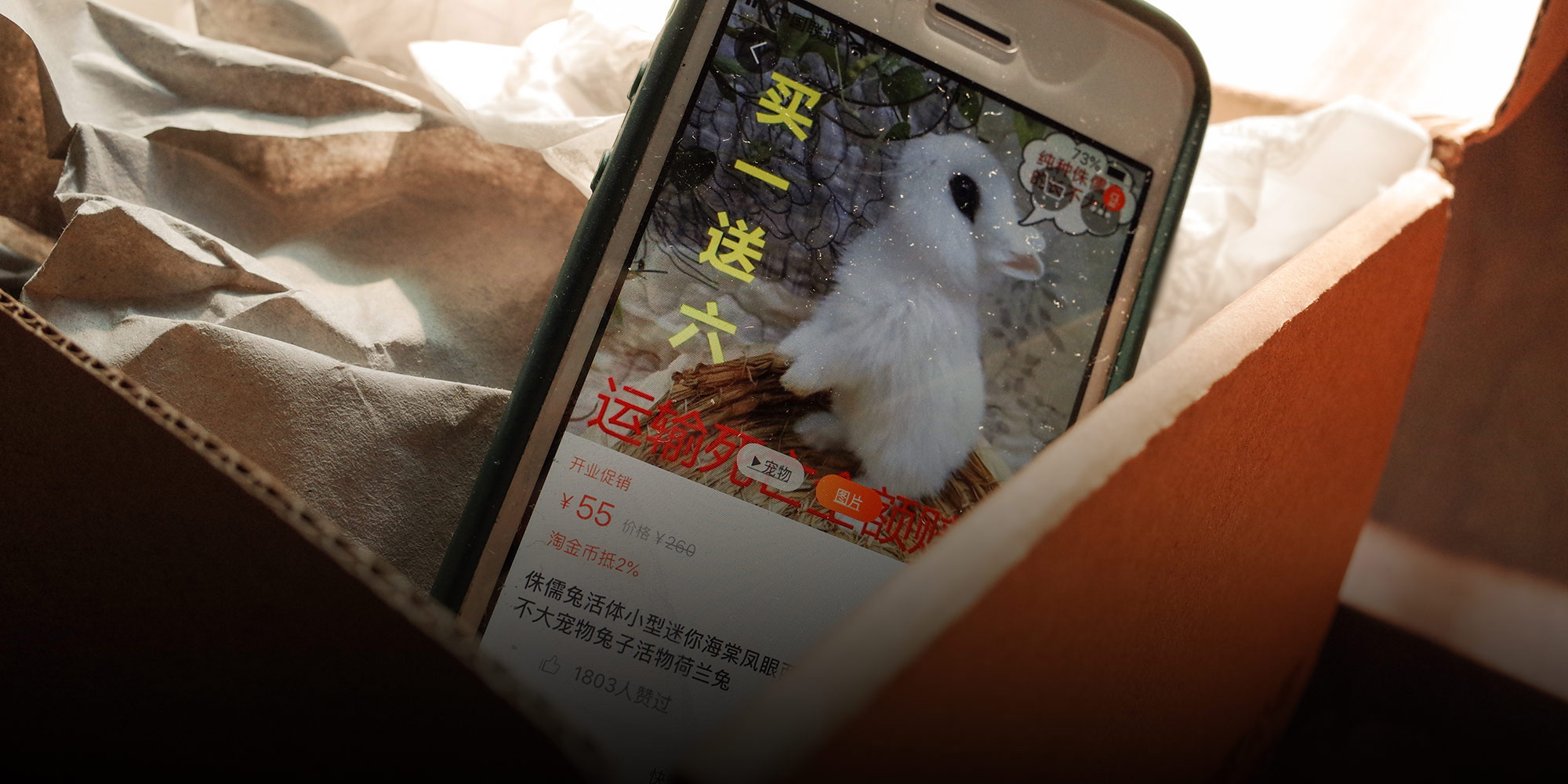 NEWS
Mailing Animals Both Illegal and Common in China, Report Says
Though prohibited under the country's postal law, purchasing a pet online is often no different from buying any other product.
Despite a law in place to protect animals from being mailed, numerous businesses continue to sell living creatures on one of China's most popular e-commerce platforms, Beijing Evening News concluded in a recent investigation.
From more popular animals like ducklings, puppies, birds, and hamsters to more exotic offerings like spiders, snails, and earthworms, one can find a plethora of products available by searching "live animals" on Taobao, an Alibaba-owned online marketplace. The "goods" are then delivered to customers via courier service, as is routine practice with other online purchases.
However, according to the Rules for the Implementation of China's Postal Law, sending any animal by mail is strictly prohibited.
When a courier for Yunda Express, a major domestic delivery service, delivered a quacking duckling to a customer last weekend, he was well aware that the box contained a live animal. "It was transported separately from other, regular packages," he told Sixth Tone. "It's common practice."
The courier declined to say whether packages containing live animals delivered by Yunda Express are subject to inspection or quarantine.
According to Yunda's own policy , however, the company is supposed to reject any package that contains a live animal — which could explain why animal vendors on Taobao tend to be less than forthright about the goods they're sending.
"We'd punish any individual behavior if it violated such a rule," said a Yunda staff member who refused to give his name. The postal law's implementation rules do not specify how violators should be punished.
Other Chinese courier services have similar policies forbidding the delivery of live animals, with some explicitly stating that they'd worry about accidents befalling more fragile animals during transport .
Beijing resident Fu Shan purchased a duckling from a Taobao vendor earlier this month. After three days in transit from a farm in the southwestern city of Chongqing to Beijing nearly 2,000 kilometers away, the tiny creature survived for just half an hour upon reaching its destination.
"We bought it because our 1-year-old daughter has shown such a passion for ducklings," Fu told Sixth Tone, adding that her family now deeply regrets the decision. "It's such a cruel thing to purchase living creatures from online platforms," she said. "Just imagine it: They live in a box without light, water, or food for three days. While I'm not clear on the conditions under which they're transported, I'm certainly not optimistic about them."
Like many businesses selling live animals online, the Taobao vendor promised to send Fu another duckling — an offer she refused. "Without the demand, such cruel practices could not persist . I wonder why Taobao doesn't intervene. They should do something to change this."
Wang Minchao, a public relations officer at Taobao, clarified the platform's position on Monday. "We forbid the trading of protected animals. But for pets, trading is allowed if the sellers have the necessary documentation, including inspection and quarantine certificates," he told Sixth Tone, adding that transactions involving live animals account for only a small fraction of the platform's overall business.
Sending animals through the mail can also pose a danger to those who order them. In July of last year, a 21-year-old woman in northwestern China's Shaanxi province died after being bitten by a venomous snake she had ordered online.
Editor: David Paulk.
(Header image: Ding Yining/Sixth Tone)