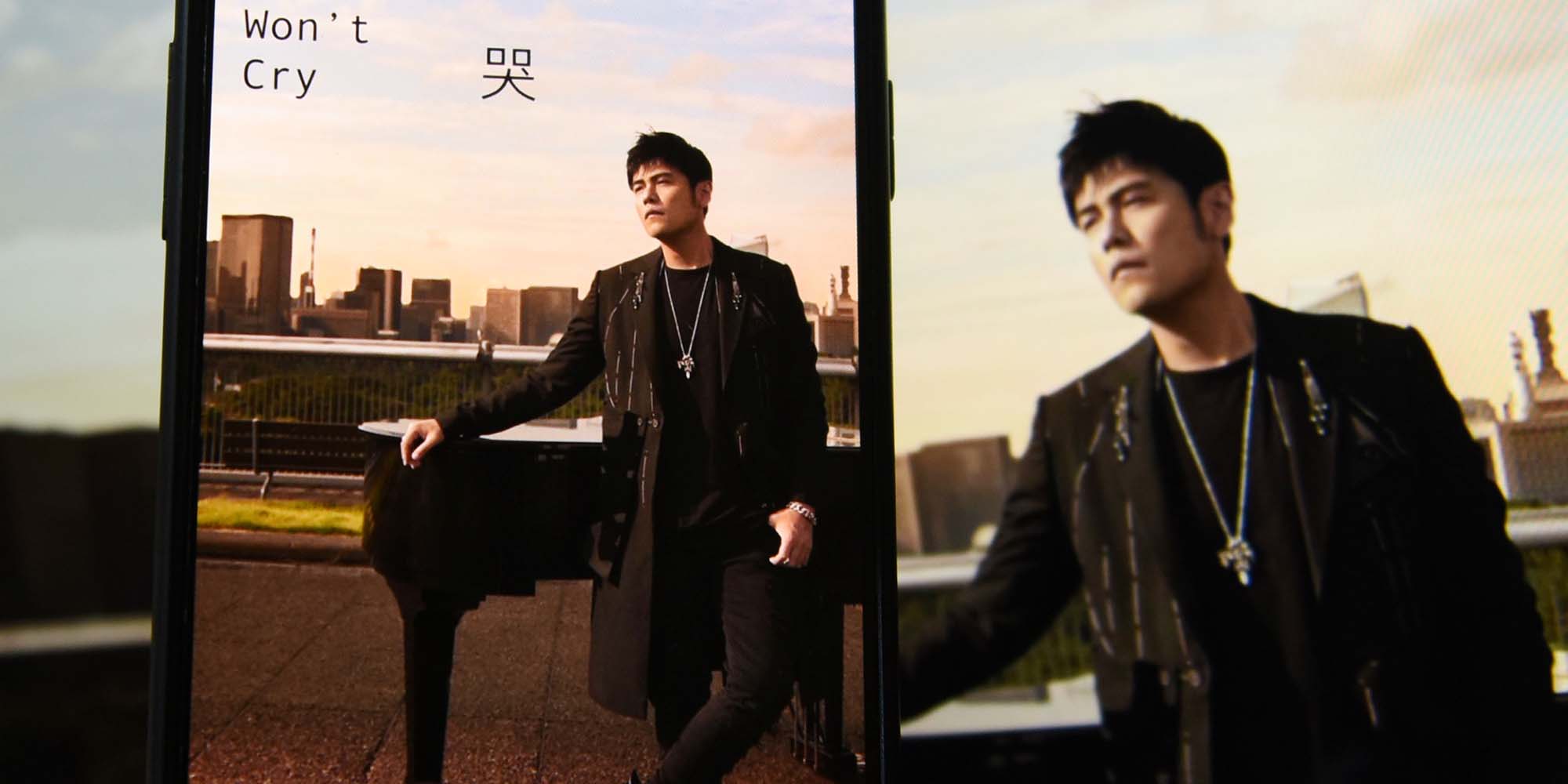 NEWS
Jay Chou Ballad Breaks Sales Record, Streaming Site
Within 25 minutes of its release, the pop star's latest single 'Won't Cry' sold over 2 million copies.
Pop star Jay Chou has solidified his status as the king of Mandopop after his new single broke sales records and — quite literally — a Chinese streaming platform this week.
Within 25 minutes of its release late Monday night, Chou's piano rock ballad "Won't Cry" — available to download for 3 yuan ($0.42) — had sold over 2 million copies across three streaming platforms. China's dominant music-streaming app, QQ Music, even temporarily crashed because of the spike in traffic from Chou's ravenous fans.
On Tuesday morning, the Chinese public awoke to find news of the single from Chou and Ashin — a singer from the legendary Taiwanese band Mayday — flooding their social feeds on WeChat, the country's ubiquitous messaging app. By evening, the song had made over 15 million yuan on QQ Music alone, becoming the platform's highest-grossing single ever. Over 7.2 million copies had been sold on QQ Music by time of publication Thursday.
Set in Tokyo, the music video depicts a fairy-tale romance between a humble milk tea shop cashier and a handsome aspiring photographer. When she sees an application to a photography school open on his laptop, she secretly completes it on his behalf. He is admitted, and before he leaves to join the course, she puts in extra hours at the tea shop to buy him an expensive Hasselblad camera. The final moving scene is the couple running toward each other and meeting in a long embrace: It's unclear how much time has elapsed, or whether the man ever left the woman to pursue his passion.
The single quickly gave birth to a host of hashtags and memes, with people joking that a humble tea shop employee is still a more reliable breadwinner than someone bent on pursuing the more highbrow art of photography. On e-commerce site Taobao, searches for Hasselblad products skyrocketed, while on microblogging platform Weibo, users wondered whether Chou's phone must be constantly vibrating from millions of notifications of 3 yuan deposits to his bank account.
On Tuesday, the real-life milk tea chain featured in the video was flooded with customers lining up to try a particular drink clumsily carried by the female protagonist.
"Won't Cry" even became a top-trending video on YouTube — a feat that was commemorated with its own Weibo hashtag in celebration of a Chinese-language song being so popular on a Western entertainment platform.
Chou, now 40, has been sensationally popular since his debut album in 2000. In the nearly two decades since, Chou has sold over 30 million albums and completed six world tours. His music — said to have carved out its own "Chou style" niche — is an amalgam of R&B, rock, rap, and classical, often with elements of traditional Chinese music sprinkled in. With his characteristic slurred singing, Chou has dived into weightier themes not often touched upon by other pop stars, such as religion, domestic violence, drug abuse, and even history. A huge fan of the mobile battle arena game League of Legends, Chou has dabbled in esports investment, as well as acting, directing, and screenwriting.
But the massive hype surrounding what many regard as just an average song, performed by a star who first began to shine two decades ago, has prompted some to wonder whether "Won't Cry" is being buoyed by nostalgia — or how Chou manages to reclaim his stardom, year after year, while so many other artists' moments in the sun are so fleeting.
"When we chase after Jay Chou, we're actually treasuring, cherishing, and remembering our youth," one commentator wrote for The Paper, Sixth Tone's sister publication. "We're longing for the times we can never return to, for the people and events in our memories." She said that, unlike many of today's most popular artists, Chou generates buzz through his highly unique music, rather than relying on boyish good looks or a carefully cultivated celebrity persona.
"We can easily name half a dozen 'high-traffic celebrities,' but it's very hard to remember the work they've produced," another commentator wrote for The Paper.
Under a Weibo post about Chou's success on YouTube, many netizens marveled at how he had managed to top the charts without large fan groups drumming up support for him, as is common today. "There wasn't even a ringleader telling everyone how many (song copies) to buy," one Weibo user wrote under the post, his comment garnering over 30,000 likes.
In July, a war of sorts broke out between Chou's legions of supposedly aging fans and Gen Z supporters of 21-year-old singer Cai Xukun — with Chou's less internet-savvy fans claiming a rare victory by helping their idol claim the top spot over Cai in Weibo's trending topics ranking.
But it would be a stretch to say that Chou's entire fan base has aged along with the singer himself. Chen Meijia, a 20-year-old college student, told Sixth Tone that she bought "Won't Cry" because she considers herself a dutiful fan, and remembers being moved to tears the first time she went to a Jay Chou concert.
"He's a generational icon," Chen said. "Lots of new singers may be really good, but to so many people, Jay Chou represents their youth."
Correction: A previous version of this story misstated the number of downloads that sold within the first 25 minutes of the song's release.
Contributions: Zhou Zhen; editor: David Paulk.
(Header image: A promotional image for Jay Chou's new single "Won't Cry" is displayed on the screen of a cellphone. IC)