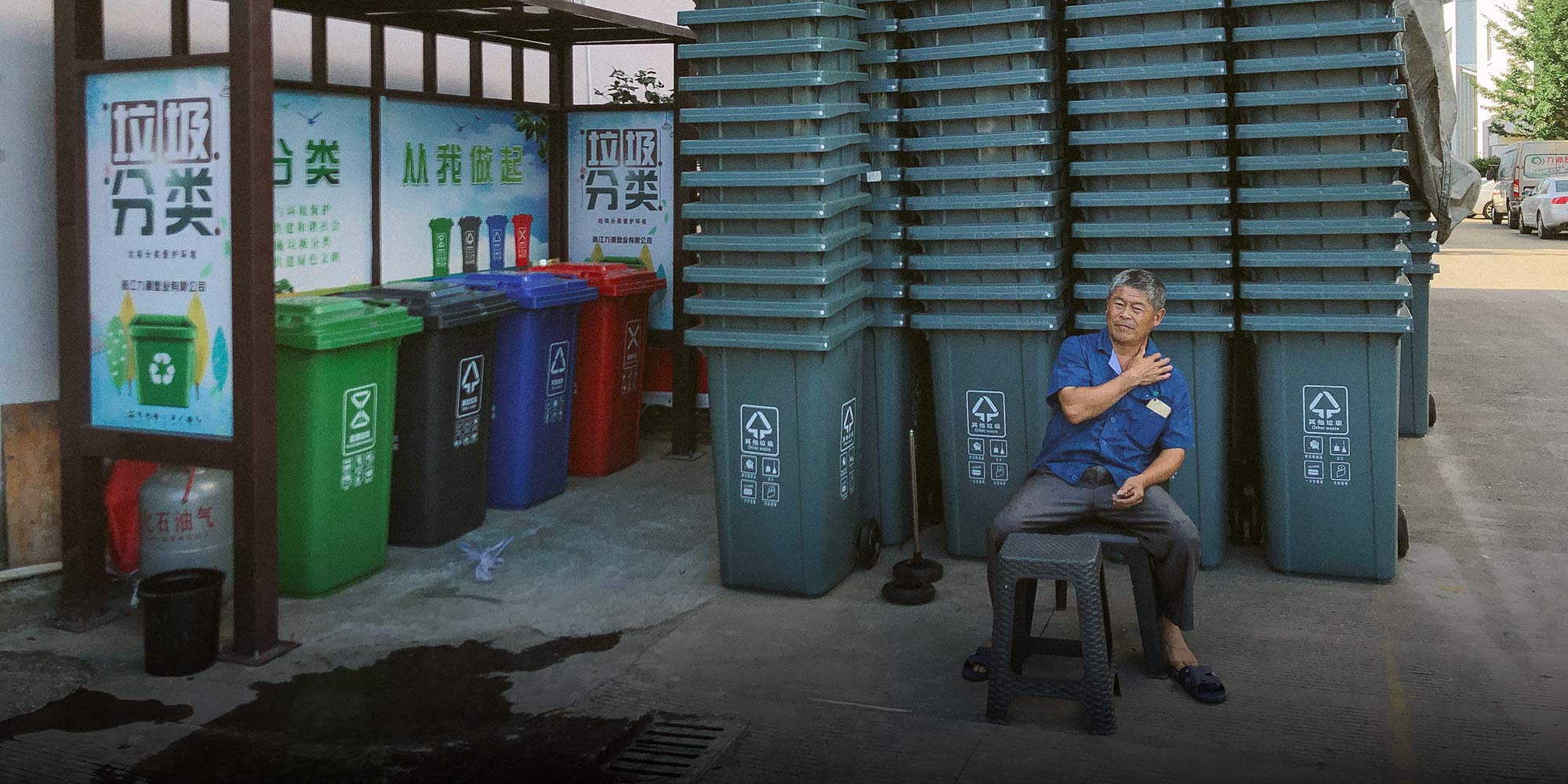 FEATURES
Recycling Drive Divides China's 'Plastic Kingdom'
As cities across China roll out huge new recycling schemes, plastics firms face contrasting fortunes.
ZHEJIANG, East China — When China began implementing sweeping new recycling policies this summer, many plastics firms foresaw challenging times ahead. But for Zhejiang Jiuyuan Plastic Company, business has never been better.
Jiuyuan manufactures molded trash cans, and its sales have exploded since the recycling drive began. "This year has been our best ever," says He Zhangqian, a sales manager at the company.
Cities across China are introducing strict new garbage-sorting policies requiring all residents to separate out organic waste and recyclables when throwing away their trash. The aim is to raise recycling rates to 35% — on par with the United States — and reduce pollution. But the drive has also led to a surge in demand for color-coded recycling bins.
As Shanghai prepared to become the first Chinese city to introduce mandatory trash-sorting on July 1, orders began flooding into Jiuyuan's production base in Taizhou, an industrial city some 200 kilometers to the south.
The company, which previously received orders for just a few hundred pieces at a time, suddenly started fielding requests for millions of trash cans from local governments, according to He. In many cases, officials have placed multiple new bins in each housing development in their jurisdiction, plus thousands more on sidewalks and in public facilities.
There are dozens of trash can producers in Taizhou, but the companies have struggled to cope with the spike in orders. Some firms have already admitted to weeks-long delays on shipments. "From June to now, we've been rushed off our feet organizing production and deliveries," says He.
The trash can boom shows no sign of slowing. Though demand from Shanghai is starting to die down, another 45 cities will launch their own waste-sorting systems before the end of next year. Jiuyuan has already received large orders from Beijing, Hangzhou, Tianjin, and several other major cities. "We expect the quantity of orders to keep increasing," he says.
The market has become so hot that word has spread across Taizhou, which is home to over 12,000 plastics producers and is often nicknamed China's "plastic kingdom." Wu Danping, deputy secretary of the Taizhou Plastics Industry Association, tells Sixth Tone that he receives regular phone calls from businesspeople asking about how to enter the trash can industry.
"Some are plastics company executives who want to know more about producing waste-sorting bins," says Wu. "Others don't even work in the plastics industry but probably think it's a good business opportunity."
Elsewhere in Taizhou, however, the mood is less bullish. Ho Zhixuan, president of the China Thermoforming Association, a plastics industry body that represents several firms in the city, says his members are concerned about the future.
As producers of single-use plastic packaging products, thermoforming companies are among the main targets of government anti-waste policies. In July, Shanghai introduced restrictions on the use of single-use plastics by restaurants and food delivery companies, and other cities are considering implementing similar rules, Ho says.
Such measures have had little impact on plastic companies' bottom lines so far, because they don't apply to the largest consumers of single-use packaging: supermarkets. "Sales are still strong," says Ho. "Supermarket demand is growing by more than 20% every year." But much stronger curbs on plastics use appear to be in the pipeline.
In February, the southern Hainan province announced plans to phase out nonbiodegradable single-use plastics by 2025. A few months later, President Xi Jinping chaired a meeting of the Central Committee for Deepening Overall Reform during which officials agreed to "restrict the production, sale, and use of some plastic products," leading to speculation that the central government may encourage other regions to take similar action.
According to Ho, several of his members are already preparing for such a possibility by repurposing production lines to make paper packaging. "Paper is a bit more acceptable to people," says Ho. "Most members have stopped investing in plastic production lines."
Switching to paper is not always possible, however, and there is real concern among producers about their ability to adapt. The government wants to create a circular economy for plastics, where producers reuse or recycle most of their raw materials, and the waste-sorting campaign is designed to support this. Yet the policy does not go nearly far enough, according to Ho.
"Even with waste-sorting, inside the 'dry waste' bins you still have everything — wood, glass, metal, and plastic are all in there," says Ho. "That means recyclers will need to sort it again, and so the treated waste will be expensive, maybe double the price of virgin materials."
Hu Xinfu, the founder of Taizhou Fuling Plastic Co. Ltd., which supplies packaging for fast-food chains including McDonald's and KFC, agrees that waste-sorting needs to be more radical.
"In restaurants, recycling bins should be divided into paper and plastics, and all the plastic products should be made of one material," says Hu. "That way, all the waste can simply be picked up, washed, and crushed for reuse."
Hu has tried to convince stakeholders in Fuling's supply chain to introduce the system, but he says they're dragging their feet. Instead, he plans to pitch his idea to policymakers through industry associations and government consultative bodies.
If Hu's proposal is accepted, it may bring huge disruption to the plastics industry. But one firm, at least, is sure to benefit. The better the waste-sorting, the greater the demand for Jiuyuan's trash cans.
Additional reporting: Jiang Feng; editor: Dominic Morgan.
(Header image: A security guard sits near the entrance of Zhejiang Jiuyuan Plastic Co's production facility in Taizhou, Zhejiang province, July 29, 2019. Fu Danni/Sixth Tone)