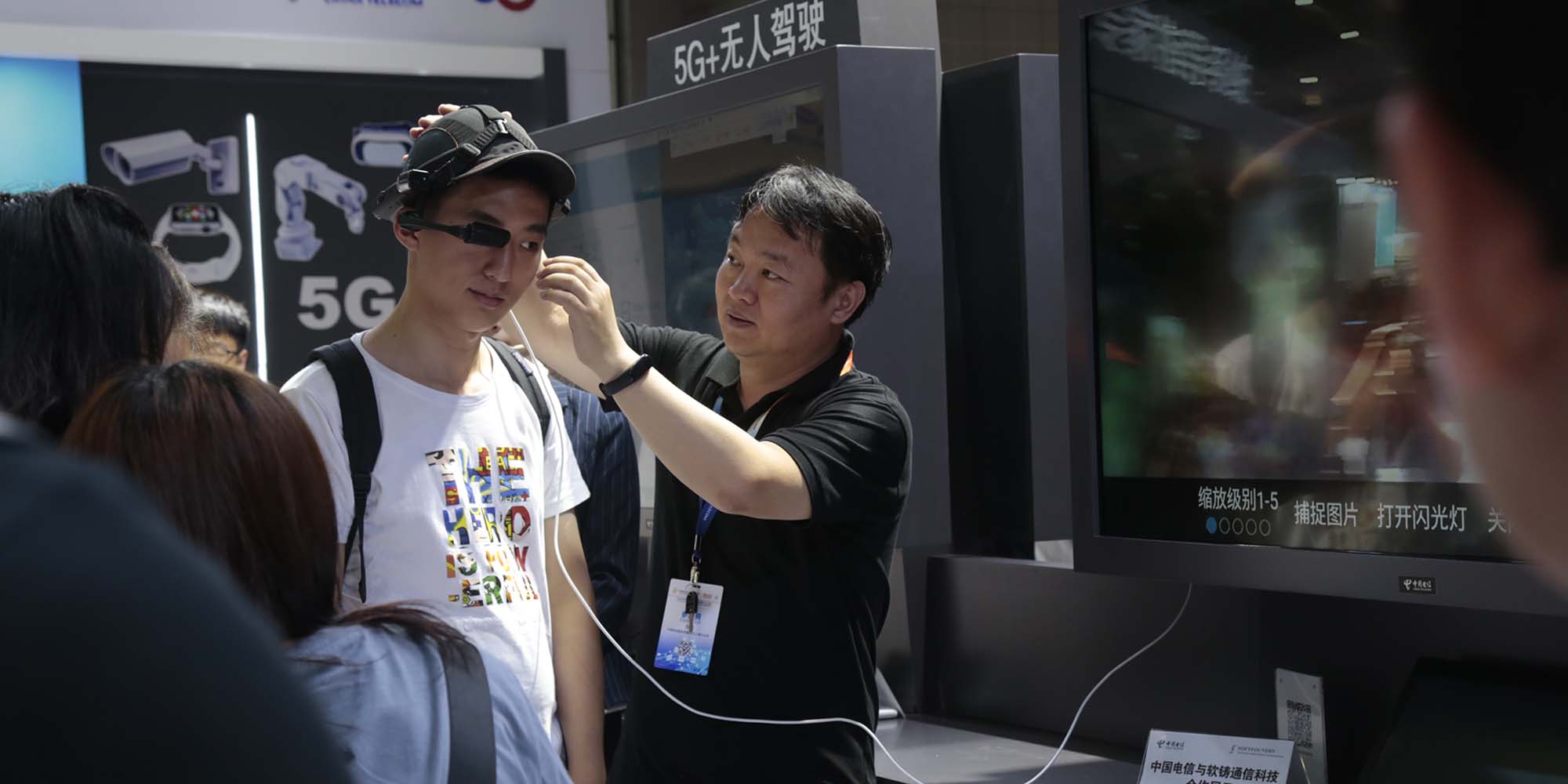 NEWS
China's Telecom Companies Showcase Potential 5G Applications
Three telecom giants' plans for 5G go far beyond better video playback and less lag during mobile games.
SHANGHAI — At this week's ongoing China International Industry Fair in Shanghai, the country's "big three" telecom companies laid out their visions for future applications of 5G technology, from training surgeons and streamlining assembly lines to promoting the Communist Party's ideology.
In early June, the Ministry of Industry and Information Technology issued 5G commercial licenses to China Mobile, China Unicom, and China Telecom, as well as one state-owned broadcaster, paving the way for more creative applications of the technology than shorter buffering times for mobile games and videos.
5G + 'Digital Twins'
In collaboration with Shanghai Tobacco Machinery Co. Ltd., China Mobile is working on a pilot project for generating digital replicas of a factory's complete inventory of physical machinery. Through simulations and analyses of a machine's digital counterpart, companies will be able to detect flaws more quickly and efficiently.
First applied in the aviation industry, this so-called digital twin technology was used in designing, testing, and improving aircraft without the need to send planes into the air, thereby reducing costs.
With the 5G network, companies will be able to monitor and make adjustments to their assembly lines in real time. "The 5G network has ultra-high reliability and ultra-low latency, making applications to the industrial sector possible," said Tian Weicheng, a research project manager for China Mobile.
5G + Augmented Reality
At CIIF on Tuesday, China Unicom exhibited a pair of 5G-enhanced augmented reality glasses designed for training employees or streamlining their tasks. Workers wearing the glasses, for example, are able to access information on the cloud as well as share their field of vision with an expert in a remote location in real time.
Zhang Xiangwei, a "solution manager" with China Unicom, told Sixth Tone that 5G will improve existing AR assistance technologies significantly. "Previously, AR remote interactions weren't responsive enough due to severe latency," he said. "This problem can be solved by 5G, which has the potential to offer real-time AR experiences without dropping frames or lagging. No longer will people feel dizzy (while using AR devices)."
5G + Surgery
Using a 5G-connected virtual reality headset and electronic scalpel, medical professionals can see the position of a hypothetical patient's heart, liver, lungs, and other organs, as well as "perform surgery" without actually cutting into flesh.
Displayed at China Mobile's booth, the apparatus will help students, residents, and other less experienced medical staff prepare for real surgeries. The 5G network provides lightning-fast access to content on the cloud — such as detailed, 3D diagrams of the human body — and allows users to practice surgical techniques they've learned in the most realistic virtual environment possible.
5G + Party-Building
Also at the expo, China Telecom showed a video explaining how someone wearing a virtual reality headset could, if they felt so inclined, peruse digital troves of Communist Party educational materials or virtually visit so-called Red tourist attractions across the country, faithfully rendered over the 5G network.
In 2019, the big three telecom companies are expected to spend a combined 40 billion yuan ($5.6 billion) on 5G and build an estimated 150,000 5G base stations in China by the end of the year, according the state-owned newspaper Economic Information Daily. To save on costs, China Telecom and China Unicom announced in August that they would team up to develop a 5G network.
Editor: David Paulk.
(Header image: A man tries on an AI-enhanced augmented reality headset exhibited by China Telecom at this year's China International Industry Fair in Shanghai, Sept. 17, 2019. Li You/Sixth Tone)