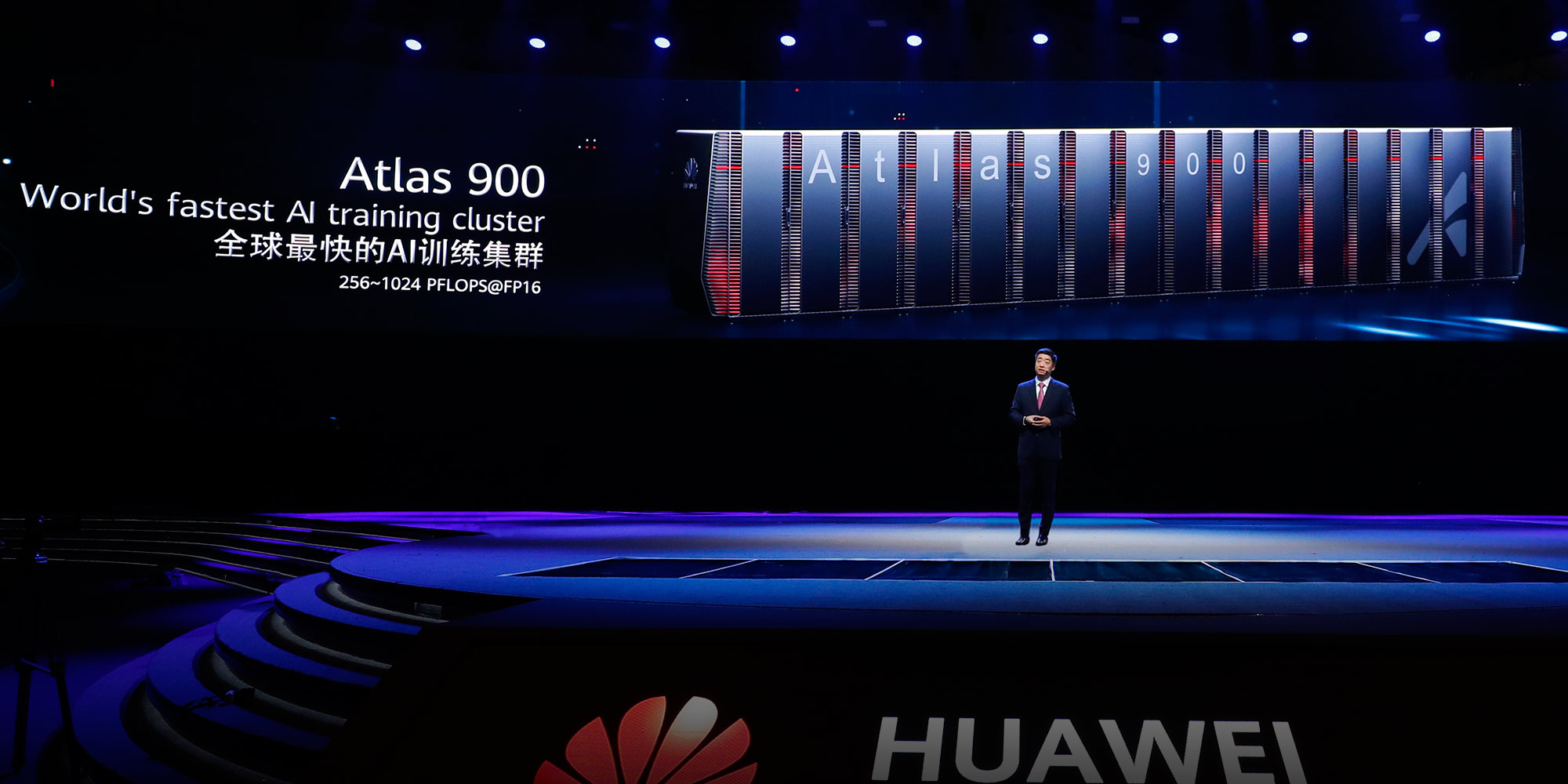 NEWS
Huawei Goes All-In on Computing Power To Rival Google, Amazon
The company used its annual conference to announce a cutting-edge new AI training cluster and $1.5 billion in funding to attract software developers to its platforms.
SHANGHAI — Huawei, the world's largest supplier of telecom equipment and a polarizing pioneer of 5G technology, is now gearing up to compete in the field of cloud computing against tech giants like Amazon, Google, Tencent, and Alibaba.

At Huawei Connect 2019, the company's annual flagship event that kicked off Wednesday, Huawei underlined its commitment to advancing computing power by announcing several breakthroughs — including what it calls "the world's fastest AI training cluster," the Atlas 900, a network of 1,024 of Huawei's own Ascend-brand AI processors — and pledging $1.5 billion to attract developers to its computing platforms.

"When most people think Huawei, they think connections," said Ken Hu, Huawei's deputy chairman, in his keynote kickstarting the three-day event. "But our work doesn't stop at connectivity. If our goal is to build an intelligent world, both connections and computing are key."
Cloud computing is the use of a network of remote servers to store, manage, and process data, rather than a local server or a personal computer. Commercial cloud computing services make these vast pools of computing power accessible to developers for a wide range of purposes, including data analysis and storage.
Although it is a global leader in the telecommunications industry, Huawei is a relative newcomer to cloud computing, having entered the field just two years ago with the establishment of a dedicated cloud business unit. Since then, the company has charged ahead at full speed. At last year's Huawei Connect, the company's rotating chairman, Eric Xu, announced Huawei's first AI strategy, with a focus on research and making powerful, cost-effective computing resources for a range of devices and platforms. In August, the company announced the Ascend 910 — the world's fastest AI chip — as well as a new AI computing framework called MindSpore.
Huawei's interest in new networked computing technologies is understandable given its AI ambitions. According to Moore's law, traditional processor speeds should double every 18 to 24 months. The extreme computing needs of AI algorithms mean the industry operates on a much faster timeline. A 2018 report from San Francisco-based AI research firm OpenAI found that over the past seven years, the computing needs of cutting-edge AI algorithms have doubled roughly every 3.5 months. "Since we're reaching the limits of Moore's law, if the industry wants to provide a steady and abundant supply of affordable computing power, we need to make breakthroughs in processor architecture," Hu said.

Citing data from research and advisory firm Gartner, Hu said the global computing market is projected to be worth more than $2 trillion by 2023. He also estimated that in five years, AI computing will account for more than 80% of all computing power used around the world, and said the company will invest heavily in new processor architecture targeting a wide range of devices, including its Ascend line and Kirin-brand mobile chipsets.
The latest fruit of this strategy, the Atlas 900, is designed to boost the company's cloud computing efforts. An AI training cluster, it consists of a collection of many individual computers, called nodes, which are then connected to provide greater computational power. Compared to a single device, clusters provide faster processing speeds, more storage, and are more reliable.
According to Huawei, the company trained the Atlas 900 in the ResNet-50 architecture — a deep neural network for image recognition that is often used as a benchmark to measure deep learning processing speed — in just 59.8 seconds, 10 seconds faster than the previous world record. Hu said the company hopes the Atlas 900 will be a game-changer for computing, opening up new possibilities in scientific research and business innovation.
Hu also said Huawei plans to invest an additional $1.5 billion to beef up its developer platform, which will be expanded to accommodate 5 million developers worldwide. On Thursday, the company, which is under increasing scrutiny internationally for its supposed links to the government, announced its Mate 30 line of smartphones — the first to be released outside China without Google's proprietary apps after the United States added Huawei to a trade blacklist in May.
Globally, the cloud computing industry is dominated by Amazon, Microsoft, and Google, which controlled a combined 57% of the cloud computing market in 2018, according to research firm Canalys. The next biggest player, Alibaba, had just 4% of the global market. Data from market intelligence firm IDC put Huawei's share of China's domestic cloud computing market at 5.2% in the first quarter of 2019, leaving the company fifth behind Alibaba, Tencent, China Telecom, and Amazon.
"Best case, Huawei entering the computing industry could help boost healthy competition, pushing top players like Nvidia and Google to step up their game," Zhang Heng, a tech analyst and lecturer at Chongqing University of Posts and Telecommunications, told Sixth Tone.
But the fact that Huawei's servers and data centers are located on the Chinese mainland limits Huawei's appeal in overseas markets, Zhang noted, and this could pose a challenge to the company's global ambitions.
In the domestic market, however, Huawei remains formidable. "China's market is still very big," Zhang said. "And due to Huawei's high cost-effectiveness and market standing, local governments, universities, research institutes, and price-sensitive enterprises could be the first batch to consider making the switch to Huawei."
Editors: David Paulk and Kilian O'Donnell.
(Header image: Ken Hu, Huawei's deputy chairman, gives a speech during the company's annual Huawei Connect event in Shanghai, Sept. 18, 2019. Courtesy of Huawei)