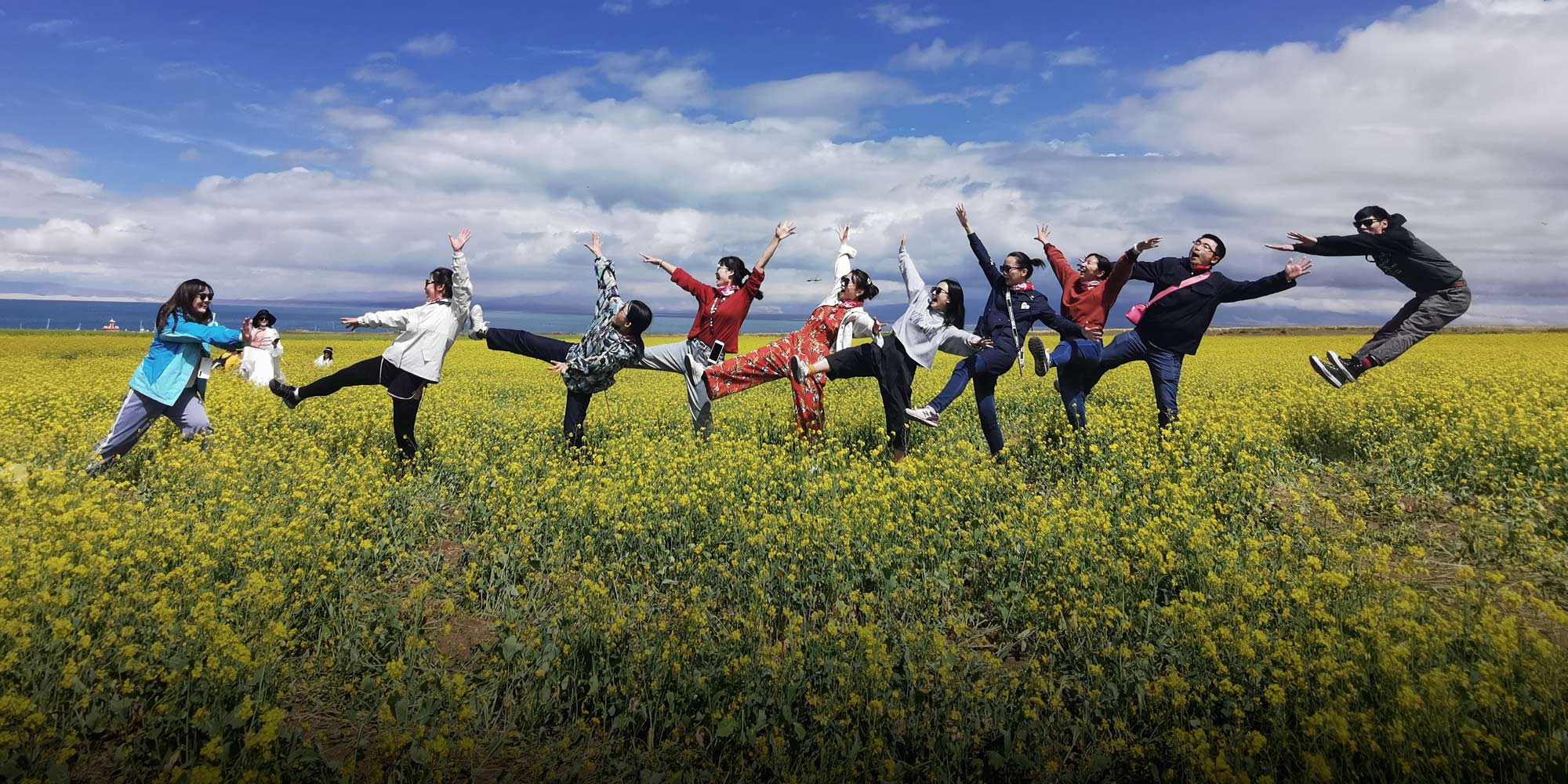 FEATURES
The Hipster Tour Groups Winning Over Chinese Millennials
Matching hats and megaphones are out, and midnight bonfires are in, as China's travel industry adapts to a new generation of tourists.
SHANGHAI — For most young Chinese, there is nothing less cool than a package vacation. Traditional travel agents offer everything they're hoping to avoid, from 5 a.m. starts to unexpected stops at overpriced souvenir stores. But Fu Wenxian thinks he can convince millennials to give group tours another try.
The 36-year-old is the founder of 54traveler, a travel company that is shaking up China's $880 billion tourism industry by creating all-inclusive vacations exclusively for travelers under 45 years of age.
There has been an enormous increase in the number of young Chinese traveling independently over the past decade, with 44% of vacationers in their early 20s choosing to arrange trips by themselves, according to a 2018 report by consulting firm McKinsey. This has come at the expense of tour operators, as travelers tire of being herded around on coaches and given little time to explore the places they're visiting.
But 54traveler is bucking this trend and offering young travelers a third way. Its culturally immersive tours are designed to appeal to millennials who crave authenticity and unique experiences.
"Mainstream Chinese tour companies are like standardized coffee chains such as Starbucks," says Fu. "We are more like a private café studio: We have an independent spirit and unique culture."
Inspired by Australian travel guide publisher Lonely Planet, Fu set up 54traveler — the name also means "I am a traveler" in Shanghai's local dialect — in 2009, and the company now offers tours of remote regions across China, as well as nearly 20 overseas countries, including relatively niche destinations such as Georgia, Iran, and Morocco.
The Shanghai-based firm channels a similar backpacker-style ethos to Lonely Planet, encouraging travelers to go off the beaten path and mingle with locals. Whereas tours of Spain offered by China's leading travel companies include tickets to flamenco shows and dinners at paella restaurants, 54traveler arranges dancing lessons from flamenco bailadores and cooking classes from local families in Valencia.
The packages are hardly suitable for those on a shoestring budget — a Spanish tour offered by Ctrip, China's largest online travel firm, costs 14,000 yuan ($2,000) including flights, while 54traveler charges 16,000 yuan plus travel costs — but many Chinese millennials are willing to pay extra for a better experience.
More than 30,000 young Chinese traveled with 54traveler last year, the company says, and there appears to be significant potential for further growth. McKinsey predicts that high-end package tours will be among the fastest-growing segments in China's tourism industry over the next few years. Several copycat startups have already emerged to compete with 54traveler.
"Our website has been duplicated, our tours have been copied, and even our company name has been ripped off," says Fu. "But the culture and spirit we have cultivated over the years can't be copied."
Spirit and culture are qualities that 54traveler takes extremely seriously, Fu says. For him, the key advantage of a group tour is not convenience or value for money, but the ability to share experiences with fellow travelers. This belief comes from personal experience: As a student, Fu met his future wife and 54traveler co-founder, Zuo Huimin, on a 48-day trip to Tibet in the Southwest.
"Young people today have been to many places and have seen countless beautiful views, so I believe that for them, travel will eventually be about finding their true selves and having sincere relationships," says Fu. "But this requires a process, and they need our help."
The company aims to help its tour group members develop lasting friendships. The age limit is designed to bring together like-minded travelers, and the firm's staff personally test each itinerary before accepting bookings from customers.
But most important of all, according to Fu, is the firm's network of 320 tour guides, which 54traveler refers to as "givers." Their responsibilities go far beyond simply ensuring the tour runs smoothly and safely.
"The givers lead the group members to explore a more colorful life, open their hearts, and experience, communicate, and share," says Fu.
Wang Xiaodui, 31, became a giver for 54traveler in 2014, after going on a tour of southwestern Yunnan province organized by the company. He says the experience transformed his opinion of tour groups. "It was just what I had hoped for: Contact with locals and observing places in an unhurried way, not acting like a tourist," says Wang.
Wang leads around 10 tours of Yunnan each year, each lasting nine days. These tours are especially popular among young women. "When guys have time off, they would rather stay home and play video games," says Wang, adding that because 54traveler does not force customers to book expensive single rooms, it attracts lots of solo female travelers.
Zhang Jialing, 28, chose to visit India with 54traveler for this reason. She has traveled to more than 15 countries, usually staying in shared rooms in youth hostels to save money and meet new people. But she was wary of doing so in South Asia because she had read news articles claiming the region was dangerous. When 54traveler started its Indian tour in 2017, she signed up immediately.
"It was such an amazing experience," says Zhang. "The group was a bit restrained during the first couple of days, but the giver broke the ice and organized all kinds of activities to facilitate friendships."
The company's tours are also popular among young couples. When Yang Tuni, 31, and her husband went on a 54traveler trip to Northwest China in August, they were one of three couples in the 12-person party.
The couples all had things in common, according to Yang. They had all been married awhile, and the freshness of their relationships had faded. Yang, who sometimes tires of her husband's jokes, liked the fact that the other group members enjoyed his sense of humor. She also loved the memorable activities their giver organized, from singing karaoke in the desert to flying kites over Qinghai Lake.
"Couples usually arrange these romantic things for each other, but the giver had done it all for us," says Yang.
But as 54traveler's popularity among young professionals soars, the company risks straying ever further from its mission of helping travelers discover "authentic local life."
When Fu set up the company, he encouraged guests to stay in local guesthouses. But many young urbanites are not prepared for the rough living conditions in China's rural areas, where water scarcity and power outages are common.
"I used to strongly oppose the idea of offering fancy hotels on our tours," laughs Fu. But that is exactly what 54traveler does now. For each itinerary, the company offers a "classic tour" where guests stay with local families most nights and an "upgraded tour" with more luxurious accommodation.
Yang and her husband signed up for an "upgraded tour," though they still ended up in a hotel room with a leaking roof for several nights. "But I think that's the best place they can offer, and we understand what the situation is like in that area," she says.
The group members were less understanding, however, about the lack of modern toilet facilities. "We had to hold it on the bus, and then when we finally made a toilet stop, many of us couldn't relieve ourselves after seeing the piles of waste in the squatting pot," says Yang.
Yang suggests that 54traveler build toilet facilities along its travel routes. "They can charge money, which can be used to maintain the toilets and build more," she says.
Many of the rural destinations visited by 54traveler are transforming as locals adapt to the company's needs. Some villagers have built new toilets inside their homes, while others have constructed pavilions outside where tourists can hold bonfire parties. A few have even chosen to work with other tour companies instead to earn higher profits.
"Everyone has the right to get out of poverty and grow their economy," says Fu. "We maintain an understanding attitude."
Fu has no plans to slow down any time soon. In 2017, Lonely Planet co-founder Tony Wheeler visited 54traveler's headquarters in Shanghai. Meeting his hero was inspiring, Fu says, but he now aims to surpass the global travel brand.
"Lonely Planet has influenced countless people to set off on trips on their own," he says. "But now we want to be the leader."
Additional reporting: Ai Jiabao; editor: Dominic Morgan.
(Header image: Yang Tuni and other members of her 54traveler tour group pose for a photo by Qinghai Lake in Qinghai province, Aug. 24, 2019. Courtesy of Yang Tuni)