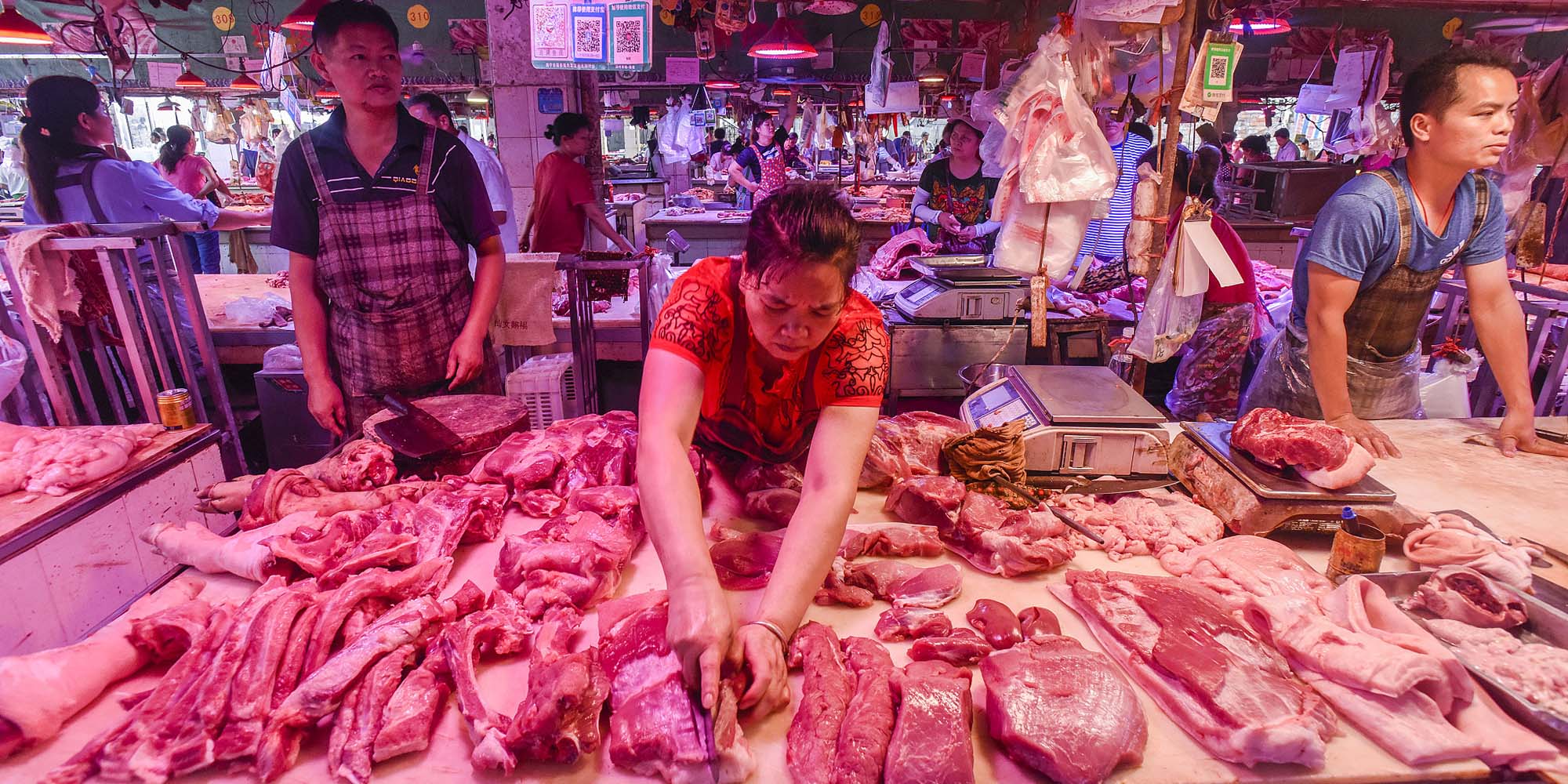 NEWS
There Will Be Pork, Chinese Officials Say Ahead of Holidays
To cope with a shrinking supply and soaring prices, the central government has vowed to release frozen pork from the country's emergency reserves.
With African swine fever continuing to shake up China's pork industry, authorities say measures are in place to ensure sufficient meat supplies ahead of upcoming national holidays.
During a press conference Wednesday, officials from six government agencies, including the National Development and Reform Commission (NDRC) and the Ministry of Agriculture and Rural Affairs, said there is enough meat in an emergency reserve of frozen pork to address the short supply — and that some of this meat will be released to the public to satisfy higher demand over the next few months. The NDRC is also taking the lead in formulating a plan to distribute the frozen pork to guarantee enough for the upcoming Mid-Autumn Festival, National Day holiday, and even Spring Festival in late January.
"Adjusting the reserve is an important measure to ensure the supply and stabilize prices," said Peng Shaozong, an official in the NDRC's pricing division, adding that the commission has been ordering local governments to add to their frozen pork reserves since March. "At present, frozen pork reserves at the central and local levels have reached a certain scale," he said without elaborating.
China's Cabinet, the State Council, also issued a guideline Tuesday about stabilizing domestic pork production, including setting a 95% self-sufficiency target for pork supplies nationwide. Amid the short supply, the volume of China's pork imports is expected to rise by over 75% compared with 2018, according to an official 10-year projection published in April.
However, Yu Kangzhen, the vice minister of the agriculture ministry, said during the same press conference that, because imports from global markets account for at most 2% of China's supply, the country must look to become self-sufficient if it hopes to meet domestic demand.
According to government estimates, over 1 million hogs across the country have been culled since African swine fever — a disease that's fatal in pigs but harmless to humans — was first reported in the northeastern Liaoning province last August. Although officials said in June that the virus had been "effectively controlled," pork prices have soared, seeing a year-over-year increase of 46.7 % in August, according to the National Bureau of Statistics.
Several local governments have taken measures to mitigate the short supply and surging prices. While the southern city of Nanning and a county in the eastern Fujian province are offering pork at subsidized prices, Chengdu in the southwestern Sichuan province has issued 167 million yuan ($23.6 million) in subsidies so far this year as a boon to the city's 2 million-plus lower-income residents.
In an earlier guideline last month, the State Council introduced a raft of measures to steady the country's reeling pork industry, including expediting the distribution of subsidies to hog farmers and abolishing tolls on pork-hauling trucks. According to a report Monday by the state-run Xinhua News Agency, authorities have also announced plans to offer large-scale pig farms subsidies ranging from 500,000 yuan to 5 million yuan directly from the central budget.
Editor: Bibek Bhandari.
(Header image: A vendor breaks down meat at a food market in Nanning, Guangxi Zhuang Autonomous Region, Sept. 7, 2019. Peng Huan/VCG)