A well-known Chinese vlogger has broken her silence three weeks after two girls sustained severe — and for one of them, fatal — burns while allegedly copying a video of the content creator making popcorn using an aluminum can and an alcohol burner.
In a statement Tuesday on microblogging platform Weibo, the vlogger, Bangongshi Xiaoye — or Office Chef Ms Yeah, "a walking recipe from Mars," as she describes herself on Facebook — said that the past few days have been "some of the darkest days of my life." She said the girls "definitely" had not copied her video from February 2017, in which she had used one soda can and an alcohol burner rather than the two cans and unidentified heat source used by the girls, according to photos circulated online. This suggested the girls might have consulted similar tutorials posted on other sites, Xiaoye argued.
On Aug. 22, 14-year-old Zhezhe and 12-year-old Xiaoyu were playing at the latter's house in Zaozhuang, a city in eastern China's Shandong province, while their parents were at work. Sixth Tone's sister publication, The Paper, reported that the girls decided to make popcorn at around 3:30 in the afternoon using a technique they had come across on short-video platform Douyin — or TikTok, as it's known in overseas markets. After their initial attempts to get the kernels popping failed, one of the girls poured concentrated alcohol onto an open flame, causing an explosion that severely burned both girls.
Zhezhe sustained burns across 96% of her body and succumbed to her injuries last Thursday. Xiaoyu was burned mostly on her face, arms, and legs, and her condition has stabilized, according to The Paper.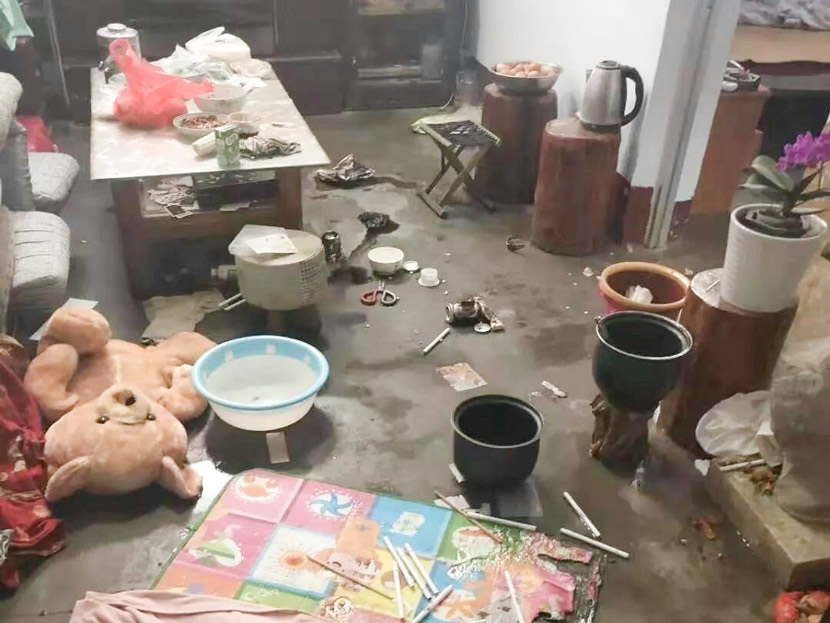 The scene of the explosion that left two girls aged 12 and 14 severely burned, Zaozhuang, Shandong province, August 2019. From @爆料枣庄 on Weibo
Xiaoye, who hails from the southwestern city of Chengdu, has been making unconventional cooking videos for her fans since early 2017, focusing on creative alternatives to preparing meals and snacks from her desk in an office, including grilling meat with an iron wrapped in aluminum foil. She has amassed 17 million followers on Douyin and 8.1 million on Weibo.
Xiaoye said in her statement that she began adding safety warnings to her videos in March 2017 after Chengdu's fire department sent her a "reminder" on Weibo. Though she denied inspiring the two victims, Xiaoye said she is sorry for "having done wrong," and promised to take down all of her remaining videos that might present safety hazards. She also said she is "willing to do all I can to help Zhezhe's and Xiaoyu's families," without elaborating.
News of the grisly accident quickly went viral on Chinese social media. A Weibo hashtag translating to "Office Xiaoye responds to girl's homemade popcorn death" had been viewed over 500 million times by Wednesday evening, with some netizens blaming the host for the girls' fates.
"Xiaoye has been under immense stress over the past 10 days," the vlogger's cousin, surnamed Li, told Sixth Tone on Wednesday. "I suspect she may be sinking into depression."
Li claims to have a close relationship with his cousin and to have followed her work since her early days as a content creator. Li says he's been helping Xiaoye manage things following the accident.
"We first knew about Xiaoye's involvement when her name began trending on Weibo on Aug. 26 or 27," Li said. "Although initial video reports mosaicked her face, netizens quickly found out who she was and began attacking her."
Some netizens edited Xiaoye's profile photo to grayscale, symbolizing death, and have gone so far as to call the vlogger a "murderer." Under Xiaoye's Weibo post, one unsympathetic user commented: "She sure knows how to shirk responsibility."
Li echoed his cousin's willingness to "assume responsibility" for what happened to the two girls, and said they would cooperate with Zhezhe's family "whether they decide to pursue legal action or request compensation." On Wednesday, Li spoke to Zhezhe's father for the second time, he said, adding that he and Xiaoye are making plans to visit the girls' families to discuss a course of action in person.
"In a way, we are also victims in this incident," Li said. "I wish netizens would look at this more objectively."
In a similar incident from 2013, a court ordered the popular Chinese children's cartoon "Pleasant Goat and Big Big Wolf" to pay 40,000 yuan (then $6,600) to the family of two brothers who suffered severe burns while trying to recreate a scene from the show.
Editor: David Paulk.
(Header image: Screenshots from the video of Xiaoye making popcorn using a soda can and an alcohol burner. From YouTube)