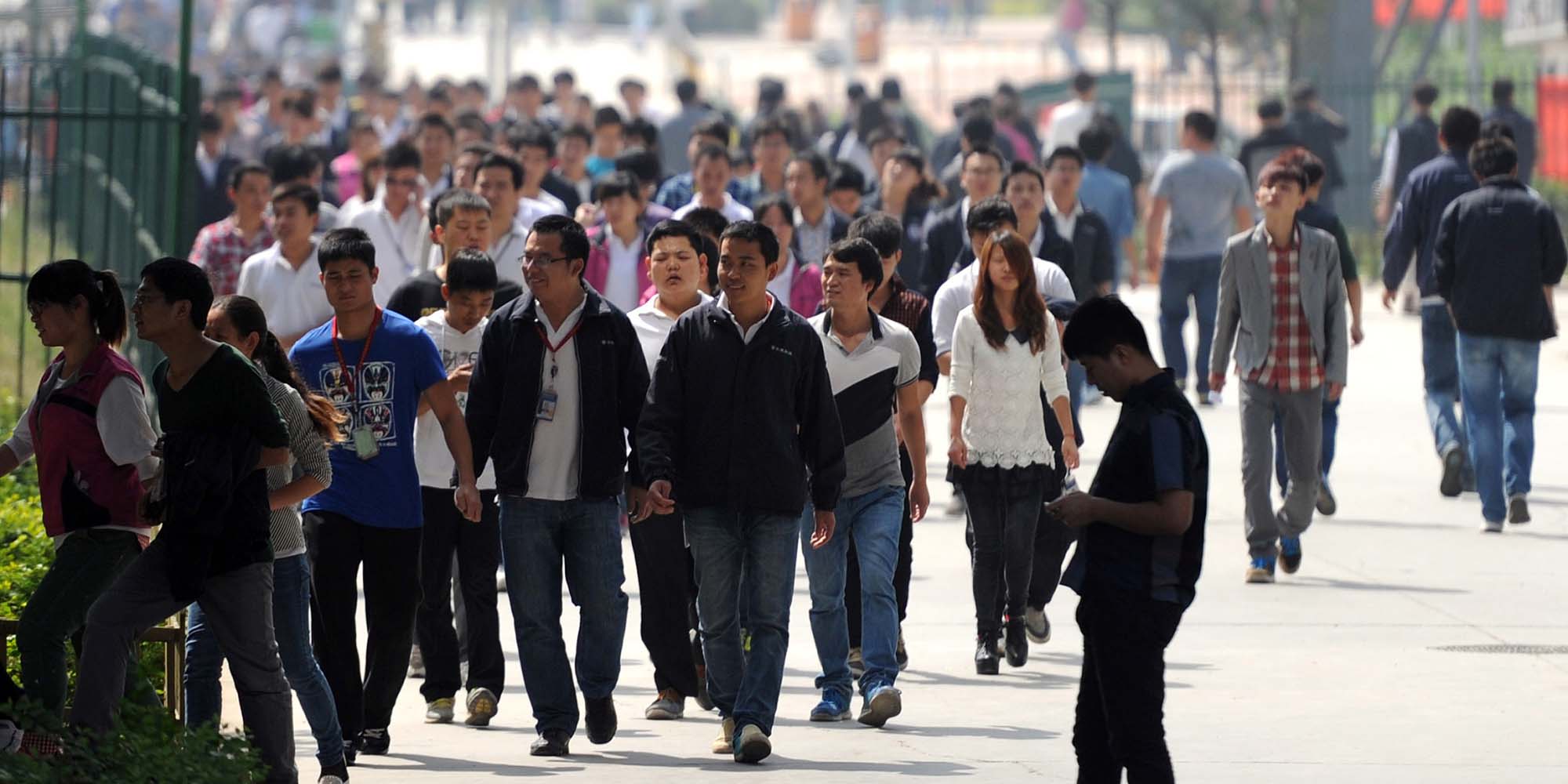 NEWS
Activists Find New Evidence of Labor Violations at Foxconn
The electronics giant has acknowledged employing more temporary workers than allowed under Chinese law.
Apple's largest supplier, Foxconn, has acknowledged that its hiring of temporary workers and their overtime hours at a campus of factories in central China were not "consistent with company guidelines," according to a statement sent to Sixth Tone on Monday.
The statement followed a yearslong investigation by China Labor Watch, or CLW, a New York-based NGO. In its report sent to Sixth Tone, CLW wrote that in 2018, so-called dispatch workers — those who are employed temporarily to meet tight production deadlines, and who do not enjoy the same rights and benefits as full-time staff — made up 55% of the workforce at Foxconn's factories in Zhengzhou, Henan province. According to China's labor contract law, dispatch workers may account for no more than 10% of a company's workforce at any given time.
Since its first factory opened in 2010, Foxconn's Zhengzhou campus has been dubbed "iPhone City," with daily production of the Apple handsets reaching 500,000 and employment totaling 350,000 during peak season. One employee interviewed for CLW's report was working at a factory assembling the iPhone 11, the company's newest model, slated to be unveiled Tuesday in Cupertino, California.
The CLW report also exposed the problem of pervasive overtime work at the Zhengzhou factories. During "peak production seasons, workers at Zhengzhou Foxconn put in at least 100 overtime hours a month," the report said. "There have been periods where workers have one rest day for every 13 days worked or even have only one rest day for a month." China's labor law stipulates that a worker's monthly overtime should not exceed 36 hours.
In its statement, Foxconn said it had found evidence confirming the issues of dispatch workers and overtime hours but added that the extra work was "always voluntary."
"We did determine that the affected workers were paid all earned overtime and related bonus payments," the company wrote. However, when contacted by Sixth Tone, a Foxconn spokesman declined to disclose the percentage of dispatch workers at the Zhengzhou campus relative to the total, or when the company had found the evidence that it was employing too many such workers.
Consistent with Foxconn's response, Apple said that all overtime work was voluntary and all workers were appropriately compensated. "We looked into the claims by China Labor Watch and most of the allegations are false," the company said in a statement sent to Sixth Tone, without elaborating on which allegations it found to be problematic.
With demand at its zenith during peak season, dispatch workers are commonly set up with Apple suppliers by agents who act as middlemen. In January, Sixth Tone investigated a Shanghai factory owned by Apple's second-largest iPhone assembler, Pegatron, after dispatch workers began protesting over what they claimed were unpaid bonuses.
To attract temporary workers for repetitive, low-paying assembly line jobs, agents often promise bonuses worth several times the worker's monthly salary. In the Pegatron case, some dispatch workers making 2,550 yuan ($360) per month were promised 8,000 yuan bonuses after working for varying time periods. CLW's executive director, Li Qiang, told Sixth Tone at the time that Pegatron had been aware of the bonus arrears issue since 2013 but had done little to resolve it.
Foxconn typically puts out a call for a large number of workers months before the release of a new iPhone, an agent contracting workers for Foxconn in Zhengzhou told Sixth Tone on Monday. While the agent's website notes a basic monthly salary of 2,100 yuan, other recruiting websites promise salaries as high as 6,590 yuan, with a 4,500 yuan bonus after 35 workdays. "The factories do not take care of the bonus," said the hiring manager, who requested anonymity because he was not authorized to speak with the media. In the January interview, Li of CLW told Sixth Tone that Apple was intentionally using agencies and intermediaries to avoid culpability for labor rights violations.
In a notice viewed by CLW and included in its report, authorities in the Zhengzhou Airport Economy Zone — where Foxconn's factories in the city are located — intervened in a labor dispute last December between Foxconn workers and three agents who had promised them bonuses. According to the notice, authorities from the economic zone asked both Foxconn and the agents to pay the bonuses by December of last year. It is unclear whether the matter was resolved, as the Zhengzhou Airport Economy Zone's publicity office had not responded to Sixth Tone's questions sent by phone and email by time of publication.
"Our work to address the issues identified in our Zhengzhou facility continues and we will closely monitor the situation," Foxconn wrote in its statement. "We will not hesitate to take any additional steps that might be required to meet the high standards we set for our operations." According to Bloomberg, Foxconn fired two executives in August after a CLW report accused one of the company's factories supplying Amazon of using far more dispatch workers than allowed by law.
Editor: David Paulk.
(Header image: Workers change shifts at the front gate of Foxconn's campus in Zhengzhou, Henan province, Sept. 20, 2014. Sha Lang/VCG)