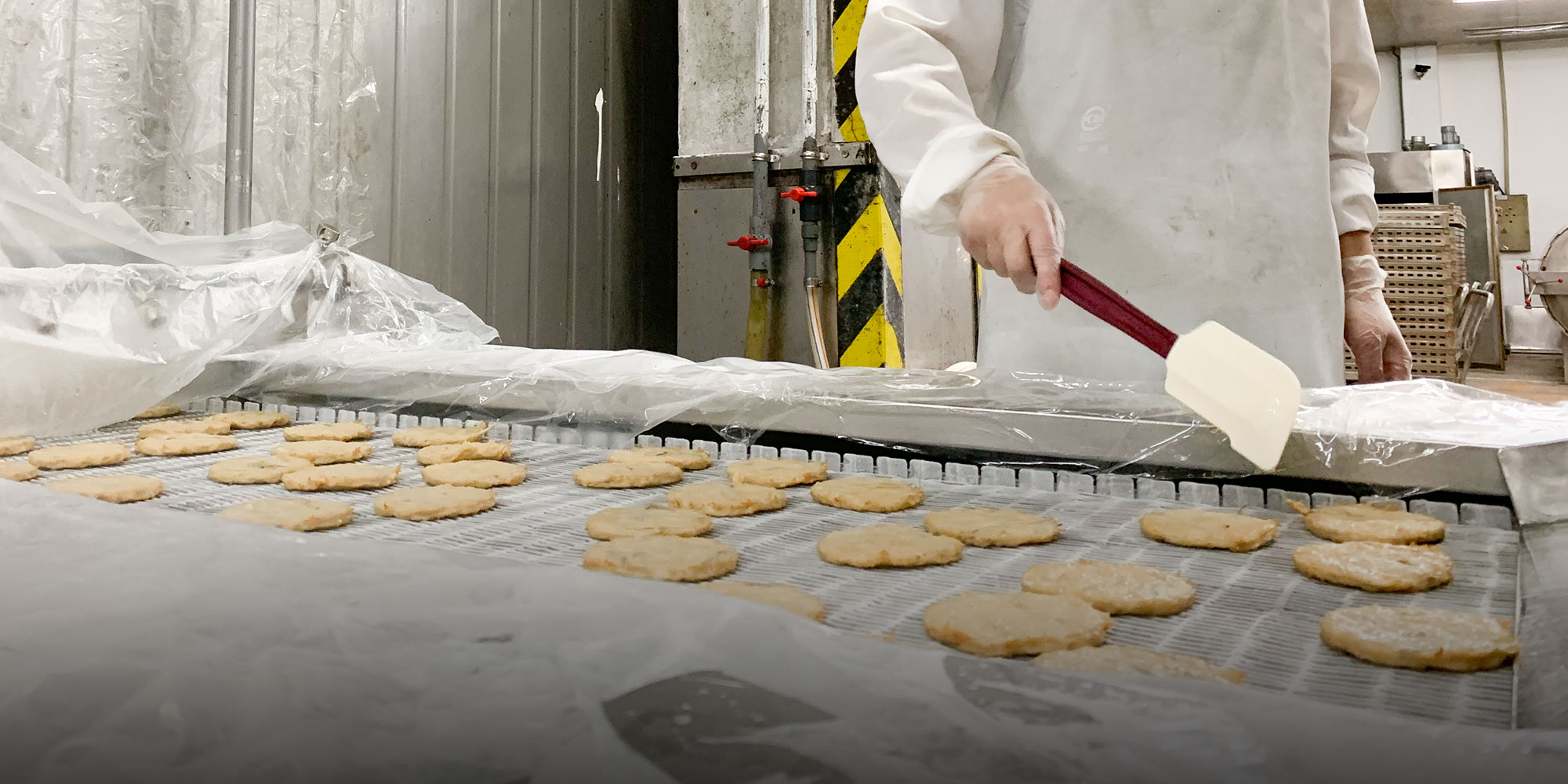 FEATURES
Inside the Battle for China's Meatless Future
US food tech startups spy a juicy opportunity for plant-based meat in China, but domestic players also want a slice of the action.
GUANGDONG, South China — Zhu Lili takes her first bite of the burger and raises her eyebrows. The lettuce is fresh. The bun is soft. And the juicy patty packed with umami flavor seems too good to be true. "Don't kid me," she says. "This really isn't meat?"
The 43-year-old is chowing down at Artificial Food Lab, a pop-up in the southern Chinese city of Shenzhen that specializes in vegan snacks. Like many of the other foodies here, Zhu is having her first taste of the Whole Perfect burger — a meat-free meal created by the Chinese food company Whole Perfect Foods.
Whole Perfect is one of several domestic companies scrambling to create plant-based patties that can compete with the Beyond burger and Impossible burger — the ultra-realistic fake meat products made by U.S. food tech firms Beyond Meat and Impossible Foods — which are about to hit the Chinese mainland.
The California-based businesses see huge potential for plant-based meat in China, a country that consumes more meat than the European Union and United States combined. Both are already expanding rapidly in Hong Kong and preparing to launch across the mainland — Beyond by the end of 2019, and Impossible within two years.
But they will face tough competition from Chinese food companies like Whole Perfect, which are trying to replicate the uncannily meaty flavor of the U.S.-made burgers and think they can beat the Americans with lower prices and a better understanding of Chinese tastes.
Like most of the domestic players, Whole Perfect only recently woke up to the market potential for fake meat in China. Founded in 1993, the company discovered its niche producing soy-based imitation chicken, fish, and shrimp for specialist Buddhist and vegetarian restaurants — a market the Shenzhen-based firm now dominates. But the hype over Beyond and Impossible convinced the firm to target a much larger market.
"Artificial meat is receiving unprecedented attention — people are curious to find out more and try it," says Zhou Qiyu, marketing manager at Whole Perfect. "Of course, you have to thank Beyond and Impossible for taking the first step."
The lightbulb moment for China's food industry was Beyond Meat's stellar Nasdaq debut in May, which also sparked an investment frenzy on the other side of the Pacific. In the days following the initial public offering, shares in nearly every Chinese company with even a tangential relation to plant-based protein skyrocketed on Shanghai's A-share market. Weiwei Group, a soy products maker, even had to issue a clarification reminding buyers that it did not offer U.S.-style fake meat, after its stock price also surged.
"We're seeing a shift — companies targeting the mass market are showing an interest in investing in this industry," says Jeff Chiu, deputy general manager at Hong Chang Biotechnology, another leading vegan food producer based in the eastern city of Suzhou.
And there are good reasons to feel the Chinese market is fertile ground for alternative meat. The government aims to convince consumers to halve their meat consumption by 2030 to cut carbon emissions and combat obesity, and research suggests that people are becoming more open to a flexitarian — or mainly vegetarian — diet. According to a recent study published in the academic journal Frontiers in Sustainable Food Systems, 96% of respondents said they would consider purchasing plant-based meat.
Like in the West, millennials are especially curious: Over 80% of consumers who have eaten plant-based meat within the past six months are born after 1990, according to research by the China Plant Based Foods Alliance (CPBFA). But Chinese consumers differ in that their interest is driven more by health concerns than climate change activism, according to Zhou. "Chinese people are getting more aware of what they put into their mouths and what is healthy," says Zhou.
Another major factor driving consumers to turn to vegan substitutes is the African swine fever epidemic, which has led to large shortfalls in pork supplies and rising concerns about food safety issues in the meat supply chain.
"Plant-based meat is made completely from plants, and the whole production process is controllable," says Zhou. "It avoids the safety risks caused by hormone residues or animal viruses."
The question is whether the Chinese takes on U.S.-style alternative meat can compete with the real thing. Kiki Wu, the owner of Planet Green, a vegan restaurant that co-opened the Artificial Food Lab with Whole Perfect, thinks the Chinese firms still have a long way to go. She places two burgers on the counter in front of Sixth Tone — one is an Impossible burger, which Planet Green has brought over from Hong Kong, and the other is a Whole Perfect patty.
Wu cuts the two patties open, and points out the red juice oozing from the Impossible burger. This is heme, an iron-containing molecule that Impossible claims is the magic ingredient making its products taste like meat. Impossible uses genetic engineering to harvest soy heme in large volumes from yeast, but no Chinese firm has yet developed a similar technique.
"See how different the tastes are?" says Wu, adding that the Whole Perfect burger has a distinct bean-like aftertaste. "At the moment, the Chinese plant-based meat players are just food companies, not food tech companies."
The Chinese players are working overtime to make their mock meat more convincing. Planet Green has partnered with Hong Chang Biotechnology to create a new range of alternative meat products with improved taste, texture, and nutritional value. Their new venture, Starfield, launched its first burgers and hot dogs on Sept. 1. Whole Perfect, meanwhile, plans to unveil its own next-generation plant-based meat in October.
Chiu admits that Beyond and Impossible are ahead in terms of technology and marketing, but says domestic firms can still find a way to win in their home market. "Plant-based meat is deeply rooted in Chinese culture — we have been making imitation meat way longer than the Americans," says Chiu.
Chinese Buddhists began developing vegetarian versions of popular Chinese meat dishes as early as the Tang dynasty (618 – 907 A.D.), and vegetarian restaurants today offer a huge variety of options, from mock pickled fish to imitation braised pork belly. Though these dishes do not look as realistic or replicate the nutrient composition of meat as well as U.S.-style plant-based protein, this can sometimes be an advantage.
Impossible's bleeding burgers can be a turn-off for Buddhists, for example, who make up a large chunk of the country's approximately 50 million vegetarians. "We don't even like to eat meat anymore," says Zhu, the diner at the Artificial Food Lab, who is Buddhist. "If you make it (mock meat) taste similar (to real meat), we actually wouldn't want it."
Some experts doubt how well the U.S. firms' fake meat can be integrated into Chinese cuisine. Their vegan mince works perfectly for Western staples like burgers, hot dogs, and fried chicken, but chefs in China usually prefer to cook with a whole joint. "Chinese diners are particularly picky about taste, but judging what makes for good fake meat is complicated," says Zhang Bo, a researcher from the Institute of Food Science and Technology at the Chinese Academy of Agricultural Sciences.
U.S. companies are also yet to develop a convincing alternative to high-fat meats like pork, which accounts for more than 60% of China's total meat consumption. According to Xue Yan, secretary general of CPBFA, this could hand the advantage to Hong Kong-based Omnipork, a startup that has already begun selling plant-based pork filling for dumplings.
Then there is the price issue. Convincing consumers to pay a premium is already a challenge for Beyond and Impossible in their home market, but the problem will be far greater in China. Though the firms are working hard to reduce costs, the small batch of Impossible burgers on sale at Planet Green is priced at 88 yuan ($12) — far higher than the 28 yuan Starfield is charging for its own plant-based burgers.
"Chinese consumers are more price-sensitive," says Xue. "If they have tofu and domestic mock meat products that are much cheaper to choose from, you have to have a good reason to convince them to pay more."
The Chinese firms hope that if they can match the brand power of the U.S. firms, their cheaper products will win by default. Whole Perfect, once a low-profile supplier to vegan restaurants and religious organizations, now wants its products available everywhere.
The Shenzhen-based firm has signed deals to sell its vegan sausages via Walmart and Hema, the Alibaba-backed supermarket chain. It is also partnering with fitness brand Super Tough to sell healthy vegan meals to consumers on e-commerce platform Taobao and selected gyms in Shanghai from late September.
But the Chinese firm's biggest challenge may be winning over millennials. Attracting this demographic is key, but it remains to be seen whether an old-school operator like Whole Perfect can do this as well as Silicon Valley's finest. Ventures like the Artificial Food Lab, however, are a promising start. "We are showing them (millennials) that being vegan can be cool and fun," says Wu.
Editor: Dominic Morgan.
(Header image: A worker at Hong Chang Biotechnology examines the company's plant-based beef burger patties on a production line in Suzhou, Jiangsu province, July 19, 2019. Xue Yujie/Sixth Tone)