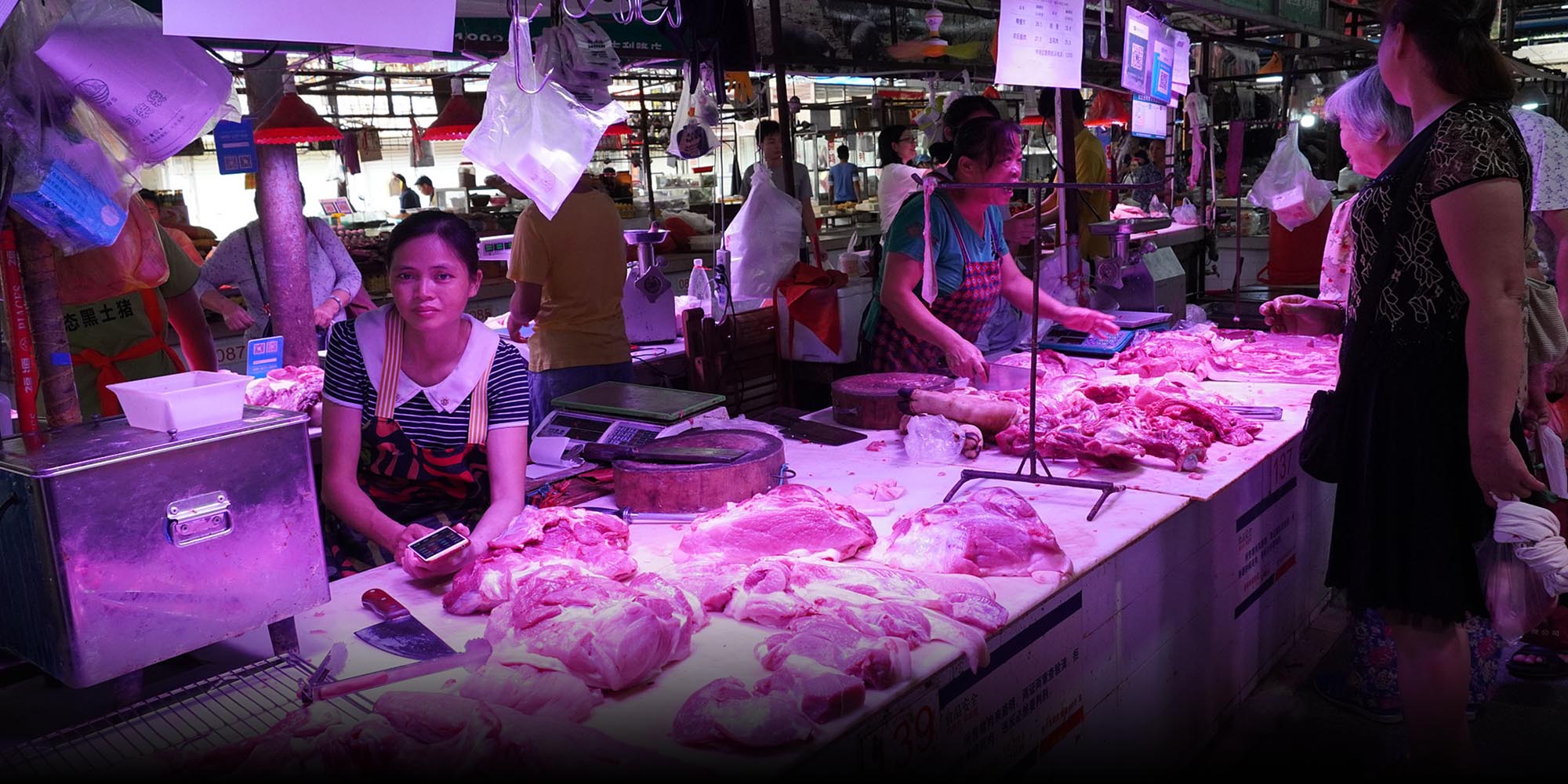 NEWS
Facing Soaring Prices, Chinese City Offers Discounted Pork
Nanning is allowing 1 kilogram of subsidized pork per resident as the country's market attempts to right itself amid an ongoing African swine fever epidemic.
A city in southern China is selling pork at discounted prices to make the meat more affordable to residents as African swine fever continues to take its toll on the country's pork industry.
Authorities in Nanning, capital of the Guangxi Zhuang Autonomous Region, said that from Sept. 1, individuals will be entitled to purchase 1 kilogram of pork at a discounted price that's at least 10% lower than the average price 10 days ago, the Nanning Daily newspaper reported Sunday. In a separate notice, the city's development and reform commission also set price caps on four kinds of discounted pork products — lean meat, front and hind leg meat, pork belly, and ribs — sold at 10 authorized marketplaces for the first 10 days of September.
"The 'production cycle' of pigs is relatively long, so it would take a long time to resume production and supply. It is necessary to temporarily intervene and control (pork) prices in the short term," an official from the commission told the newspaper, adding that such action "will have a positive guiding effect on market prices."
China's central government has recently taken several measures to stabilize the nation's pork industry, which has been hit hard by African swine fever — a fatal disease in pigs with no known cure or vaccine. Since the virus was first reported in China's northeastern Liaoning province last August, over 1 million hogs have been culled, according to government estimates. And though officials said in June that the virus had been "effectively controlled," pork prices have continued to climb.
In May, the country's Ministry of Agriculture and Rural Affairs warned consumers that, by the end of this year, prices could surpass their highest point in the past decade — around 30 yuan ($4) per kilogram, compared with 16.89 yuan last July. By the third week of August, pork prices rose to 32.61 yuan per kilogram, a year-over-year increase of 74.4%.
The price of pork has also skyrocketed in Nanning, where the cost per kilo last week was 40 yuan.
The soaring prices and shrinking supply come as holiday season approaches — China is celebrating Mid-Autumn Festival this month and the National Day holiday in October — and are causes for concern for the country, the world's largest consumer of pork. Even China's vice premier, Hu Chunhua, has called for urgent action to stabilize the domestic meat market ahead of the festivities.
"If pork prices continue to rise too fast, it will seriously affect urban and rural residents, especially those with low income, and impact the celebrations marking the 70th anniversary of the founding of the People's Republic of China," Hu said last week during a video conference with party officials.
Several local governments are already taking measures to mitigate the short supply and surging prices. Four supermarkets in Mingxi County in the eastern province of Fujian are offering pork at subsidized prices from Aug. 17 to Oct. 7, and authorities in Chengdu have issued 167 million yuan worth of subsidies so far this year to help the southwestern city's 2 million-plus lower-income residents cope with price fluctuations, according to the National Business Daily newspaper.
Last month, the State Council, China's Cabinet, introduced a raft of measures to steady the country's reeling pork industry, including expediting the distribution of subsidies to hog farmers, scrapping hog-raising limits unless otherwise prohibited by laws or regulations, and promoting large-scale farming by canceling a policy that capped land use for hog-rearing facilities.
And most recently, the Ministry of Agriculture and Rural Affairs warned hog breeders on Monday against using illegal African swine fever vaccines, saying the government has approved no such drugs. The ministry further said that using unauthorized vaccines could create "unpredictable biosecurity risks."
Editor: Bibek Bhandari.
(Header image: People buy pork at a food market in Nanning, Guangxi Zhuang Autonomous Region, Sept. 1, 2019. Yu Xiangquan/VCG)