Zhang Yong is a familiar name in China: He's the founder of the country's famous hot pot chain Haidilao, has hundreds of restaurants serving the spicy delicacy around the world, and is also the nation's richest restaurateur.
However, many didn't know that the 49-year-old businessman is Singaporean — until now.
Zhang's nationality came as a surprise to thousands of Haidilao foodies after Forbes Asia named him Singapore's richest person on Wednesday. The businessman worth $13.8 billion and his wife — also one of the restaurant chain's co-founders — became naturalized Singaporean citizens last year, according to domestic media reports.
The news has been a cause for celebration for Zhang's business, Haidilao International Holdings, as the company's share prices saw a weekly high Thursday on the Hong Kong Stock Exchange following the announcement. But the Chinese internet was surprised to find the founder of their beloved hot pot chain was no longer Chinese.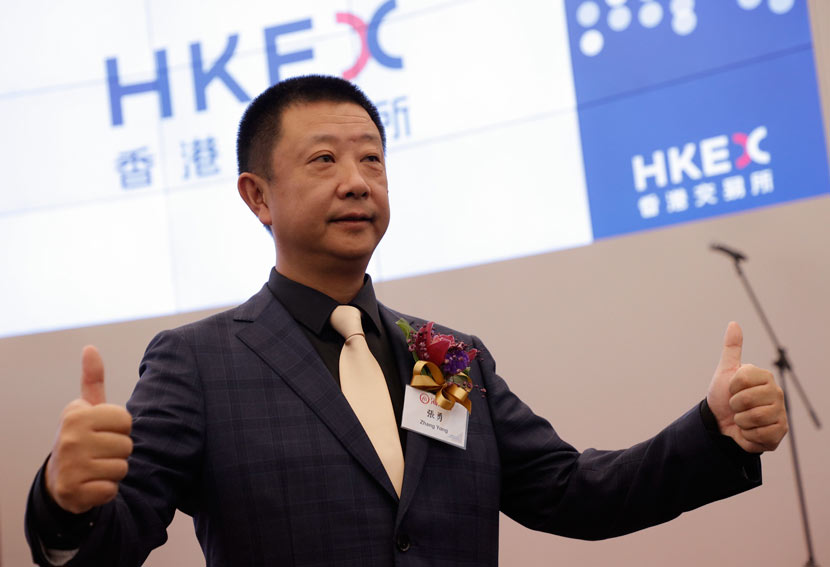 Zhang Yong, founder of the hot pot chain Haidilao, poses for a photo in Hong Kong, Sept. 26, 2018. VCG
Zhang's name has been trending this week on China's microblogging site Weibo, and a related hashtag had been viewed over 280 million times by Friday afternoon. Some users were surprised to discover his new citizenship and were quick to proclaim a Haidilao boycott after finding out.
"It turns out Haidilao is an imported brand," one user commented under a related media post. "I don't want to go to Haidilao anymore; there are many other good hot pot restaurants," commented another. "I want to let Chinese (businesses) have my money. Those hot pot restaurant owners are Chinese, (and they) spend that money in China."
Though Singaporean now, Zhang's story of creating a multibillion-dollar hot pot chain started in the southwestern Sichuan province in 1994. He opened a small restaurant with his friends — one of whom later became his wife — serving a local style of hot pot and named it Haidilao, which roughly means "fishing in the bottom of the sea."
Over two decades later, that small restaurant has grown into a hot pot staple globally. By the end of June, Haidilao had 593 restaurants around the world — including in Japan, South Korea, and the United States — and employed 88,378 people. The company's annual revenue last year stood at nearly 17 billion yuan (then $2.6 billion), a yearly growth of 59.5%. The company also went public last year with a $963 million initial public offering at the Hong Kong Stock Exchange.
However, despite its name and fame, Haidilao has found itself in food safety-related scandals in recent years. In 2017, two of the chain's Beijing restaurants were temporarily closed after undercover reporters revealed unhygienic conditions, including rats in the kitchen. The following year, a Haidilao branch in Singapore was fined and shut down for two weeks over an "unclean food" issue.
Zhang's ranking has dethroned brothers Robert and Philip Ng, Singapore's largest property developers, who had retained the top position for the last decade. Their father, Ng Teng Fong, had also moved to Singapore from China in 1934 and was known as "the King of Orchard Road," one of the country's prime real estate and shopping areas.
Editor: Bibek Bhandari.
(Header image: A waiter takes a customer's order at a Haidilao restaurant in Beijing, May 22, 2018. VCG)