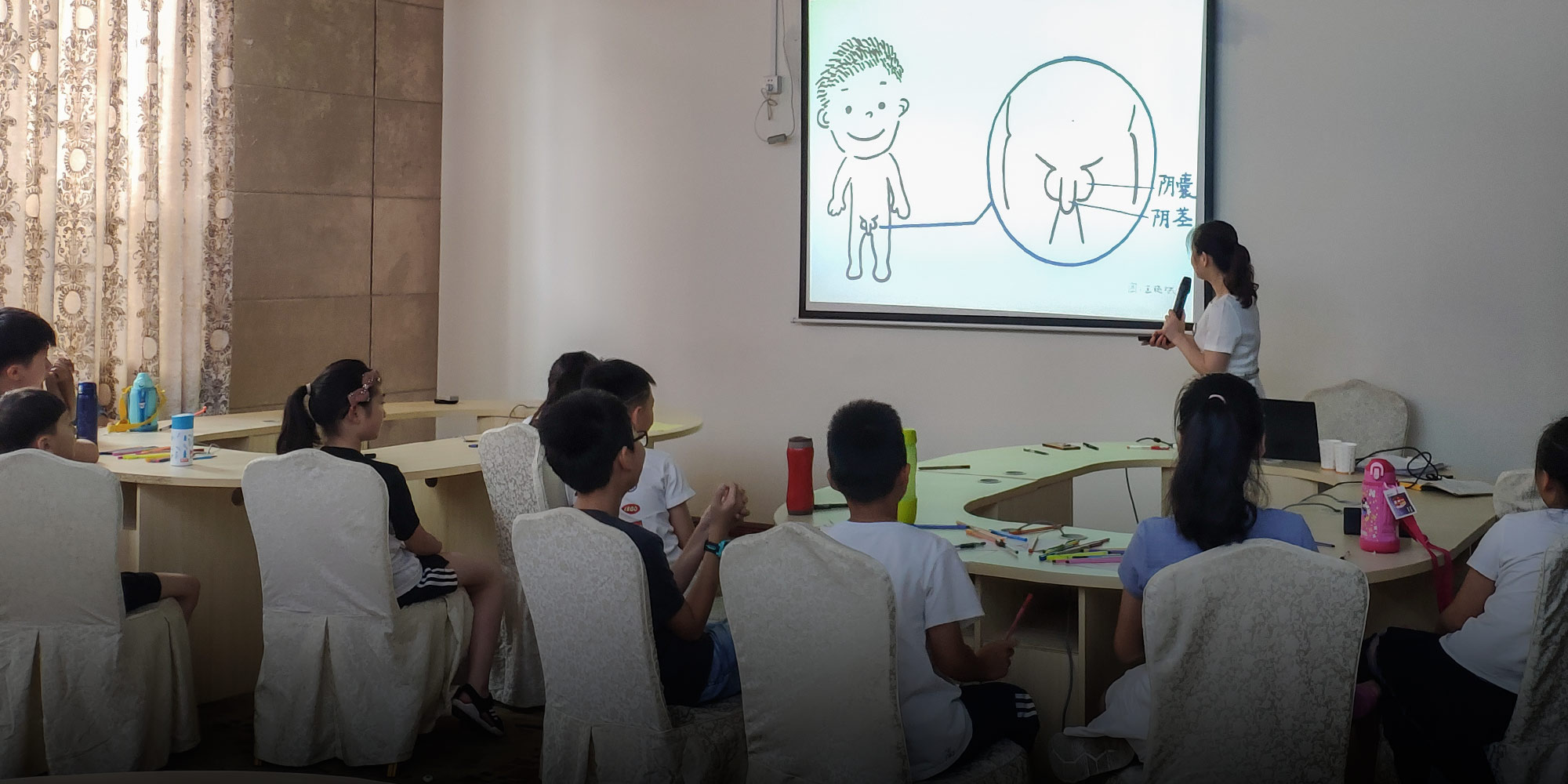 FEATURES
China's Newest Cram School Craze: Sex Ed Camps
With many Chinese schools reluctant to teach sex education, parents are signing their kids up for crash courses in the birds and the bees.
SHANDONG, East China — "What are the differences between men's and women's bodies?" asks Jiang Lingling. The 11 young children huddled around her look thoughtful for a moment. "Girls' chests are bigger than boys'," says one boy. "But Captain America's chest is also big," counters another.
At the back of the room, the children's parents start to giggle. But Jiang isn't fazed. She's used to this kind of reaction. "This is a desensitization process," she tells Sixth Tone.
The 38-year-old is one of a small group of specialists bringing a new, franker style of sex education to families across China who are tired of the conservative approach taken by most Chinese schools.
Though the State Council, China's Cabinet, made sexual and reproductive health education compulsory in all schools in 2011, the subject remains poorly taught. Lessons still often focus on preaching abstinence rather than providing practical information about contraception, and this has left shocking numbers of young adults clueless about how to stop unwanted pregnancies.
Many parents are turning to extracurricular cram schools to give their kids a more thorough grounding in the facts of life, and this is opening the door for lecturers like Jiang who advocate a radically different approach. Last year, the national government began issuing certifications to sex education lecturers, and it has already issued more than 330 licenses.
Jiang is in Qingdao, eastern Shandong province's coastal city of 9 million people, to teach a three-day course in empowerment sex education — a curriculum developed by the renowned Chinese sexologist Fang Gang in 2013. The approach is based on Fang's belief that teaching children as much as possible about their bodies from a young age — the younger, the better — not only benefits their physical safety, but also their mental health.
"It empowers children to know, understand, judge, choose, and learn to be responsible," Fang tells Sixth Tone.
The event, held at a local hotel in early August, is Qingdao's first-ever empowerment sex ed camp. Until this year, Fang only organized courses in relatively liberal metropolises like Beijing, Shanghai, and Guangzhou, but now he's starting to spread the gospel across the country. He expects to hold camps in 20 different provinces and regions in 2019.
The Beijing, Shanghai, and Guangzhou summer camps sold out in just a few days, but sales in Qingdao have been slower. Eleven children aged between 7 and 11 have arrived with their parents — just over half the maximum 20 spots. Jiang says demand is sure to pick up in the future.
"People from provinces like Shandong are still relatively conservative," says Jiang. "But the parents who attend are open-minded and understand the importance of such education for young children."
One of those parents is Wang Yanhua, who has spent more than 5,000 yuan ($700) on accommodation, food, and the booking fee to travel over 300 kilometers from her hometown Weihai and make sure her 9-year-old son Luoyuan could attend. She says it was worth it.
"It's not cheap for anyone," says Wang. "But the real problem is, even if you have money, it's so rare to find good sex education opportunities like this."
The 43-year-old tried to convince her friends to also bring their kids, but they told her they did not consider sex education that important. This is especially true of parents with young boys, according to Wang. "Some parents of sons think that boys don't lose anything if they get a girl pregnant, or that sexual assault doesn't happen to boys," she says.
For many of the parents, the camp is a learning opportunity for them as well as their children. Several confess being unsure of how to respond to sex-related questions, though they dislike the traditional Chinese dodge of telling their children that they were found in a dustbin.
Luoyuan first asked where he came from at 5 years old. Wang told him: "Mom has a seed, Dad has a seed, and the two seeds grow together in Mom's belly." But now he is growing evermore curious and confused. "So, I told him there's a summer camp in Qingdao where you can learn all about it," says Wang.
Jiang starts the first day of activities by playing a set of cartoons showing how a couple falls in love and gives birth to a baby. When the pictures of male and female sexual organs appear on the screen, the children begin to laugh. But Jiang insists they treat them matter-of-factly.
"This is called a penis, not a wee-wee," she tells the children, none of whom have ever heard the word before. "This is a vagina." Jiang does not use any nicknames or pronouns. "The idea we want to convey is that every organ is equal and noble," she says.
Within 15 minutes, the children are able to say the names of the body parts naturally, without laughter or awkwardness. This is easiest with young children, Jiang says. "That is why we emphasize the importance of early sex education," she adds.
After the knowing your body course, parents are most keen for their children to experience the lesson on preventing sexual assault. The number of reported cases of sexual assault against children has risen in China, from 2,962 recorded cases in 2017 to 3,567 last year. While much of this increase can be attributed to growing awareness of child protection issues and timelier reporting of cases, parents are still concerned.
Jiang asks the children to draw small figures on a piece of paper, then mark up the body with colored pencils — green for where it's OK for others to touch, red for where they don't want to be touched, and yellow for where they're not sure. Then, she invites them to show their cards. They accurately use the words "breasts," "buttocks," and "penis" — which they have just learned — to describe their drawings. "If the child can accurately use these terms, it could greatly help a police investigation," says Jiang.
But as the first day comes to a close, some parents express concern that their children will be mocked by their peers for using formal terms like "penis" rather than "wee-wee." "You need to know that what your children have learned today is the most accurate and scientific knowledge, and you — the parents — should be proud of that," Jiang tells them. "If they are teased because of that, then that is due to others' ignorance."
The parents are also forced to grapple with their own views during the second day of classes, which focuses on sexuality and gender issues.
After learning about the effects of gender stereotypes, Wang feels guilty about making her son play with toy cars and water pistols rather than buying him the Barbie doll he has always wanted.
"I was so worried that he might be gay or transgender," says Wang. "But now I understand that hobbies and good traits have nothing to do with gender or sexuality." During the break between classes, Wang apologizes to Luoyuan, who looks surprised. "It's OK, Mom," he says quickly, before rushing back to his seat.
The lecture about gender stereotypes also makes an impression on 10-year-old Yaya. Her father Wang Tong — no relation to Wang Yanhua — often says that her grandparents describe her as a tomboy when she misbehaves. "Dad, I thought I was doing something wrong, but now I know boys and girls are equal," Yaya whispers to Wang Tong, the only father attending the event.
As a pediatrician, Wang Tong, 38, understands the importance of sex education. "It's easier to cure physical diseases; mental illnesses are difficult to cure, as they're largely impacted by the family and a lack of sex education," he tells Sixth Tone after the entire camp is done. He says he can do a better job of teaching Yaya about physiology and reproduction but believes it's better to have professional experts teach her about these psychosocial issues.
Yaya has not received any sex education at school, according to Wang Tong. "Many parents can't accept it, and schools don't want to get in trouble," he says. In 2017, when a school in the eastern city of Hangzhou tried to introduce a more detailed sex education curriculum, it faced backlash from some parents arguing that second grade was too young to learn about intercourse, gender equality, and sexual orientation.
On the last day of the summer camp, Wang Yi — who runs the event alongside Jiang and has no relation to Wang Yanhua or Wang Tong — shows all the children how to use cups, sanitary pads, and tampons on a doll. She then hands out disposable underwear and pads for the children to practice on their own.
"For girls, having their first period is something we should celebrate," says Wang Yi. "For boys, the earlier they know about how pads work, the better they'll learn to respect women. It's an education in responsible intimacy."
Since 2008, Chinese law has stated that fifth and sixth graders should learn about menstruation and wet dreams, but the children in Qingdao have received no education about this. They fall over each other to ask questions. "What color is sperm?" "Do we need a pad for the sperm?" "Would a tampon grow as big as a penis that might hurt the vagina?"
The parents look at each other, slack-jawed. Wang Yi suggests that fathers and mothers share their experiences with their children. "I always avoided answering when Luoyuan asked me about pads," Wang Yanhua says. "But now I feel more comfortable talking about it with him."
When asked how his family has been influenced by the summer camp, Wang Tong says it's hard to say how much Yaya could learn in just three days, but he is sure she has learned some valuable principles. "It's more important for the parents to accept these principles and apply them in daily life," he says. "The lecturers only plant seeds; whether they grow depends on us."
Editor: Dominic Morgan.
(Header image: Sex education lecturer Jiang Lingling shows children a picture of a boy's sex organs during a sex education summer camp in Qingdao, Shandong province, Aug. 2, 2019. Fan Yiying/Sixth Tone)