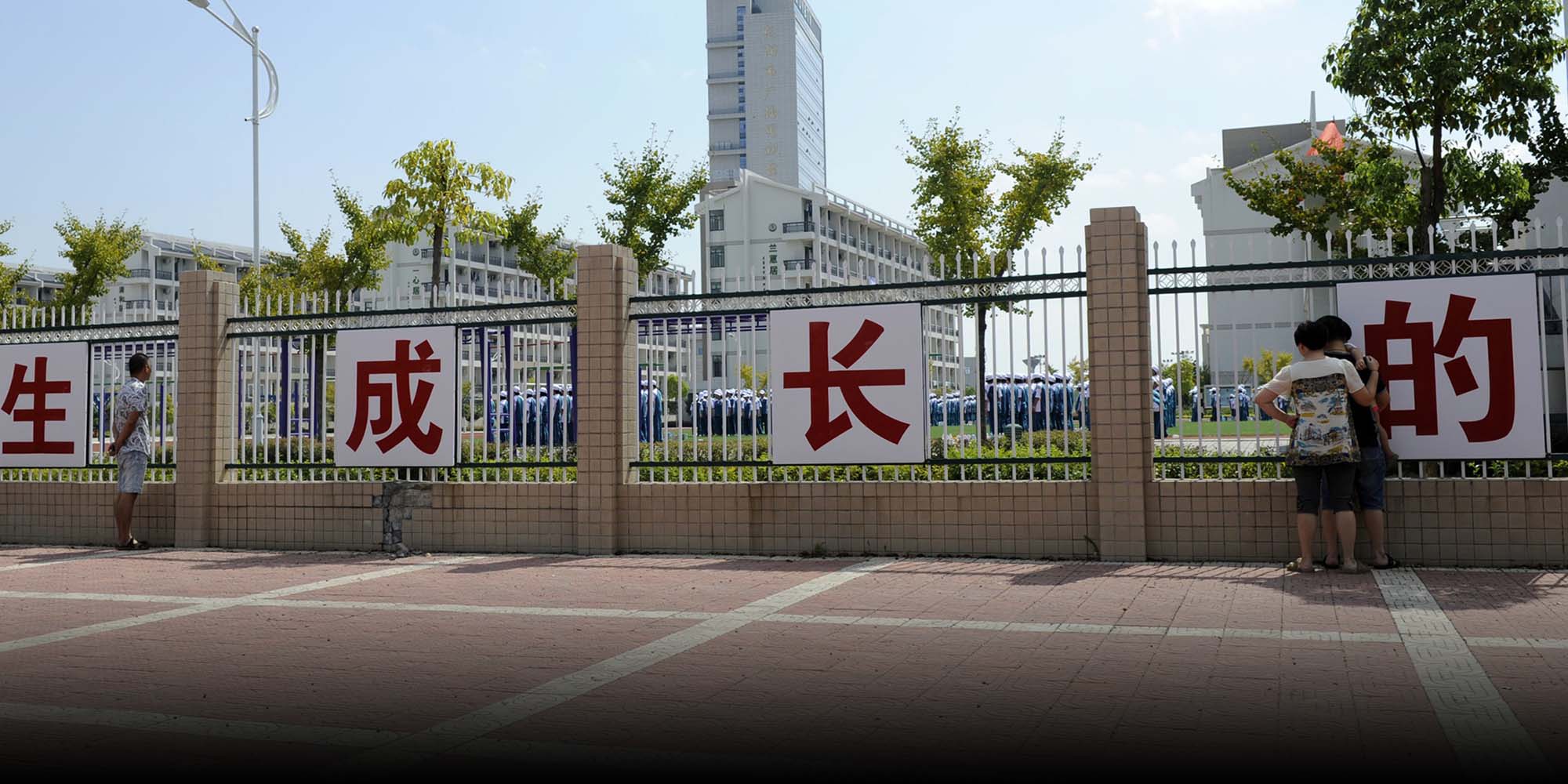 NEWS
Guideline Clamps Down on 'Xiaonao' at Chinese Schools
The country's top education, judicial, and law enforcement officials have identified seven behaviors of aggrieved parents seeking compensation that will now be prohibited on school property.
Chinese authorities issued a guideline Tuesday aiming to crack down on acts they say cause illegal disturbances at schools.
The guideline — jointly issued by five national agencies, including the Ministry of Education, the Supreme People's Court, and the Ministry of Public Security — lists seven forms of xiaonao, or violence against school staff, that sometimes surface when there are safety issues or accidents on campus. The rules appear to be directed at aggrieved parents who feel they or their child has suffered an injustice, and so take their case to campus in an effort to gain visibility and increase their chances of receiving favorable compensation.
"Because of xiaonao, schools are overburdened with responsibilities and pressures, with some even refraining from holding physical education classes, offering extracurricular activities, or being critical of students," Deng Chuanhuai, director of the Ministry of Education's policy and regulation division, said during a press conference Tuesday. "This is not conducive to students' development of the concept of rule of law, or to their awareness of rules more generally."
According to the new guideline, behaviors such as assaulting educators, damaging school property, and bringing flammable items on campus will now be punishable offences under the Public Security Administration Punishment Law.
Here's a closer look at three of the more notable items from the list of banned behaviors:
Corpses on Campus
The regulation expressly prohibits bringing dead bodies onto school grounds — or to any other public space, for that matter. Although Chinese people have traditionally fashioned shrines or altars to honor their ancestors and sometimes seek to preserve corpses to the greatest extent possible, when an incident at school results in a child's death, families have been known to take the body to campus as a means of expressing their outrage and sorrow.
On microblogging platform Weibo, some users have said they support this particular ban, as they find the prospect of corpses on campus disturbing. Others, however, have expressed concerns over why such drastic action might be taken in the first place, and called for stricter anti-bullying policies. "It's hardly a small matter if there's a corpse, is it?" one user commented under a related post.
Obstructing Normal Operations
The guideline bans disgruntled parents from "setting up obstacles" at schools, which includes behaviors such as hanging banners, setting off firecrackers, playing somber music, laying funeral wreaths, cutting off power or water, and blocking school gates.
In November of last year, the family of a female student who had drowned herself on the campus of her university in the central Hunan province turned up at the school and demanded 2 million yuan ($283,000) in damages, according to a statement from the school.
After a failed mediation between the two parties, the school said, the family took to Weibo to complain — and also to the school itself, where they blocked gates, hung banners, and displayed photographs of their daughter to protest her untimely death. All of this "violated laws and regulations" and "seriously affected school order and the personal safety of teachers and students," the school said at the time.
Harassing School Staff
Stalking, insulting, or threatening anyone on campus — staff or students — are also among the list of banned behaviors.
In July, a teacher surnamed Zhou in eastern China's Anhui province was found dead along the Yangtze River following a dispute with one of his students. According to domestic media, after Zhou told off the student for arguing with one of his classmates, the student's family showed up at school, demanding that Zhou apologize in front of the entire class and threatening to get him fired. Following mediation, Zhou paid them 930 yuan in compensation.
After Zhou was found dead, his family claimed that the student's parents had physically assaulted him, and that the pressure of the spiraling situation had driven him to despair. Zhou's family have said they are planning to file a lawsuit against the student's parents, who have not been held accountable in the teacher's death.
Editor: David Paulk.
(Header image: Parents wait for their children to get out of class at a school in Dongyang, Zhejiang province, Aug. 13, 2013. IC)