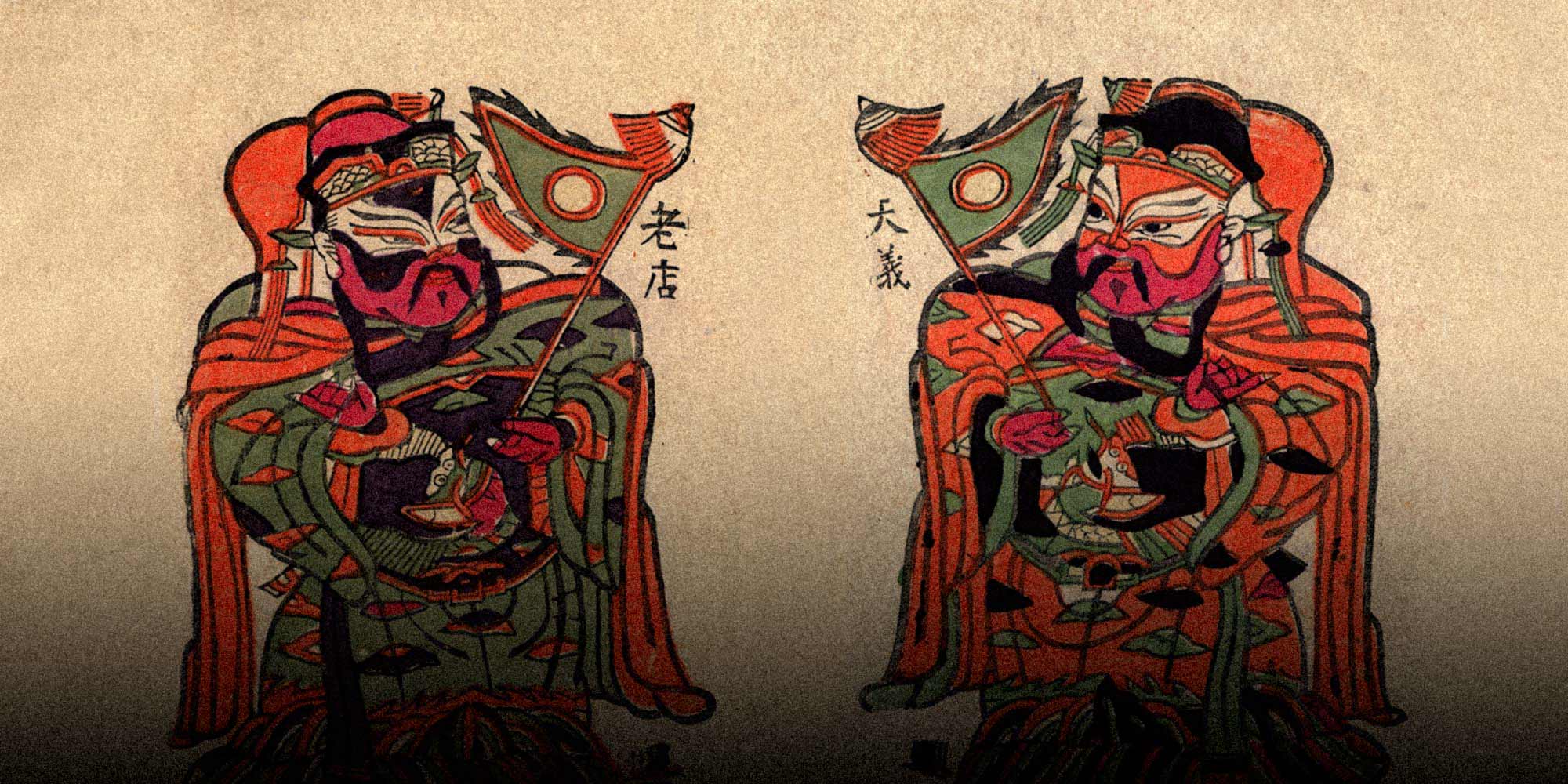 VOICES & OPINION
The Story of an American Missionary and Her 'Paper Gods'
Anne Swann Goodrich's collection provides a comprehensive window into early 20th century Beijing folk religion.
Over the course of roughly a millennium, Chinese printers mastered the use of woodblock printing technology — which first rose to popularity during the Song dynasty and peaked in the early modern Qing — to reproduce a wide variety of religious texts, popular novels, and artistic images. But given the limited spread of literacy for much of this time, arguably some of the most important — if, conversely, also most impermanent — products of woodblock technology weren't texts or high art, but the popular religious icons known in the West as "paper gods."
"Paper gods" is actually an umbrella term in English for a number of distinct but related forms of Chinese religious iconography. The best known of these are probably zhima and menshen, or "paper horses" and "door gods," respectively.
Zhima depict a particular deity and appear primarily in folk prayer ceremonies in which supplicants burn paper images of gods to win their good favor. Menshen, on the other hand, are typically hung or pasted in doorways to ward off evil and usher in good fortune. During the Lunar New Year, for example, families might burn images of the kitchen god to pray for great feasts and good health in the coming year; or the owner of a new store might hang a printed image of the god of wealth on a wall to symbolize its hoped-for prosperity.
Compared with temples and sculptures, the easy reproducibility of these paper icons made them more accessible to the masses, and paper gods continued to play an important role in Chinese folk rituals well into the 20th century. Perhaps because of their mass appeal, however, collectors never valued them as highly as architecture or religious statuary. Combined with the anti-religious campaigns of the mid-20th century, which resulted in the destruction of many of the original woodblocks and their associated prints, modern research into the practice can be challenging.
But that doesn't mean there isn't still keen interest in classical paper gods, including from outside of China. In December 2018, the Zhonghua Book Company in Beijing collaborated with the C.V. Starr East Asian Library at Columbia University to publish a compilation of 231 full-color images of paper gods. Like other prominent international collections of Chinese folk art, the works included in this publication were originally purchased by a Sinophile who lived in China prior to the establishment of the People's Republic of China in 1949.
In 1920, the American Board of Commissioners for Foreign Missions dispatched Anne Swann Goodrich — then known by her maiden name, Anne Perkins Swann — to Beijing to serve as a Protestant missionary. It was there, in 1923, that she married Luther Carrington Goodrich, who would go on to become a famous Sinologist himself. Her missionary identity, the influence of family members and friends, and her own deep love of Chinese folk culture led to her and her husband's hunt for documents and objects related to Chinese popular religion. Goodrich, who passed away in 2005, later donated most of these to Columbia University, including her paper gods collection in 1991.
That year, Goodrich published her third book about Chinese folk religion, titled "Peking Paper Gods: A Look at Home Worship." In the book's preface, she explains how she acquired her collection. "In 1931 I went to the Jen Ho Chih Tien (Harmony Paper Shop) at Tung Ssu Pai-lou and asked for every print they had in stock," she writes.
To tell the truth, compared with other well-known collections of Chinese woodblock prints, Goodrich's holdings are incomplete and not particularly high-quality. However, their value isn't found in what they are, but what they represent. Goodrich's method of purchasing the entire stock of a single store without picking and choosing the best items gives her collection a unique and precious quality.
These paper gods were not works of art produced by master artisans, but the kind of daily products ordinary Chinese from that time might have purchased on the streets of Beijing. Her collection is in that sense a true and comprehensive snapshot of popular religion as it existed in Beijing in the late 1920s and early '30s.
The collection thus feels vibrant. Adding to this, Goodrich focused her research into folk customs on grassroots practice and interpretation, rather than classical texts. She visited temples, took photos, and canvassed for diverse opinions regarding the significance of the icons.
"The true nature of the popular religion of China has been obscured by the immense amount of written records by Buddhists and Taoists and Confucianists," she writes. "The primary religion of the Chinese people transcended those classifications. Missionaries, working among the people, occasionally described religious ceremonies that did not fit into such categories. They were not Confucian, nor Taoist, nor Buddhist, just Chinese."
She also used the history of paper gods to correct a rather common misunderstanding about Chinese faiths abroad. "There are those who say that the Chinese are not, were not religious, but from time immemorial the Chinese believed in the supernatural," she writes. Based on her understanding of Western religion, Goodrich drew links between Chinese folk religion and its counterparts elsewhere. "Legends and myths of one tribe have been kept alive and merged with the traditions of another, but with all the changes certain fundamentals have survived. One of the most basic of these is the belief in life, all life, connected, changeable, but indestructible," she explains in another book.
Goodrich's stay in China was short, but after leaving the country in the '30s, she continued to research and write on Chinese civilization and popular religion. In addition to "Peking Paper Gods," she published two other books: "The Peking Temple of the Eastern Peak" and "Chinese Hells: The Peking Temple of Eighteen Hells and Chinese Conceptions of Hell," in 1964 and 1981, respectively. In the 1980s, after China emerged from the bloody turmoil of the Cultural Revolution, Goodrich made two more visits to the country, and in 1994, her China-born daughter donated some of her mother's collection to Renmin University of China and the Beijing Dongyue Temple — the "Temple of the Eastern Peak" in her first book.
Goodrich's life is an example of how the common yearning for spiritual life, respect, and understanding between human beings can transcend individual beliefs or doctrines. Her woodblock print collection might not be among the best in the world, but her motives and methods continue to give it special meaning.
Translator: Qiu Yihan; editors: Lu Hua and Kilian O'Donnell.
(Header image: Religious icons from the "Chinese Paper Gods" collection. Courtesy of the C. V. Starr East Asian Library at Columbia University)