SHANGHAI — Few Chinese parents think twice about the nursery rhymes their kids sing. After all, most of them are the same quaint tunes today's adults hummed in their own childhoods. But for folk-rock musician Liu Jian, these songs are very important.
Forty-one-year-old Liu and his American wife, journalist Rebecca Kanthor, 40, are the co-founders of Hand in Hand, China's most popular international music festival for children. Launched in 2017, the festival brings together artists from across the world in a bid to freshen up a Chinese children's music scene Liu says is stale, unimaginative, and regressive. So far, Hand in Hand has staged more than 60 live shows in 18 Chinese cities, attracting more than 55,000 visitors in total.
China has 220 million children under the age of 12, but only around 1,000 new songs for kids are reportedly produced each year. Experts say there are a number of reasons for the flagging industry, including disagreements over the right way to compose children's music, confusion over the values songs should impart to kids, and the lack of platforms to promote children's music.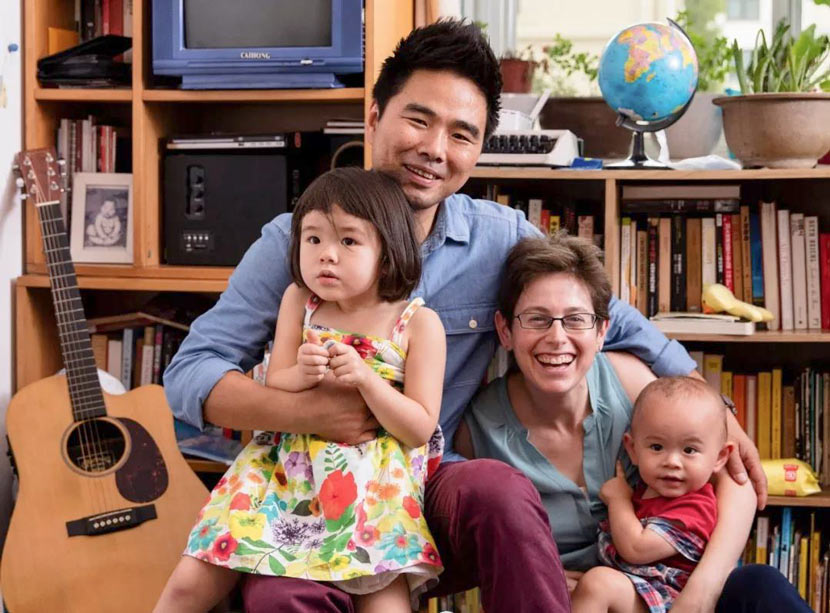 A family photo of Liu Jian and Rebecca Kanthor. From Hand in Hand's WeChat account
Liu and Kanthor hope to transform all that. For several years after the couple had their daughter, they paid little attention to children's songs. That changed when Liu listened to "Pretty Princess," a track by the Latin Grammy- and Emmy Award-winning American act Lucky Diaz and the Family Jam Band. A hip-shaking, guitar-driven indie rock song, "Pretty Princess" was totally unlike the Chinese kids' songs Liu was used to. "It completely transcended my understanding of music for children. In the domestic market, children's music is mostly simple compositions that don't even require musical instruments," he says.
Then there were the lyrics, which taught children to value love, kindness, and fairness instead of just looking pretty. "When my daughter was very young, like most girls she looked at herself in the mirror and dreamed of being a princess," Liu recalls. "I wanted to tell her that there are other important things for her to learn, but I had no idea how to express my thoughts in a way she could understand. This song showed me how."
Liu believes the best children's music combines catchy tunes with the right values. But in China, such music rarely keeps up with the times. Most popular kids' songs are simple, decades-old ditties that center on cute animals, like ducks or rabbits. The only alternatives are conventional pop songs that are not always appropriate for kids.
A rare 2017 article on the state of children's music in the country, published by China Women's Newspaper, states that the dilemma is due to low market revenues. "Composing music, writing lyrics, and recording in studios all require investment," the article read. "But unlike a pop song, which can be performed at a commercial show, purchased as a ring tone, or made subject to royalty payments, it's much harder for a children's song to cover its costs."
The lack of options frustrates Liu, who says that the music he loved as a child helped him listen to his heart and understand the beauty of life. "I want to let more (children) enjoy music and feel empowered to follow their own dreams," he says.
Hoping to make their then-6-month-old daughter fall in love with music, in 2013 Liu and Kanthor took her to a live music festival in Shanghai. It was a disaster. "We thought it would be romantic, but the baby kept crying," Liu remembers. "(It was) too noisy for babies and young children. And there was nowhere to change diapers."
But the chastening experience made Liu and Kanthor realize there was a niche in China's market for child-friendly music festivals. So, the following year, the couple set about creating an event catering to families like theirs. For more than two years, they searched for bands from across the world that make rock music for kids. So far, they've signed agreements with more than 50 bands from more than 20 countries. "We have three standards for the bands: good lyrics, good music, and our kids — as the first audience — should love the songs," Kanthor says.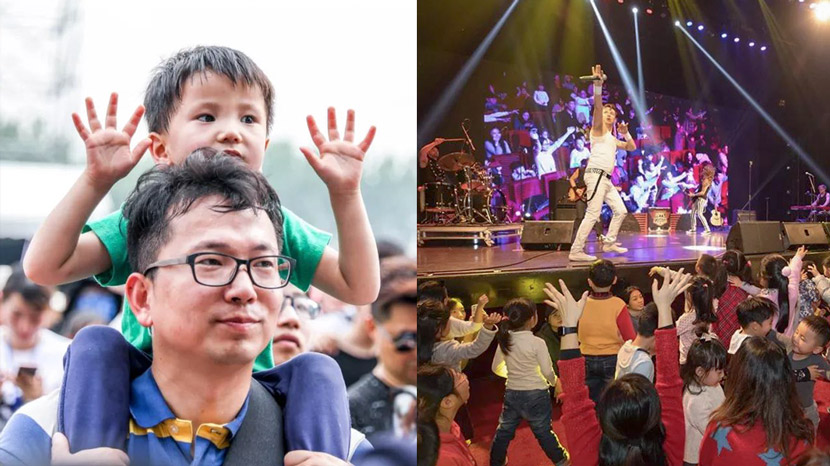 A Hand in Hand festival performance in Zhenjiang, Jiangsu province in 2018 (left) and in Shanghai in 2017 (right). From Hand in Hand's WeChat account
Hand in Hand's first festival was held in Nantong, a city in eastern China's Jiangsu province, in May 2017. The gig featured a number of family-friendly innovations that are now a mainstay of the festival: Bands played at a comfortable 85 to 90 decibels, there were quiet areas to change diapers and nurse, and ample space to park strollers. The stage was even built 2.5 meters tall — slightly higher than at most concerts — so that parents could lift their children onto their shoulders to watch.
For 42-year-old Liu Shang, a technology professional who then lived in Shanghai and is not related to Liu Jian, Hand in Hand's early festivals were a revelation. "We were excited to find they offered not just cutesy children's music, but good tunes with meaningful lyrics and all sorts of musical elements."
Liu Jian says the wide variety is deliberate. "We shouldn't assume our kids can't understand complex music," he says, adding that he and Kanthor choose bands that respect children as listeners in the same way as their parents. That way, "they understand more about music as well as the world," Liu believes.
One such band is Hippe Gasten, a Dutch rock act whose members are all teachers and write songs that try to impart positive values. The rap-rock number "Sunglasses From Gucci," for example, uses the story of a schoolkid who doesn't wear branded clothes to question the value of materialism.
But like anything in the music business, the road to profitability is long. The first time they invited two bands, from the U.S. and the Netherlands, to perform in China, the total cost was nearly 1 million yuan ($147,000). "We invested all our savings into it, but that wasn't enough, so we borrowed money from our relatives," Liu Jian says. "Making money is never the goal of hosting such a festival, but we're happy that we've finally paid back our families."
These days, Hand in Hand is branching out into more of China's second- and third-tier cities, "because kids there have much fewer chances to learn about foreign cultures and live music," says Liu Jian.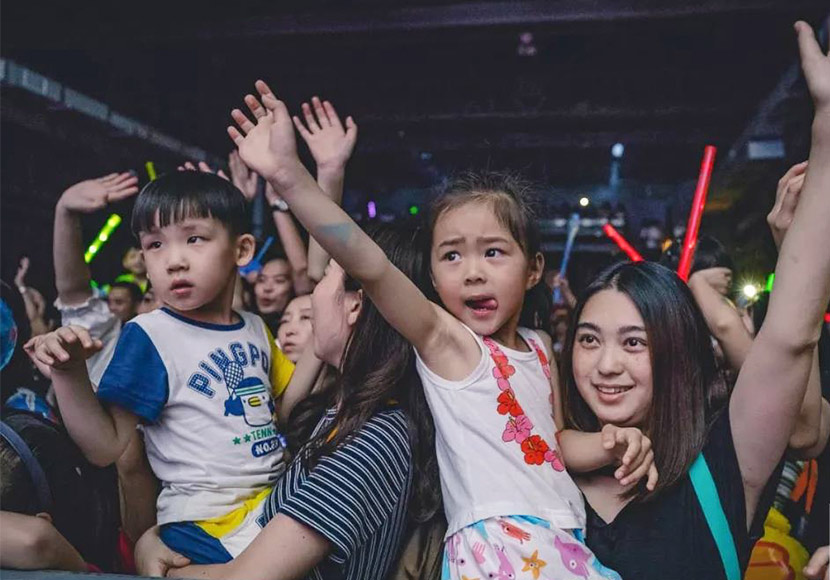 Children wave their hands during Hand in Hand's festival in Chengdu, Sichuan province, 2018. From Hand in Hand's WeChat account
But although the festival's success indicates strong demand for forward-thinking children's music in China, the domestic industry remains rather stagnant. In addition to financial concerns on the part of musicians, Liu Jian believes this is also due to a lack of awareness.
"Few Chinese musicians think that children's music should be as complex as music for adults. They worry that kids won't understand it. That's not exclusive to China — it's similar in South Korea, Japan, and Southeast Asia. In the West, adults treat children with more equality," Liu says.
"But children are getting much smarter, and they understand more than we can imagine," he adds. "So you should never worry that the music they listen to is somehow too good for them."
Additional reporting: Yang Rong.
(Header image: Musicians perform with children during Hand in Hand's festival in 2018. From Hand in Hand's website)