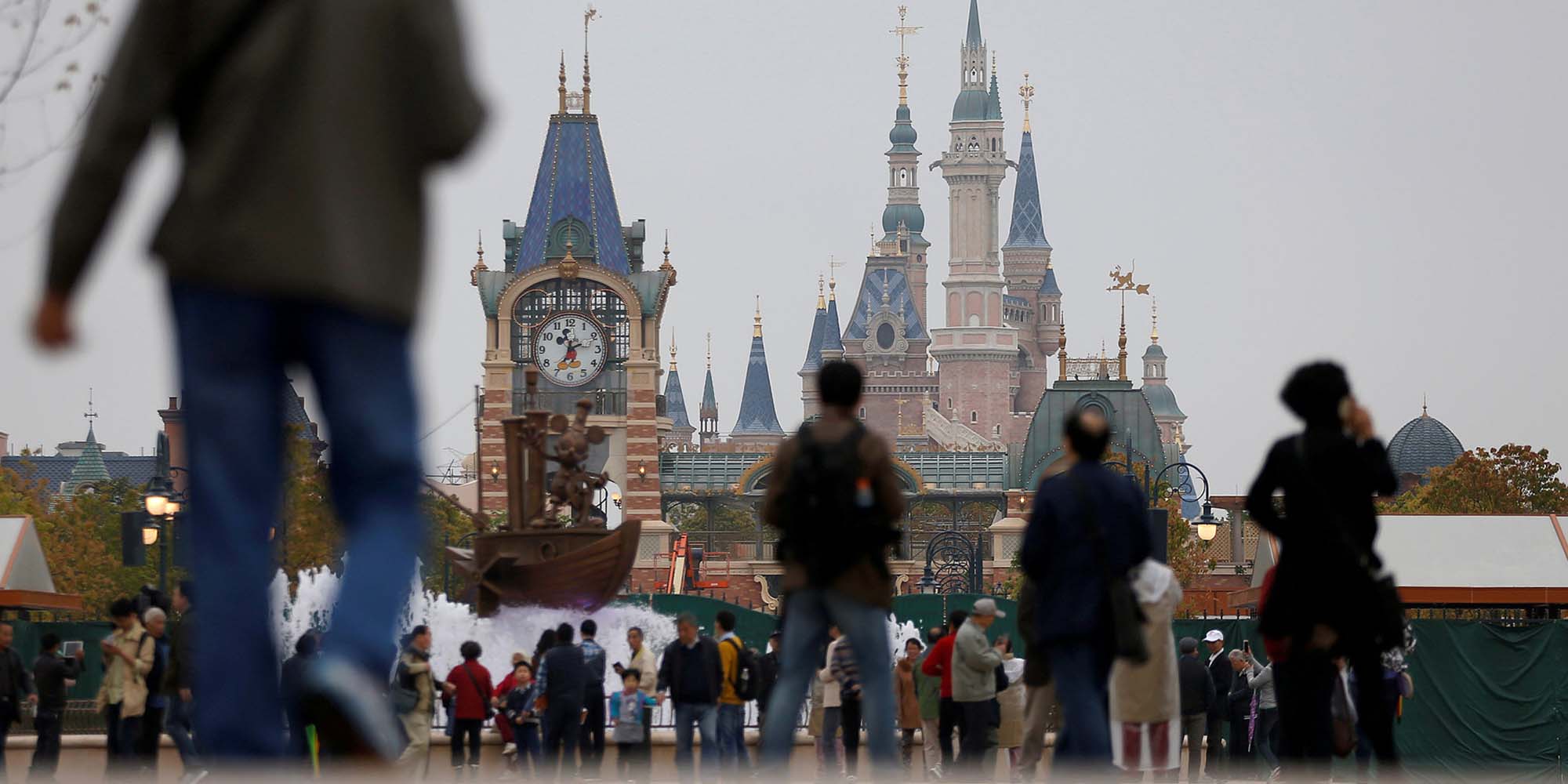 NEWS
Shanghai Disney Responds to Lawsuit Over Outside Food Ban
Snacks made or purchased off park premises are forbidden at some of the world's Disney resorts but allowed at others, according to their official websites.
The Shanghai Disney Resort has issued its first statement in response to a lawsuit filed against it earlier this year by a guest who had been barred from entering the park with outside food.
"Regarding the ban on outside food and beverages, Shanghai Disney Resort is consistent with most theme parks in China, as well as other Disney parks in Asia," the resort told state broadcaster China Central Television in a statement emailed Sunday. "If visitors bring their own food and beverages, they may enjoy them in the rest area outside the park."
In March, a law student sued Shanghai International Theme Park Co. Ltd., a co-owner of Shanghai Disney Resort, after being refused entry with snacks she had obtained off the premises, China Youth Daily reported Friday. The same day, news of the lawsuit went viral on microblogging platform Weibo, with a hashtag translating to "university student sues Disney" garnering over 18 million views by time of publication.
The plaintiff in the case — a woman surnamed Wang in her third year at East China University of Political Science and Law — told China Youth Daily that she had not been informed of the park's ban on outside food before purchasing tickets. Wang said that, on the day of her visit in January, she had bought snacks totaling over 40 yuan ($6) before entering the park and was stopped by a staff member during a routine bag check.
"After seeing that I had outside snacks, the staff member first asked me to throw them away," Wang told the outlet. "I didn't agree to this, so he told me to finish them by the tables outside the park or leave them in the rental lockers nearby."
But according to Wang, storing 40 yuan worth of food in a locker rented for 80 yuan "didn't make sense." In the end, she said she threw the snacks out after park staff informed her that her ticket "could not be refunded."
Wang tried voicing her grievances through two government complaint hotlines, only to be told that Shanghai Disney's ban on outside food is lawful. So she decided to seek a second opinion.
According to China Youth Daily, Wang and a few of her university classmates conducted a survey to gauge other people's perceptions of Shanghai Disney Resort's outside food ban. She said most respondents believed the outside food ban to be driven by the park's desire to "increase sales at their food outlets, in violation of consumers' lawful rights." Although many respondents were unhappy with the rule, Wang said, most indicated that they had no interest in pursuing legal action, calling this "too much of a hassle."
On March 5, Wang filed a lawsuit at the Pudong New Area People's Court in Shanghai, requesting that the ban be nullified and that she be compensated 46.3 yuan for what she believes were unjustly forbidden snacks. The case held its first hearing in April and is still ongoing.
The Shanghai Disney Resort hasn't always prohibited outside snacks. Its ban on food, as well as beverages in containers larger than 600 milliliters, was imposed last November. Prior to that, only unsealed and unpackaged outside food was prohibited on park property. In the months since, visitors have complained about the high cost of dining in the park, where a single bottle of soda costs 20 yuan.
According to Sixth Tone's research, outside food bans are not universal across all Disney parks. In the United States and France, for example, Disney parkgoers are allowed to bring their own food and drinks. Only at parks in Asia — Tokyo Disney Resort, Hong Kong Disneyland, and Shanghai Disney Resort — are food-ferrying visitors verboten.
While Shanghai Disney's ban on outside food can be thought of as a "standard term and condition," such rules may not impose unfair or unreasonable restrictions on consumers, according to Xu Wanhui, a senior partner at Dentons Law Firm in Shanghai.
"Because customers are mainly paying for the entertainment value of the rides at Disney resorts when buying their tickets, and not directly for any food, it is not within Disney's authority to prohibit visitors from bringing in food from outside," Xu told Sixth Tone. "Consumers have the right to disagree with a company's rules, as purchasing tickets does not indicate consenting to all of its regulations."
This isn't the first time a dissatisfied tourist has taken legal action against Shanghai Disney Resort. In June of last year, a judge from the southern Guangdong province sued Shanghai International Theme Park Co. Ltd. after park staff refused to allow a child discount for his 10-year-old kid who measured over 1.4 meters tall — the park's benchmark for the cheaper ticket.
The same month, a lawyer from the eastern city of Suzhou took the park to court for "violating his dignity" by searching his belongings and barring him from entering with food. Though two courts have rejected the case, the man has appealed to the Shanghai High People's Court.
Editor: David Paulk.
(Header image: Tourists stand in front of the Enchanted Storybook Castle at Shanghai Disney Resort, April 26, 2016. Aly Song/Reuters/VCG)