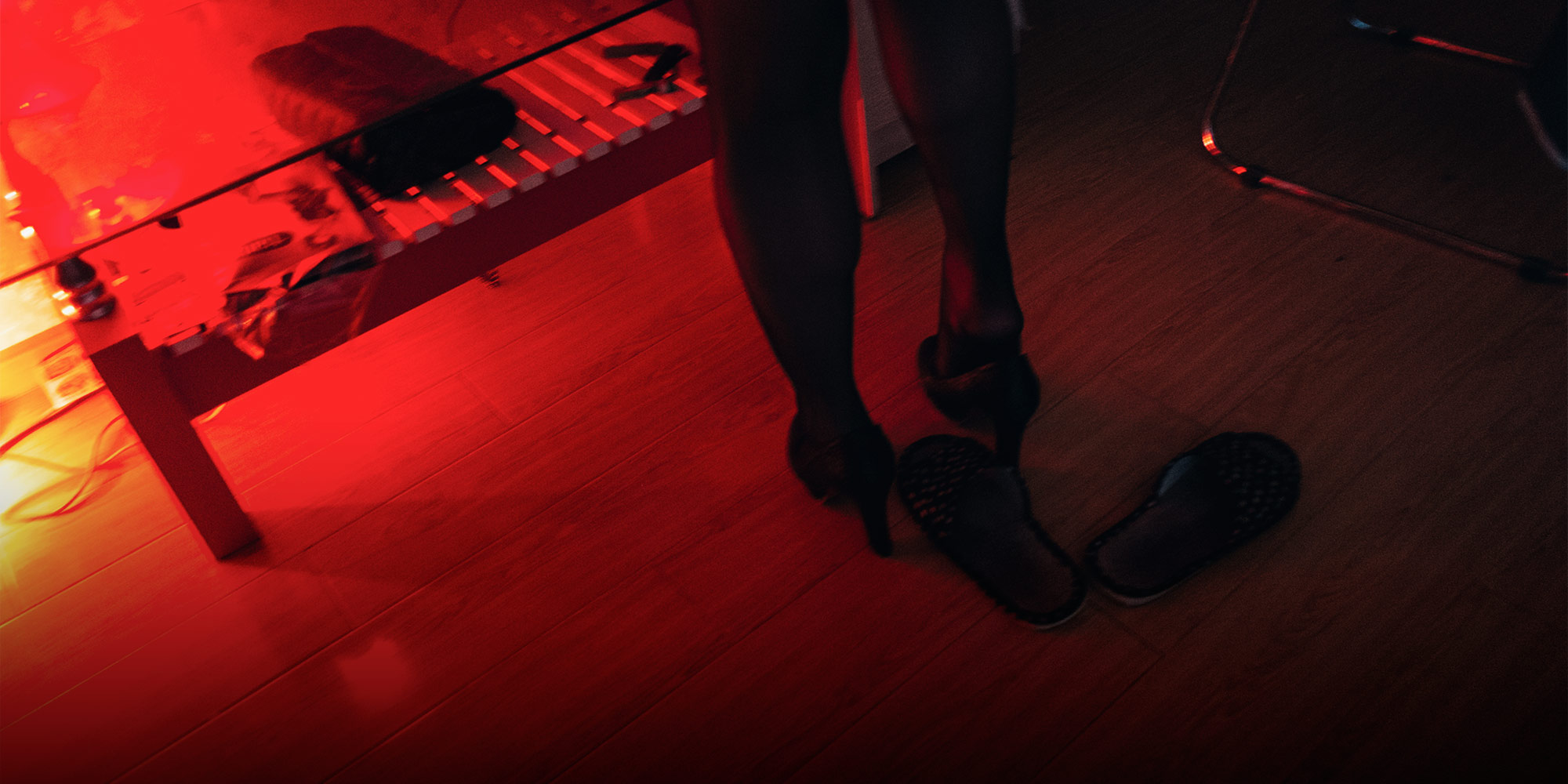 VOICES & OPINION
Why Extrajudicial Detentions Couldn't Solve China's Prostitution Problem
By targeting the underprivileged and offering only threadbare support, the country's custody and education system was never able to make a meaningful dent in the sex trade.
This is part two of a two-part series on China's now-defunct custody and education system. Part one can be found here.

The Chinese government's stance on prostitution and solicitation can be summed up in the words of a 1987 official document: "The vast majority of women involved in prostitution are greedy for material comforts, prefer leisure over work, and pursue a dissipated, parasitic lifestyle."
One reason the state-sponsored practice of "custody and education" — a coercive, lightly regulated system of re-education camps for those involved in the sex trade — outlived similar programs like re-education through labor is that it played into these stereotypes about sex work. Before its demise in December 2019, the custody and education system allowed the state to cast itself as a savior of citizens that had gone astray, even as it did little to address the underlying causes of prostitution.
To be accepted, legal mechanisms must show that they advance the cause of justice and equality; that their means are commensurate with the ends being sought; and that they are effective. An analysis of the population within custody and education correctional facilities, the facilities' implementation, and the costs involved suggests that this system did not meet these standards.
Although the exact number and identities of those who have been put through custody and education in China over the years is not publicly available, we can use the limited data we do have to draw a preliminary sketch of how the system worked.
According to statistics from three cities around China, the number of men and women arrested for prostitution-related offenses is roughly even. But the number of female inmates in custody and education centers was significantly higher than the number of male inmates, suggesting that women were given harsher sentences than men.
In addition to the gender gap, there was also an education gap. Of the more than 3,000 women in the custody and education system we looked at, 88% had at most nine years of education; 49% had received at most six years of formal schooling.
In short, trainees in custody and education centers were mostly economically disadvantaged, rural women and johns from the lower strata of society. Meanwhile, even as police cracked down on low-end prostitution, luxury nightclubs and bathhouses received less scrutiny. A 2008 study in Beijing found that workers in such establishments were two to four times less likely to be arrested than prostitutes who worked on the street.
Instead of shaping and improving societal morals, the custody and education system merely reflected our preexisting class biases. It maintained the appearance of mainstream morality by making examples out of the most vulnerable.
Even if you set these flaws aside, however, the custody and education system was inherently incapable of meeting important state goals, including ending prostitution, educating those caught in the sex trade so they have access to better jobs, and stopping the spread of STDs.
The first of these is just as far-off as when the system emerged in the early 1980s. Over the past three decades, bans and continual crackdowns have failed to stop the spread of prostitution. And only around one-tenth of those caught buying or selling sex underwent custody and education — which is less than 1% of those involved in prostitution in a single year.
Although there are no reliable statistics on what happens to detainees after they are released, investigations by social workers suggest it is difficult for women caught in prostitution to change professions.
As mentioned above, the sex workers put into the custody and education system were often poorly educated women. In promoting the system, China's Ministry of Public Security touted its focus on teaching those involved in the sex trade legal knowledge, moral character, and useful skills. Attempting to provide people a better life is a noble goal, but such efforts were hamstrung by poor management practices, unprofessional staff, and limited funding.
And there is no evidence showing custody and education policies were necessary to curb the spread of STDs. Although STD infection rates are high among sex workers, with the notable exception of HIV the majority of these conditions are relatively easy to treat. So even if mandatory STD testing and treatment for prostitutes and johns were necessary, treatment in a manner that restricted personal freedom was not. It was not reasonable to send people to a custody and education center for six months to two years on the grounds that they needed to be tested or treated for STDs.
For a long time, the custody and education system flew under the radar, especially when compared with similar but better-known programs like re-education through labor. Then, in 2014, actor Huang Haibo was caught by the police paying for sex. He was placed in administrative detention for 15 days and ordered to spend six months in a custody and education program. Many felt sympathy for Huang, however, and netizens roundly criticized his punishment as excessive.
Truthfully, custody and education was already on its way out by that point. By 2014, the number of custody and education centers had fallen from its peak of over 200 in 2005 to a little over 90. By the end, some of the centers had more staff than detainees.
There are a variety of reasons for this: Some regions simply dropped the policy, while others turned a blind eye to the sex trade. Some cash-strapped police departments stopped detaining prostitutes, because fining them was more lucrative.
Whatever the cause, in practice, custody and education disproportionately targeted members of the lower class and vulnerable groups, did not bring about real educational reform, and had no obvious effect on the sex trade.
As the program wound down, a number of experts proposed reforming the system, rather than scrapping it altogether. In theory, this may have been possible. But as long as administrative and judicial oversight remain weak, any form of custody and education will still be vulnerable to exploitation. And as long as we continue to curb personal freedom without court rulings, it will be difficult to guarantee citizens' legal rights.
Ultimately, if the government is serious about ending the sex trade and supporting sex workers in transitioning to a better life, it should be investing in programs that actually meet their needs, not locking them up. In the meantime, we should consign custody and education programs to the trash can of history.
Translator: David Ball; editors: Lu Hua and Kilian O'Donnell.
(Header image: Wang Zhenhao for Sixth Tone)