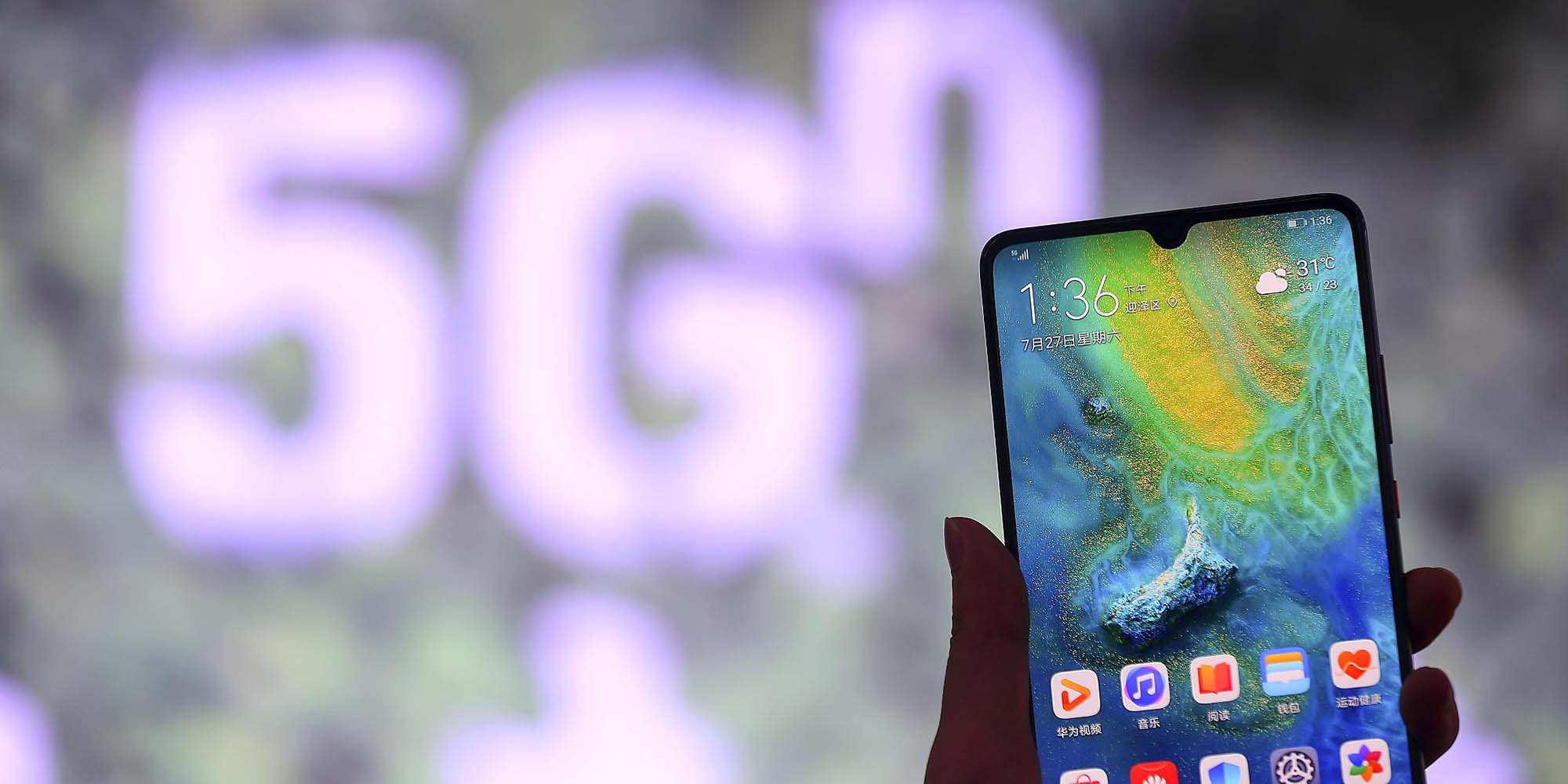 NEWS
China's First 5G Phone Owner Is a 78-Year-Old Retiree
Despite some enthusiasm for the ZTE Axon 10 Pro 5G's midnight release, analysts say the new market will need more time before taking off.
Yang Shiqi, a bespectacled 78-year-old retired engineer, is the first person in China to own a 5G phone, having purchased the ZTE Axon 10 Pro 5G online and been first in line to pick it up at an offline shop Sunday at midnight.
The Axon 10 Pro 5G from Chinese telecom giant ZTE is the first 5G smartphone to be publicly sold in the country. The model has a 6.47-inch touch-screen display, 6 gigabytes of RAM, and a Qualcomm Snapdragon 855 processor. It's being sold starting from 4,999 yuan ($716) on ZTE's online store, as well as on e-commerce platforms JD.com, Tmall, and Suning. Yang picked up his product at one of Suning's "5G experience stores" near Bejing's Ciyun Temple.
A Suning spokewoman told Sixth Tone that Yang had waited for hours outside the store on Sunday evening and was the first in line to pick up the new 5G phone.
Yang is a retired structural engineer who helped design several well-known bridges in China, according to a press release Suning sent to Sixth Tone. Because his job involves having to work outdoors year-round, Yang says, the communications equipment he uses must be of the highest standard: Yang claims that in 1995, he spent 20,000 yuan (then $2,400) on a portable Nokia phone.
As for what he plans to do next, Yang says he'll probably use the 5G handset to record short videos for platforms like Douyin, as TikTok is known in China. In a video recorded by sales staff at Suning's offline store, Yang can be seen planting a kiss on the phone before testing it out by downloading a few apps on the store's built-in 5G network in a matter of seconds.
To add a wrinkle to the story, however, Suning rival JD.com also claims to be the first company to unite a new 5G ZTE phone with its buyer. A JD.com spokeswoman told Sixth Tone that the company's first phone was shipped at 12 a.m. sharp to a Beijing woman surnamed Wen. The product was delivered in just 10 minutes, the spokeswoman said.
The two companies' conflicting claims aside, the sale of the new ZTE phone is a momentous step forward for the country's 5G development. As of this week, several Chinese smartphone makers — including Huawei, ZTE, Oppo, Vivo, and OnePlus — have secured 5G licenses. Hou Enlong, Suning's CEO, said during a July 25 press conference for the company's upcoming shopping festival in August that, in addition to the ZTE phone, three more 5G models — including the Huawei Mate 20X 5G, the Samsung Galaxy Note 10 5G, and the Vivo iQ00 Pro 5G — will be sold later this month.
But 5G smartphones are unlikely to take off overnight, according to James Yan, an analyst with Counterpoint Research. "Sales of 5G smartphones in China might only account for 1-2% of the whole market this year, or around 4 million units," Yan told Sixth Tone.
While Suning's spokeswoman declined to disclose sales figures for ZTE's 5G phone, she admitted they weren't as high as anticipated. "A 5G smartphone is still quite new to the public, so the demand will still be limited over the short term," she told Sixth Tone.
Yan said high prices will be an important factor affecting would-be customers' willingness to buy. "The largest demographic looking to buy 5G smartphones might be limited to tech-savvy geeks or people who purchase them as gifts," he said. Though China's smartphone market has been declining since 2017, Yan predicts public sales of ZTE's 5G phones to push the market back into positive growth, as well as positive performance for 5G phone sales in general over the next two years.
The fifth generation of cellular network technology has been a global battlefield for the past year, with countries like China and the United States trying to outcompete each other for technological supremacy. According to the Chinese newspaper People's Daily, the country's investment in 5G technology is expected to exceed 1 trillion yuan in the next five years. And with the commercialization of 5G networks already underway, Chinese consumers are projected to own one-third of the world's 5G-enabled handsets within five years, according to the Singaporean research firm Canalys.
Editor: David Paulk.
(Header image: A man holds a Huawei-brand 5G smartphone at a Huawei Experience Store in Taiyuan, Shanxi province, July 27, 2019. Zhang Yun/CNS/VCG)