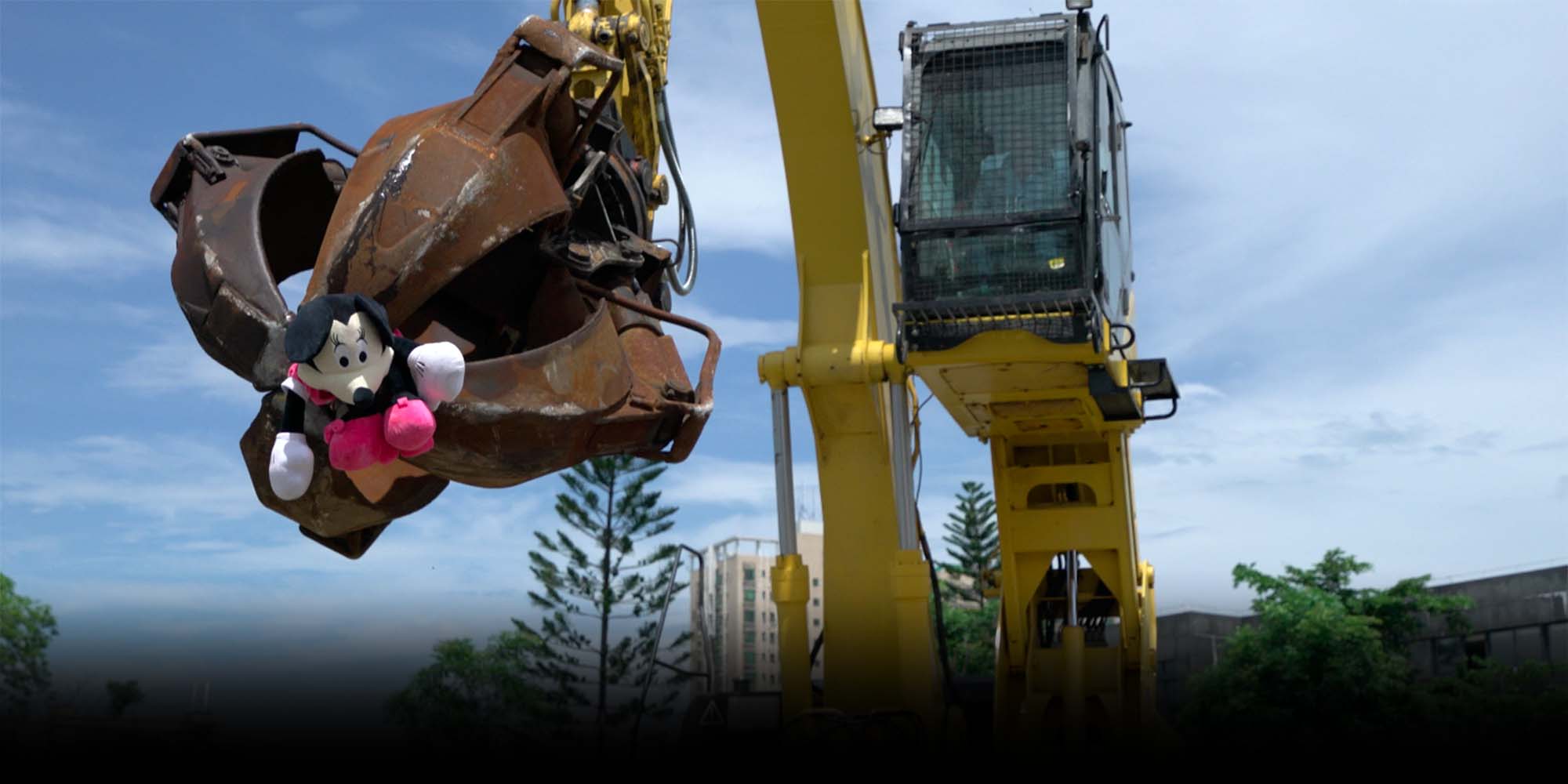 NEWS
Art Project Highlights Education Injustice for Migrant Children
In his latest work, the Chinese artist Nut Brother exposes the uncertain futures of migrant children who may be relocated to different schools under a government redevelopment plan.
Chinese artist Nut Brother has relied on art activism to address a host of social issues across the country. This time, his work underscores a topic that hits closer to the city he calls home.
The artist exhibited a performance piece Sunday to highlight the uncertain futures faced by students in the southern city of Shenzhen amid a redevelopment plan by the local government. The official initiative has worried many families living in Baishizhou, one of Shenzhen's largest and most famous "urban villages" — a term for once-rural neighborhoods that have become increasingly citified.
Parents say the forced relocations outlined in the plan will have a lasting impact on their children's educations, by lengthening commutes to their current schools or requiring difficult searches for placements at new ones.
Titled "Shenzhen Wawa" — a play on the Chinese words for "doll" and "children" — the art project uses 400 dolls collected from Baishizhou families, each representing a child who may be affected by the relocations. The dolls were spread out in an open space bordering Shenzhen and the neighboring city of Huizhou. A hydraulic excavator snatches them in its iron claws and deposits them into a river outside Shenzhen's city limits — an example of the crafty metaphors that have come to define Nut Brother's art.
"The project is a symbol that the children were left behind by rapidly advancing urbanization," Nut Brother told Sixth Tone. The artist does not reveal his real name to media.
Like many other urban villages, Baishizhou has attracted tens of thousands of migrants in the last decade due to its low living costs and proximity to a job-rich city. Though the government floated its redevelopment plan as early as 2005, the influx has continued since — with Nut Brother even moving there himself in 2007. An official count for this year estimates that 83,000 people are registered as Baishizhou residents — less than 2,000 of whom are native to the area — but media reports suggest that number could be as high as 150,000.
As cities like Shenzhen gentrify old neighborhoods to make space for newer buildings, migrants are slowly being pushed out. Families who spoke to Sixth Tone said that in late June, their landlords gave them about three months' notice — or in some cases, no notice at all — to relocate because of the development, which is scheduled to be completed by 2021.
Shenzhen's city government approved the redevelopment plan for Baishizhou in December of last year, which means many of the residents will have to vacate their homes under a certain deadline. However, when a local urban planning scholar surveyed the area's 1,031 households in July, nearly half said they were unaware of the official relocation deadline. Instead, many residents said their landlords had only told them to move by mid-September.
Some residents say they feel anxious about the impending move. Yang Jie, a 44-year-old who spoke to Sixth Tone using a pseudonym in order to protect his family, said rent prices in the Baishizhou area have skyrocketed since the announcement. Yang, who moved from Shenzhen to Baishizhou 25 years ago, said renting in a new neighborhood would cost him twice as much as the 2,500 yuan ($355) he currently pays for a two-bedroom apartment.
In addition to paying higher rents, couples unable to find apartments in nearby neighborhoods administered by Nanshan — the district with jurisdiction over Baishizhou — may also see their children's educations negatively impacted. Most Chinese schools have strict enrollment quotas and only accept students who live in a particular school district, two issues that nearly 85% of respondents to the urban planning scholar's survey said they were highly concerned about.
Yang said a representative from Nanshan District's education bureau had agreed to arrange school transfers only for families relocating to homes in the same district. Parents were also told that their Baishizhou leases — documents that are required for school enrolment — wouldn't make them eligible to apply for schools in other districts.
Since July, Yang and other parents have been trying to persuade the local education bureau and the project's developer, LVGEM (China) Real Estate Investment Co. Ltd., to grant a transition period that would give their children extra time to apply for different school districts. A brand officer at LVGEM told Sixth Tone that their primary duty involved contractual agreements with the landlords, and that they were not responsible for the tenants or their children's education.
Both Yang and a legal representative from the Baishizhou Cooperative Stock Company, which represents the interests of the area's native residents, told Sixth Tone that, at a meeting in July, LVGEM had rejected the parents' request for a transition period.
Sixth Tone was unable to reach the Nanshan District education bureau for comment by time of publication. The urban planning scholar who conducted the survey told Sixth Tone that although all the parties involved in Baishizhou's redevelopment — the local government, developers, and the stock company — have drawn up plans in the interest of the native villagers, they've shown less consideration to the migrants who have made the place their home.
"There has been no sufficient mechanism to protect the interests of the tenants or evaluate the potential effects on their lives," said the scholar, who requested anonymity due to the sensitivity of the subject. "Although both the developer's and the government's actions might be in accordance with the urban transformation law, discussion is still needed to determine whether those actions are reasonable."
Meanwhile, Nut Brother's performance piece has sent a powerful message about the future of the hundreds of children who may not return for the new school semester in September. Though his piece was brief, lasting just five hours, Nut Brother sees it as a call to action.
"There is a saying, 'Once you are here, you are Shenzhen people,'" Nut Brother said. "Urban villages should protect their (inhabitants') basic rights, including the rights to education and access to public resources."
Editor: Bibek Bhandari.
(Header image: An excavator picks up a doll during a performance piece by Chinese artist Nut Brother in Shenzhen, Guangdong province, Aug. 4, 2019. Qiu Rong for Sixth Tone)