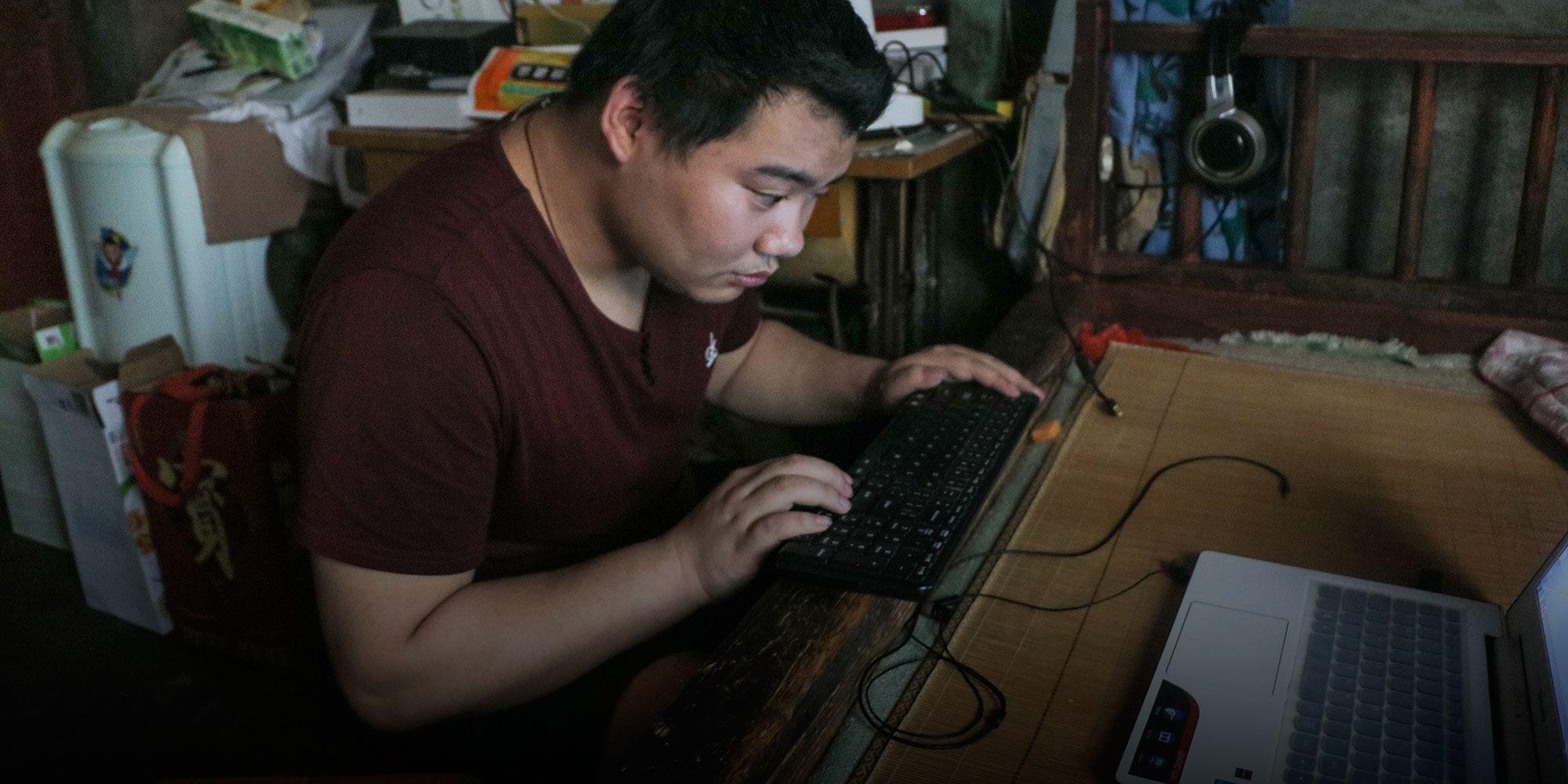 FEATURES
The Visually Impaired Developers Making Games in the Dark
A small but devoted group of Chinese developers are trying to bring accessible games to the country's visually impaired.
ZHEJIANG, East China — By day, 24-year-old Hu Liangmin, like many of his vision-deprived compatriots, is a massage therapist. But by night, he uses his hands for a different trade entirely.
His fingertips dance atop his laptop's keyboard at his home in Hu Village, while his headphones deliver audio cues at a frequency that would be nearly indistinct to the average person. During countless nights like this over the past five years, Hu — who lost his sight to pediatric glaucoma at age 5 — has been developing games for the visually impaired, known by the name Yulong, or "jade dragon," in circles online.
Hu is part of a new crowd of Chinese gamers following in the footsteps of visually impaired pioneers like Zhang Ping, who entered the community's niche gaming industry over a decade ago, regardless of the significant costs and effort involved. Zhang, whom Hu affectionately calls "boss," programmed and published his first computer game in 2007 in a bid to offer visually impaired people more recreational choices. He even established an online forum in 2012, where he shared games suitable for the visually impaired before leaving the industry in 2017.
But although China stands as one of the world's largest gaming markets, games for the visually impaired have yet to take off domestically, and the local subindustry remains harsh and unforgiving for those in search of full-time work. Tech giant Tencent recently released a game highlighting visually impaired people's lives, but Hu can only name five or so developers making games for the visually impaired off the top of his head when asked. Estimates for the number of low-vision gamers in China, meanwhile, range from just a few thousand up to about 20,000 — a fraction of the 620 million in the country overall.
With small-time game-makers like Zhang leaving the business and newer developers like Hu uninterested in pursuing it beyond a gig or a hobby, the future of games for the visually impaired remains uncertain, and the niche market remains largely unknown.
Not that this has stopped Hu. He talks about games at great length online and at home — though as far as his farmer father and baker mother are concerned, he might as well be speaking a foreign language. Hu studied at the local public school in his village until his teenage years, as his family couldn't afford to send him away to a school for special education, which numbered only about 2,000 domestically in 2017.
In 2012, Hu's parents bought him a computer, which they barely had space for in their two-room brick-and-tile house. When he eventually stumbled upon a version of the popular game Plants vs Zombies that Zhang developed for visually impaired players, his curiosity was piqued. "Games are not just for killing time," Hu says. "Blind players can train their reflexes, too."
Before long, Hu reached out to Zhang over the AIM-like chat software QQ and learned about the computer code behind his games. Since then, Hu has produced four games in different genres, which typically feature original storylines on top of open-source code. Some programmers in the small community of visually impaired game-makers even come to him with scriptwriting gigs and promise him a share of the game's profits.
It all comes from Hu's love of gaming. "I can keep my eyes closed while playing the games and imagine the world," Hu says. Though the income is not substantial compared with the time and energy he puts in, Hu is satisfied about his business venture: He has a group of over 40 loyal customers on QQ who have each paid 200 yuan ($29) for his official release.
Zhang remembers his early days of making games, when it was all new for him, too. "Back then, more (visually impaired) people couldn't understand or accept blind games," Zhang tells Sixth Tone in his Shanghai office. "After all these years, the market has been nurtured, and people have become aware of this form of entertainment."
But despite this progress, Zhang chose to step back two years ago, after the various challenges of developing games solo — with no intention of turning a profit — made it difficult to bear. "I am an explorer of games for the visually impaired," Zhang wrote in a farewell letter on gaming forum Tingyouwang in October 2017, "but I should be a better father, husband, and son."
His last DIY passion project was a free online game that took three years to make and had 8,000 players online at its peak. But compared with his previous games, this one resulted in more technical barriers and bugs. Zhang grew tired of dealing with players who took advantage of glitches or loopholes instead of alerting him to their existence. "Days before I shut down the server," Zhang says, "it (cheating) happened again, and I made the call."
After 10 years, Zhang felt that he had contributed all he could. Nowadays, he heads the Shanghai branch of social enterprise Dialogue in the Dark, which gives sighted people the experience of navigating in total darkness with the help of visually impaired guides. People sometimes ask if "boss" will ever return, but Zhang's answer is still no.
But whereas Zhang stepped back from full-time work after burning out, 44-year-old Li Weiguo has been working with a team trying to monetize games — albeit with limited success. "We (visually impaired) people had few ways to blow off steam after work. It was all a blank," Li says, a problem that he and his collaborators sought to remedy with the 2004 launch of an online gaming platform offering poker and chess. The project has been gradually going downhill, though, since China began tightening regulations on games deemed to involve gambling.
Li has since moved on to First Creator Network, a company he founded in the southern province of Guangdong in 2014. Li and his eight full-time employees — a staff size typical of the few companies operating in the small industry — run a leading online game for the visually impaired called Dreamland, which was launched in March.
In the game, players win battles by paying to upgrade their equipment, which is how the company intends to turn a profit. But thus far, First Creator Network has yet to recover its costs from producing Dreamland, which spent a year in development and had the largest budget of any of the company's projects.
"Making games burns through money," Li says during a candid phone call with Sixth Tone. "I am actually thinking about moving into other businesses." He says he has unsuccessfully sought investment from tech giants and venture capital firms, blaming his lack of a silver tongue for the failures.
In Li's opinion, the relatively low number of visually impaired gamers can only be increased with more collective effort from seasoned gaming studios. And for a game company to survive, he adds, an intricate balance between craftsmanship and commercial value must be struck. "Sometimes, what you finally put on the shelf completely deviates from what you came up with in the first place," he says, citing a dilemma for the gaming industry as a whole.
It's a concern echoed by some gamers, who complain that Dreamland has become more about the gadgets than the gameplay. Zhao Yuechen, a visually impaired gamer who's played since about 2004, says these newer, over-commercialized games for the visually impaired aren't as fun as the older ones. "I've played them all, but I haven't kept it up," says Zhao, "because then I'd have to spend a lot of money, and there aren't many new, appealing features."
Hu, meanwhile, has yet to be deterred by issues like these. Making money, toughening government regulations, and cultural stigma surrounding gaming don't bother him — he even jokes that gamers with visual impairments can play as long as they want without straining their eyes from staring at a screen.
But Hu doesn't anticipate becoming a full-time game developer someday. He says he's not good enough, and besides, he likes keeping it as a side gig, especially since the challenges of the market aren't disappearing anytime soon. Still, he moved back to hometown recently to focus more on games without constant interruptions from massage clients.
"I remember what 'boss' told me when he announced his retirement," Hu says, referring to Zhang. "The future is on people like me."
Editors: Wu Haiyun and Hannah Lund.
(Header image: Hu Liangmin demonstrates the game he developed at his home in Jinyun County, Zhejiang province, July 13, 2019. Yin Yijun/Sixth Tone)