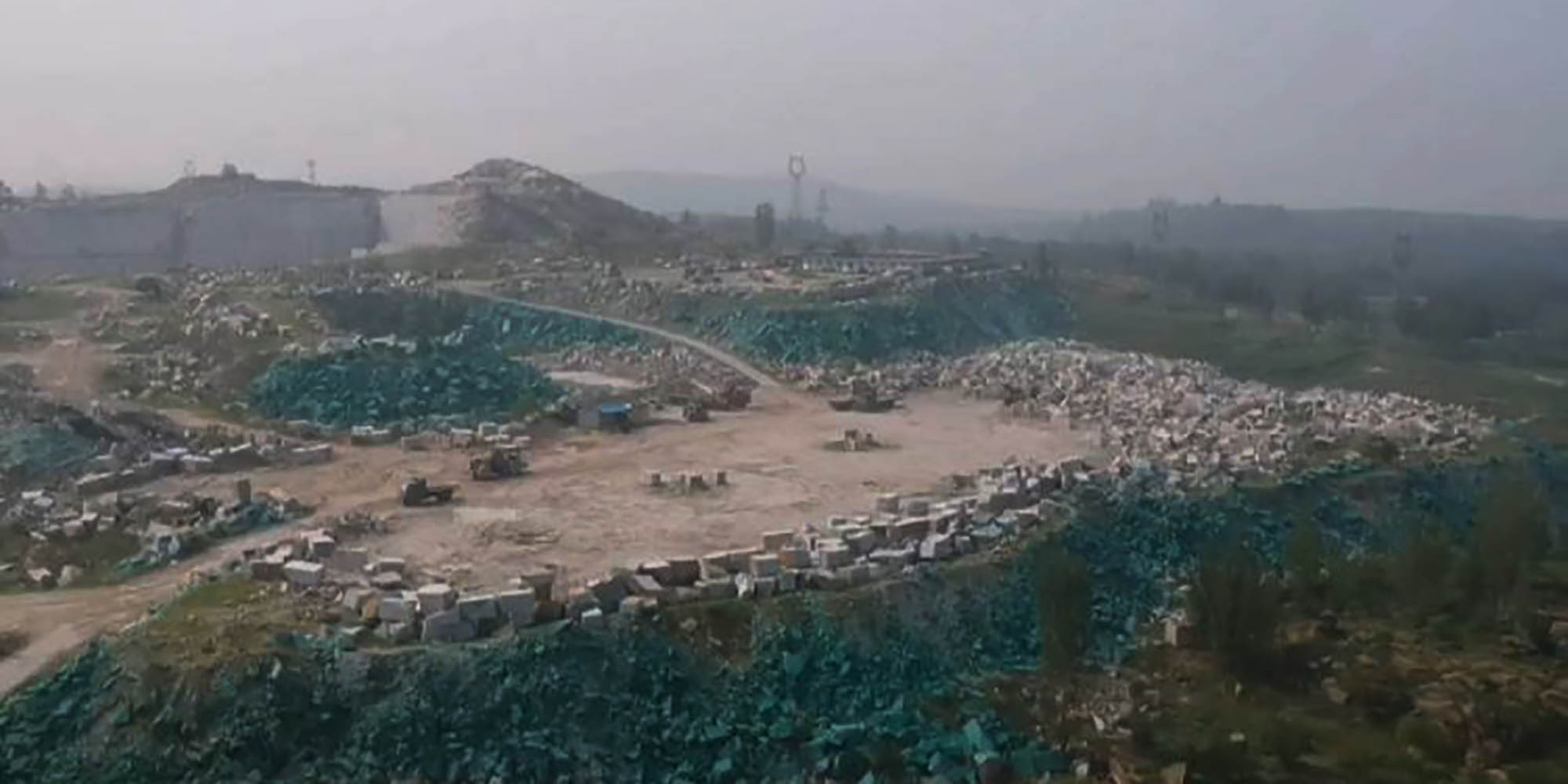 NEWS
Shandong Factory Paints Rocks Green To Fool Environment Bureau
Workers say they painted the surrounding terrain green in a failed attempt to hoodwink environmental authorities.
A factory in eastern China's Shandong province has taken a literal approach to "going green" by covering the land around it with green spray paint in an unsuccessful bid to deceive environmental authorities.
The environment bureau in the city of Xintai has shut down a stone processing plant owned by Changsheng Mining Industry Co. Ltd. after workers painted the surrounding area green, according to a report Wednesday by Sixth Tone's sister publication, The Paper. Authorities have also suspended the people in charge of the plant and given them a one-month deadline to remove the green-colored rubble from the site.
The plant decided on the "green" appearance last year in hopes that inspectors wouldn't notice that environmental requirements weren't being met, according to a report Wednesday by domestic media outlet iQilu. The painted area was meant to look like vegetation and fool inspectors. Ultimately, however, the scheme proved unsuccessful: The plant ended up failing an assessment by Xintai's environment bureau and had its operations suspended, though the date the suspension was issued is unclear.
Despite the shutdown order, iQilu found during its reporting that work was still underway at the factory, which had a steady stream of trucks coming and going. Reporters also found that workers had dug a pit nearby measuring around 100 meters deep. Meanwhile, a sign at the main entrance of the factory insisted that the plant had suspended production.
In an effort to minimize industrial pollution and hold rule-breakers to account, China's central and local governments have introduced various environmental measures and conducted surprise inspections. Last year, over 42,000 people were prosecuted for environmental offenses and issued fines totaling 15.28 billion yuan ($2.21 billion), according to official figures.
However, many companies still manage to evade environmental oversight. While some factories have continued to operate in defiance of government closures, others have resorted to beating up volunteersor physically impeding inspectors.
Sixth Tone's attempts to call the stone processing plant were unsuccessful Thursday, but a plant manager told iQilu that the facility had been authorized to perform mining operations after passing the necessary environmental impact assessment.
Editor: Bibek Bhandari.
(Header image: Rocks outside a stone processing plant are shown painted green in Xintai, Shandong province, 2019. @齐鲁网 on Weibo)