UPDATE: Douyu announced Thursday that it has permanently shut down Her Majesty Qiao Biluo's account over the livestreamer's "malicious marketing strategy."
A celebrity livestreamer who landed in hot water last week after she was "unmasked" to be older and more average-looking than she had led her fans to believe has added a new twist to the drama by claiming that the apparent snafu was a savvy marketing move all along.
During a broadcast Monday on livestreaming platform Douyu, the host, whose online handle translates to "Her Majesty Qiao Biluo," said the plan was hatched by a branding agency whose services she had engaged for 280,000 yuan ($41,000). At some point during the last week — media reports give conflicting accounts of when — Her Majesty shocked her fans when the anime-style cartoon face she often uses to obscure her own suddenly disappeared during a livestreaming session with another female host — revealing not the image of a young, attractive woman Her Majesty had posted on her channel, but that of a much older woman.
Many fans said after the incident that they felt swindled, with one of Her Majesty's most generous supporters, who had reportedly tipped her over 100,000 yuan, even deleting his account. Nevertheless, her followers have ballooned from 50,000 to nearly 1 million.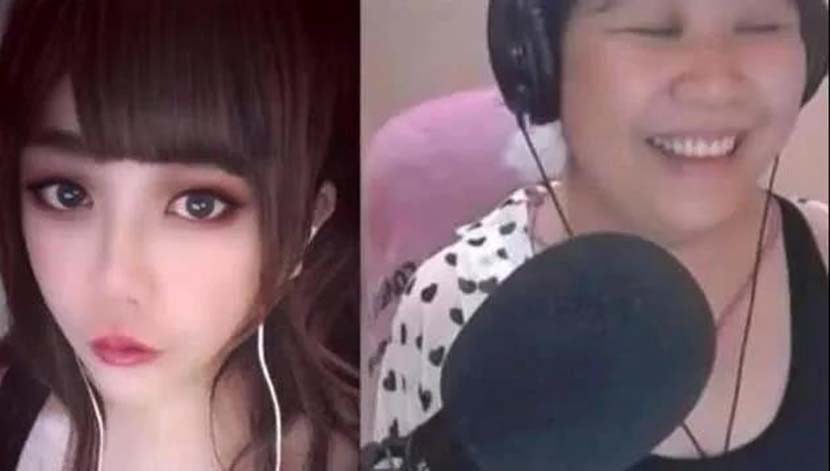 Left: An image livestreamer Her Majesty Qiao Biluo had posted on her Douyu account; right: Her actual face, as revealed in last week's "unmasking" during a live broadcast. @江苏新闻 on Weibo
China has a rapidly growing livestreaming industry, with 21% of all full-time hosts earning at least 10,000 yuan per month from fan donations. In March of last year, tech giant Tencent invested a combined $1.09 billion in two of China's largest livestreaming platforms, Douyu and Huya. According to a report by the National Copyright Administration in April, China's livestreaming market was worth over 48.5 billion yuan by the end of 2018.
The unmasking incident has trended on microblogging platform Weibo, with a hashtag translating to "female host suddenly appears as a dama when bug occurs during livestream" being viewed over 750 million times by Wednesday evening. While some netizens have lambasted Her Majesty for deceiving her fans, others have seized the opportunity to tease those who gave hefty donations under false pretenses.
But the case could become more than a seemingly harmless marketing ploy, according to one lawyer. Jiang Zhimin of Jiangsu Jukai Law Firm told The Paper, Sixth Tone's sister publication, that Her Majesty's defrauded fans are entitled to claim compensation under China's contract law. The streaming site, meanwhile, should be responsible for verifying its hosts' identities upon registration of new accounts, Jiang said — though he added that platform-specific disclaimers may apply.
Zhang Qing, a well-known livestreamer in the southwestern city of Chongqing, echoed some common criticisms in an interview Tuesday with Shangyou News. "Although a filter is a type of software modification often used by hosts, it constitutes deception when (the result) is such a far stretch from reality," she said. "Such hosts lack real talent, and they're unlikely to stand the test of time."
Editor: David Paulk.
(Header image: People livestream with selfie sticks and smartphones during a Douyu-sponsored event in Wuhan, Hubei province, May 29, 2017. Wang He/Getty Images/VCG)