ZHEJIANG, East China — Every afternoon, seven days a week, Zhong Hao sits with an iced Americano in his favorite spot at Starbucks, waiting for a passerby in eye-catching clothing to capture his attention.
When one inevitably does, the 38-year-old approaches with a smile, explains that he's a street photographer, and asks if he can take their picture. If they agree, he'll guide them to his usual scenic spot nearby and snap some full-body shots.
"For most people, being asked to be photographed is an honor — someone is acknowledging your beauty," says Zhong, who wears black designer glasses and a gold Rolex watch. "But you can't force people if they don't want to be taken."
Zhong, who's better known by the online pseudonym Gun Shu, later writes short commentaries on the clothing combinations, color matches, and accessory choices in photos. He then uploads the pictures and texts to his Weibo microblog, which has over 6 million followers, and to his account on social app WeChat. Advertisements embedded in his social media posts — for essential oils, jewelry, and local dining spots — combined with his regular salary from a local paper can make him over 100,000 yuan ($14,500) per month.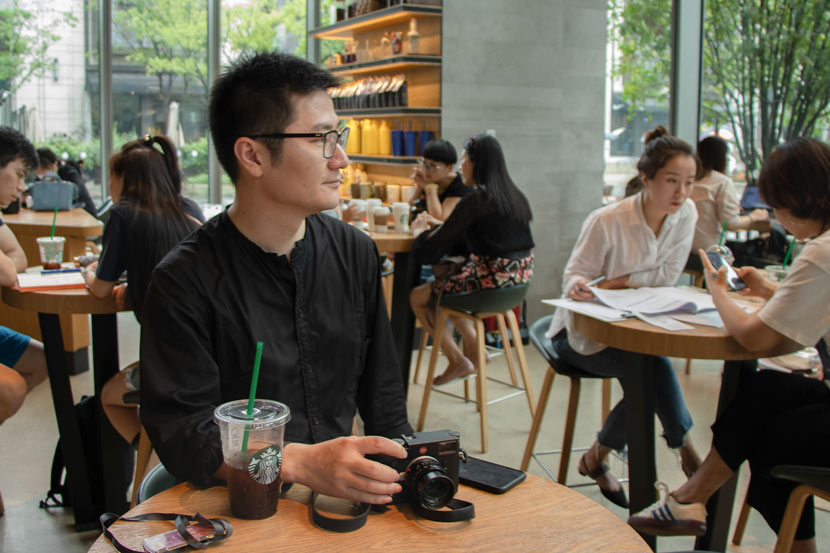 Zhong Hao poses for a photo in Hangzhou, Zhejiang province, June 18, 2019. Kenrick Davis/Sixth Tone
Street photography — or jiepai — was largely unknown in China when Zhong picked up the avocation over a decade ago, but it has exploded in popularity over the past several years. In busy urban shopping areas, such as Taikoo Li in Beijing's trendy Sanlitun District, clusters of street photographers shoot passersby like they're walking the red carpet, later sharing the pictures online to gain fans. Jiepai has even expanded to other media: Clips of winking women and flirtatious couples on the street are currently popular on short-video apps such as TikTok.
Zhong initially welcomed the growing numbers of fashion-snapping hobbyists, but he and other street photographers now feel practitioners are drifting ever further from the art form's roots — and crossing legal and ethical lines. Social media accounts that label themselves "street photography" profit from sharing and selling lewd images of women taken on the streets, while short-video jiepai is often scripted and filmed for its own commercial purposes. In recent months, numerous shopping centers have even banned street photographers from their premises. Longtime practitioners of the craft like Zhong say these developments are tarnishing street photography's image and making it harder to do their work.
Zhong takes a break from gazing out the café window to search for memorable shots from his Weibo account's nine-year history. "There are too many," he says, laughing. He finds famous table tennis player Guo Yue, who wanted a photo when she wore a dress and high heels for the first time; the young man in heeled boots and a dress who netizens applauded for his courage; and the man who wore a Guy Fawkes mask in public. Zhong's work is primarily fashion-focused, but he sees it as a way of capturing the reality of his city and opening netizens' eyes to other ways of life, somewhat reminiscent of the "Humans of New York" photo project. "It isn't just about communicating fashion concepts," says Zhong. "Street photography is about sharing people's real lives."
Nowadays, Zhong's fame means people often seek him out: Appearing in photos on his accounts can be a way of showing off to friends or a means for models to increase their exposure, he says. But when he first started in 2007, most people didn't understand the concept and would get angry when they discovered he had photographed them. Within a few months, he decided to ask permission before taking photos, and after he started his Weibo account in 2010, he gathered thousands, then millions, of fans.
Zhong's work became easier as more street photography accounts emerged. But in recent years, he's noticed upsetting trends that are tainting the art form and giving photographers like him a bad name.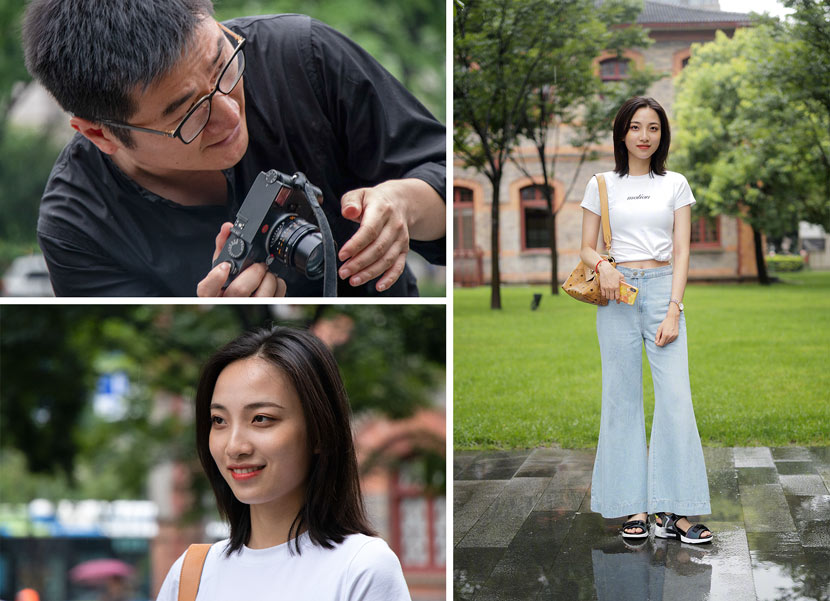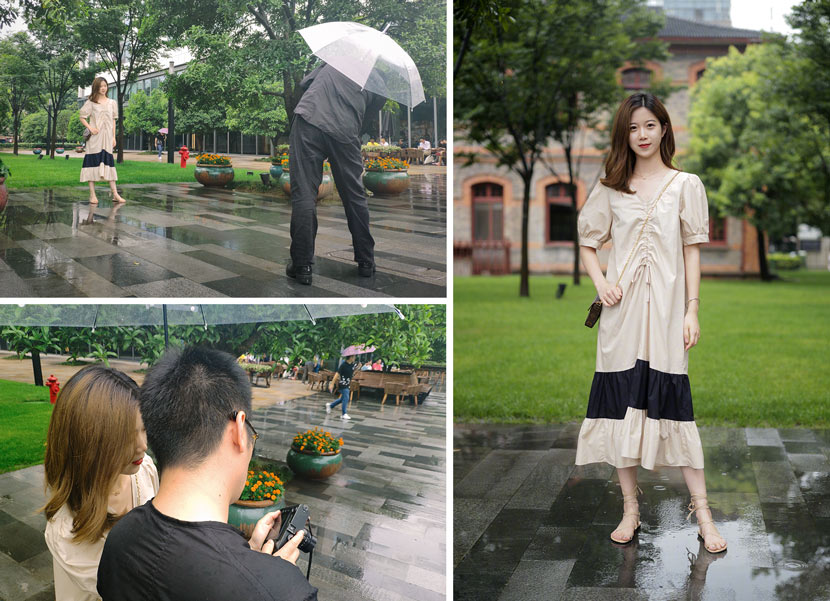 Many of the top WeChat and Weibo accounts classifying themselves as street photography mainly share pictures of women wearing tight-fitting and revealing clothing in public places, many of which are taken and shared without permission.
"Aren't slightly 'fuller' women beautiful?" asks one such Weibo account — called Streeting Photography — in the text posted alongside a photo. "Legs like these are impossible to resist," declares another of the account's captions, while a third insists that "only girls who work out have peach-shaped bottoms." Under a picture of a woman in yoga pants from another such self-styled "street photography" Weibo account, one comment simply reads "camel toe" — earning its author seven likes.
The deluge of questionable street photography hasn't escaped the attention of the press or the general public. In May, a journalist with domestic outlet The Beijing News described how hobbyists in Sanlitun were photographing women without consent — with many seen focusing on girls in hot pants and miniskirts, and even chasing them as they walked away — and found that some made money through advertisements after using the pictures to generate online traffic. "How come everyone's taking pictures of me?" said a woman quoted in the report. Another said she felt "harassed" by photographers whenever she went to Sanlitun.
Photographers focus on a model in Sanlitun, Beijing, Feb. 13, 2017. VCG
Yang Fan, a fashion blogger, lambasts the paparazzi as aging retirees turned pretentious photography enthusiasts with "wretched smiles" and beer bellies. "They've moved on from landscapes to crowded places in city centers in search of young bodies," writes Yang. He also mocks wannabe online stars and models who purposefully dress up and wander around local hot spots to lure street photographers. On Q&A site Zhihu, one user bluntly defines the recent craze as "a kind of Weibo-based group masturbation, done mostly by amateur street photographers in shopping centers … to satisfy the sexual fantasies of male viewers."
"This stuff has nothing to do with fashion," says Zhong. "It's totally different from the original intent of street photography. People just take this term and use it to do obscene things." He says voyeur-style photographers don't necessarily enjoy the content — they're just driven by whatever they think attracts the most clicks. Zhong, on the other hand, asks women to adjust their clothing if he sees anything out of place and refuses to take pictures of people in overtly revealing clothing.
It's not just a moral issue. Profiting financially from images of people taken without permission constitutes a violation of so-called portrait rights under Chinese law, says Qu Zhenhong, a lawyer at Beijing Huayi Law Firm. "I often see street photography on WeChat public accounts or in magazines, even in some ads, and these definitely violate portrait rights," she says in a phone call with Sixth Tone. Qu adds that victims have the right to request that photographers remove their images from social media and can sue for compensation.
Mu Yiyang, who works for the well-regarded street photography company P1, blames the denigration of street photography on platforms like Weibo, which promote smutty content to entertain viewers. Sadly, he says, such content pales in comparison to the beautiful examples of foreign street photography he sees on Instagram.
Mu has been shooting interesting fashion in Sanlitun for over five years, but unlike the photographers observed by The Beijing News, he says he always asks for permission before taking pictures. The recent mania is making it harder to gain people's trust and take their pictures — especially as a male photographer. "This is having a big influence on the reputation of street photography," he says. "It's really annoying."
Zhong, who is based in Hangzhou, feels similarly: He used to frequent a spot on West Lake, a famous scenic attraction in the city, but he noticed people starting to avoid the place because of the photographers congregating to catch unsavory candid moments, like someone picking their nose. He then relocated to his current haunt at the upmarket Kerry Center shopping and office complex, where street photography isn't permitted, but he's been given a media pass on account of his reputation.
Beijing's Sanlitun is famous for catwalk-style shots, but Hangzhou has become known for jiepai that ends up on short-video apps. Typical videos show attractive young women doing surprising things in the street — splits, backflips, cartwheels — or cute moments between couples, such as a young man playfully grabbing his girlfriend's phone and making her jump for it.
There's a massive audience for such clips. China has an estimated 700 million users of short-video apps, and combined with the ability to sell products on TikTok, this kind of jiepai is an industry in its own right. A recent feature article revealed how Xu Chenyan, an online star, works up to 16 hours per day making jiepai videos for her millions of fans on TikTok. Her account sells over 100 products, generating an annual income of several million yuan.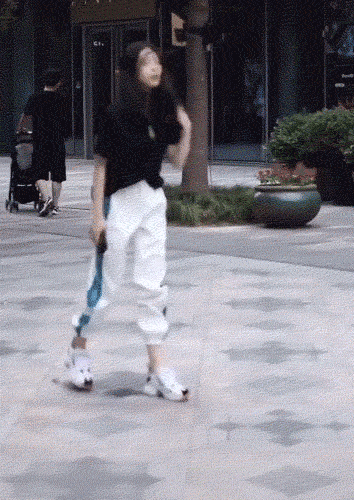 A GIF shows a young woman doing a somersault from a "jiepai" video. From @帮你穿搭 on TikTok
Zhong is critical of these videos, saying they blur the line between real and fake in the pursuit of clicks and quick returns. "Right now, young post-'90s youth don't care how street photography should be done, as long as they can make money," says Zhong, who refuses the many lucrative offers he receives from companies wanting to advertise knockoff bags, clothes, and cosmetic surgery on his accounts. "Everyone now thinks that street photography amounts to shooting ads … that street photography is commercial promotion, that all street photography is fake," he adds.
Zhong says he will keep shooting the way he feels is artistically sound, but he sometimes wonders if the younger generation still appreciates his traditional approach. He's tried his hand at TikTok, where he has posted over 500 no-frills clips, but has garnered few fans. He was even approached by the platform's staff, who offered him tips. "In this age of speed and high traffic, it's really hard to keep being yourself," the photographer says, looking visibly discouraged.
But while a select few can do it professionally, street photography remains only a hobby for most, says Wang Qiang, a professional photographer based in the eastern city of Ningbo. Despite some of the negativity, Wang thinks that street photography should be open to all and doesn't have a problem with sexy street photography, as long as it's consensual.
"Street photography is really fun," says the 30-year-old, who makes no money from his monthly shooting sessions. "You can come across people with different styles and give them a chance to display themselves. As long as the photographer and the subject are both in agreement, there's not much other people can really say about it."
Editors: Wu Haiyun and Hannah Lund.
(Header image: Zhong Hao shoots photos of a young woman in Hangzhou, Zhejiang province, June 18, 2019. Kenrick Davis/Sixth Tone)